Business owners have had a thankless task since COVID-19 upended normal life in March: trying to keep employees on the job, customers satisfied and business moving as smoothly as possible, while dealing with one challenge after another.
Comstock's has been following four businesses in Sacramento since March to see how they're faring amid the pandemic. Here's how they stand now.
Fitness Centers: California Family Fitness
The California Family Fitness at 1012 K St. in Sacramento has been closed since the pandemic forced mass business shutdowns in March. Cal Fit President and CEO Randy Karr says 13 of 19 locations are open indoors with limitations, and 12 are offering outdoor fitness.
The K Street location could accommodate outdoor users with a rooftop facility, but Karr doesn't plan to reopen the gym in the near-term. "That location has been great for us … (but) because there's not a ton of residents downtown and most businesses are all working from home, there is nobody to service."
Michael Ault, executive director of the Downtown Sacramento Partnership, says downtown buildings are at 30-35 percent occupancy, with just more than 70 percent of businesses downtown open. "It's definitely not at capacity down here, that's for sure," Ault says.
It's one more hit for Karr, who says Cal Fit was too large, with more than 500 employees, to receive a U.S. Small Business Administration Paycheck Protection Program loan, but too small to take advantage of other stimulus, such as the Main Street Lending Program.
There have also been evolving governmental regulations to contend with. Gyms throughout California were closed for three months and allowed to reopen in June, before a Sacramento County order closed indoor operations again. The state gave permission for gyms to open indoors in recent weeks, albeit at 10 percent indoor capacity in Sacramento County and 25 percent in Placer County. Karr is a founding member of California Fitness Alliance, a group suing the state to demand what he describes as "more reasonable standards."
Asked what it's been like over the past seven months to run a fitness company, Karr describes it as "nothing short of a miracle." "I don't know that we're experiencing anything different than any other retail-based business," he says. "I know that everyone is fighting for their own survival."
But he sees some encouraging signs over the current state of Cal Fit, saying, "We've still got a good amount of members and a good amount of usage on a daily basis."
Bars and Restaurants: Tropics Ale House
Blocks from California Family Fitness on K Street, some things have changed at Tropics Ale House.
One of the most visible is outside the bar and restaurant at the corner of 20th and J streets, where there are now two additional outdoor patios. Misty Timko, who serves tables and works the bar, says Tropics opened the two extra patios around mid-August, though falling ash from the sky thereafter, due to wildfires, forced their closure for two days.
Indoors, Tropics has been able, since Sept. 30, to operate at 25 percent capacity, though business is a little light on this Wednesday mid-morning, with two tables of three diners apiece as '80s rock plays. (Tropics' three other locations are in Hawaii; the company's owner, Pat Kashani, didn't respond to an interview request for this story.)
Timko and her fiance, Tropics' Executive Chef Steve Carrigan, moved from the Midwest to help open Tropics a year ago. They are daytime fixtures at Tropics, with no other workers present on this visit, though Carrigan says he hasn't had to lay anyone off. "That's on the strength of us being strong workers and wanting to work here and the people we've hired want to work here, so we can build a skeleton crew," Carrigan says.
Kashani confirmed earlier this year that he obtained a U.S. Small Business Administration Paycheck Protection Program loan for his company. Tropics still faces challenges with its reduced business.
"It's been rough," Timko says. "I don't know about the whole financial side of it. All I know is it's hit-or-miss, and it depends on what the news is telling people."
Tropics, like many restaurants, could face a normal winter slowdown exacerbated by the pandemic. Barry Broome, president and CEO of the Greater Sacramento Economic Council, estimates that 25 percent of restaurants in the U.S. have failed and that things aren't necessarily going great for the ones still around. "We don't know how many of 'em are losing money and draining people's savings and how many people are trying to hang on," he says. "It's tough."
Sports and Entertainment: Sacramento Kings
During these unusually tough times, even the Sacramento Kings are also placing some of their hopes on outdoor dining. Unable to hold games or events since March at the Golden 1 Center, Kings officials, who weren't available for comment following a request through a team spokesperson, helped launch the DOCO Al Fresco outdoor dining program in September, which features six restaurants and beverage providers serving guests.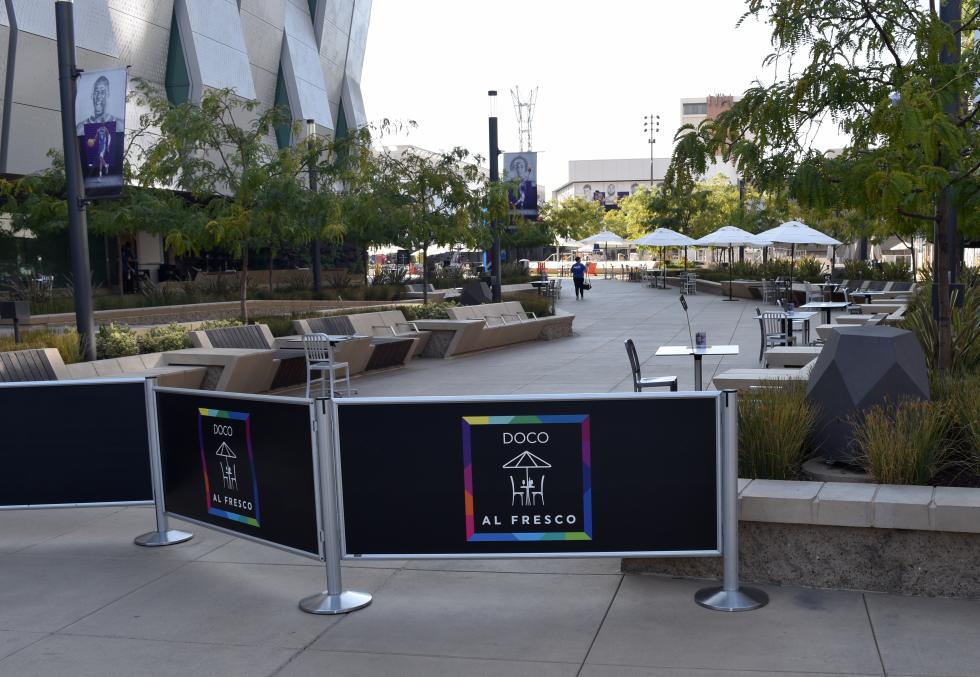 Ault, whose group helped organize the program, says there's been a different atmosphere around the arena, which would normally host 100-120 events annually, bringing up to about 17,600 people to the area for each event. "They're not seeing all the events that they had in the past, but I think they're doing a pretty good job of really being creative with some of their outdoor activations," Ault says.
Chris Jauregui, front of house manager at Echo & Rig in Downtown Commons, says things are going well with the program. "There's definitely good foot traffic in this area here, with the food and the shops and whatnot," Jauregui says.
Broome says the Kings organization is in a tough spot. "You just got the challenge of, you gotta pay these players and there's no revenue coming," Broome says. "A lot of the amenities and the revenue around a sports team is concessions and fans. A big part of their revenue model's been clipped."
Hospitality: The Citizen Hotel
Not much life is stirring at The Citizen Hotel on an October morning. Mike Testa, president and CEO of Visit Sacramento, a hoteliers group, says occupancy rates for hotels in the area are hovering from the 20 percent to mid-40 percent range. (Testa doesn't know the occupancy rates for The Citizen Hotel. General Manager David Shipman didn't respond to an interview request for this story.)
"I think the reality is everybody in hospitality is struggling, and I think the hard part is … pre-pandemic, occupancy was 85 percent," Testa says. "When you go from 85 to 20 (percent), you have to lay off the majority of your staff, and it's tough on morale."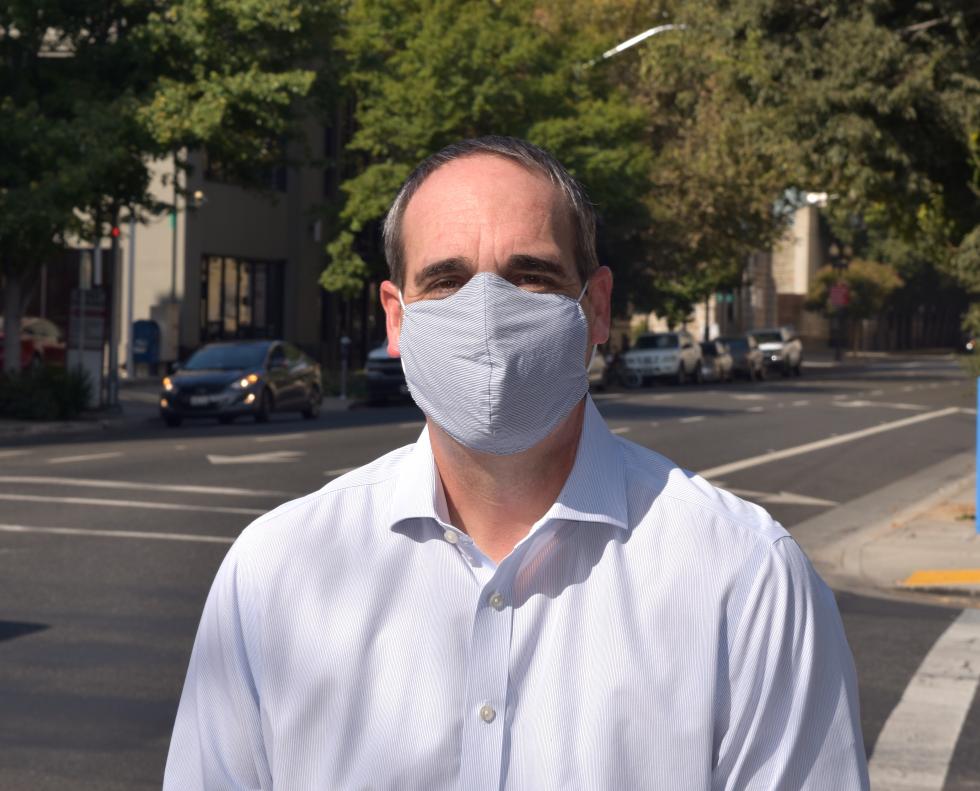 Blocks away, workers are putting finishing touches on the new SAFE Credit Union Sacramento Convention Center, which is slated to open in early 2021. Testa says his group has its first trade show booked in the center, the California League of Food Processors' Food Processing Expo, Feb. 9-10, though he and others are uncertain of what trade shows will look like in the future.
Ault says he believes, though, that downtown will rebound: "Are The Citizen and other hotels at the moment frustrated at the lack of business travel? Sure. But so is the restaurant (industry) with only being at 25 percent. There's enough frustration to go around, but I think people ultimately, long-term, believe in that future and now that we will get through this."
–
Stay up to date on the effects of the coronavirus on people and businesses in the Capital Region: Sign up for the Comstock's newsletter today.