Margaret Wong founded the Sacramento-based California Center in 2012 to facilitate business opportunities between California and China. The organization — with two offices in China — consults clients on how to form partnerships and introduce their products, goods and services in a foreign market. Wong, originally from Hong Kong, is also an entrepreneur. Comstock's spoke with Wong about expanding to the China market.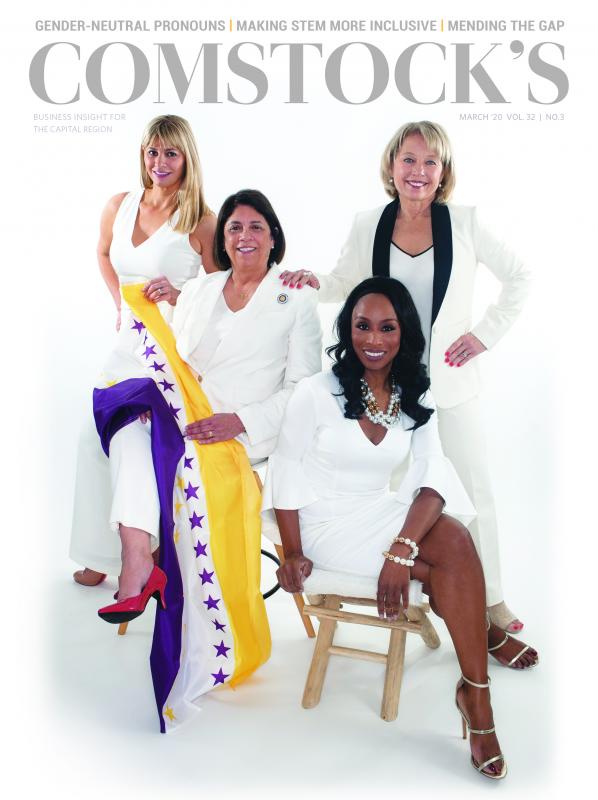 This story is part of our 2020 Women in Leadership issue. To explore the issue, click here.
Tell me about your background.
All of my businesses are related to doing business in China. I started in 1985, and that's the year I moved to Sacramento, and I started with lighting, and I still have the lighting business (called McWong International). We manufacture in China and export a lot of know-how and technology from the United States, and we supply to the U.S., mainly advanced lighting components. … Twenty-five years ago, I started a company in environmental engineering (called McWong Environmental and Energy Group); I saw great opportunity in China. We introduced U.S. technology and equipment and the regulations and all of these compliance requirements to China — 25 years ago, it was a blank page. We were able to create a lot of opportunity in China by providing the water-treatment solution for mainly industrial applications because in the last 2-3 decades, China has been building up so much manufacturing, and environmental engineering is one of the biggest headaches they have. You can't keep doing manufacturing and polluting the water. … Four years ago, I sold the company to a public company in China.
(In terms of the California Center), I started to see a lot of good opportunities in China about the emerging middle class and the consumer needs and (hunger) for the American lifestyle, (hunger) for California lifestyle, in food, education, entertainment, hospitality, tourism, sports. … I was the first one to bring the NBA competition to China in 2004, because I (saw) that China is so enthused about basketball, especially when Yao Ming joined Houston. I was the one who proposed to the (Sacramento) Kings — it was the Maloofs (as the owners) at that time — that you guys should start playing basketball in China. … We said, "Houston just (got) Yao Ming. If Kings played with Rockets in China, I'm sure a lot of Chinese would watch it." The first (exhibition) game was Sacramento Kings and Houston Rockets. It was a blast. … We (also) do a lot of programs in entertainment. I'm on the board of Themed Entertainment Association Asia Pacific (division), because Disney, Universal, all of these entertainment theme parks are going to China. There are at least 50 of them today on the drawing boards. … We also partner with the Culinary Institute of America. … We are their partner in China; they are introducing a lot of pro chef training, nutritional programs, plant-forward programs, because they provide hospitality to existing clients, including Disney, including Marriott (hotels). Marriott is building one hotel per week in China. So you can imagine how much need (there is) for hospitality.
You have connections with business and government leaders in China. What's the importance of this insider knowledge to a California business trying to enter the China market?
Doing business in China is easy, but it's not that easy. Of course, 35 years ago, when we first started, it was like impossible. Today, there is so much trade between the two countries, you can get opportunities in many different ways. I think it is easy because China has a lot of demand, a big market, and (the) U.S. needs to export to the China market. For big companies, it's easy … to launch in China because they have the manpower, they have the money to be able to make the investment. For some of these smaller or middle-sized companies, they're having difficulty, but (there are) three things I would advise them.
No. 1 is (you) always want to know your buyers or your market. The due diligence effort on knowing China — from what they want and how they want (it) and what the government requirements are — that is a moving target. Americans sometimes take for granted that what we're selling in America can work for China. No, not necessarily. (China is) still a very much government-controlled market, so you've got to study, and it will make your work a lot easier. No. 2 is whether it's import or export, it's a partnership. So we have to be very open-minded in terms of how to make it work. There are times that … to keep the costs down, there are certain things (your partner) can do, or there are certain things you can do that China doesn't have. So we have to be flexible in a way. … So the flexibility of how to make the economics work is very important. And, thirdly, choosing the right people for the team: It's all about people. … I always want to make sure that you're getting the right advice from the right people and using the right team, because that can be a barrier, or it can be an opportunity.
You regularly take California-based business executives on tours of China. What do you show them, and what do you want them to take away from the visit?
These delegations are important to show what China is today. From the government side (and) viewing the cities, you get a very good perspective of China as moving very fast and very interested in doing business with the United States and California. Sometimes there are agreements being signed and connecting with these people. … I'm constantly pushing the reality of practical business, the reality of on-the-ground knowledge, the reality of how to make a deal.
Can you give me examples of some California Center programs?
CIA is one of them — the Culinary Institute of America. They've been wanting to go to the China market for the last 10 years, and they had not been able to find the right partners that know U.S. and China. Academically, they are very strong, but they are also very active in industry. … China is such a low-hanging fruit. There's no doubt they need professional training because of the demand … and the (need for) hospitality training. So what I'm saying is when you see an opportunity that is lacking but there's a demand, that's where you jump in. We signed a contract with (CIA) last year. We have a lot of programs we're putting on, and (we're) also bringing students from China. (Another) program we have is in sports. We're starting on e-gaming. E-gaming is becoming so popular — in China, there are like millions of people playing e-game sports. Our idea is to do it international, college to college. Say a college student from China and a college student from here can compete. This is a program that we're incubating, and we're very lucky the Kings are already supporting us.
"The due diligence effort on knowing China — from what they want and how they want (it) and what the government requirements are — that is a moving target. Americans sometimes take for granted that what we're selling in America can work for China. No, not necessarily."Margaret WongPresident and CEO, California Center
We (also) do wine. We have our own vineyard in Napa — I bought a vineyard. We're exporting a lot of wine to China. We want to tell a story about the wine. Then this year, we're going to have at least a half a dozen groups coming from China to Napa; we want to brand Napa to be a place for them to visit so when they come. … I'm opening a Chinese restaurant in Napa this summer. … So I will start that as part of California Center work. So we recruited some master chefs from China that are going to be promoting the history of China, because a lot of the vineyards were started by Chinese … 150 years ago. The Chinese (workers) were shipped from China to help build the Union Pacific Railroad. After they (finished) the railroad, they built a lot of vineyards here. I'm trying to go back and tell the story in memory of the Chinese contribution, because over 50 percent of the tourists in Napa (are) Asian. A few decades ago, the Chinese (went to Napa and asked), "How much is (a bottle of) wine?" Then they say, "How much is a case of wine?" Now they come in and say, "I want to buy you out." So there's a lot of investment coming to Napa. There's a lot of interest from overseas.
We're talking on the heels of a trade deal being made with China. What are your initial thoughts on the deal?
I think it's a good start. It is a healthy start. But people like us that are bringing products every day … we are encountering 25 percent duty, 15 percent, 10 percent duty. These are just hurting our business tremendously. … The bad news is we have to pay extra, we're losing business. The only good news is everybody got hurt, I'm not the only one. Overall, I think this is a good start. It's a good wake-up call for both China and the U.S. in the way that they see more of how (everyone got hurt with the trade war). … Hopefully, phase two will show a reduction of tariff; market opening is crucial. I think the Chinese are willing to buy $200 billion in the next two years. It could happen. … If (the) U.S. is afraid of China (importing), it is our fault that we did not aggressively go out and export ourselves. … We're very defensive, we're not offensive. The exporting (of manufacturing) to China … we're losing a lot of jobs. (But) we have a lot of value (in terms of) technology to export. It doesn't help the people who lose their jobs, but it helps the country by getting another segment that can be very strong. So there's a shift between all these workers in manufacturing being taken away, but all the technology people win. Whether we can shift that and still be a happy camper in the United States, that's the challenge.
This is our annual Women in Leadership issue. What advice do you have for young professionals who want to become leaders in their field?
Honestly, I really don't feel that because I'm a woman I'm inferior. I have more difficulty being recognized as a woman in the United States than I do in China. Because I'm in a unique position, I was able to be accepted by Chinese traders — I live here, I'm a U.S. citizen, I can speak the language, I'm very much welcomed by them because of my knowledge to help them make things happen.
For the youngsters, it's all about your deliverables, it's all about your track record. … I'm proven by my persistence, my perseverance and my deliverables. … I always say, when people are sleeping, when they are having fun, I am working. That's how I survive. I'm originally from Hong Kong. When I come to the U.S., I start to adapt to the U.S. I start doing business in China, so I adapt to China. I'm just saying, I am an adaptable person, and I work hard. I encourage all the youngsters to keep working. When you do business, you put in 10, you only get one. But someday, you put in 10, you get 20. Of course, there are times I put in five, I get nothing, or I put in five, I get 40. There are times I put in 10, I get zero. You just average it out. You want to get achievements psychologically and monetarily. Your ego and your status, that's what you need to build on your own.
–
Get all the profiles in our biggest-ever Women in Leadership issue delivered to your inbox: Subscribe to the Comstock's newsletter today!
Back in 1985, Margaret Wong saw potential in China's booming economy and took her Sacramento-based lighting company, McWong International Inc., overseas.
Then:
We introduced Margaret Wong, president of West Sacramento-based McWong International, to our readership as part of Comstock's international business special section in February of '97.
As Comstock's celebrates its 30th anniversary, we take a look back at our most-memorable covers. This is the first of a four-part series published Mondays.