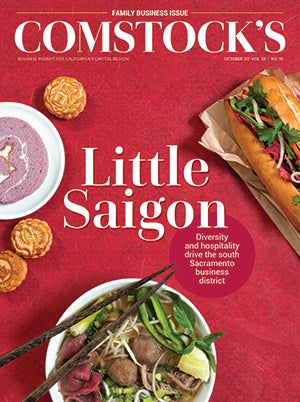 This story is part of our October 2020 issue. To subscribe, click here.
Cathy Rodriguez Aguirre became president and CEO of the Sacramento Hispanic Chamber of Commerce in 2014, after being the organization's membership, marketing and events manager for two years. Founded in 1972 as the Mexican American Chamber of Commerce, the SHCC has 550 members in the region, with the majority concentrated in Sacramento. Comstock's spoke with Rodriguez Aguirre about SHCC and how it has worked to meet the needs of its members during the pandemic.
Can you give me an overview of the Sacramento Hispanic Chamber of Commerce?
Our mission is pretty simple. It's to work with our businesses and to help them grow and develop and to provide access to the Hispanic market. … We offer business education, resources, connections, whatever it is that a small business might need as an extra arm to help them in their day-to-day process.
A lot of small businesses … don't necessarily have an HR department, a marketing department, a finance department, and so the chamber ends up acting as arms for them to connect them to those additional resources.
The Hispanic Chamber, we have the additional responsibility that I take really seriously, and that's the advocacy part. … There's a lot of rules and regulations that are happening within the state, on the regional level and on the local level. Sometimes (business owners) are unaware of it, just because all of us get siloed into what we're doing. And so we need to be that additional voice.
The Latino community has been hit especially hard by the coronavirus. How has your organization been working to support the community?
Things have hit especially hard here for many reasons. There's information that needs to be shared, not just in the language, but with an understanding of the culture. … It has been, actually, a lot of connecting personally by phone (and saying), "Just so you know, this application process is available to you. Do you know how to fill this out? What can we connect you with to make sure that you're able to access this?"
We have been doing a lot more working with some of our media partners (to share information). We've done some work with Telemundo. … We worked with some of our print and radio partners, additionally, getting information out that route. We have additional webinars that are very specific about the (Payment Protection Program) loan and the forgiveness part that's happening and what people will need to do.
We're getting ready for our (2020) State of Hispanics, which is normally our public policy forum that we do every fall during Hispanic Heritage Month (Sept. 15-Oct. 15). … We are looking at how to do this in a virtual format that is both entertaining and informative and dynamic. The cool thing, though, is that because it is virtual, we actually have been able to expand where our speakers and panelists come from. … Now that we don't have to fly people in, they could be anywhere.
Just 10 percent of Latino business owners who applied for PPP loans were approved, compared to 17 percent of white business owners. Why do you think this is, and are the loans doing enough?
Well, for anyone that's received a loan, it's needed. And so, in that way, it works well. But there is a lot of work to be done. … Let's be honest, for almost everyone, including us, (the PPP) was a little confusing when it first rolled out.
A big issue was not having that banking relationship (to help clarify the terms of the loan). … Some of our Latino businesses have been banking, a lot of it because of name recognition, with a larger bank that wasn't able to do that one-on-one. They went through an online portal, there was no one really to talk to you. … I know that we had businesses that were able to do well going through (for example) F&M Bank, a smaller community bank that had more of that one-on-one and developed that relationship with them.
This is a census year. Has SHCC done any outreach to encourage people to participate?
At our State of Hispanics that we did two years ago, we brought in a whole census panel. … We had everyone coming in from the Latino Community Foundation and … the National Association of Latino Elected Officials. …
Among the 200, 250 people that we had there in that room, we had a good percentage of them that actually have ended up being part of the census workers, because from that, everyone got to hear what the census was, why it's important, and how the resources are allocated based on who responds. A lot of people there hadn't ever heard that, what it really meant. They just thought it meant an informational thing, not understanding that's how budgets actually get done.
This is an election year too. How has the SHCC been encouraging people to vote, and why is the election important to the community?
Our community, we do things as a group, so we're encouraging that whole mindset. As a group, discuss these issues together. Sit together, fill out your mail-in ballots. Figure out who hasn't been registered yet. Get them registered. …
Everyone, of course, is looking at what our presidential election will look like, but … it's not so much who that person will be as much as will that leadership start talking more about these things that are important for all of us? Equity in education. Equity in employment. … What does it look like to maybe finally have a comprehensive immigration reform? … What's going to happen with our (Deferred Action for Childhood Arrivals program) students?
Are we looking for leadership that's going to alleviate some of the fear that we have in our community for, quite frankly, our other family members? There's some families that are mixed-status, and a lot of people don't realize that. … The level of anxiety is so much that we're looking for leadership that's going to help alleviate that and start to help find solutions.
Over the past decade, Latinos have started new businesses at a faster rate than any other demographic group in the U.S. Do you see this trend continuing past the pandemic?
This pandemic is detrimental, there's no way around it. … But then there's also businesses that have found, 'Hey, I didn't realize that I could have an e-commerce platform. I can suddenly reach people around the United States that I didn't before.
I do. When people start a business, a lot of them may be immigrants or may have an immigrant background. If you've already left everything you've ever known, you are that much more willing to be like, "You know what? This is what I'm going to do. I'm going to take control of my destiny and start a business." … There's a resiliency to keep moving forward. And I think, if anything, it's going to continue. …
This pandemic is detrimental, there's no way around it. It has been detrimental to a lot of businesses, and it's made everyone have to revamp their plan and pivot in different directions that they may not have ever thought of. But then there's also businesses that have found, "Hey, I didn't realize that I could have an e-commerce platform. I can suddenly reach people around the United States that I didn't before."
How are the family businesses you work with responding to the pandemic?
There are some that stand out in different ways. You have La Esperanza (bakery, deli and supermarket on Franklin Boulevard in Sacramento), which is owned by the Plasencia family, and they just celebrated their 50th year (in 2019). Their kids now that are in there are adding the technology. … They're on top of what has to be done for COVID and social distancing, and putting that into practice. …
And Caballo Blanco (restaurant, also on Franklin Boulevard) … I probably never thought that they would have to pivot into the computer age, but they have during the pandemic, and they have their 60th anniversary (next year). And then there's Kulture (Mexican import store in Midtown Sacramento), one of the newer family businesses. … David and Nancy (Garcia), they already have a daughter that's with them there doing inventory or hanging out in the back room while they're working. So she's seeing her parents put everything they have into this business, and utilizing social media and other platforms (to pivot).
Is there anything else you think our readers should know?
We're going to celebrate our own 50th anniversary in 2022. … We are as interested and committed to building business as any other organization here in town, and our businesses have been a consistent part of the economic vitality of this region, and I think it's important for people to know that. … We actually have several founders that are still around and very active. … I feel a privilege and a responsibility to make sure that I'm keeping this moving forward, because not only was it founded to be that voice and advocacy for Latino businesses, but I'm also around the actual founders, so I want to make sure I'm doing right by them.
–
Stay up to date on business in the Capital Region: Subscribe to the Comstock's newsletter today.