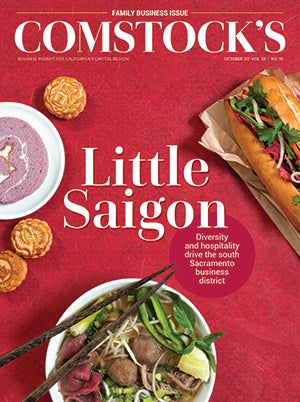 This story is part of our October 2020 issue. To subscribe, click here.
For the first time, California is mailing a ballot for the Nov. 3 general election to every registered voter, instead of just to those who request one.
But voting by mail isn't new. In California, which has allowed vote-by-mail since the 1962 general election, 65 percent of the 12.7 million ballots cast in the 2018 general election were done by mail; that number increased to 72 percent in the primary election earlier this year.
And we're not alone. A report by the nonprofit Open Source Election Technology Institute says 46 states now offer some form of by-mail voting for all voters. Nine states plus Washington, D.C., are sending all registered voters a ballot, and 11 additional states have sent all registered voters an application for a ballot. Six states still require a reason to apply for an absentee ballot. More than 190 million Americans who are eligible can now cast a ballot by mail.
Returning a ballot by mail isn't the only option, of course. Completed ballots may be turned in at any polling place or ballot drop box, and many voters still prefer to cast their ballots at voting centers. (Sacramento County will open some centers as early as Oct. 24). With so many options, there's no excuse not to vote.
While most of the media coverage has focused on the presidential race between Donald Trump, the incumbent Republican, and Democratic challenger Joe Biden, there are a number of statewide ballot measures worth taking a closer look at.
Proposition 15: This initiative would amend Proposition 13, which passed in 1978 and set strict limits on property tax increases. A yes vote for Proposition 15 supports requiring commercial and industrial properties, except those valued at $3 million or less and those zoned as commercial agriculture, to be exempt from Proposition 13 and taxed based on assessed market value rather than purchase price. The initiative, which projects an increase in property tax of $6.5 billion to $11.5 billion annually (40 percent would go to schools, 60 percent to other local governments) is backed by most of the state's top Democratic leaders and the California Teachers Association.
Proponents argue that these properties seldom change hands, thus most are not taxed at fair market value, and that the additional revenue is needed, especially with the recession caused by the coronavirus pandemic. Opponents, including the California Chamber of Commerce and the California Business Roundtable, argue that large increases in property taxes would make the state a less attractive place to do business.
Proposition 16: A yes vote for this legislatively referred constitutional amendment would repeal Proposition 209, which banned government and public entities from discriminating against or granting preferential treatment based on race, sex, color, ethnicity or national origin in public employment, public education and public contracting. Proponents of Proposition 16, which essentially would restore affirmative action in California, argue that a yes vote will open more contracting and educational opportunities for women and people of color. Opponents contend that allowing schools and governments to make decisions based on race, ethnicity or sex is prejudicial.
Proposition 22: Assembly Bill 5, which became law Jan. 1, 2020, was aimed at reclassifying many independent contractors as employees. This proposition would exempt rideshare and delivery drivers for companies such as Uber and DoorDash. Proponents, including the affected companies, argue that being classified as independent contractors allows drivers to set their own hours and provides employment opportunities to those who require flexibility. Opponents contend the large companies that support the measure are trying to create a special exemption that allows them to continue to deny their drivers minimum wage, paid sick leave and safety protections.
Celebrating Family Businesses
California is home to 1.4 million family-owned businesses that employ nearly 7 million people, according to the Family Business Association of California. That's one of the reasons we are devoting most of this month's issue of Comstock's to the coverage of family businesses, as we do most years.
The process of selecting which businesses to feature begins months in advance, and we strive for a balance in the size and type of businesses. Our cover story (page 30) explores Little Saigon in south Sacramento and its wide range of family businesses. Other stories focus on how family businesses could benefit from a professional coach (page 46) and why these businesses often can navigate difficult economic times (page 52).
We hope you enjoy this issue as much as we enjoyed meeting these families and bringing their stories to life.
–
Stay up to date on the effects of the coronavirus on people and business in the Capital Region: Subscribe to the Comstock's newsletter today.