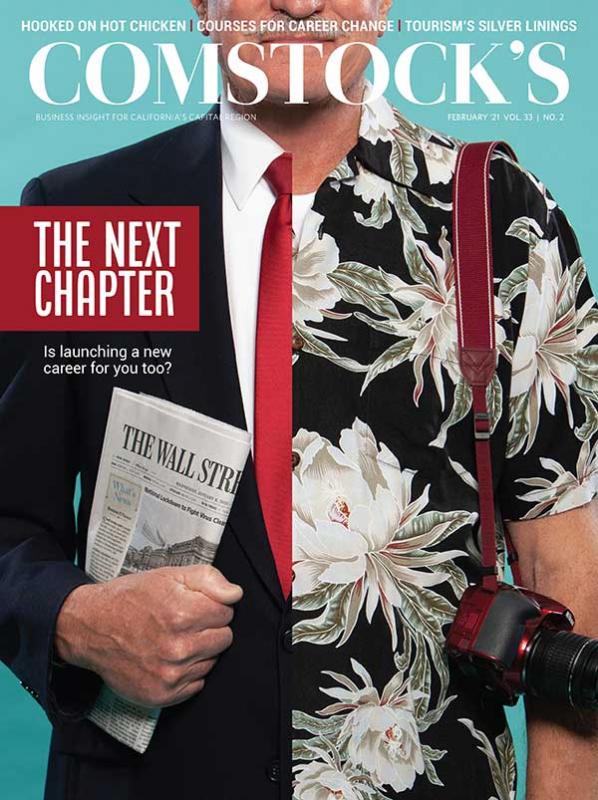 This story is part of our February 2021 issue. To subscribe, click here.
Delfino Farms opened in 1964. Its bakery sells warm goodies such as pumpkin pie, blackberry cheesecake and apple crisps. It's an Apple Hill staple. Every year, like clockwork, sales tick up in October, its peak season. But 2020 was different. Crowds flocked to the farm in September, and as co-owner and General Manager Christine Delfino Noonan says, "Sales have actually been up. I think it's because people feel safe. Everything we do is outside." Delfino's parking lot, which can accommodate 100 cars, filled up so quickly that she started charging for parking, hoping to thin the crowds and spread them to the off-peak season. "We've been really blessed," she says.
The pandemic has devastated many businesses, claimed more than 2,400 lives in the 10-county Capital Region and seemingly crushed all aspects of tourism. Yet the impact is not homogenous. While many small and not-so-small businesses were roiled, some have seen a windfall with people desperate to hop in their cars and do something, anything, besides cook another dinner at home and watch more Netflix.
And some local businesses have pivoted to survive — even thrive — in the new normal, making the best of a wrenching situation. "It's been interesting to see how creative these businesses have been," says Jody Franklin, director of tourism for El Dorado County Chamber of Commerce. "You can't keep those small businesses down."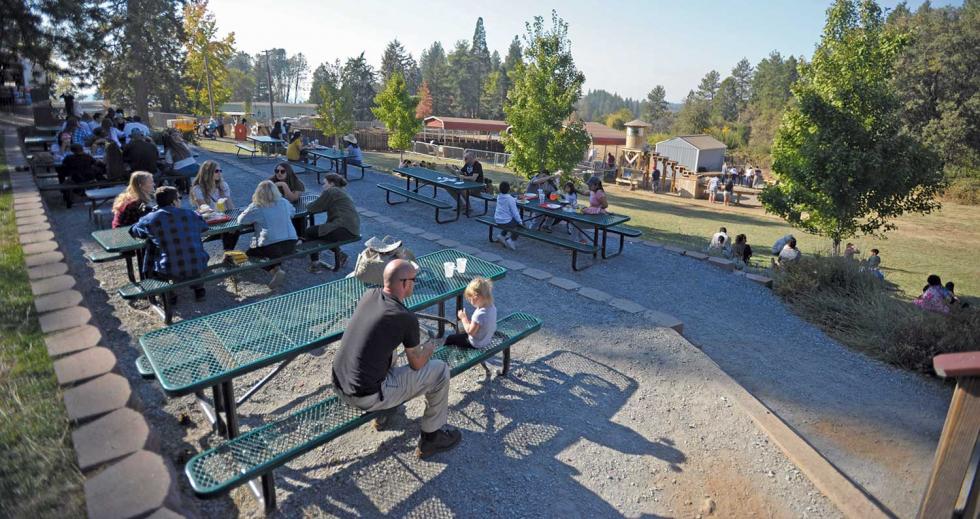 The Domino Effect
Think back to February 2020. In those sunnier days before the pandemic, Sacramento hotels were at around 83 percent occupancy, according to Mike Testa, CEO of Visit Sacramento, adding that for perspective, "When your hotels are running at 70 percent, then you need more hotels." And, now, during the COVID-19 pandemic? Testa says occupancy rates plunged to 16 percent and are still only in the 20 percent to 40 percent range.
The drop in tourism has consequences that domino throughout the Capital Region. Since Sacramento International Airport hasn't been as busy as usual, Uber and Lyft drivers have had less work, airport restaurants and bars have been empty, and shoe shiners have polished fewer loafers. Some of the impacts are obvious, like the devastating plummet in business for restaurants and bars and the closure of beloved retailers, such as Andy's Candy Apothecary in downtown Sacramento. (Andy's hopes to reopen in a new location in 2021.)
Other effects are tougher to spot. When large business groups come into the region for a big meeting, for example, they often do their printing here instead of lugging all the documents and signage. (For example, Commerce Printing — Comstock's printer — saw its revenue drop by 30 percent.) Also taking a hit are private transportation companies (those small buses used to transport delegates from hotels to conventions or tourists to Old Sacramento), dry cleaners and souvenir shops. "Tourism isn't about the tourist," says Testa. "It's about driving revenue for the residents."
Confusion has added to the challenge. Tourists have had only a foggy idea of what they can safely do. Franklin received calls from tourists who had booked a trip to El Dorado County, and they asked her before the trip, "Is there still any reason to come? Am I going to be able to go to a restaurant?" Businesses have been flying in the dark when planning staffing, inventory and revenue projections.
Then there have been the sneakier impacts to the region. With both tourists and locals spending more time in the great outdoors, the larger crowds have made the outdoors, well, a bit less great. Outdoor rookies — those not versed in nature etiquette — have been flooding the trails. For example, when the parking lots filled near Cronan Ranch Regional Trails Park in Pilot Hill off Highway 49, Franklin says people would park nearby and then "walk across the freeway, their kids in tow." They littered garbage on the trails. "'Leave no trace' is not part of their vocabulary," Franklin says.
One bright spot: Thanks to the quirks of civic planning, the fallout could have been even worse. "In some ways, we benefited from having the (Sacramento) Convention Center closed," says Testa. Since the center closed in July 2019 for an expansion to add 22,494 square feet of exhibit space, a 40,000-square-foot ballroom, meeting rooms and a new lobby, with a completion target of early 2021, a slowdown was already baked into the expectations. No need to scrap all the trade shows, conferences and concerts — they were never booked in the first place. (It's one more testament to the bleak 2020 that this counts as "good news.")
The Pandemic Pivots
The Old Sacramento Waterfront historic district depends largely on tourism. So when the pandemic put a squeeze on the influx of visitors, the marketing team at Downtown Sacramento Partnership switched its efforts to reach a new audience: drive-in tourists, or those who live in the region but rarely visit the city center. "People were tired of being locked in," says Michael Ault, executive director of Downtown Sacramento Partnership.
So Ault's team had a new mission: How does it still give people an opportunity to come downtown and experience the urban core? It promoted al fresco dining and outdoor yoga programs and, perhaps most visibly, rolled out a 65-foot Ferris wheel in October, which lured 11,000 riders in its first two months, Ault says. "We're trying to be creative," says Ault, although even the most inventive plans can struggle in the face of COVID: The Waterfront Wheel was forced to temporarily shut down because of updated pandemic restrictions.
Local businesses have embraced the same creativity, also to mixed results. The Firehouse restaurant in Old Sacramento shifted patrons to its outdoor patio, using dim lighting, fountains and an array of plants to maintain its high-end ambiance, before December's surge in COVID-19 forced it back to takeout only when Gov. Gavin Newsom instituted rules based on ICU bed capacity in five regions in the state. De Vere's Irish Pub in Sacramento's downtown similarly extended seating to the sidewalk after the City of Sacramento relaxed its rules, until December.
On Placerville's Main Street, Enchanted Forest Dining Experience made its outdoor seating feel like exclusive enclaves. "They've gotten pretty dang creative with moving their businesses outside," says Franklin. And in downtown Sacramento, chef Adam Pechal launched pop-up restaurants within Tiger Beer and Food Hall, focusing on takeout. The annual Farm-to-Fork Festival Tower Bridge Dinner was reframed as "dinner to go," giving a lifeline to more than 30 local restaurants, including Mulvaney's B&L, The Wandering Chef, Frank Fat's, and Mayahuel.
"Tourism isn't about the tourist. It's about driving revenue for the residents."

MIKE TESTA CEO, Visit Sacramento
Mayahuel, owned and operated by Ernesto Delgado, is a block from the Capitol. "I always build my restaurants on destination types of location," says Delgado, so a drop in tourism and local foot traffic would be crushing. He tried a few things to stay competitive. He lowered prices, whipped up a new online menu, focused on to-go orders.
"My whole concept was to deliver my indoor experience to their dining room at home," says Delgado, who hoped to offset the gap in tourism with more deliveries to locals. It has had mixed results. To-go orders can be a tough sell for higher-end restaurants such as Delgado's, because part of what patrons are paying for is the ambiance. "My limited menu didn't quite work out," Delgado says. "My guests always want what they want. If the guests want mole, I'm going to give them mole." He soon switched back to the more complete menu and has stayed afloat, in part, thanks to the assistance of programs like Great Plates Delivered, which uses a mix of Federal Emergency Management Agency, state and local funding to provide meals to seniors.
While many restaurants like Mayahuel have struggled, other businesses have seen a surprising uptick. Take The Allspicery, a spice shop just down the block from Mayahuel. When the pandemic began, founder and owner Heather Wong assumed her business would be pummeled. Much of her revenue came from food tours, and those had vanished. Foot traffic was crucial. People came inside to smell and taste jars full of cumin, saffron and marjoram.
She was forced to switch her shop to be entirely online and was shocked to see an improvement in sales, as items like truffle salt, herbes de Provence and obscure chile peppers were "flying off the shelves." Her theory? The drop in tourism was more than offset by a surge in demand from locals, as people were buying in bulk like never before, eager to use higher-end ingredients when cooking at home. "We've seen demand for our product beyond our wildest expectations," says Wong, adding that she feels "survivor's guilt about our success."
Heidi Rojek, co-owner of Capital Books in Sacramento, also feared the worst. In the peak of the March restrictions, when she was forced to furlough employees, she flipped to online orders and curbside pickup and morphed the store from a charming in-person experience to a shipping center. "It was pretty sad, to tell the truth," says Rojek. "I actually cried one day when I looked around at what had been our beautiful bookstore that now had boxes and packing materials everywhere."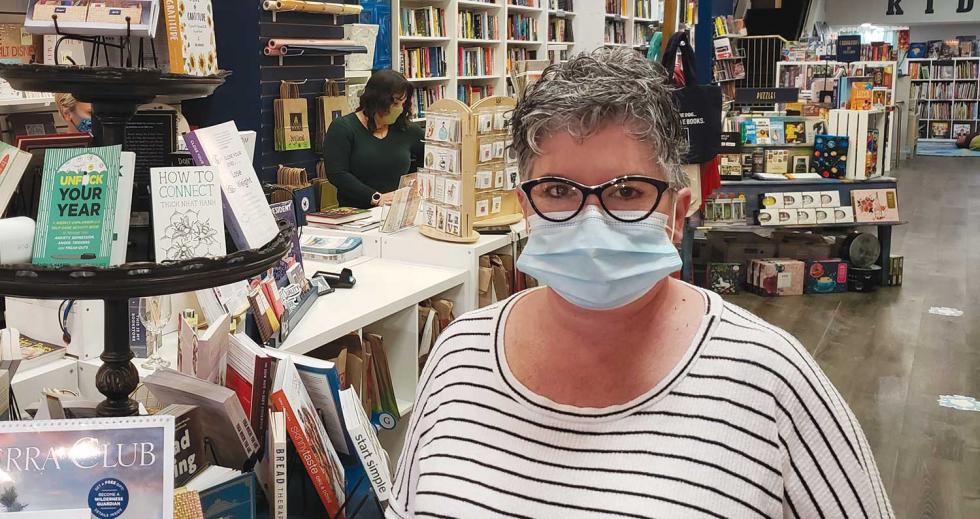 But the pivot worked. Orders poured in. They were later able to reopen in-store shopping, a first through private appointments and then with a limited number of customers, and Rojek says these changes help fuel revenue from "destination customers," which offset the loss of foot traffic from city office workers. Sales are up 70 percent since March, but Rojek also feels survivor's guilt. "So many of our retail friends in Sacramento are struggling to keep their stores and restaurants open," she says. "It feels odd to be doing all right."
Rojek is not alone. Like Delfino and the farms at Apple Hill, many wineries have thrived despite the pandemic. "We've seen an increase in alcohol consumption during the coronavirus, and particularly wine," says Kara Sather, executive director of the El Dorado Winery Association. "It has become a comfort for people in shelter-in-place."
Wineries were a rare COVID-safe activity for tourists and locals. Via Romano Vineyards in Placerville created outdoor cabanas with fire pits to allow sipping wine while remaining socially distanced. Mediterranean Vineyards in Somerset created virtual cooking classes. And the El Dorado Winery Association launched a wine subscription service (described as "Netflix meets wine"), intended to nudge locals to the wineries and spur online ordering. The subscription service is something the association had toyed with before the pandemic and then, as Sather puts it, "COVID forced our hand."
Beyond the Pandemic
Much of these pivots involved an embracing of the outdoors, which — as has been painfully obvious — became either trickier or impossible in the winter. "We're going to have a pretty tough winter for our businesses. There's no sugarcoating that," says Ault, adding that sitting outside for a steak dinner and splitting a bottle of wine when it's 30 degrees "sounds like a college prank." His plans for the first quarter of 2021 are conservative, assuming that the social distancing limitations will continue.
"So many of our retail friends in Sacramento are struggling to keep their stores and restaurants open. It feels odd to be doing all right."

HEIDI ROJEK Co-owner, Capital Books
Delfino Farms, which survived and even grew in the sunny warmth of October, is battening down the hatches. "Obviously, we're a little worried; can we make it through the winter?" says Delfino Noonan. "We'll just see what happens and hope for the best."
After the grim year, how do businesses push for cheerier times without striking the wrong note? This is a marketing challenge that Downtown Sacramento Partnership is working through. As Ault puts it, "How do we bring the fun back?" His team has been spitballing campaigns for the post-pandemic recovery, such as Return to the Grid, We've Missed You, Welcome Back and, he says with a chuckle, Get the F— Down Here.
Testa is very much in the bring-the-fun-back camp. "There's a ton of pent-up demand," he says. "I can tell you, personally, I'm ready to do something. I'm ready to travel somewhere." With the anticipation of widespread vaccines and a return to quasi-normalcy, his team has been busy coordinating large events such as the four-day Aftershock Music Festival, scheduled for October and headlined by Metallica.
Testa estimates the festival will bring 40,000 people to the city. And, for the first time, barring setbacks, Sacramento will host the Ironman triathlon this October, bringing in thousands more visitors. Then those dominos will fall in the reverse direction, helping the local economy: The Ironman athletes will eat at restaurants, order coffee and celebrate finishing the race at bars.
The irony — arguably, the tragic irony — is that just before the pandemic, the city had thundering momentum with the success of the farm-to-fork campaign, the expansion to the convention center, a nearly $40 million investment to the waterfront, and a surge in galleries and cultural events. "We had a lot of exciting stuff going on, and it feels like 10 years ago," says Testa. "But the good news is that we will get that groove back."
–
Stay up to date on the effects of the coronavirus on people and business in the Capital Region: Subscribe to the Comstock's newsletter today.