It wasn't taken as a joke or a typo or an anonymous quote from some trolling conspiracy theorist. It was a real-live tweet from a billionaire with mystery hair: "The concept of global warming was created by and for the Chinese in order to make U.S. manufacturing non-competitive."
The famous tweet came from now-President Donald Trump on Nov. 6, 2012. Four years later almost to the day, the businessman and reality-show host would win enough votes to be the next president of the United States. But his denial of climate change has sparked concern all over the globe from environmentalists who fear a Trump White House will reverse major progress in the shift from fossil fuels to renewable energy.
To supporters, the move is bold and ambitious…To others, it's a devastating blow.
Meanwhile, on the opposite side of the country, California is moving full-steam ahead with its own aggressive maneuver, treating global warming not as a hoax but a scientific phenomenon that cannot be denied. In August, after heated debate, the California Assembly and Senate passed Senate Bill 32, a divisive bill that builds on Assembly Bill 32, known as the Global Warming Solutions Act of 2006.
Ten years ago, this landmark law set up a comprehensive program to reduce California's greenhouse gas emissions to 1990 levels by 2020. Through various energy efficiency and conservation programs, the state is on track to hit that target. Now, SB 32 raises the challenge with a new goal to lower emissions an additional 40 percent by 2030. (The European Union is aiming for the same target, but they started in 2014.) To supporters, the move is bold and ambitious, and continues the Golden State's streak as a trailblazer on climate change. To others, it's a devastating blow.
Assemblyman James Gallagher, R-Plumas Lake (Yuba County) blasts the new law. In a column for Fox&Hounds Daily, a conservative blog about business and politics in California, Gallagher claims working people in the state have been invisible victims for the past decade.
"Truckers out of work who have lost their livelihoods; building and construction workers who can't find a job. Good paying manufacturing jobs that have gone to other states," he wrote. "These facts were ignored when SB 32 passed out of the California State Legislature."
On the other hand, the new law will provide "regulatory and market certainty for the business community," according to Amisha Rai, senior director of California policy for the Advanced Energy Economy, an association that represents a range of clean energy businesses, from startups to Fortune 100 companies.
Like many policymakers, Rai admits she wasn't sure how the economy would react in the wake of the Global Warming Solutions Act. But that law proved to be a real catalyst for the advanced energy industry and job increases, giving the state an economic jolt she expects to continue with SB 32 on the books. Business groups in favor include the Sierra Business Council and the Los Angeles Business Council. Those against include the California Chamber of Commerce, the California Business Properties Association and the National Federation of Independent Business.
It remains to be seen how exactly the business community will be impacted, or how the state will reach the new target. And this cloud of uncertainty feels all-too familiar.
UP IN THE AIR
The passage of SB 32 wasn't a guarantee.
The bill stalled the year before with the force of the oil industry leading the charge against it. But it wasn't the only opponent. Environmental justice groups argued that programs designed to reduce emissions failed to address the areas where air quality is the worst, including communities of color, neighborhoods next to ports and refineries, and farming regions.
One program with an uncertain fate is cap-and-trade, a pioneering policy tool that took effect in 2012 and has been authorized through 2020. This program puts an annual limit on emissions and gives big polluters the opportunity to buy and sell special permits, called allowances, to pay for the greenhouse gases they emit. The idea is that, with the annual limit and available permits shrinking every year, companies that own power plants, factories and oil refineries will gradually reduce emissions.
Created and enforced by the California Air Resources Board, cap-and-trade had support from businesses that preferred a market-based approach over stricter mandates to cut emissions. But a pending lawsuit from the California Chamber of Commerce claims the allowances are actually a tax and so required two-thirds approval in the Legislature.
Still, Gov. Jerry Brown, who has made the fight against climate change his grand mission, wants to make sure the program doesn't sputter out in 2020.
"Let's be clear: We are going to extend our climate goals and cap-and-trade program — one way or another," Nancy McFadden, Brown's top advisor, wrote in a statement posted on Twitter last August. "The Governor will continue working with the Legislature to get this done this year, next year or on the ballot in 2018."
The key to the passage of SB 32 this time was a companion bill, AB 197, which gives lawmakers more input over how the state will meet its climate goals and pushes California to focus more on curbing pollution in targeted local areas.
After SB 32 passed, Brown pledged in a statement to shore up the cap-and-trade program and direct more investment to disadvantaged communities. He also praised the lawmakers who voted in favor of the legislation, "rejecting the brazen deception of the oil lobby and their Trump-inspired allies who deny science and fight every reasonable effort to curb global warming."
FEELING THE PRESSURE
Beyond the party lines in the State Capitol, out on the crisscrossing California interstates, the politics can take a personal turn.
That's been the case for Bud Caldwell. He owns Northgate Express, a trucking company based in Chico, and he resents the CARB mandates for the mess they've caused to his business. SB 32 is just the latest one of his state-sponsored headaches.
For Caldwell and others, many problems stem from CARB requiring truck drivers to install a diesel particulate filter (DPF) into their diesel trucks to meet mandates. These filters are designed to capture and burn soot in diesel engine exhaust by burning the particles at high temperatures, at least 1,200 degrees.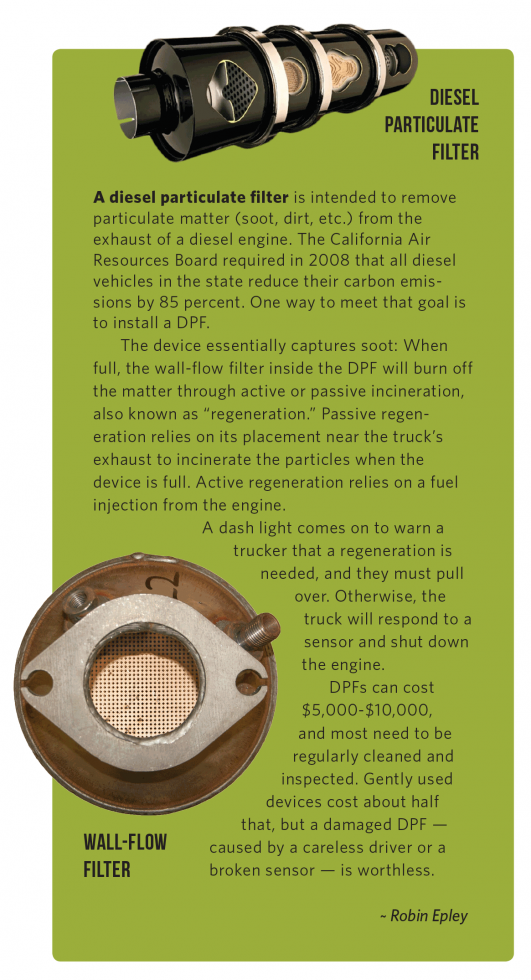 The Alliance for California Businesses — a coalition of business owners, farmers and truckers — has been tracking truck fires since 2010. Caldwell, also the group's president, believes these filters ignited more than two dozen bus and truck fires in the past three years, including a fire that destroyed several big rigs parked in Natomas.
There is no proof that DPFs caused these incidents. When the trucks are destroyed in a fire, all the parts become molten metal, which makes it very difficult to prove the filter is the cause, says Angela Casler, a former truck driver and current owner of Sustainability Management Consulting in Chico. Still, the Alliance sued CARB claiming DPF devices "are dangerous and have not been safety tested by the state," and they refused to investigate, says Caldwell.
"We thought when we showed them what damage these things were causing, they would stop it," he says. "But they said, 'The only reason your engines are catching fire is because of your shoddy maintenance.' I've been a truck owner and truck driver for 45 years. I believe my maintenance is pretty squared away."
With the lawsuit pending, CARB spokesman Dave Clegern declined to go into the details, but he says the manufacturer usually covers the testing and CARB double checks the data provided. That procedure, he says, was followed and there is no evidence linking the filters to the fires.
"There is no smoking gun there," Clegern says. "With a DPF, you have to maintain it like any other piece on a vehicle. Nobody likes to be told what to do, we get that. But we have to look at the overall environment and health of the people of California."
The Alliance believes collisions or any spark can set off a fire due to off-gases and the filter's extreme heat. This may prove not to be true, but the Alliance wants CARB to order an independent study (by scientists and engineers) to find out because the lives of truck drivers are at stake, Casler says.
"I'm 66 and I probably would have gone on 'til I died. But now I'm thinking it's regulated so heavily, it's not worth it."Bud Caldwell, Owner, Northgate Express
Caldwell also blames AB 32 and CARB regulations for jacking up costs for small truckers in this state. They can't afford to regulate or buy new equipment, let alone brand new trucks, he says. Since 2006, Caldwell says he has purchased nine new trucks for his company, the most expensive one setting him back $325,000, which includes two tank trailers. The retrofit filters cost him $15,000 each, but the price has since gone up to $25,000, he says.
His company was established in California more than 90 years ago, operated over the decades by different families. Caldwell bought the business 20 years ago and had long-term plans, but now he's considering getting out early and figuring out a way to keep the company going without him.
"It drives you crazy, but government knows best," he says with a puff of sarcasm. "I'm 66 and I probably would have gone on 'til I died. But now I'm thinking it's regulated so heavily, it's not worth it."
THE ROAD AHEAD
With 2020 around the corner, Clegern believes the AB 32 targets will be met easily. The SB 32 targets, however, will be a bigger challenge that requires outreach and collaborative efforts on the national and international scale.
CARB is focusing on various initiatives such as the Sustainable Communities and Climate Protection Act of 2008 (SB 375), which involves metro planning, regulating transit and reducing emissions through infill, land-use regulations and other efforts.
Another big piece is its Mobile Source Strategy, which focuses on moving all transportation sectors (including freight) to a low-carbon footing. Transportation is nearly 40 percent of California's greenhouse gas emissions — no other sector comes close, Clegern says.
"Ultimately, doing this comes down to people," he says. "The local pieces are very important. We have a strategy for dealing with super pollutants, methane, hydrofluorocarbons and the disproportionate impact of global warming. None of this happens tomorrow or the next day. It's a long timetable."
Despite initial concern that AB 32 would hurt businesses, the economy has boomed with new markets focused on wind, solar and battery power, as well as electric vehicles.
A report from E2, a national nonpartisan policy group, notes that in the past decade, "there has been nearly $48 billion in documented investments in renewable energy, energy efficiency, transportation and other climate projects resulting from California climate policies, programs and actions." In 2006, California was the world's eighth largest economy. Now, it's the sixth largest.
With Advanced Energy Economy, Rai represents several companies that likely wouldn't exist had it not been for the state's energy and climate change initiatives. The success of the advanced energy industry balances out any losses in the regulated industry, she says.
"There would not be a market for what we do if California wasn't forward-looking on climate reduction and battery storage."Manal Yamout, Vice President of Policy, Advanced Microgrid Solutions
"Does it impact oil and cement companies, which are heavily carbon-based? Absolutely," Rai says. "They have had to make adjustments, buy allowances and they have seen certain costs increase over the past decade. But I think overall we've seen a net positive in the economy."
LAWS OF POWER
Advanced Microgrid Solutions is one company born out of AB 32. The San Francisco-based energy services company, which came online in 2013, installs, owns, operates and finances battery storage systems to turn regular buildings into hybrid buildings.
The battery storage systems are set up on-site and charge at night when energy prices are low. Much like a hybrid car, AMS software switches the building's electric load from grid to battery power seamlessly, helping customers handle increasing energy bills, says Manal Yamout, vice president of policy for AMS.
Yamout worked in the governor's office as a renewable energy adviser. This background has given her insight into the inner workings of local utilities, which AMS has built partnerships with to better manage the state's electrical grid.
"With software and a battery, we can turn any building into essentially a power plant," Yamout says. "There would not be a market for what we do if California wasn't forward-looking on climate reduction and battery storage."
Last summer, AMS closed a $200 million financing deal with Macquarie Capital to develop and construct a fleet of energy storage projects. This is just one example of a business thriving in the advanced energy economy.
Under AB 32, money from the cap-and-trade auctions has been "a particular boon to energy efficiency and renewable energy companies retrofitting schools and public buildings," says Gary Simon, chair of CleanStart, an independent nonprofit in Sacramento that supports clean tech businesses.
Long-time Sacramento company Villara (formerly Beutler Heating and Air Conditioning) has benefitted from projects to make schools and other public buildings more energy efficient, he says. These initiatives have also attracted major national firms to open offices in the region. Simon highlights New York-based SmartWatt, a provider of energy-efficiency solutions, which has an office in Rocklin and has been recognized many times by Inc. magazine as one of the fastest-growing private companies in the U.S.
STATE OF MIND
Despite his tweet about global warming being a hoax, his threat to cancel the Paris Agreement and the appointment of multiple self-proclaimed climate change doubters to his cabinet, Trump hasn't outlined any official climate policies yet. And according to Brookings, a nonprofit public policy organization, Trump may be able to slow initiatives, but most policies already enacted can't be reversed overnight.
"Undoing some rules like energy efficiency standards and fuel efficiency standards is not actually easy, as it would have to follow a new regulatory process that would satisfy the requirements of scientific and stakeholder input, as well as survive potential court challenges," writes Nathan Hultman for Brookings' PlanetPolicy section.
That doesn't mean climate regulations can't be rolled back or federal funding cut, but if that happens, climate policies could shift to local lawmakers. This happened in the 1980s after President Ronald Reagan cut funds to the EPA and other regulatory agencies. Reagan appointed several senior officials whose views often contradicted their own agencies. His first EPA chief, Anne Gorsuch Burford, fought to ease enforcement of environmental laws. Likewise, Trump chose Oklahoma Attorney General Scott Pruitt, an oil ally and a self-described "leading advocate against the EPA activist agenda," to head the EPA. His pick may forecast heated political battles to come.
But California isn't flinching. The popularity of the state's environmental policies remains strong despite any conservative push. A July survey by the Public Policy Institute of California showed 68 percent of Californians in favor of SB 32. If the federal government makes a move to block the state's climate change initiatives, Brown says that California won't back down.
"We have the laws, we have the tools of enforcement and we have the political will," he declared in December to a room of scientists at the American Geophysical Union conference in San Francisco. "We will set the stage. We'll set the example. And whatever Washington thinks they are doing, California is the future."
California, Hawaii and many Northeastern states have already been driving the transition to clean energy, but the trend would need to be adopted by more states to be effective, Danny Cullenward, an energy economist and lawyer at the Carnegie Institution for Science, told Climate Central. "Potential state action is the only climate-related silver lining to Trump's election," he said in the interview, "but only if states reluctant to take action on climate follow suit."
If that doesn't happen, California could end up at a disadvantage from an economic standpoint. "We all want to work together to address climate change, but how we do that matters," says Rob Lapsley, president of the California Business Roundtable. "When our electricity prices and fuel prices increase as a result of our policies, and other states do not bear those costs, then we are at competitive disadvantage to grow jobs and investments in California."
In December, the clean energy movement got a nod from Mayor Darrell Steinberg, who pledged to make Sacramento an industry center for renewable energy, alternative fuels, and electric and autonomous vehicles. According to Rai, there are many others, primed to meet the challenge of the new SB 32 targets through civil collaboration and coordination.
"Things are always heated inside Sacramento," Rai says. "You're lobbying for your side, stating your perspective and you live or die for that perspective. But if you take yourself away from that and go into the boardrooms on the CEO level, you see a lot more reasoned discussion and willingness to collaborate. Ultimately, Sacramento sets the right policy direction, but it's up to the business community to innovate and achieve those results."