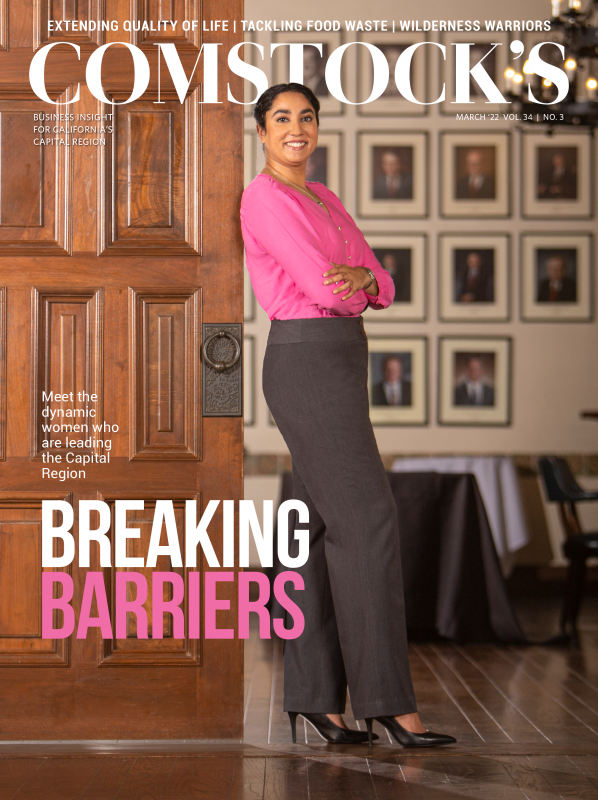 This story is part of our March 2022 Women in Leadership print issue. To subscribe, click here.
Melissa LuVisi
Chief strategy officer, tab32
Melissa LuVisi describes cloud software with the same enthusiasm as she uses to talk about the arts. "I truly believe the arts are the gateway drug to critical thinking and innovation," says the chief strategy officer of tab32, a cloud-based dental software.
LuVisi grew up in Grass Valley, earned her B.A. in art history from UCLA in 2009, and held curatorial and directorial positions at Los Angeles art museums and galleries before diverting to business development. After a few years as executive coordinator for the startup restaurant chain Tender Greens in Los Angeles, an experience she credits with giving her "access to entrepreneurship," LuVisi took on an administrator role at FedEx Ground's real estate department in Pittsburgh. While gleaning "insight as to how big corporations run," she helped build its auditing department from scratch.
"I truly believe the arts are the gateway drug to critical thinking and innovation."

Melissa LuVisi, Chief Strategy Officer, tab32
At the same time, she founded her first arts business, an online curatorial site which she later sold to a strategic partner. She started her next independent venture, the one-woman marketing firm LuCurates, when she moved back to Northern California. While working at The Urban Hive coworking space in Sacramento, she met tab32 CEO Kiltesh Patel, who became her client. In 2018, after six months of building marketing campaigns for Patel's startup, "he kind of gave me an offer I couldn't refuse," she says.
As the tech company's first full-time employee, LuVisi began in sales, presenting dental offices with the benefits of bringing their scheduling and charting systems up to date with tab32's faster, more comprehensive cloud-based software. She says that some doctors and dentists haven't adopted new technology since digitization in the 1990s. "We wouldn't make a phone call using an iPhone 1," she says as an analogy.
In fall of 2021, following stints as tab32's vice president of marketing and sales and director of business development, LuVisi moved into her role as CSO. With her hands "in a little bit of everything," she primarily works with the company's leadership team to develop and refine processes.
Though some of tab32's 100 employees are remote, including a small team of engineers and product associates in India, LuVisi works from the company's Rocklin office alongside about 40 colleagues. "Especially with a technology company," she says, "it's hard to have your pulse on everything that's moving so quickly and to have appropriate communication if it's not face-to-face."
Since joining the dental field, LuVisi has taken an interest in women's influence in it. "There are a lot of industries, in health care especially, where women make up the majority of the people … but they don't make up the leadership." She says she's proud that tab32 is the exception, with "almost 80 percent women in leadership roles and about 70 percent women employees." Last fall she spoke on a Women in DSO panel about electronic medical record software, and this March she'll be featured on another, where she says with a laugh that she will be "very pregnant onstage." (2021 was a big year for the strategist, with a promotion, a wedding and a baby on the way.)
LuVisi hasn't left the arts behind. Having recently moved to a painting-filled home in Midtown Sacramento, she's happy to be able to attend "different art events and get involved in the museums here in the Sacramento region." She's also a board member of the Bay Area organization De Colores Arts, which aims to foster connection and self-expression through inclusive art classes. "My heart will always be in the arts," she says.
–
Get all the stories in our annual salute to women in leadership delivered to your inbox: Subscribe to the Comstock's newsletter today.