For the past 48 years, Mike Doran has watched El Dorado County evolve— slowly. He recalls the days when the county was a peaceful, low-density community — long before the Home Depot came to Placerville, before the Dollar General got the greenlight for Georgetown, back when Highway 50 was nothing but a two-lane road.
In 1985, he operated a chain of small grocery stores. There was a building boom going on then, and he says local leaders wanted to boost the local economy."There's always been this underlying concern with the county about folks who live up here having to shop down the hill, down in Sacramento," says Doran, who lives in Shingle Springs. "There were always slogans. 'Buy your cars up here!' 'Shop up here!' The goal from the supervisors' point of view was to keep more dollars in the county."
In California, the nation's most populous state, growth comes with the territory. But in the wake of the Great Recession and housing crash, builders have been pushing for more affordable housing to meet demand, citing reports from sources such as the Legislative Analyst's Office and Bay Area think tank Next 10.
"While California innovation and entrepreneurship are driving business creation and job growth across the board, we don't have enough housing. And that's causing an affordability crisis," says F. Noel Perry, founder of Next 10, in a 2016 housing market report.
State law requires that each county create a general plan to strategize for future development. But in El Dorado County, everybody is not on the same page. With subdivisions proposed in El Dorado Hills, Shingle Springs, Marble Valley, Bass Lake and other areas, slow-growth groups — such as Rural Communities United, Shingle Springs Community Alliance, Citizens for Sensible Development and Save Our County — are pushing back to stop developers. These projects would cause traffic gridlock, they say, and disrupt the historically rural area.
El Dorado County is now a place of 185,000 residents living across 1,707 square miles. The county's median household income is higher than the national average, at $68,500, and its unemployment rate is slightly higher at 5.4 percent. But the area is socioeconomically diverse — its relative wealth and McMansions aren't distributed evenly.
In recent years, housing in the country has exploded. After only 700 new units built between 2010 and 2014, there have been about 860 new units added since then, most of them in master-planned communities, according to county records. A new influx of housing and residents would mean more property taxes and sales taxes to pay for county services.
Last year, Citizens for Sensible Development sued the county for approving a 250-unit apartment complex in El Dorado Hills Town Center. The lawsuit claimed the Board of Supervisors abused its discretionary authority, and the project violated density guidelines. In December, the El Dorado County Superior Court agreed, overturning the board's approval.
The pushback isn't over, as two key measures stand to be decided on the June ballot. With Measure E, slow-growth advocates want to reinstate the original intent of Measure Y, which was established in 1998 to prevent traffic gridlock. The other, Measure G, prevents the county from approving new projects until officials follow through on the 2004 general plan for water management, cultural and historical preservation policies, and restoring agricultural buffers to protect the environment.
"We need these measures to keep them in check," says Sue Taylor, a long-time Camino resident and founding member of Save Our County. "We need strong policies to say, 'Hey, we have rules and we're not going to let developers come in and negatively impact people who live here just for their projects.' Why do we have to pay for infrastructure for projects we don't even want? That doesn't make sense."
COMING OF AGE
When the recession hit in the early 1990s, growth in El Dorado County came to a halt. Doran sold his grocery stores and went into financial management. Now, he runs a commercial real estate firm. Many tenants are mom-and-pop shops — a yogurt shop, medical clinic, convenience stores, a gas station — located on Highway 50 at Ponderosa Road. He worries that the Ponderosa Interchange Project at this site in Shingle Springs could be a problem. This project — which includes the re-routing of two roads, the widening of Mother Lode Drive and construction of a center divide — will greatly reduce access to those long-time businesses, Doran says.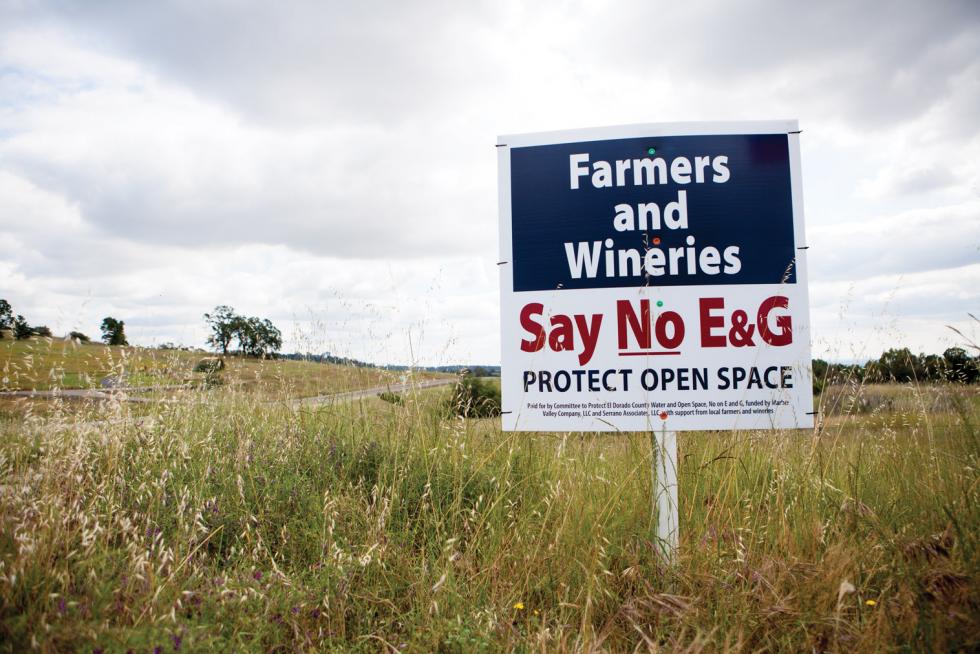 "These folks work very hard to keep afloat," Doran says. "There will be potentially more customers, but if you've got gridlock traffic, how are you going to get them into your business?"
There is one key difference between the '80s version of El Dorado County and the current one. Three decades ago, long-range planning wasn't a factor. But since the 1990s, county officials have been looking ahead to grow the local workforce and provide employees with housing.
"If we're going to control what our community is going to look like in the future, there has to be growth," says Laurel Brent-Bumb, CEO of the El Dorado County Chamber of Commerce. "We desperately need workforce housing. Because we don't have workforce housing, we struggle to attract new business."
Brent-Bumb wants the county to have options so young families can move in and live where they work. The younger generation, she says, wants to be in the center of activity, in areas where they can ride bikes to offices, coffee shops or health clubs.
She supported the El Dorado Hills Apartments project at the Town Center. She also backed the Dollar General store in Georgetown, even though residents claimed the 9,000-square-foot building would cause gridlock and clash with the historical Main Street. Brent-Bumb believes big chains have a place in the county. She points to Home Depot in Placerville as an example. That building, with its barn-like look, was specifically designed and built to blend in.
To Brent-Bumb, the idea that the county's transforming from a rural area into a high-density hub distorts geographic reality. She says the county is more than 60 percent National Forest and Bureau of Land Management land, guaranteed to remain undeveloped. She also notes the challenge with topography due to slopes and hills at more than a 30 percent grade.
"If you look at a flat map it would appear that there is substantial land available for development, but the reality is very different," she says. "We will never be Silicon Valley. The cold, hard facts are we will always be rural in the areas east of Cameron Park with the exception of Placerville, which is pretty much built-out."
Overall, Brent-Bumb says her interests align with those of the business community. Lori Parlin, president and founder of the Shingle Springs Community Alliance, doesn't agree.
"The problem is, there's a lot of small business owners in the county that don't feel the Chamber supports small businesses," says Parlin, a Shingle Springs resident, who grew up in Camino and Pollock Pines. "When the Chamber of Commerce shows up and supports Dollar General, that shows she's not supporting the local people and the local economy."
A couple years ago, Parlin ran for supervisor and lost. The former high school library assistant now identifies as a self-employed community advocate and volunteer.
IT IS YOUR DENSITY
For Parlin and other slow-growth advocates, the issues in El Dorado County have less to do with the rate of growth than the type of growth. If a piece of land is designated for low-density housing, they want to see it developed that way. But for years, she says, county officials have been saying one thing, doing another, changing policies behind the backs of residents and ignoring the objections to high-density projects that would impact neighbors and surrounding communities.
"For the past four or five years, the county's been updating the general plan and zoning ordinance," Parlin says. "The whole time, they've said our jobs-to-housing ratio is behind, that we don't have enough jobs in our county for the amount of homes we have here. We've been told that over and over, and yet they're not saying no to these high-density housing developments in the pipeline."
The phrase "high-density housing" comes up a lot in these debates, but most people don't understand what it means, says Noah Briel, District 1 commissioner for the Community and Economic Development Advisory Committee, and a local businessowner. Generally, density measures the number of units in a given area, which can range from low to medium to high. Because each region is different; the exact calculations vary. He says in El Dorado County, high-density means five houses per acre. In other jurisdictions, high-density would be 10, 15 or even 20 houses per acre.
"When somebody in El Dorado County says they're against high-density, somebody in any other jurisdiction would say, 'What are you talking about?'" Briel says, but he added that the county should create policies to push for more moderate housing.
In California, affordable housing is a stratified system — extremely low, low, moderate and above moderate — based on average income in the county. Most residents, Briel says, would fall in the moderate category, with incomes between $65,000 and $90,000 for a household of four.
There are subsidies available for the bottom two categories, but with no other incentives, developers have chosen to build above moderate, for residents earning above $90,000. So far in the general plan, he says, there are 10,000 new above-moderate houses coming to El Dorado County and less than 100 moderate units. Briel is pushing for more moderate housing for young families, mixed-use neighborhoods with homes closer together similar toEast Sacramento.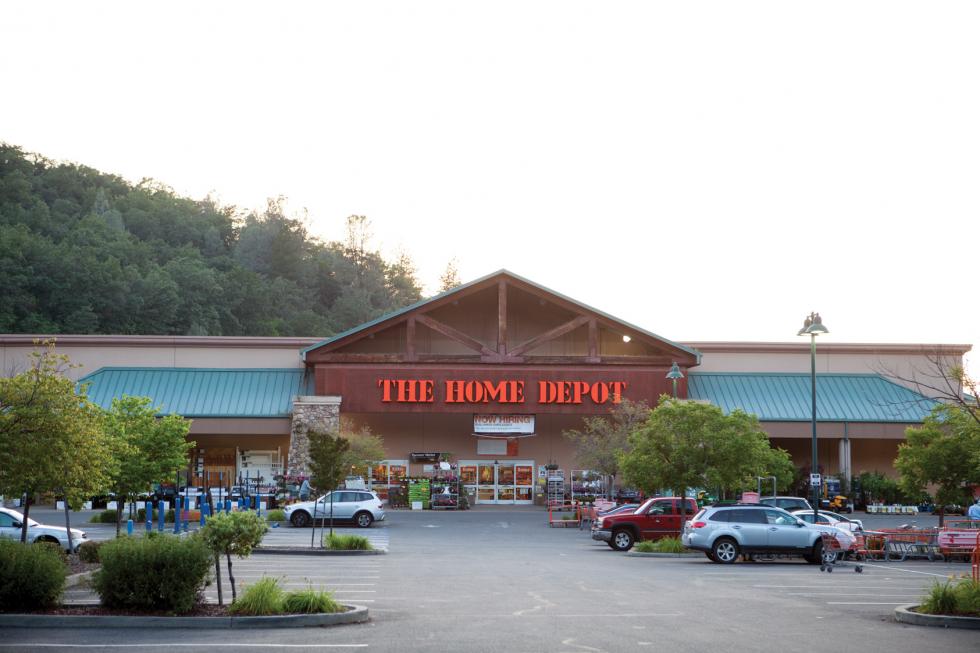 "There's a big faction that believes they can close their eyes, cover their ears and ignore state requirements and the needs of the population in our county," he says. "They think they can put a gate up at the county line and say, 'Nobody else comes in.'"
FUTURE TENSE
That no-growth mindset is short-term thinking, says Kevin Nagle, the El Dorado Hills businessman who made a fortune selling EnvisionRx, the drug-benefit company he cofounded, to Rite Aid Corp. Nagle is also lead investor of the Sacramento Republic FC. Slow-growth groups can voice their concerns, but he wants them "to be honest and not scare the community into believing we have irresponsible developers," he says.
As a new co-partner for the El Dorado Hills Town Center, Nagle plans to push for affordable housing to generate a tax base to attract employers and small businesses, which will support schools, police, public services and other infrastructure needed for a growing community.
Nagle also notes that he brought hundreds of jobs to the county while at Envision that included all types of pay, both hourly and salary, and comprehensive benefits. He hopes to do the same at the Town Center, attracting small businesses such as a restaurant, a physician or dentist office or another type of retail.
"This will be done in a cooperative and carefully thought-through manner," he says. "I want my children and their children to live in the community, and it will be almost impossible if some of the proposed initiativesare passed."
But Parlin, like many other residents, chose to live in El Dorado County to get away from big-box stores and heavy traffic. This is why Parlin and the slow-growth advocates say they are choosing to speak out: to protect their future.
"People don't know it, but plans are being made now that you really won't see the effects of for the next 10, 20 years because nobody's engaged right now," Parlin says. "People don't choose to get involved until they see a bulldozer, and that's way too late."
Gordon Helm, a Chamber member who co-owns Dry Diggings Distillery, sees real benefits in the new developments. Last year, he started working on building a tasting room in El Dorado Hills. If he hopes to grow, he will need warehouse workers to handle light manufacturing. Those workers need someplace to live nearby, otherwise they would have to commute.
"Not every business can hire a white-collar individual, and blue-collar people are obviously needed in certain industries," he says. "It's unfortunate that there seems to be limited-growth individuals that think things in the county should remain how they have been and not change. If our forefathers had that mentality, the houses they live in now wouldn't exist."