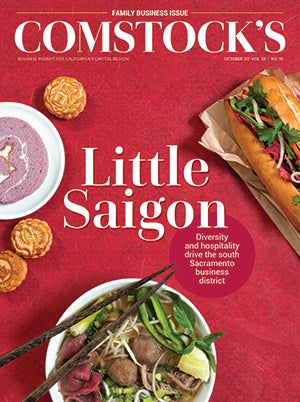 This story is part of our October 2020 family business issue. To subscribe, click here.
Between Sept. 1, 2019, and Aug. 31, 2020, nearly 39,000 acres of almond orchards were removed in California, according to the Sacramento-based research firm Land IQ. That's millions of trees, most aged out of productivity, dug up by their roots to make room for new plantings. At best, the old trees are ground into chips and sold to a power plant; more often, they are burned in the field.
"It was a terrible business model," says Spencer Defty, who started the Woodland-based construction company Diamond D General Engineering with his wife, Laura, in 1992. (The couple also owns Sterling May Equipment Company in Woodland.) Diamond D, which has a large agriculture portfolio, is frequently called upon to remove old orchards. "We always felt like, 'Well, why are we not using this for something else?'"
An idea came from the Deftys' biggest pastime: hosting barbecues at their ranch in Woodland through their nonprofit Patriots for Veterans, which aims to build a support system for veterans through outdoor excursions, unit reunions, scholarships and other opportunities. At their largest event in 2012, they fed about 800 guests, including 200 veterans of World War II and the Korean War. Almond wood is their main source of fuel for the barbecues, not only because it is plentiful, but "because the smoke is just considered some of the best," says Spencer. Aficionados say it has a sweet, nutty aroma that imparts a subtle flavor to anything on the grill.
"The challenge continues, but we're overcoming. We feel like we have a very compelling story and that we're the only company that has a chain of custody on the raw product to the finished product."

Spencer Defty co-owner, Knotty Wood Barbecue Company
But almond wood chunks, chips and splits were already on the market. One thing the barbecue world lacked was almond pellets, a compacted form of wood that can be used in special grills and smokers for steady, regulated heat. Seeing an open niche, the Deftys built a mill and launched Knotty Wood Barbecue Company, the first purveyor of "field to BBQ" pellets, in April 2020.
It was an unlucky time to pitch a new product. Retailers who promised to stock the pellets pulled back after the pandemic shifted shoppers' priorities. To bypass the middleman, Knotty Wood focused on e-commerce and posted Instagram ads that offered 10 pounds for $10 with free shipping — essentially a free trial. The product has been gaining steam in the online barbecue community, where home pitmasters debate its merits on Reddit and YouTube.
"The challenge continues, but we're overcoming," says Spencer. "We feel like we have a very compelling story and that we're the only company that has a chain of custody on the raw product to the finished product."
Family is a large part of that story. Every bag of Knotty Wood pellets is printed with a photograph of Spencer, Laura and their three children: Watson and Ryland, both 24, and Shae, 20. All three are or have been involved in the business. Shae is director of marketing, Watson is assistant manager, and Ryland helped build the mill before he left home to train to become a paratrooper in January.
"After being around the veterans and the nonprofit and growing up as a child around it, he just felt a real calling and a duty to the country to go and serve," says Spencer, adding that he is "90 percent sure" Ryland will eventually come home to work in the family businesses again.
Diamond D and Sterling May are also family affairs. The latter is run by general manager Morgan Defty, Spencer's nephew, and when Spencer and Laura retire, they say they'll give the next generation the opportunity to take over. Laura, whose first job was in her father's construction company, says her favorite part of owning a family business is her ability to foster the careers of the people she cares about.
"We've always told our kids to follow their dreams," she says. "And we're just lucky right now that they've chosen to work here. … But they know that if this wasn't their dream, that we'd support them in whatever they want to do."
—
Stay up to date on business in the Capital Region: Subscribe to the Comstock's newsletter today.
Nonprofits make up 97 percent of All-Cal's clientele, which has been run by the Esparza family in Roseville for more than 30 years.

Clint Hopkins and his husband Joel Hockman are the current owners of Pucci's Pharmacy in Sacramento, a 90-year-old business with a long history of inclusion.

The Granite Bay farm was established in 1911 by a Japanese immigrant and is still run by his descendants, including his 104-year-old daughter.