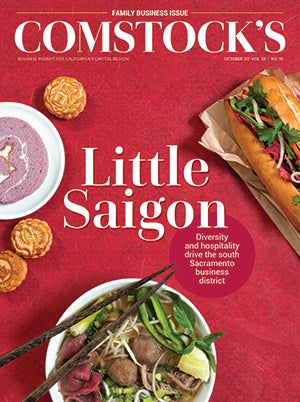 This story is part of our October 2020 family business issue. To subscribe, click here.
In the 1930s, Peter Pucci and his brother, Dino Pucci, launched a handful of Sacramento-area pharmacies sporting their surname. Throughout the decades, one of their businesses, Pucci's Pharmacy, moved locations a few times and eventually changed hands to Tom and Linda Nelson, who owned the pharmacy on J Street until pharmacist Clint Hopkins and his husband and co-owner, Joel Hockman, bought it from the Nelsons in 2016.
According to Hopkins, one of Nelson's priorities at Pucci's in the 1980s was ensuring that HIV patients received excellent care in a time when some pharmacists were denying them service. "Tom welcomed them with open arms, and that's part of our legacy. We provide care to a lot of those patients around the community," Hopkins says.
"It's because some pharmacist at that chain location has an ethical problem ordering HIV medications or filling prescriptions for Plan B or your birth control. We do everything we can not to tell a patient no."

CLINT HOPKINS pharmacist and co-owner, Pucci's Pharmacy
Pucci's is an independent pharmacy offering a variety of personalized care services such as creating custom bubble packs to consolidate a patient's doses of different medications, compounding medications to combine drugs to meet specific patient needs, medication synchronization to calibrate refills to renew for pickup at a regularly scheduled time, pet prescriptions, mobile immunization shots, hospice care and prescription delivery. About 400 of Pucci's regular customers are patients who require expensive or uncommon drugs such as HIV treatments, rheumatoid arthritis injections or antipsychotic medications. Hopkins estimates the pharmacy fills an average of 10,000 prescriptions a month.
Even today, the pharmacy still receives new patients who transfer there because of the stigma they face at other pharmacies, Hopkins says. "It's because some pharmacist at that chain location has an ethical problem ordering HIV medications or filling prescriptions for Plan B, or your birth control," he says. "We do everything we can not to tell a patient no."
Hockman and Hopkins met in Nashville in 2007 before moving to Dallas to buy a senior home care business. They decided to switch paths and purchase an independent pharmacy after their financial adviser planted the idea in their heads. The couple spent two years scouting the country for opportunities before finding Pucci's. They immediately felt like it was a great fit.
After the couple completed the purchase of Pucci's and moved to Sacramento, Hockman initially continued working at his previous job but left to focus exclusively on the business as it revved up. Since working at Pucci's full-time, Hockman has been able to increase the pharmacy's engagement in the community and is the 2019-21 board president of the Sacramento Rainbow Chamber of Commerce.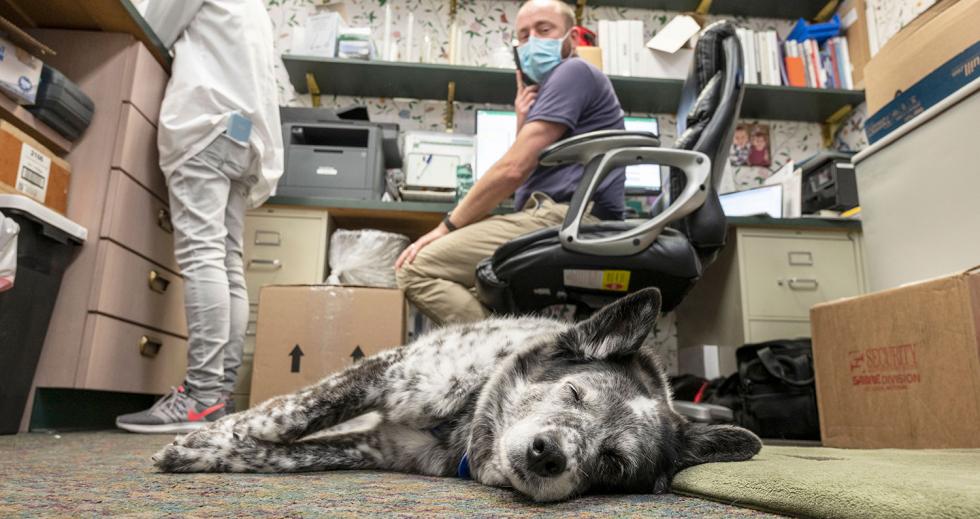 About 37 percent of the roughly 62,000 pharmacies in the U.S. are independent, according to 2020 National Council for Prescription Drug Programs data. "Chain (pharmacies) are like McDonald's. You go in, and you get the same thing every time. It's very regimented. There's no deviation, that's what they offer," says Hockman. In contrast, independent pharmacies can work with the patient to optimize that metaphorical menu to meet individual needs. This can be particularly helpful for patients with complex health care plans who might struggle to manage their (or their pet's) health. When patients see the same couple of pharmacists all the time, they have the opportunity to build a relationship with the decision-makers who facilitate their care.
The staff at Pucci's consists of 16 employees, including four pharmacists, and some of the team members have been working there for 20 years. The pharmacy also works with California Northstate University College of Pharmacy in Elk Grove and regularly has one to three pharmacy students on clinical rotation through the business for experiential education.
The couple agrees that they enjoy the opportunity to be together all the time, though they acknowledge that working with a spouse might not be for everyone. "(People) come to an independent pharmacy, they'll be a part of the family there," says Hopkins.
—
Stay up to date on business in the Capital Region: Subscribe to the Comstock's newsletter today.
Nonprofits make up 97 percent of All-Cal's clientele, which has been run by the Esparza family in Roseville for more than 30 years.

Tens of thousands of acres of almond orchards are pulled up each year in California. Knotty Wood is out to put those trees to better use.

The Granite Bay farm was established in 1911 by a Japanese immigrant and is still run by his descendants, including his 104-year-old daughter.