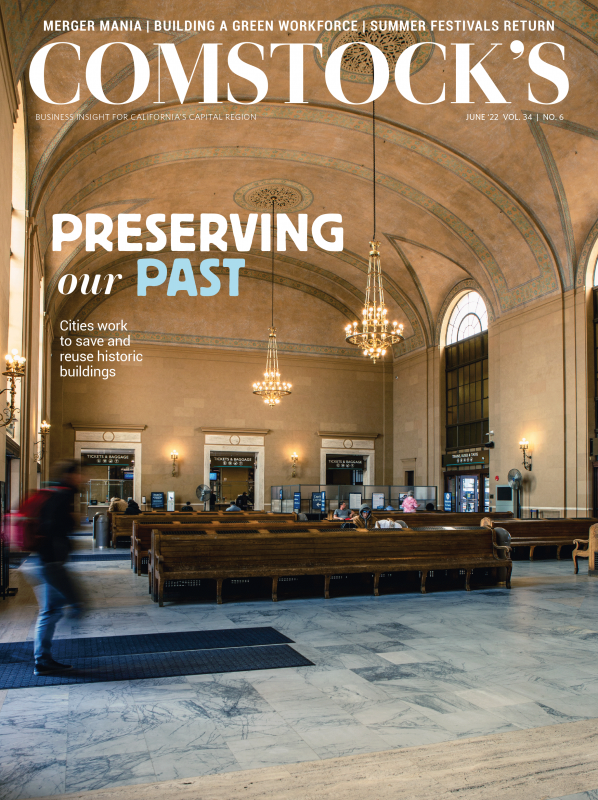 This story is part of our June 2022 print issue. To subscribe, click here.
Every year barbecue fanatics dream of summer, conjuring those lingering evenings when burgers, steaks, sausage and wings sizzle over the crimson heat of glowing briquets. But real grill masters know that the season of savory smoke gets its most delicious moments with help from the area's independent butcher shops.
These family-owned businesses are throwbacks to another era, offering meat from high-caliber livestock and the magic of housemade marinades. Though only a few remain in the region, these old school meat markets have found a way to flourish, even during recent supply chain meltdowns.
In the last two years, independent butchers have proven remarkably resilient and competitive. Their adaptations have led more consumers to discover their shops as they experience a renaissance.
"We're providing services and products that the customers can't get," says David Henry, co-owner of Roseville Meat Company. "What my wife likes to say is, if you want an inch-and-three-quarters steak, we pull out the ruler and cut it for you right there."
Midcentury meat lockers
Outside of Roseville Telephone Company, Henry's butcher shop is the longest-operating business in the city. It started in 1946 as a means for farmers and ranchers to store animals they were slaughtering on their homesteads. Most didn't have freezers, so they needed cold storage lockers to keep meat from livestock and game good through the seasons.
The company's first owner, Allen F. Newell, provided locals with chilled air and steel hooks for hanging everything from steer to Tule elk. Newell also built a freestanding smokehouse on the backlot for those meat lovers who wanted to preserve and add a woodsy, rustic flavor to their meat.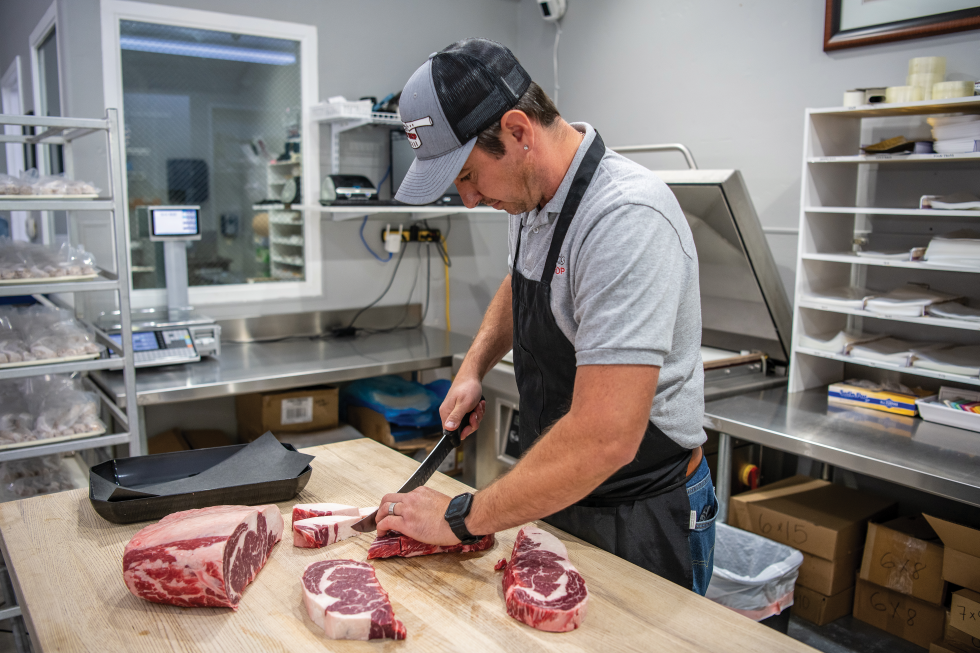 A year before Newell opened shop, Herold Swingle built his own set of meat lockers about 45 miles south in Jackson, eventually adding a detached smokehouse and then an entire slaughterhouse on the edge of its field. Swingle Meat Company became a go-to for Amador County's hunters and ranching families.
Both Swingle and Roseville meat companies evolved into custom butcher shops over the decades. In 1977, Harry McKinley, who'd been a butcher in Iowa since he was 18, moved to Placer County with his wife Joan. The couple had decided to purchase Roseville Meat Company. During the same era, Herold Swingle's three sons — Richard, William and Thomas — began actively helping their father run his shop. The Swingle and McKinley families had to adjust both their offerings over time.
"We kept seeing more and more ranchettes being sold to become subdivisions," remembers Henry, who married into the business after meeting Harry and Joan's daughter, Joyce. "My father-in-law recognized, 'Hey, we're not going to be able to just live on processing animals forever.'"
The family remodeled Roseville Meat Company so that its massive walk-in coolers gave way to a well-lit shopping space with cases full of an array of frozen and fresh meat. The shop still works with hunters to cut their deer, elk, turkey, wild boar and waterfowl, though Swingle Meat Company eventually quit that service to shift to a retail focus. By 2001, the Swingle brothers had sold the business to their protege, Jay Kellerman, who'd been cutting meat there since he was a teenager.
Four years after that, one of Sacramento County's traditional butcher shops began training a young man who'd just arrived from Poland. Adam Abramowski grew up helping his uncle and grandfather kill pigs during the holidays, when they made bacon in their home.
He immigrated in 2005 and soon found himself working at Orangevale Meat and Sausages, a community-centric hub that for years had processed livestock from local fairs. Abramowski was initially hired as clean-up man, though by his second day on the job, some veteran cutters were asking if he knew how to make sausage.
"I didn't speak much English back then, but I was like, 'Yeah, I can do sausages,'" Abramowski recalls. With a laugh, he adds, "Actually, back then, I probably just said, 'Yeeessss.'" The apprentice had officially started down the road to becoming one of the area's best-known butchers.
In 2016, Abramowski's wife, Odette Abramowski, convinced him to fly solo and open Adam's Meat Shop in Folsom. The couple knew that, in addition to obsessive cleanliness, custom cuts and top-tier meat sourcing, their success would also depend on developing signature marinades. Prior to opening, the Abramowskis spent weeks experimenting with different ways of spicing and flavoring their cuts.
Fans say they struck gold. They'll point to, for example, Adam's chipotle chicken marinade. The shop sells plump wings and chicken halves smothered in it, glowing wet and orange in their bags. When barbecued, the chicken skin becomes blistered and brilliant, with an aromatic whip-crack of chiles.
Miraculous marinades are also a cornerstone of Swingle's appeal: The shop has been getting carnivores hooked on them for years. Swingle's most legendary offering is its Kona Tri Tip, beef behemoths that emerge from a smoky grill hood with charred fat clinging to their sides. The flavors of the marinades — savory spices and pristine pineapple — mingle seamlessly with the juices that spill from the meat.
"All our marinades are ours," Kellerman stresses. "We've developed them all, and we do them from scratch."
Cut with the punches
While Roseville Meat Company has a legion of its own marinade fans — its St. Louis ribs, skirt steaks with Maui-inspired flavors and garlic pepper "Cow Camp Ranch" pork roasts are all hits — the business puts a focus on sourcing meat from the same handful of livestock providers it's worked with for years. That turned out to be a godsend when the COVID-19 pandemic first brought the grocery industry into troubled waters in March 2020.
As items vanished from the shelves in the face of panic-buying and throttled meat production, Roseville Meat Company's suppliers were small enough, specialized enough and diverse enough that the shop's selections never stopped hitting the chopping blocks.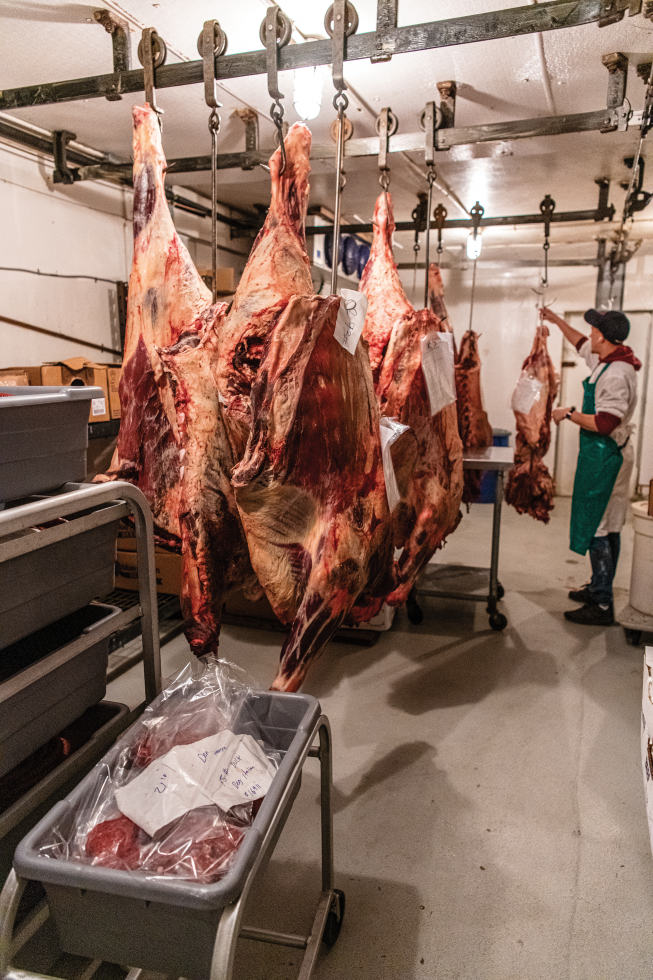 Though a few of its suppliers were dealing with uncertainty, others — ones who in the past had focused more on restaurants — suddenly had excess meat on their hands because of lockdowns. That meant Roseville Meat could get what it needed. Additionally, since the Henrys were on-site owners, they were able to make fast decisions, which included counteracting the hysteria with per-customer limits on meat.
"I told the staff, 'You be reasonable about it, but don't let people buy 50 pounds of ground beef at a time,'" Henry explains. "I knew it was an overwrought situation. People were not thinking rationally."
Swingle Meat Company and Adam's Meat Shop had similar experiences with their sourcing and product control. Abramowski says that when meat demand suddenly went into overdrive, his highly trained team was experienced enough to kick its sausage production into another gear.
"We carry a certain brand of meat" — like Swingle, a smaller producer that wasn't feeding chain stores' insatiable demands — "so we never really ran out," says Abramowski. "And it was incredible how many sausages we were making."
Lately, as the nation is hit by inflation and fuel costs for transporting meat soar, the region's butcher shops are using their autonomy and sourcing prowess to try to tamp down sticker shock. Kellerman says Swingle's ongoing commitment to offering stellar products for competitive prices keeps some customers coming from three hours away.
"I've got people that come in on a regular basis from Nevada, from Oregon, and a lot are coming from the Bay Area," he notes. "It's about a great product at a fair price. Everything we have here, I've tried it, and if I don't like it, we don't sell it. That's just how it is."
–
Stay up to date on business in the Capital Region: Subscribe to the Comstock's newsletter today.