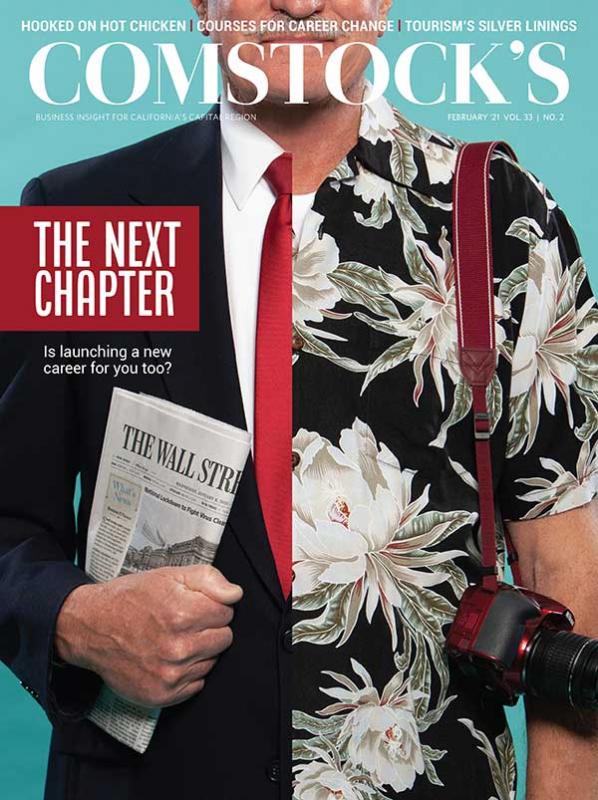 This story is part of our February 2021 issue. To subscribe, click here.
Sacramento has been invaded by Nashville-style hot chicken. The Tennessee-born variety of fried chicken, lacquered in a cayenne-based spice paste and served with pickles, was once a novelty in the Capital Region. Last year, it became almost as easy to find as tacos or teriyaki.
There are now four businesses in Sacramento focused on hot chicken, plus one in Citrus Heights, and at least 10 Nashville-inspired sandwiches at other restaurants in the city. Some add a tongue-curling pinch of ghost pepper or habanero to the spice blend, others temper the heat with a salve of ranch or Thousand Island dressing. One place slips potato chips between the buns. The chicken is breast, thigh or wing; panko-covered or beer-battered; served on the bone or trimmed into tenders. And some sandwiches prefaced "Nashville hot" aren't chicken at all: Pure Soul Plant-Based Eats in East Sacramento served a vegan Nashville Hottie made of seitan, a grain-based substitute.
"The saturation of hot chicken is not exclusive to California. … I personally get requests to franchise my concept weekly from people in state, out of state and out of country."

Victor Ghabenco-owner, World Famous Hotboys
Most of Sacramento's hot chicken dispensaries are less than a year old, but the dish has been around for more than 80. Its birthplace, Prince's Hot Chicken Shack in Nashville, opened in the 1930s and inspired local devotion for decades before city government pushed to market the dish as Nashville's only "indigenous food" in the early 2000s. Hot chicken became a trend that reached national levels around 2016, the year KFC introduced its own fast-food approximation at more than 4,300 locations across the country.
So why was 2020 the breakout year for hot chicken in Sacramento? The answer has to do with a confluence of food-business trends, including ghost kitchens, third-party delivery services and restaurateurs' tendency to imitate what they see as successful. Like hot chicken, all of these trends existed before the coronavirus, but they were catalyzed by the economic and lifestyle shifts that defined the year.
A Virtual Testing Ground
Ghost kitchens are commercial kitchens — sometimes inside an existing restaurant or commissary, sometimes purpose-built — that crank out meals for delivery, usually through third-party services such as DoorDash, Grubhub or Postmates. The model can be a sandbox for chefs who want to test new concepts without investing in brick-and-mortar. A chef with access to a commercial kitchen can think of a new idea for a restaurant, set it up on the delivery platforms and fulfill orders for the ghost restaurant out of the existing kitchen. Customers might never know the new spot they ordered from doesn't technically exist.
Ghost kitchens were picking up steam before the pandemic — the Los Angeles-based startup CloudKitchens received $400 million from Saudi Arabia's sovereign wealth fund to build rentable kitchen spaces around the U.S. in January 2019, and DoorDash opened one with space for five restaurants in Redwood City in October of that year. But the shift to the stay-at-home, order-in life has given the model a boost.
Of the four Nashville hot chicken businesses that opened in Sacramento in 2020, two are ghost kitchen concepts based inside other businesses: SacVille Hot Chicken at Goldfield Trading Post and Plucked Chicken & Beer at Sauced BBQ & Spirits. There's also Calibird at Tiger Bar and Food Hall, with a menu composed of fried chicken sandwiches that doesn't mention Nashville but follows the familiar bun-slaw-spicy-sauce template.
All three of these host businesses previously depended on traffic from large gatherings. Tiger and Sauced both attracted sports fans from the nearby Golden 1 Center, and Goldfield Trading Post was best known as a venue for live country music. The hot chicken ghost kitchens let them offer something customers could enjoy at home, without the backdrop of basketball or banjo.
Revenue from SacVille Hot Chicken and another ghost restaurant based in the space, Netillo's Takos, kept Goldfield Trading Post afloat during the long months without music, says Carlos Vicenty, who manages Goldfield's kitchen with his wife, Alma Vicenty. (The couple also owns two other Netillo's Takos locations in Elk Grove and Cameron Park and the seafood restaurant Las Islitas in south Sacramento.) SacVille Hot Chicken opened for both online and in-person orders in February 2020, but business picked up after the shelter-in-place order. "When they closed everything down … the next thing you know, the phone, the (point-of-sale) tablets were going off the hook" with orders, Vicenty says. "It helped us for sure."
Even Cecil L. Rhodes II, owner of Nash & Proper — one of the only non-virtual hot chicken restaurants in Sacramento — is in on the ghost kitchen trend. In 2020, he opened a commissary in Northgate that acts as a ghost kitchen: It fulfills all Nash & Proper DoorDash orders, while the downtown brick-and-mortar, which opened in September 2020, and two food trucks only take walk-ups. In the future, he'd like to use the kitchen to test new concepts.
A ghost kitchen "gets your creative juices flowing," Rhodes says. "For instance, I have Nash & Proper, and inside of that, I could come up with Johnny's Chicken Parmesan at the same time. But if Johnny's Chicken Parmesan doesn't work out, I can just shut it down and be like, 'I'm Ricky's Hot Dogs now.' It's just one of those things that adds more revenue, but you don't have to really go out of your way to find a brick-and-mortar or buy another food truck."
As for why so many of Sacramento's ghost kitchens serve hot chicken, Rhodes takes some of the credit. When the Nash & Proper food truck hit the streets in 2018, it was the first hot chicken-focused business in Sacramento (though a handful of local restaurants, including South and LowBrau, had versions on their menus). Rhodes' recipe put a California twist on the Nashville dish — a Korean-style double fry on the chicken, habanero powder in the spice mix and jalapeños in the slaw — and attracted long lines wherever he parked.
The following year, Nash & Proper won the top prize in the 2019 Downtown Sacramento Partnership's Calling All Dreamers Contest, which included help securing a restaurant space downtown. Sacramento restaurateurs "were seeing fried chicken popping up, and people know the popularity at Nash & Proper," Rhodes says.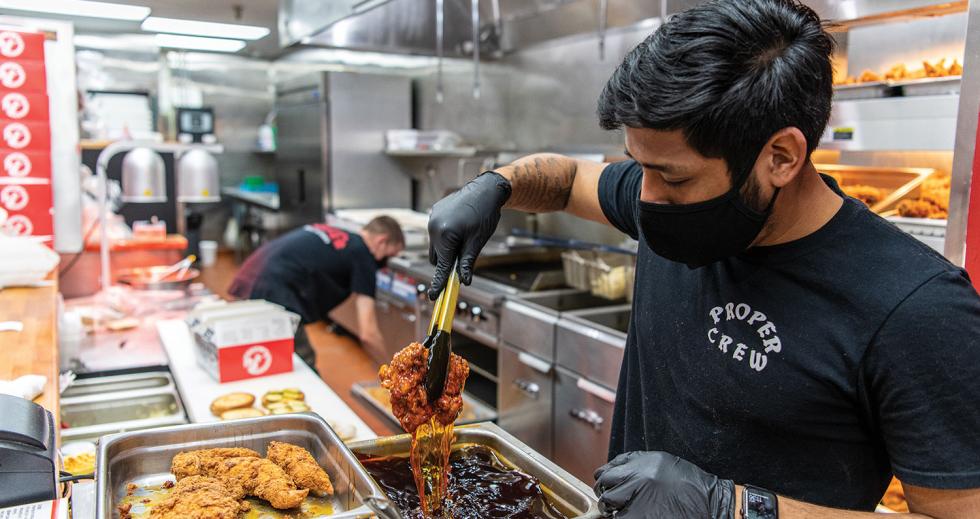 A Saturated Market?
It's no coincidence that nearly every hot chicken offering is a sandwich on a brioche bun with a thick layer of coleslaw, like The Sammich, Nash & Proper's oft-Instagrammed version. Rhodes can't claim to be the inventor of these sandwiches — Howlin' Ray's in Los Angeles opened its food truck with a similar one in 2015 — but he was the first to market them successfully in Sacramento, and he's caught a few places copying him red-handed. One of the new Sacramento spots (which he won't name) had a picture on its website lifted from Nash & Proper's Instagram until Rhodes asked the owner to take it down.
The owners of Sacramento's other brick-and-mortar hot chicken spot, World Famous Hotboys, beat Nash & Proper's downtown opening by a month. They launched their Midtown location in August 2020, less than a year after they opened their first one in Oakland in December 2019.
Hotboys has a wider menu than Nash & Proper, with Southern-style sides such as stewed greens and macaroni and cheese, and an aesthetic inspired by early-2000s hip-hop culture: blue neon flames on the windows, chicken-print bucket hats in the online merchandise shop and a graffiti-style mural by co-owner Berk Gibbs outside. But for all their personal touches, the owners are aware that they're part of a saturated market.
"The saturation of hot chicken is not exclusive to California," says co-owner Victor Ghaben. "I personally get requests to franchise my concept weekly from people in state, out of state and out of country. While we don't have plans to franchise, it just shows you how popular it is right now."
Rhodes can say he saw the wave coming. "There's going to be a hundred hot chicken places out there," he remembers telling his co-owner, Jake Bombard, soon before they started Nash & Proper in 2018. "But if we can say we were the first to market in Sacramento, then nobody can ever take that away from us, ever."
–
Stay up to date on the effects of the coronavirus on people and business in the Capital Region: Subscribe to the Comstock's newsletter today.