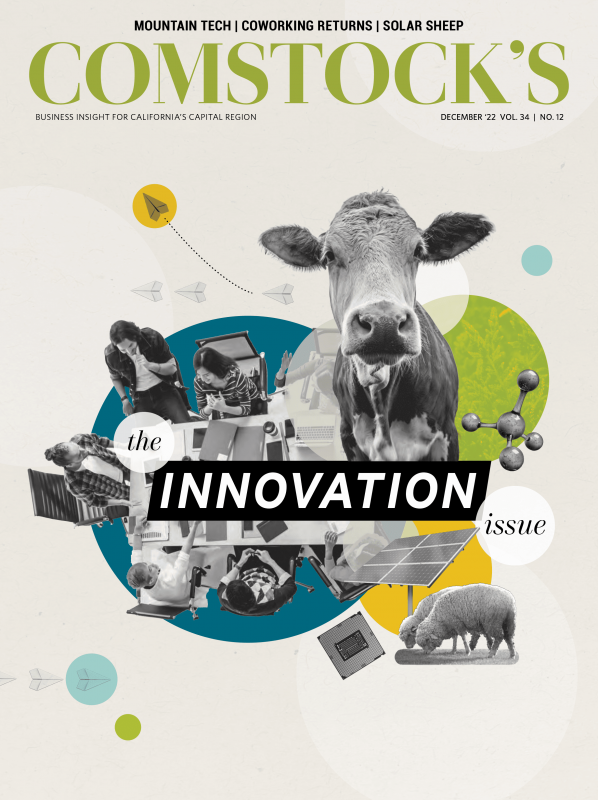 This story is part of our December 2022 Innovation print issue. To subscribe, click here.
When the pandemic hit, chef Cecil Rhodes had a solution to help keep business going. "Ghost kitchens got me through it," says the co-owner of Sacramento restaurant Nash & Proper, who first heard of the concept in 2019. He opened a kitchen in Northgate and continued taking his food trucks around town. "We made it through operating that way," he says.
A trend that helped many restaurants stay afloat during the pandemic has become a burgeoning new business model. Ghost kitchens — commercial kitchens without in-person dining — offer restaurateurs and food and beverage producers a foothold into the business, help with menu diversification, and expand their audience. In an era where flexibility is everything, these facilities may be the next step in the evolution of the food business scene, and Sacramento entrepreneurs are taking notice.
"We're seeing new restaurants design themselves around generating revenue outside the four walls of the actual premises."

Scott Kingston, senior vice president, Turton Commerce Real Estate
"Coming out of the pandemic we saw a huge shift in the way goods, services and food were to be delivered to the consumer," says Scott Kingston, senior vice president with Turton Commerce Real Estate. Kingston and Director Kimio Bazett, also co-owner of Midtown bars and restaurants including Hook and Ladder and The Golden Bear, have helped develop many of the retail and dining spaces in Sacramento. Their roster now includes two ghost kitchen ventures, Maker Kitchens in Midtown and The Line near Sacramento State.
Both Kingston and Bazett attest to how much COVID-19 has changed the landscape. "We're seeing new restaurants design themselves around generating revenue outside the four walls of the actual premises," Kingston explains. "It could be a pick-up window, a larger kitchen to accommodate more delivery orders — or it could be a ghost kitchen."
Ghost kitchens took off at the height of the pandemic as restaurants had to close sit-down dining and sites like DoorDash and Grubhub began to explode. "A lot of restaurants didn't have capacity to service that demand within their kitchen," says Kingston. A ghost kitchen allows space for entrepreneurs to take care of their needs at a cost that's generally much lower than it would take to start a brick-and-mortar location. They can then list their restaurants on delivery services like DoorDash and get orders that way, and further spread the word through social media.
Not surprisingly, those costs can be staggering. "If I wanted to open my first restaurant and it's 2,000 square feet," says Kingston, "I'm probably budgeting $700,000 to $1 million to do the construction, the furniture, fixtures and equipment, some contingency, and to hire folks to do the marketing and social media."
"It can be very daunting and time consuming," agrees Bazett. "Twelve to 18 months for planning, approvals, inspections, construction, staffing, training." In contrast, if someone wants to start a restaurant but doesn't have the resources to invest in building out a place, they can move into a ghost kitchen fairly quickly.
But a ghost kitchen offers more than just the space. At The Line and Maker Kitchens, rent ranges from $2,500-$4,500 per month, plus a small percentage of overall sales. Maker Kitchens — whose brochure calls it a "plug and play solution for the small or expanding food operator," features 21 kitchens — three cold prep kitchens and 18 hot kitchens. Tenants lease a 225- to 575-square-foot space that comes with a Type-1 hood for venting, commercial sinks, individually metered gas and electric, and shared cold and dry storage. "You come in, bring your kitchen equipment, hire your staff, buy some limited equipment, and you can integrate with the software that they already have in these buildings," says Kingston.
"It's a much different value proposition than 'I'm going to open up my first restaurant and I need $800,000,'" he explains. "So that's the appeal of it, for people that want to get into the space to be able to do so relatively affordably."
At The Line, customers can order online for delivery or pickup, and place a single order from several different restaurants. Convenience is the name of the game and people often don't limit themselves to one concept. Imagine Greek, Japanese and Hungarian restaurants all operating out of the same kitchen.
Next door to the Yalla Yalla Food and Bakery on the corner of Sunrise and Antelope in Citrus Heights, Anan Liddawi operates a ghost kitchen where people bustle about preparing everything from pizza and pasta to gourmet dog treats. "Everyone has their own little niche," says caterer Delana Treadway, who specializes in farm-to-fork gourmet barbecue. "You can do whatever you want or stick to the simple stuff. I do barbecue. I stick to what I know and that's it!" she laughs. Treadway was preparing to take pictures for Grubhub. "I cooked brisket and pulled pork all night so I could do tacos and get them on the website." You have to do a lot, she says, but she loves it.
Treadway and Liddawi are excited about their plans to open a new ghost kitchen not far away at Madison Avenue and Manzanita Boulevard, which had its soft launch in the fall. The new 4,500-square-foot facility includes cooking stations, food storage and washing stations so people can do their own dishes. "We even have a tasting area going in," says Treadway, who will serve as manager. "So if you want to cater a wedding or something like that, you can bring in your clients and say, 'Let me show you what I've got for you.'" The goal, she says, is to help tenants get their business rolling. "It's not just about making the ghost kitchen profitable, it's about making sure everyone's profitable to keep it going."
Treadway sees a big need for what ghost kitchens can provide. "As a single woman and entrepreneur running my catering company, it's not that easy to just get a restaurant up and running and have dine-in and have to have employees," she shares. For her, a ghost kitchen simplifies things. A monthly fee covers everything she needs, she says. "And it made it so simple for me to take what I'm doing and use what I need instead of having all these extras."
When it comes to ghost kitchens, Rhodes advises keeping the menu simple but adding a little flair, rather than trying to do fine dining and hoping it travels. "Ghost kitchens are usually for like, three or four items and how well you can actually do them," he says. For his food trucks and to-go items, he prefers sticking to family favorites. "The one thing I've always done well is chicken. I've been cooking fried chicken since I was 12 years old!"
Rhodes thinks a ghost kitchen is a great option. "At The Line, it's like a big warehouse and then they cut it up into 200 square foot little kitchens," he says. "Then you go into your kitchen and you cook. It's pretty simple — very straightforward. If you're looking to make a little extra money and not have any crazy overhead, building out a kitchen and all that, it's the way to go."
Food and dining is such an integral part of the human experience — celebrating with family, enjoying romantic evenings, or just having fun with friends — nothing will likely replace that. In the waning days of the pandemic, where ghost kitchens fit in is convenience, not just for restauranteurs but for consumers ordering online who can't go out or aren't up for the crowd experience. "A vibrant retail and dining scene is a crucial part of the fabric of Sacramento, and the rest of the city should thrive as a result of that," says Kingston. "I think they'll exist in harmony."
–
Stay up to date on business in the Capital Region: Subscribe to the Comstock's newsletter today.