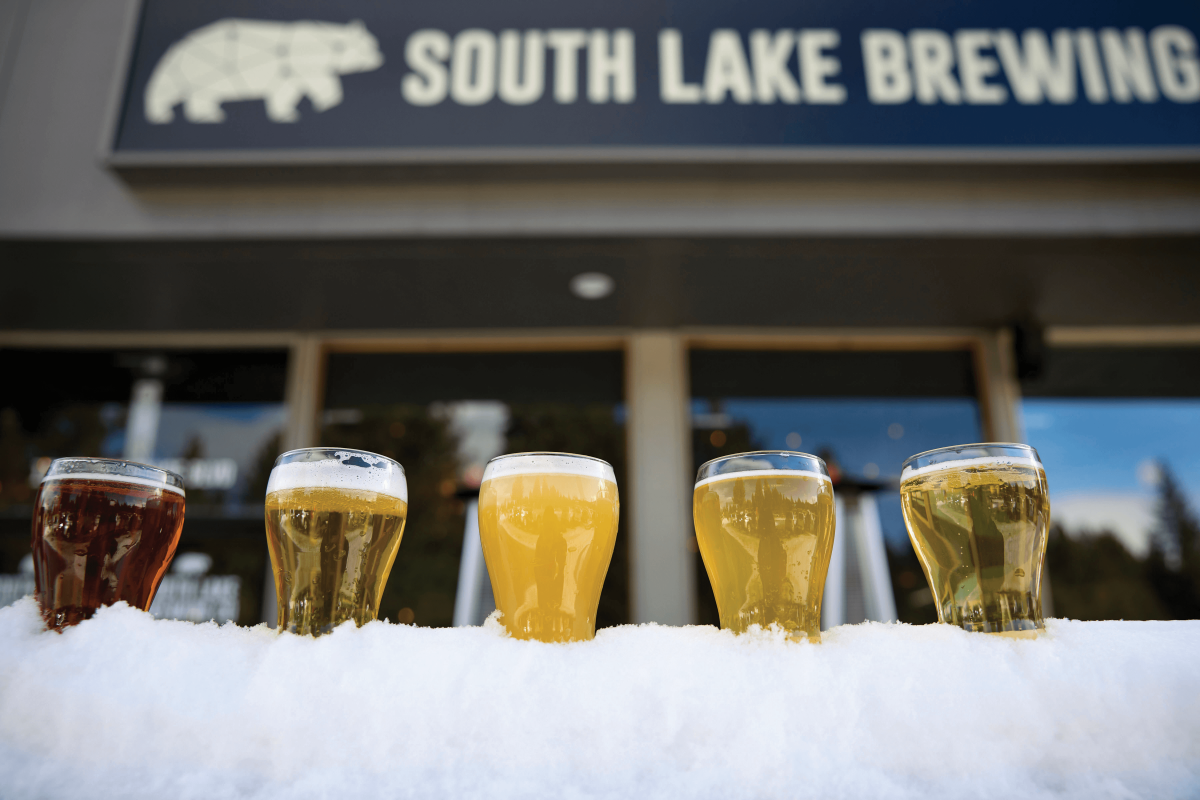 To learn about South Lake Tahoe's brewery scene, click here.
It's a beaming sunset in the Sierra. Twilight creeps along the brush and boulders dotting the Truckee River. As the river churns along the south outskirts of Truckee's historic district, it ripples past a powdery white snowbank near the production facility of FiftyFifty Brewing Co., the original pathfinder for craft beer-making in the mountain range.
Though quality breweries are cropping up between Donner's Pass and South Lake Tahoe, the first to drive its stakes in the snow — and the one that's now shipping beer across the world — is FiftyFifty, which co-owners Andy and Alicia Barr opened in 2007. The couple got their start with a smaller brewing setup and restaurant just up the hill from their production house. Over time, the success of FiftyFifty began to inspire other beer-makers with the same dream. Truckee has a lot of taps pouring these days, including at Truckee Brewing Company, Good Wolfe Brewery and Donner Creek Brewing. Each contributes to the town's collective craft beer identity.
"We've been kind of a big brother for the breweries around Tahoe," says Alicia Barr. "It's about having that extensive history, as well as keeping up with innovations. We've also done a lot to try to help other breweries. For us, it's been about creating a bigger and better overall vibe for craft beer in Truckee, north Tahoe. We all do better if there's a better craft beer scene up here."
Two years after FiftyFifty opened its first location on Brockway Road, it launched a foundational brew. The Barrs called it Eclipse: a big, barrel-aged imperial stout made with a rotating lineup of legacy whiskey casks from the likes of Basil-Hayden, Woodford Reserve, George Dickel and Eagle Rare. Some Eclipse varieties have even been aged in mezcal drums. Different styles of Eclipse are released every year. Each bottle has the same label but a different color of wax on top, indicating which type of barrel gave birth to it.
On a busy evening in FiftyFifty's restaurant, bartender Mike Dillon breaks the gold wax on a bottle of Eclipse Barrel Cuvée. "The Cuvée is a blend of all the best bourbon barrels we use when we're making the different kinds of Eclipse," Dillon explains. "It's picking up all those different whiskey notes from great distilleries in one brew." The Barrel Cuvée goes down with a kick of molten chocolate cake, with smoky-sweet foam and a milky finish. "It's become extremely popular," Dillion acknowledges. "It's being drunk all over the world."
Bottles of Eclipse have been landing in stores and restaurants across 22 states and 15 nations. The stout also played a role in FiftyFifty winning Brewery Group of the Year at the Great American Beer Festival in 2018. For Truckee locals, FiftyFifty's pilsners and IPAs are also home runs. On most Friday nights there's no shortage of people crowding into the sleek, industrial confines of its long-running home base. Alicia says that the brewery's support from Truckee's community has been unwavering — and she and her husband have tried to reciprocate that loyalty.
FiftyFifty's current production facility features a 30-barrel automated German brewhouse from Braukon, along with 60-barrel and 120-barrel fermenters and a fully automated canning line. The gleaming collection of chrome vats and values has allowed FiftyFifty to supply stores across the region while gaining a foothold in countries like Australia, Switzerland and South Korea. During the planning phase, various business people tried to convince the Barrs to put the facility in another city. The couple decided against that.
"We'd had opportunities to expand into Reno early on, but we were pretty adamant about keeping everything here in Truckee: the jobs, the sales revenue and tax revenue — all of it," Alicia stresses. "That's why we opened our larger production facility here. And now that we have that, it allows us to have an experimental brew system, where we're delving into all sorts of new styles and fun barrel-aging projects before showcasing them at our pub up the road."
The Barrs are both former engineers, and they haven't stopped thinking about efficiency, particularly in ways that help Tahoe's broader brewing scene. That has led to them sharing resources with Good Wolf Brewery in Truckee and South Lake Brewing on Tahoe's south shore. When it comes to the freight costs associated with hauling spent bourbon barrels into the mountains, FiftyFifty's production apparatus is large enough that it has better pricing agreements with barrel brokers than small breweries in the Sierra. Lately, FiftyFifty has been ordering full truckloads of barrels, using the majority of the shipment but selling the rest to local breweries in a way that shares its bulk discount.
"It's a very collaborative and camaraderie-based industry," Alicia reflects. "I think that's part of what drew all of us here in the first place."
–
Stay up to date on business in the Capital Region: Subscribe to the Comstock's newsletter today.