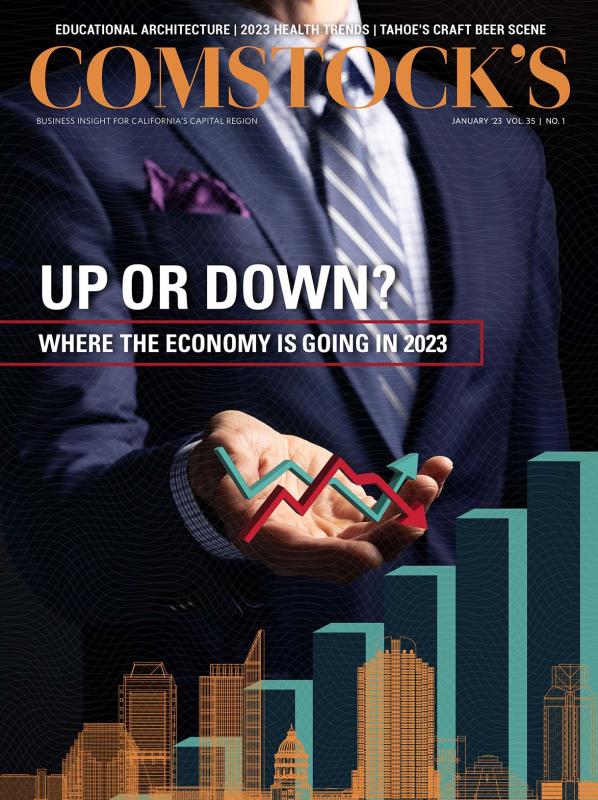 This story is part of our January 2023 print issue. To subscribe, click here.
It's the first heavy snowfall of winter, and beer lovers watch a storm on the horizon — its vast, anchor-gray expanse tumbling over the pine-covered mountaintops that surround Lake Tahoe. Inside the tasting room for South Lake Brewing Company, locals huddle in flannels, hoodies and ski vests as the squall begins rolling in. They sip their hazys and IPAs while anticipating the coming snow-capped grandeur.
This brewery, opened by co-owners Chris and Nicole Smith in 2017, has always embraced that wintry ambiance. It serves tasting flights on specially carved skis and snowboards. Its outdoor seats are actual chairlifts from nearby slopes. During the chilly months, the place often has kids bundled up near their parents and dogs leisurely relaxing in its cozy warmth.
Jenna Brown, South Lake Brewing's marketing manager, acknowledges that the white glitter outside is part of what visitors love about the tasting room. "It's a relaxed, family-friendly atmosphere that makes for a really fun experience for those who come in during the winter," she says. "And we sell to-go beer in 16-ounce cans, which people really like taking with them out into (the) mountains."
South Lake Brewing isn't the only craft beer stop that captures Tahoe's alpine allure. These days, the lake's south shore has enough breweries for a full tasting tour. Each has a specialty that it's known for, and this time of year, each has its own genuine touch of Jack Frost charm.
No cold feet
Though South Lake Brewing Company may be the biggest craft beer operation in Tahoe, the first was Cold Water Brewery, opened by owner Debbie Brown in 2014. "That was really the kickoff to the scene, because before that, we didn't have a scene," Brown recalls. "For me, it was knowing that this town needed something. And if you're going to put your hopes and dreams in something, make it a need."
Debbie Brown worked in restaurants and breweries for 14 years before creating her bustling beer haven inside the Swiss Chalet Village shopping center. Knowing it would be an area prototype, she decided to follow her own instincts and launch the experiment with no partners and no investors. She christened it Cold Water, which has a special meaning for her.
"I kind of relate everything to water, and so, when I was opening this, it was really important to me to get out on that wave," she explains. "I knew we needed to build something special here for the food and beverage scene. The town was craving it, and the visitors wanted something like it."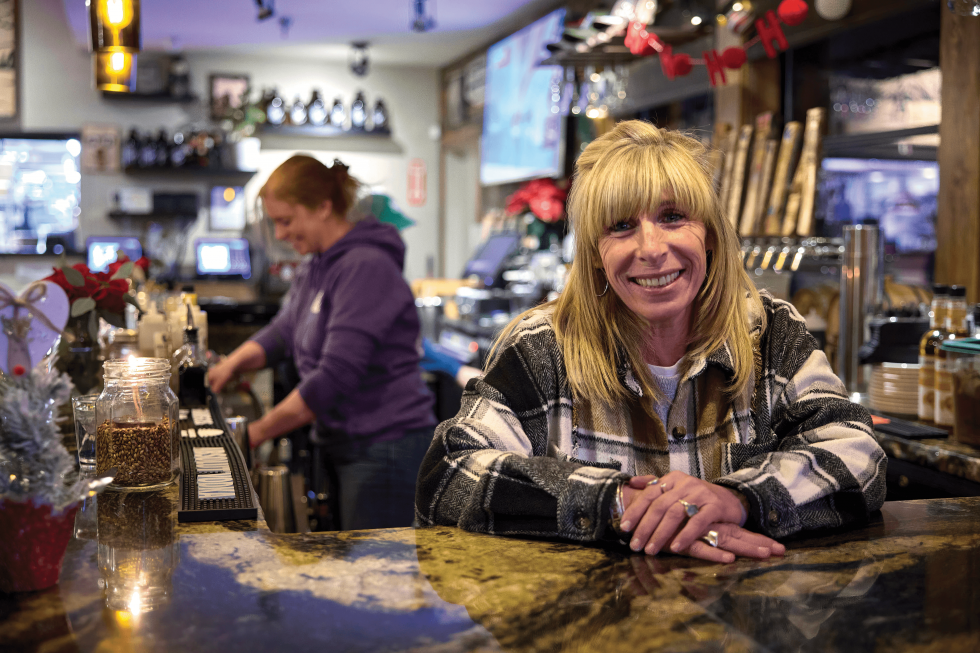 Debbie Brown decided that Cold Water would need a wide and diverse range of beers made on site. She wanted its seven-barrel brew house to have something for everyone. In the decade that followed, as newer breweries cropped up and staked their reputations on one style or another, Cold Water continued its original mission to provide a full spectrum of tastes for all beer connoisseurs. Today, it's enhanced that approach with a wider bar selection and rotating food menu tied to seasonal ingredients.
A week after Tahoe is blanketed in its first snow, Cold Water Brewery opens its doors with a brand-new winter menu. Patrons flock inside, passing flickering outdoor fire tables and the sword-length icicles hanging from the building's eaves.
Cold Water's current menu features more than 20 winter-proofed beer, food and cocktail additions. One of its season specials, the Black Pepper Porter, combines a velvety smoothness and a hint of molasses with its black pepper pop. It pairs well with one of Cold Water's new winter starters, a plate of bacon-wrapped dates smothered in goat cheese and spiced maple. Other menu items incorporate house brews, including the beer-braised short ribs and the Stillwater Stout ice cream float. The kitchen also uses Cold Water's beer in the batter for its year-round fish and chips.
On a recent foggy morning, the rustic wood-accented space fills up quickly, its friendly staff greeting both new and familiar faces. "Maybe if I had fallen on my face, other brewers would have thought it was too premature," Debbie Brown reflects. "But because we succeeded, I think it gave others courage."
A scene solidifies
Another place where people shuffle in from the biting breezes is Sidellis Lake Tahoe. Owned by husbands Chris Sidell and Ellwood Ellis, it followed Cold Water as the second craft beer hub to open on the south shore. Since 2016, Sidell and Ellis have worked with veteran brewer Steve Canali to make their business renowned for making sours. Canali experiments year-round with different barrel-aged sours, using various types of cask wood and barley sources to get his creations to taste like everything from margaritas in the summertime to Old Fashioned cocktails in the winter.
This season, beer aficionados order sours like the Eau De Vie, which Canali ages for two years in peach brandy barrels with peaches. The result is a balanced sour with gentle stone fruit inflections over a crisp wheat base. Other patrons ask for the Mangonero, a white ale infused with mango and habanero spices in which bright vanilla tones collide with humming heat.
Three miles along the lakeside from Sidellis is Mountain Brews, a six-tap nano-brewery based in a cozy cabin-like house that was once headquarters for the Tahoe Mountain News. Taylor Flynn, who ran that newspaper for years, decided in 2018 to redirect his energy from journalistic toil to beer-making bravado. He's been working with his partner and co-brewer Colleen Dulin on that mission ever since.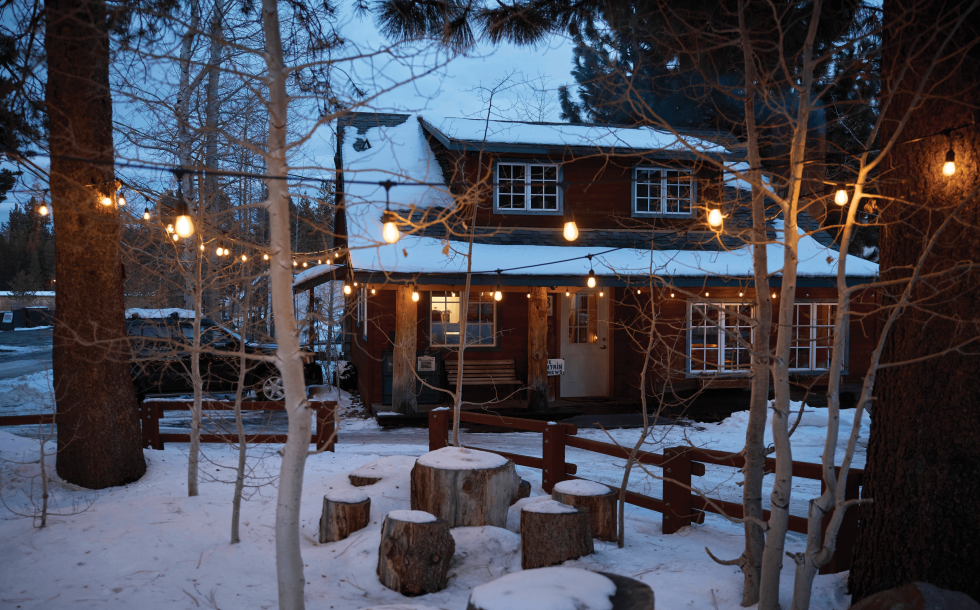 "When I first started brewing downstairs in the basement of the newspaper, there weren't any breweries in South Lake," Flynn remembers. "So I started working towards opening a brewery, but by the time I got through all the permitting and planning, Debbie Brown was already here as our matriarch for this scene." With a laugh, he adds, "In fact, we're still the newest brewery."
Mountain Brews has several selections it sends out in growlers. The first beer that Flynn and Dulin ever made, Nut Brown, is especially sought after. It's an ultra-mellow malt with a smooth creaminess and root beer notes. Flynn and Dulin's porter has also earned rave reviews from locals. So has the brewery's intimate speakeasy vibe, preserved because many tourists don't even know that it exists.
"We kind of like having a lot of locals and second-home owners think of this as their own place," Flynn says of its fireside feel. "Of course, when visitors discover us, we treat them right, but we're fine with our niche as a neighborhood hangout."
Back at South Lake Brewing Company, where tourists flock during the high seasons, sales have been strong enough that South Lake Brewing is opening a second location in Stateline, the Nevada town that borders South Lake Tahoe. Once the ribbon is cut in early 2023, the expansion will complement a growing craft beer scene in both towns.
Marketing manager Jenna Brown thinks each addition to the brewery scene gives explorers more reason to drive into the mountains. "The more that pop up, the more it just makes us a destination for craft beer," she says. "And what I love about this scene is, even though other breweries are technically competitors, it's a good vibe — people aren't cutthroat like you see in some industries."
Correction January 10, 2023: The print version of this article misspelled the first name of a co-owner of South Lake Brewery. Her name is Nicole, not Nichole.
–
Stay up to date on business in the Capital Region: Subscribe to the Comstock's newsletter today.