Fans of multi-platinum rapper Saweetie know she loves to talk about food, particularly Filipino dishes such as sinigang that she grew up eating. Saweetie, who graduated from Monterey Trail High School in Elk Grove, is of Filipino, Chinese and Black heritage. She's also a savvy businesswoman: In the summer of 2021 she partnered with McDonald's on the Saweetie meal: Big Mac, Chicken McNuggets, fries and a Sprite — with "Saweetie N' Sour" sauce, natch. Popeyes also recently announced a partnership with rapper Megan Thee Stallion, including an Aleppo pepper-spiced "Hottie Sauce."
Rapper-plus-McNuggets is not the most obvious combination, but as the idiom goes, "politics make strange bedfellows." Business often brings together unexpected partners too. Here are three Capital Region businesses that teamed up with other creators to build truly local collaborations.
A Pure West Coast Collab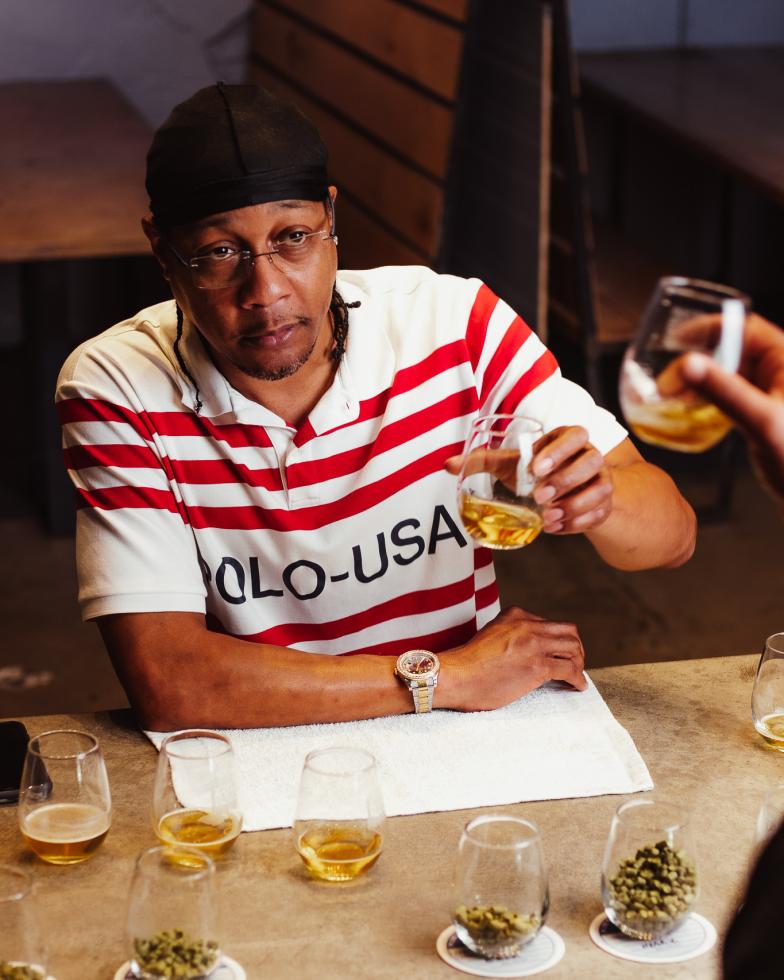 When you think of Compton rapper DJ Quik, you might think "G-funk" or "West Coast." Luckily for Sacramento beer fans, Urban Roots Brewery owner Rob Archie thought "IPA." Due to a family music business connection, Archie has known DJ Quik since he was a teenager, and has always been a big fan.
"We developed a relationship throughout the years," Archie says. "What I learned about Quik is he's not just a musician, he's a real tastemaker. He loves food, he loves cooking, he loves spirits, he loves wine, so I wanted to highlight that."
He approached Quik to partner on a beer and choose the hops used in his signature West Coast IPA. "Pitch In on a Party," the title of a 2000 DJ Quik song, was a natural name for the beer, according to Archie, because the song "symbolizes how he works. He's a producer and he can bring different elements together and make it work."
By all accounts the July release was a success, with the rapper DJing a set at one of Archie's other businesses, Bawk! Chicken + Bar. Archie laughs with glee as he remembers that his name made it into a freestyle rap during the set. He quotes Quik as saying that the beer release "feels like when I drop an album." Reached via text, the rapper elaborated, "I love this collaboration because it's outbox and a challenge, and I like challenges."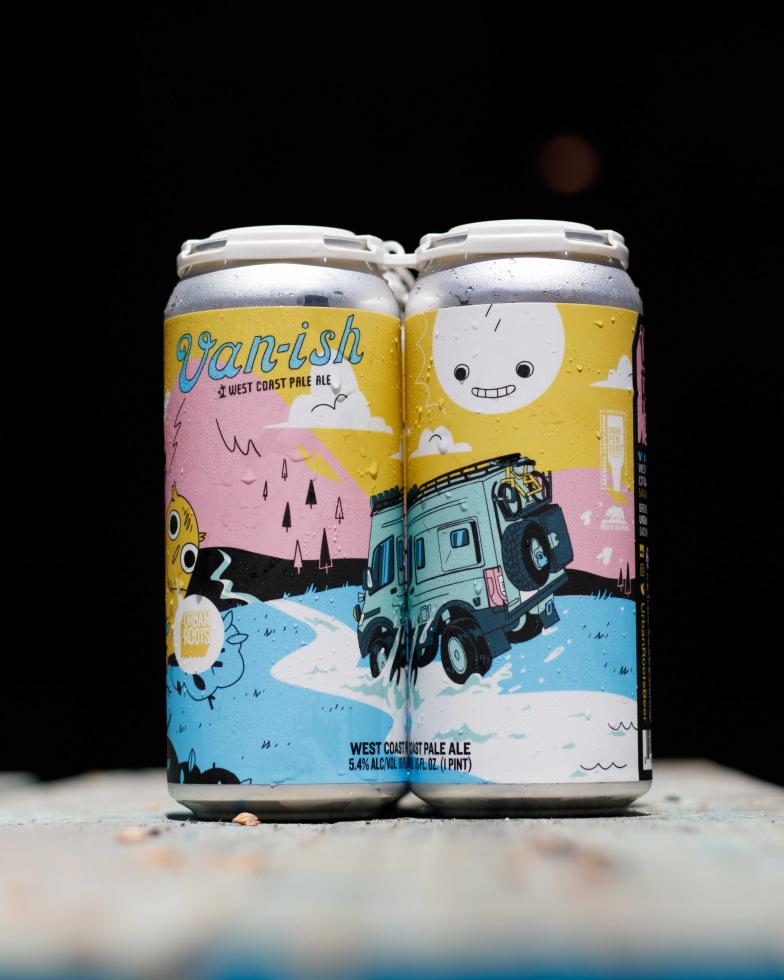 An even less-expected recent URB collab was the "Van-ish" pale ale with Owl Van Engineering, a maker of adventure van parts for Mercedes-Benz Sprinters. Owl VanEngineering makes accessories such as bike and roof racks, specialized bumpers and lighting. Although kitted-out Sprinters are a #vanlife pandemic-era hobby for some (with sales of the model soaring 22 percent in 2020), Archie has been into them since 2015, and is currently on his second.
The ever-in-motion entrepreneur traveled up and down the state during the early months of the COVID-19 pandemic, and met a community dedicated to building out these vans. Their specialization (galley kitchens, suspension, etc.) reminded him of the brewer community (stouts vs. IPAs etc.). He struck up a friendship with John Willenborg, founder of the Novato-based company, and they decided to make a beer.
With camping and the outdoors as the theme, together with URB master brewer Peter Hoey, the collaborators settled on a "crushable" (i.e. easily drinkable), low-ABV, classic pale ale. The punny name has a double meaning. Archie says that he "just wanted to leave (due to COVID19), that's why we called it 'vanish'" and that "the vans you build become something other than a van because it's just so much — they're 'van-ish.'"
Putting the River City on the Whiskey Map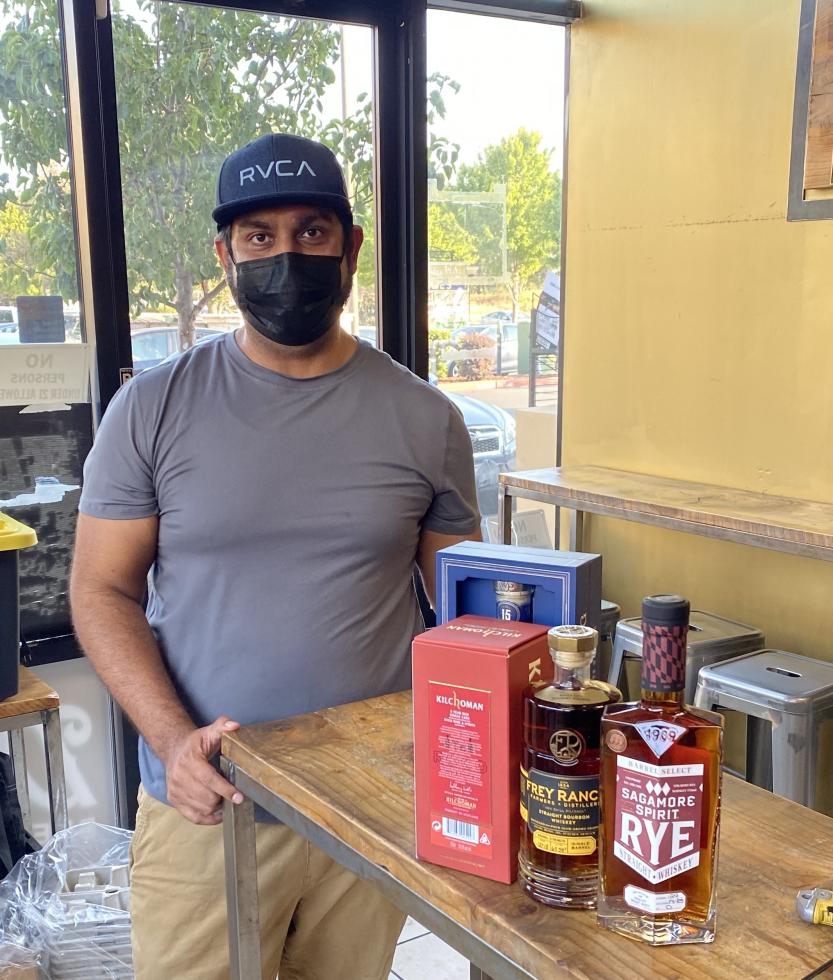 A collab between whiskey distilleries and a liquor store might not sound so unusual, but when you roll up to RoCo Wine & Spirits in one of those endless strip malls in West Sacramento, you wouldn't think that you are about to enter the domain of a Capital Region whiskey mogul: Rohit Nayyar.
Ro, as his friends call him, the owner of the store, is putting Sacramento on the whiskey map. He opened RoCo Wine and Spirits with his dad (Inder Jit Nayyar, who owned a string of liquor stores but has since sold his interest in the others) in 2010. An initial craft beer focus shifted to whiskey in 2016, Nayyar says, due to his weariness of competing for the same trendy beers that every other store was trying to stock.
He spotted an opening in the whiskey market, if he could just convince Sacramento's price-conscious drinkers to buy these sometimes-spendy spirits. At first, as with craft beer, everyone was chasing the rare — such as cult favorite Pappy Van Winkle, whose bottles can go for as much as 5 figures, or buying the big corporate whiskeys, like Maker's Mark.
Nayyar envisioned capturing that customer in between the Pappy and the SoCo (Southern Comfort, for the uninitiated), and wanted people to see the merit in more unusual and up-and-coming distillers. He founded the River City Whiskey Society via Facebook and followed it in 2018 with a bottle club for paying customers. The Facebook group now has close to three thousand members, with 650 enrolled bottle club members — and how many strip mall liquor stores can boast more than 12,000 followers on Instagram?
Members of the bottle club, which has different price tiers ranging from $400 to $800 a year, can get first pick of allocated whiskeys, which are often so limited that they don't go on sale to the public.
These limited whiskeys are where the collabs come in. Once Nayyar built a following, he started to do barrel picks with distillers, often visiting the distilleries and personally choosing the barrels to bottle and affix the RCWS sticker. From his first barrel pick of Elijah Craig in 2018, he currently does about 55 barrel picks a year, and they often sell out quickly. He's now able to focus on the more esoteric brands, such as Israel's only whiskey distillery, Milk and Honey, from which he chose their first American barrel pick offering.
Nayyar, who says whiskey culture is "all about collaboration," has also been distributing whiskey barrels from his picks to local breweries, including Urban Roots, Claimstake, Big Stump and Bike Dog. The breweries age their beer in the barrels and River City Whiskey Society followers are first in line to try them.
Aiming ever higher, he is navigating the red tape to become an independent bottler, with his own branding, and hoping to do some post-pandemic travel abroad to make his picks.
I'll Have What the Grower Is Having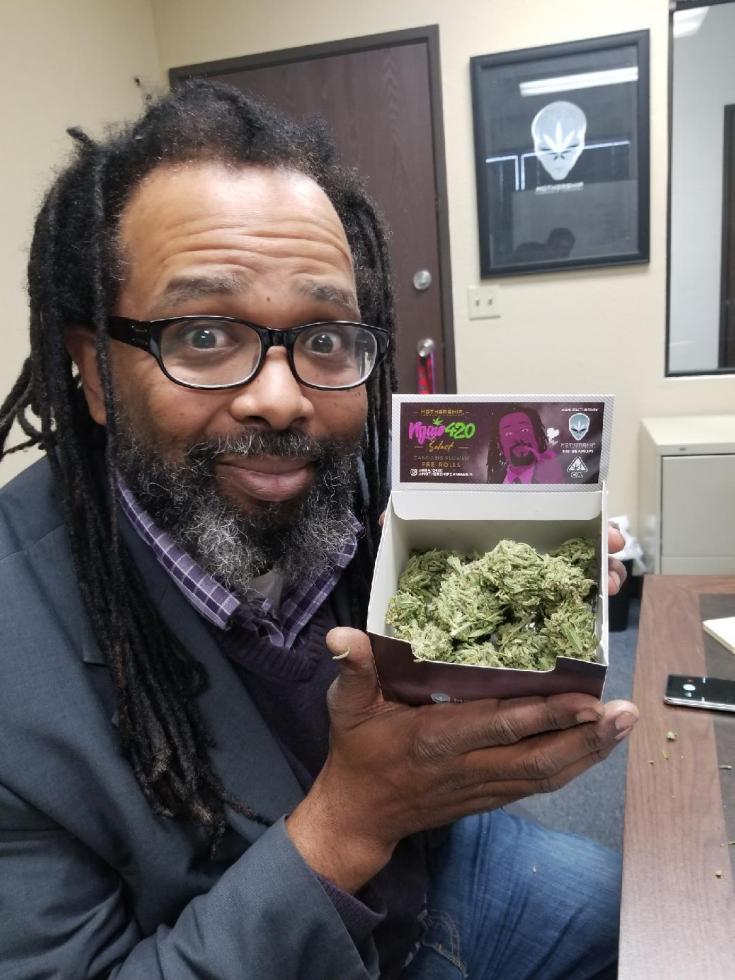 Not all unusual collabs work out — and in the case of Sacramento comedian Ngaio Bealum's cannabis partnership with Sacramento-based Mothership Cannabis Company, he's looking for a reboot. With 77,000 followers on Instagram and a starring role in Netflix's "Cooking on High" on his resume, you would think Bealum and a weed line would be a smash hit.
Mothership Cannabis Company released a line of pre-rolls curated by Bealum in 2019. In a crowded market, he strived to stand out by offering cannabis for the connoisseur. "I talk to my homies who are great growers in the regulated market, and I talk them out of their special, unreleased strains," he says. "This is the stuff the grower is saving for himself."
Bealum blames the lack of success on the cutthroat competition in cannabis shops, likening it to the cash-for-shelf-space arrangement in major corporate supermarkets. He says that where they were able to get shelf space in local clubs, his limited-edition pre-rolls (cannabis cigarettes) often sold out. Ultimately they were not able to get into enough retail outlets to render the line profitable.
The line with Mothership ended in 2020. He plans to relaunch with a different partner and go into the cannabis flower business. Flowers are sold intact, without being ground, so the terpenes (aromatic oils) stay fresh and preserve the flavor.
Whether individual collabs are long-lasting or short-lived, the model is here to stay. They can benefit both parties, but the customer may benefit most of all.
—
Stay up to date on business in the Capital Region: Subscribe to the Comstock's newsletter today.