Friday, May 27, 2016 started like any other day for Chris Stratton.
A solid right-handed hurler, Stratton was just finishing his junior year at Mississippi State University when he got the nod — he was selected by the San Francisco Giants in the first round of the 2012 draft. He signed for $1.85 million and after spending three years moving through the team's farm system, he was promoted to play for the Giants Triple-A affiliate, Sacramento River Cats in 2015.
Once players make it to Triple-A, the prospect of being called up to the majors is more tangible. Only about 10 percent of all minor league players make it to the big leagues, and the majority are pulled from the more talented and experienced Triple-A teams, which represent the highest level of Minor League Baseball. But at any point, they can also be dropped back down again.
That May morning, Stratton got up, had breakfast, took care of some personal business and then reported to the River Cats ballpark for a 7 p.m. game against the Oklahoma City Dodgers. "The game was a little wild," Stratton recalls. "It went into extra innings and our manager and one of our players both got tossed for arguing with the umpire, but we ended up pulling out a 5-4 walk-off win, so everyone was pretty excited." After the game, Stratton headed to the locker room with his teammates. His manager, Jose Alguacil, pulled him aside and said, "I love you man, you know that, right?" Stratton responded, "Yeah, I know that. I love you, too. What's up?" The manager's next words caught him by surprise. "You're going to the big leagues," he said.
"Now that was a good surprise," Stratton says.
Minor league players are at MLB's beck and call and if necessary, may have less than 24 hours to report once they're called up. On average, 10-15 players per team get called up each season. Last year, 15 River Cats players were called up; 10 for the first time in their career. This year, there have been 13 players called up; four for the first time.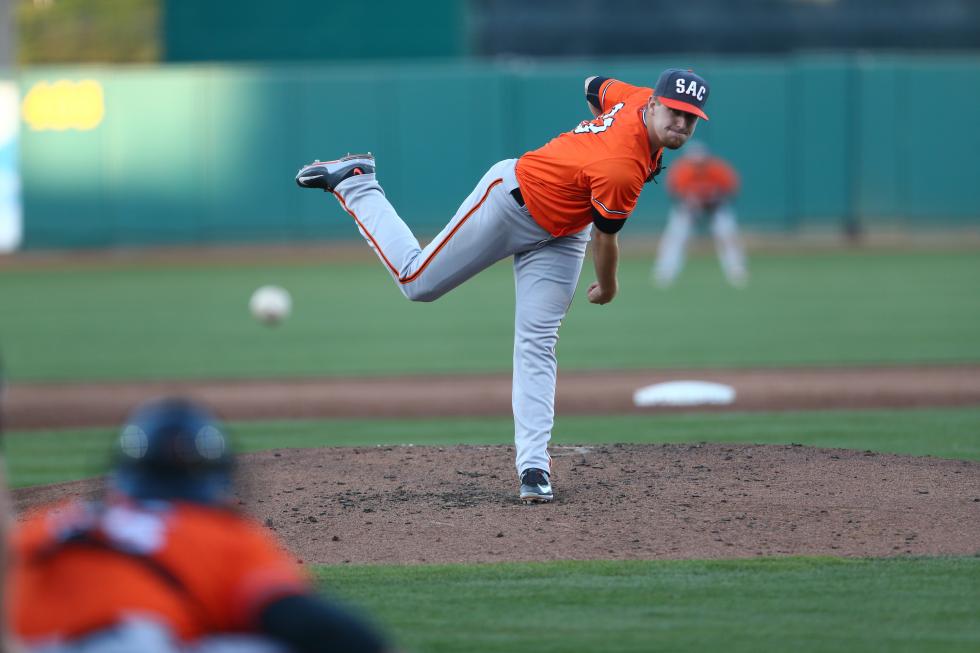 The shuffle with Stratton began when starting Giants pitcher Matt Cain sustained a hamstring injury. Reliever Albert Suarez then moved into the starting rotation and Stratton was called up to take Suarez's long-relief position.
That night, after the River Cats game, Stratton spoke with Bobby Evans, the Giants senior vice president and general manager, who told Stratton to get his things and meet at AT&T Park the next day. He reported to the ballpark and then flew with his wife and newborn son to an away game in Colorado.
Stratton didn't end up pitching in Colorado, but made his MLB debut in Atlanta the second night of the series. The Giants flew Stratton's immediate family to Atlanta, and his wife's family was close enough to drive to the game, so he had plenty of support in the stands. Stratton came on in relief in the bottom of the eighth inning against the Braves.
"The first time I set foot on the mound my adrenaline was pumping. I had to make sure to slow everything down in my head," he says. "It's the same game no matter what level you're playing at so you just have to remind yourself that you've been here before and then just go out and attack the hitters."
Stratton got the first batter to fly out to center field and then fanned the next two batters who struck out swinging. The Giants scored twice in the bottom of the ninth, closing the gap to within two runs, but ultimately lost the game 5-3. "My job was to close out the inning without allowing any more runs and give my team the chance to come back," Stratton says. "It felt good to be able to do that."
When Cain's hamstring injury healed, he was pulled off the disabled list and resumed his normal starting position. Suarez slipped back into the relief spot and Stratton was sent down to the River Cats. In all, he pitched 10 innings in a little over a month as an MLB player. Now that he's had a taste of the big show, he can't wait to get back. "It's a pretty surreal feeling," he says, "and what we all dream of doing the minute we start playing this game."
Stratton was re-signed by the Giants this March to another one-year contract. But the baseball journey can be a long one, and players have to stay focused. "It's important to enjoy the process," Stratton says. "Baseball is a game of failure and if you focus too much on the results, it can crush you. But if you learn to make adjustments, you can stay in this game a long time."
For more on baseball affiliation basics, check back next week for Laurie Lauletta-Bosharts feature, "Pitch Perfect." Sign up for our newsletter, and we'll email you when it's available online.