The Waffle Experience isn't just another waffle house with packaged waffle batter and the usual breakfast fare. Instead, Donoho has taken his training in classical cuisines and worked to change the perception of how customers view the traditional belgian-style waffle.
On the surface, the two owners of The Waffle Experience restaurants seem like a study of contrasts. Michael Donoho is the executive chef, while Jeffry Belaski is the general manager. Donoho is originally from Alaska and Belaski hails from Hawaii. Donoho comes across as quiet and reserved, where Belaski is quick to crack a loud joke.
Yet, they have a shared mentality that has led to success in the difficult restaurant industry: the refusal to accept defeat in the face of opposition. This has allowed them to open corporate locations in Natomas and Folsom, and to now embark on the process to franchise their company.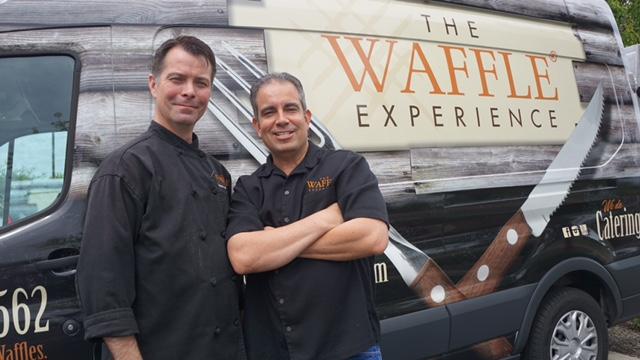 Belaski and Donoho agree that mentality developed during their time in the military. They both joined the U.S. Marine Corps in 1986 and met each other at their first duty station in Millington, Tennessee. Belaski recalls a brief introduction — initiated by him, of course, as the extrovert out of the two — and then smiles while recounting their next encounter. "Two weeks later, he punched me in the mouth, but that was the start of our friendship," Belaski says, adding that the two had a disagreement about something Belaski said about another Marine. "But see, he apologized." Donoho chimes in with a smile and a joking shrug, "It was a love tap."
The two became friends and roommates as they were stationed together in several stateside bases and eventually served on the same aircraft carrier as plane captains for the A-6 Intruder and a F/A-18 Hornet. Belaski and Donoho were called upon to serve in Operation Desert Storm in 1991. Both men recall their time in the Marines as "the good old days," but by 1992 they had both served the six years they signed on for and opted to return to civilian life.
Related: From Entertainment to Coworking to Wine
Donoho returned to Alaska, pursued a career in nutrition and restaurant management, and eventually found his way to the culinary arts. He spent much of the 1990s moving from state to state to earn a degree and receive on-the-job training. After a few years working as a dietician, in 1998, he became a full-time chef in Florida. He soon started managing the food and beverage side of large resorts. "It amounted to a lot of hours, little time off a lot of stress, and no time for family, friends or a life," he recalls.
Belaski meanwhile had decided to move back to Hawaii and get into real estate. "Two weeks after I got my license, the economy collapsed," he says of this time frame of the early 1990s. "The Japanese economy collapsed and they were Hawaii's bread and butter at that time. I struggled for years and got into different aspects of financing and real estate. I was married at the time and my wife and I got divorced."
Belaski moved to Seattle in 1996 and got a job in the mortgage industry. Not long after, he and a handful of business partners founded what would become Bell Home Loans, which boasted six offices in five states and several successful real estate ventures. Eventually Belaski remarried and moved to Sacramento in 2007 — just in time to simultaneously retire from the mortgage industry and experience another recession.
"I retired wealthy and within eight months I was broke. Everything was gone," Belaski says. He spent the next several years doing any odd job he could find. During this time, he signed onto Facebook and caught a notification from his old friend Donoho. They started discussing some of Donoho's ideas for new restaurant concept, and Belaski and his wife flew to Florida. "I fly 3,000 miles to see what it is and he says, 'It's waffles,'" jokes Belaski. "I said, 'You're freaking nuts. How can you do that? I don't get it.'"
Donoho proved his idea with freshly prepared meals and his plans to turn The Waffle Experience into a household name. Soon, his friend was sold on the idea and Donoho thought it best to launch the venture in Sacramento. Belaski began sending out emails, making calls and setting up appointments, but hit a wall, saying that his efforts in 2013 amounted to receiving "every conceivable no" possible. "I'm talking hard money lenders on the internet, banks, savings and loans, credit unions — nobody gave me a chance," he says.
Not to be deterred, the two borrowed money from family, cashed out 401Ks, made purchases on credit and finally found a location in Natomas that would seem like an unwise choice: a former taqueria tucked into what was then a rundown stripmall on Gateway Drive. As they built out the restaurant, prepared for opening day and hired employees, they were faced with permitting delays that stretched on for two months. Many of the employees they had hired opted to go elsewhere.
"We were down to seven people when we opened our doors," Belaski says of the July 2014 grand opening. "It was rough, but, you know, we persisted and [Donoho] has created a very unique product. There are other places that do similar things, but nothing like the quality of what Mike's created."
The Waffle Experience isn't just another waffle house with packaged waffle batter and the usual breakfast fare. Instead, Donoho has taken his training in classical cuisines and worked to change the perception of how customers view the traditional belgian-style waffle. He and the team do their best to source produce and other foods from local and family-run vendors with fair labor practices. He uses a dough for his waffles rather than a batter and customizes it based on the dish. Their food isn't packaged or processed, with most of everything they serve prepared onsite.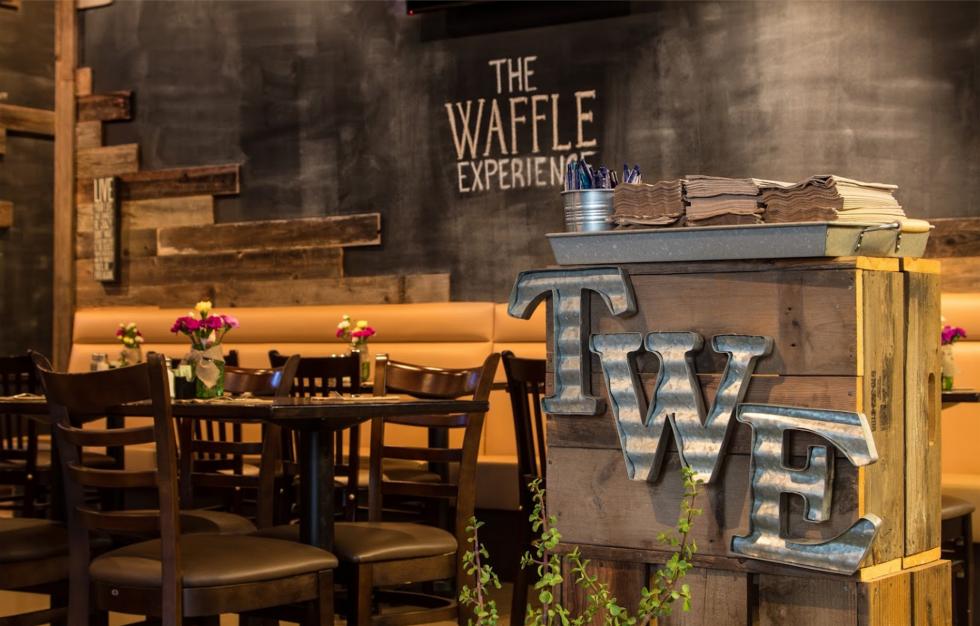 "I think the best way to describe it is taking something ordinary and making it extraordinary," Donoho says. "We've taken something most people think of as a breakfast item and have made it not only breakfast, but lunch and everything in between."
Belaski says The Waffle Experience concept is also unique in that it's replicable. They opened their second location in Folsom in 2016 as the last corporate store. The rest will be franchises — a process they've already begun.
According to Jeff Spadora, when Belaski and Donoho reached out to offer him an opportunity to own franchised location in Roseville, he was honored. He was an integral part of the opening of the Folsom location — his construction company DHS Construction built out the store — and he was intrigued by the food concept and how the company was being run.
"I base my business on several philosophies and one of the things is that if you give people good service, the money will follow," Spadora says. "And I see that with them. They offer good service and a quality product and their business is growing." The contract is still being negotiated, but if all goes well, the franchised Roseville location could be open by the fall of this year.
As for growth, Belaski has their legacy in mind while also nodding to their shared military service as he thinks back to how the whole idea slowly came to life.
"In the military, the Marine Corps especially, you just never quit," he says. "Winners never quit, quitters never win. So we just never quit. We never gave up and here we are. Success didn't come easy, but success was going to happen. It always was going to happen."
Follow our writer Jennifer Snyder every month as she speaks with people in the Capital Region who have taken unconventional career paths to get to where they are today.