This week, the Greater Sacramento Urban League is returning to its Oak Park roots, first with temporary digs on 3rd Avenue and then, in September, the nonprofit organization founded locally in 1968 will open a satellite office on Alhambra Boulevard. "It's always been a desire to come and be a part of the Oak Park community once again," says Program Coordinator Tamika L'Ecluse, who also serves as president of the Oak Park Neighborhood Association.
While the Urban League will continue to provide workforce training and job placement at the new site, the focus will be on reducing deaths among black children. In Sacramento County, African American children are dying at two times the rate of other children, and Oak Park is a high-risk neighborhood. The Board of Supervisors has established a steering committee to reduce these deaths by 10-20 percent by 2020. The Urban League will provide education and other resources to prevent perinatal deaths, sleep-related infant deaths, child abuse and neglect homicides, and third-party homicides of youth, L'Ecluse says.
The Urban League is one of roughly 50 public and private partners in the Oak Park Promise Neighborhood, a 15-year initiative — covering 50 blocks and two square miles — to improve the educational, health, employment and housing opportunities of residents. In addition to the higher infant mortality rate, Oak Park has a higher unemployment rate, lower median household income, lower homeownership, lower literacy and shorter life expectancy than the rest of the city.
The group, led by United Way California Capital Region, plans to apply for a $30 million (over five years) federal Promise Neighborhood grant through the White House Neighborhood Revitalization Initiative, administered by the U.S. Department of Education. While President Barack Obama proposed a budget request of up to $150 million this grant cycle, the actual allocation in 2016 is $30 million to be split among the 5-7 recipients, according to a representative from the department (future funding will have to be approved by Congress each year). Selections will be announced around December.
Mayor Kevin Johnson announced the ambitious proposal during a kickoff event in July at an overcrowded Guild Theater, a venue managed by his nonprofit community development corporation, St. Hope Academy. Johnson has long advocated revitalizing this neighborhood where he grew up. Plenty of residents appreciate the attention he's paid to Oak Park as shown during a recent Gather — a monthly food event with live music held near the theater. Attendees swarm Johnson to take his photo and shake his hand.
But with the mayor embroiled in controversy — longstanding sexual abuse allegations and a judge's recent ruling that he must release certain emails into the public record following a lawsuit he filed against the Sacramento News & Review — and having decided against running for re-election, the baton will be passed to Mayor-elect Darrell Steinberg when he assumes office in December. Steinberg has promised to carry the momentum forward.
'Cradle to Career'
The Promise Neighborhoods program grew out of a 2008 visit Obama made to the Harlem Children's Zone, an anti-poverty initiative focused on children. The federal government launched an effort in 2010 to prompt similar programs around the country, and has provided funding for new or continuing awards every year since.
Oak Park should have an advantage as Sacramento previously received Promise Zone designation (for a larger area including Oak Park, Del Paso Heights and The Avenues south of Fruitridge Road). In 2015, Sacramento was one of eight new zones selected in the second round (there are now 22 recipients total). "There's no money from this, but it puts you in a position," Johnson said during the kickoff event. "You play golf? It tees you up. OK, you play basketball? It's like an assist." Neighborhood designation, on the other hand, actually means money.
Related: Oak Park Farmers Market opens for its seventh season
Oak Park Promise's "cradle-to-career" approach is designed to support each stage of a young person's life: prenatal; preschool; elementary, middle and high school; college, internships; employment. Seven target schools have been identified, including five in the St. Hope Charter Schools system and two campuses in the Sacramento City Unified School District.
The campuses must be able to track the progress of students over time, providing data from pre-kindergarten through 12th grade, says St. Hope CEO Jake Mossawir. St. Hope can capture a large sample size of Oak Park students, as 4,000 students live in the neighborhood and about 2,000 attend these charter schools, Mossawir says, adding that the other two schools serve another 1,000 children. "About 50 percent actually live in the two zip codes that make up Oak Park," he says. "For students who live in Oak Park, but who attend schools outside of the borders, at non-target schools, they will still receive resources from the grant, which is a requirement."
The funding would augment St. Hope's STEM programs, Mossawir says, covering technology purchases, new curriculum and professional development of teachers. He says St. Hope will make successful methods scalable to other campuses. "The exciting part is everyone involved in this process … have all said we believe this is what the work should be no matter what happens," Mossawir says.
At the kickoff event, University of the Pacific President Dr. Pamela Eibeck announced two scholarships for Oak Park residents: one will cover the full tuition for an undergraduate student to attend its Stockton campus ($44,000 cost), and the second scholarship is for a resident to attend McGeorge School of Law ($52,000). Other Oak Park Promise partners include the Los Rios Community College District, Sacramento State, SMUD, Sacramento Housing and Redevelopment Agency, Sierra Health Foundation and UC Davis.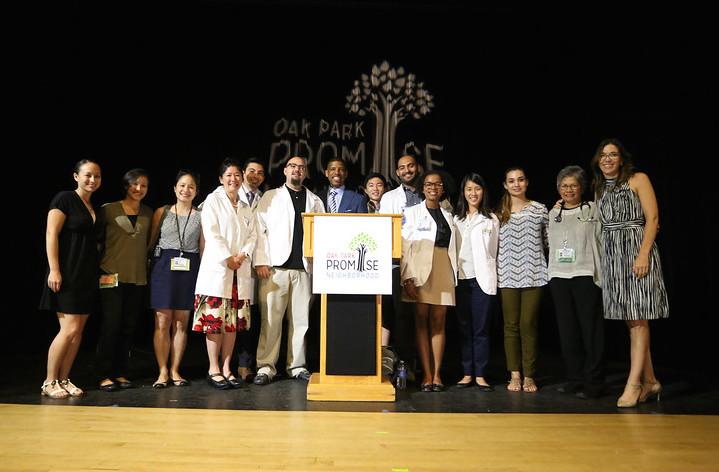 If the initiative's goals of more jobs, improved education and increased homeownership are achieved, that will attract more health care services for residents, says Dr. Julie Freischlag, dean of the School of Medicine, in an email. "The goal of eliminating educational inequalities and generational poverty can be a crucial element in health care access. Improving education, for example, enables people to better navigate an increasingly complex healthcare environment. Likewise, more and better employment opportunities can mean enhanced health insurance coverage, which may bring expanded clinical care choices for individuals and families."
Grant funding, such as through the Promise Neighborhood program, can help expand clinical services. "Such funding could lead to hiring more physicians, nurses and other health care providers at underutilized facilities," Freischlag says. UC Davis aims to increase comprehensive inpatient and outpatient health care to Oak Park families; the university already partners with WellSpace Health in the neighborhood to provide care to children and families.
The university has set a goal of attracting and training more physicians with diverse ethnic and racial backgrounds. According to a 2014 report on physician diversity, research indicates that a diverse workforce is more likely to practice in impoverished and medically underserved areas. "One of the best ways to encourage clinicians to establish their medical practice in an underserved community is if those individuals were born or grew up in, and have an affinity for, those communities or places like them," Freischlag says.
Positives and Negatives
In the early 20th century, Oak Park — Sacramento's first suburb — grew rapidly with many residents working blue-collar jobs for the railroads and canneries. In 1962, the construction of Highway 99 began leading drivers away from businesses on Stockton Boulevard and Broadway. Starting in the early 1980s, many residents lost their jobs when the Libby, McNeil & Libby Cannery closed, and others began losing railroad jobs. Property values declined, houses turned into rentals, blight took over and crime increased. Meanwhile, some banks and insurance companies denied residents of poorer neighborhoods like Oak Park home loans through "redlining" and, later, black and Hispanic homeowners were more likely to be sold subprime loans during the housing boom.
Mention Oak Park today and the conversation inevitably turns to gentrification, and how an influx of middle-class residents may impact the neighborhood's social character and housing market. Some proclaim gentrification — a term coined by a British sociologist in 1964 to mean when the gentry come in the proletariat go out — as beneficial. The process can lead to infill development of vacant lots, improved amenities for all residents and better-performing schools. But it can also lead to higher rents, displacement of long-time residents and an unwanted cultural shift.
No matter what happens, Oak Park Promise partners aim to support the residents who already live here and to persevere even if the Neighborhood Promise grant money doesn't pan out. Norman Blackwell Sr. is 83 years old and has lived in Oak Park since 1941. "I'm glad this is happening," he said at the kickoff event. "I've seen a lot positive and negative changes in Oak Park. This is a positive."