Wine tasting is often an experience shared only by the taster and pourer. A brewery tasting room, however, needs to facilitate the gregariously social aspects of craft beer, making space for interaction and mingling. Room to brew, room to chat and room to sample flights of beer make for highly dynamic spaces that bring to life the distinct personalities of brewers and their art. Many breweries refuse to simply throw down some picnic tables in a warehouse next to the fermenting tanks, instead seeking an architectural edge to complement feisty lagers and ales.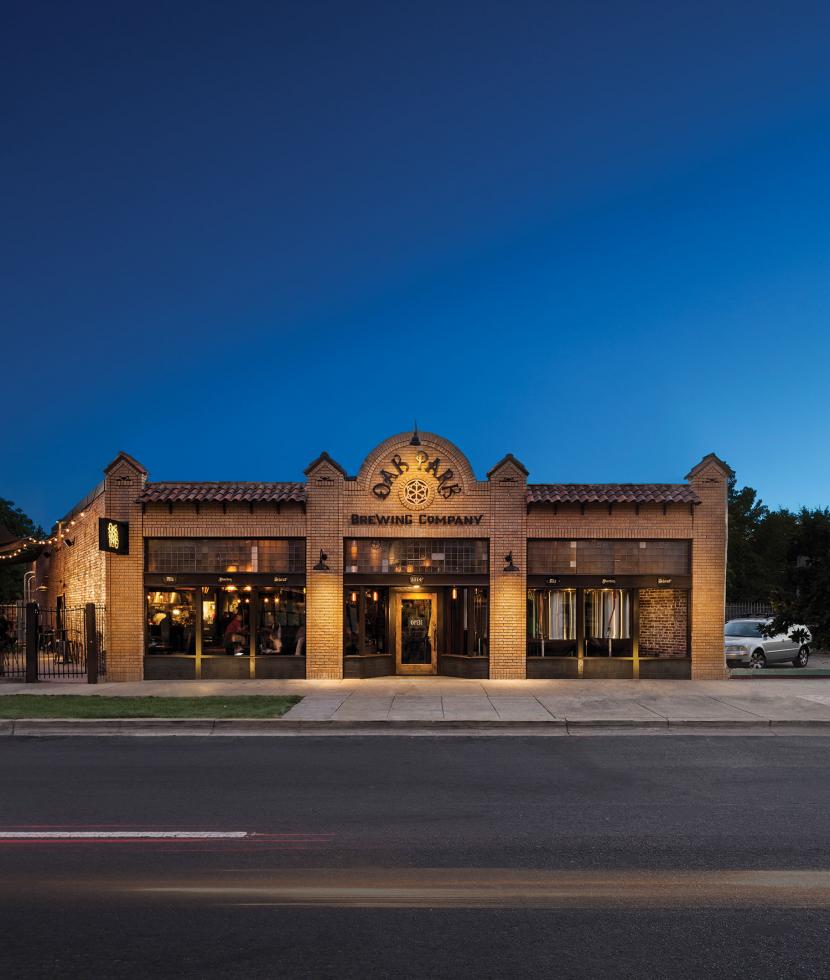 Oak Park Brewing opened last fall in a rehabilitated 1920s structure with a deliberate and distinct design. The Prohibition-era vibe envisioned by co-founders Tom Karvonen and Dave Estis is unmistakeable. Steel fermenting tanks greet guests from behind a glass partition as they enter the building. Soft light from classic leaded windows illuminates the original brick walls and exposed dark hardwood rafters. Copper streaked with red patina accents everything from the steampunk light sconces to the beer tap's backsplash.
The industrial metal and wood aesthetic makes for an intimate indoor feel, accompanied by an expansive sunny patio that holds about half the brewery's seating. Shaded by a series of canvas sails, the outdoor area provides the bike- and dog-friendly atmosphere craft beer tasters seek out. The experience is definitely weighted by the restaurant, but the socializing the space facilitates is right on-mark for the type of engagement local brewing brings to a neighborhood.
Sactown Union Brewing recently opened in East Sacramento, where local designer Whitney Johnson provided a palette in the tasting room that harkens some of her successful restaurant projects, like Shady Lady Saloon and Low Brau. Johnson spent nearly 16 months working with Quinn Gardner, brewery co-founder, on the interior. Johnson drew inspiration from Gardner's love for Sacramento — everything from his favorite midtown streets to wander to his thoughts on parking garages that offer the best views of the city. The two regularly trot out the same tagline for the space: "urban rustic, looking like the Black Keys sound."
"Architecture and breweries have a stronger bond than a typical project, as the camaraderie of craft brew fuels the creative and collaborative urges in those drawn into its gravity." Brian Crilly, Architect, Vrilakas Groen Architects
Johnson and Gardner also wanted the room to reflect its origin and location. "There was a lot of fantastic old mechanical equipment we got to pull from," says Johnson, "and the old piping will be used to construct the bike rack out front." The plan is for a bar that gives the feeling of a stroll through downtown Sacramento. A stack of wooden pallets found on the property will serve as facing for a pavement-style concrete bar over which a mural of the Tower Bridge will hang. The mission is to complement local beer with a local experience, marrying the ale to the city and people behind it.
"Beer from the source, where you can see it being made and ask questions of the brewer and those making it, this is very important to craft beer drinkers," says Gardner. Everything in the tasting room is oriented for a customer who wants to enjoy an artisanal product right where it's made, surrounded by ambiance which enhances that specific experience. Brewers and their beers tend to have strong personalities, and the tasting room is the perfect place for those to manifest into a user experience. "The face-to-face relationship is important, as there's a dropoff for any new business after several months," Gardner continues. "Then sheer location starts to matter a lot more."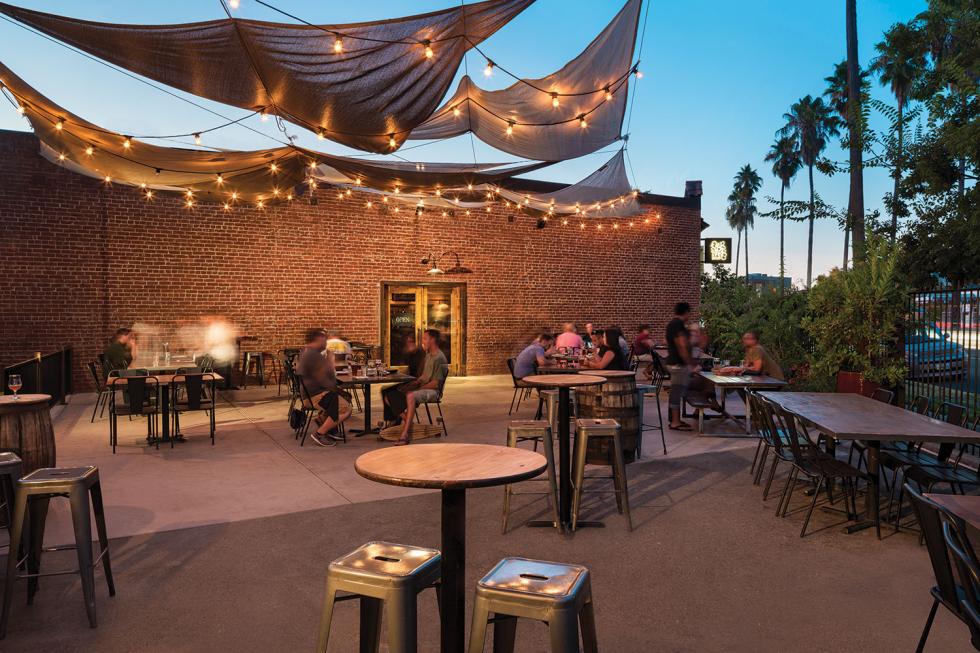 Because the building was originally a small frozen-food factory just a decade ago, it was already outfitted for commercial-grade utility use and therefore an apt spot for a brewing operation. There were physical design considerations, to be sure, but the real crux in getting Sactown Union off the ground was buried in miles of building regulations, many with hefty price tags. But Vrilakas Groen Architects' Brian Crilly has an almost-encyclopedic knowledge of codes — what can and can't be done according to this body or that agency; natural gas, power, water, drainage and fire-extinguishing needs; along with other regulations like ADA and waste compliance — meaning his clients avoid making costly mistakes when it comes to site selection.
"Many agencies are not aware of AB1014, for instance, which protects brewery owners wishing to provide a tasting room from having to follow requirements which are not applicable to pouring beer," says Crilly, who also consulted on Track 7 Brewing Co.'s Natomas tasting room. "However, it can never be guaranteed that any two agencies will always interpret the building code in a similar fashion. One example is whether fermentation and brite tanks anchored to the ground are considered fixed-process equipment — that varies between counties and cities."
Gardner also credits Dean Peckham, senior economic development project manager with the city of Sacramento, for securing a grant that knocked sewer fees from more than $17,000 down to about $6,000. Rezoning efforts to include the 2,000-square-foot tasting room alone took over five months. Ryan DeVore, Sacramento's director of community development, asked Gardner what could be done in the future to make the process easier for other breweries to open in Sacramento. The answer: Make an itemized list of what applications need to be filled out for which department, expected costs and review times; then give it to anyone who breathes a thought about opening a brewery in the city.
Compared to the regulatory hoop-jumping, NIMBY (Not In My Backyard) complaints are often less of a problem for local breweries and tasting rooms. Sactown Union Brewing received support from the East Sacramento Improvement Association, the McKinley-East Sacramento Neighborhood Association, the Metro Chamber of Commerce, Sacramento State — even the Girl Scouts of America, who have their headquarters next door. A few miles away on lower Broadway, New Helvetia Brewing Co., which opened in 2013, has been embraced by the neighborhood, even launching HIMBY (Hops In My Backyard) this spring, arming residents with 100 hops rhizomes to plant at home. In the fall, the collective harvest will be used in a special farm-to-fork celebratory brew.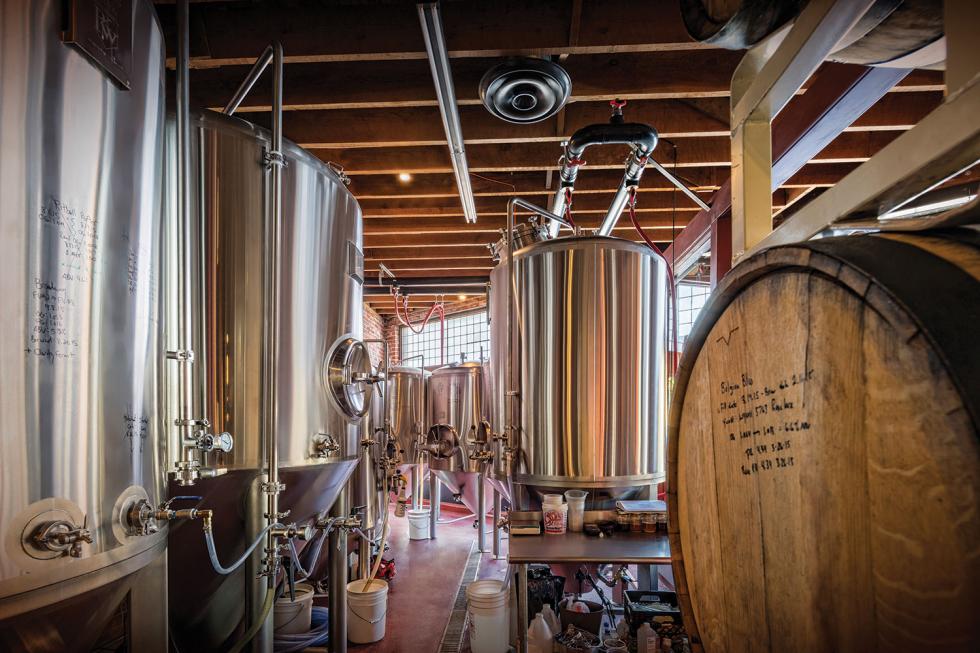 New Helvetia's quirky 2-story brick building was built in 1926 as the Boyle Bros. dyeing and cleaning plant and cost just $40,000 to construct at the time. The structure of building remains the same: an L-shaped barroom wraps around a small courtyard at the building's center, adjacent to an alcove filled with the 7-barrel brewing system. The space fills up quickly when the tasting room is open, but also allows for maximum access to the bar, directing the flow of customers past the taps between the front door and the courtyard. New Helvetia's founder Dave Gull is known for his passionate love of all things Sacramento. He says maintaining the building's historic architecture was a way of honoring that pride of place.
Twelve Rounds Brewing opened in East Sacramento last August after more than three years of obstacles — from small-business-loan financing to overhauling the electrical grid in the 3,000-square-foot former antique store on 57th Street. The concrete patio in front of the brewery makes the most of the industrial sparsity. A handful of bright benches sit near repurposed wood pallets hung from the metal fence, stuffed with blooming flowers. Inside, buffed metal light fixtures gleam above a granite slab topping the corrugated tin bar. A boxing bell, a nod to owner Dan Murphy's family history of pugilists, graces the back wall and large windows spill natural light over the clean metal lines and wood accents. While the brewery, taproom and patio are open, a kitchen will soon follow (something also expected for New Helvetia), in partnership with Red Rabbit Kitchen & Bar. In contrast, Sactown Union's next mission is to start canning and distributing beer, with five states in five years as the mantra for growth.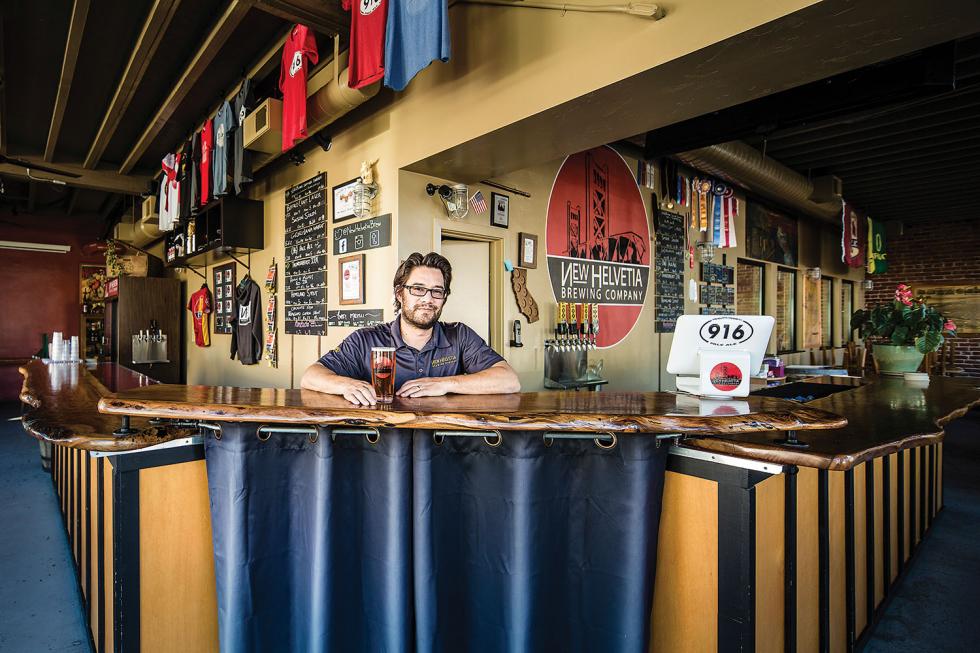 Craig Hausman, architect and principal with Hausman Architecture, says the range of what breweries can offer in tasting-room aesthetics is a huge draw for designers. His work with Twelve Rounds and New Helvetia illustrate the varied forms such a space can take, depending on the brewer and the location of the tasting room. "Some can be fairly utilitarian, while others have a Gordon Biersch-like finish for a higher formality," Hasman says. "Having worked in microbreweries myself out of college, I really like to have interactive, flexible spaces that provide guests something else, the next step in the experience." His current projects include a yet-to-be-named brewery on J and 16th streets. The brewery floor will feature a large event space in the middle, effectively doubling the space's use by rolling tasters in when brewers are finished for the day. "The brewers generally finish their work up after lunch because of the heat, and you've got this space that can be used for weddings, like at wineries among the barrels, or for lectures on brewing," he says. "The definition of the space is blurred, and that's a good thing."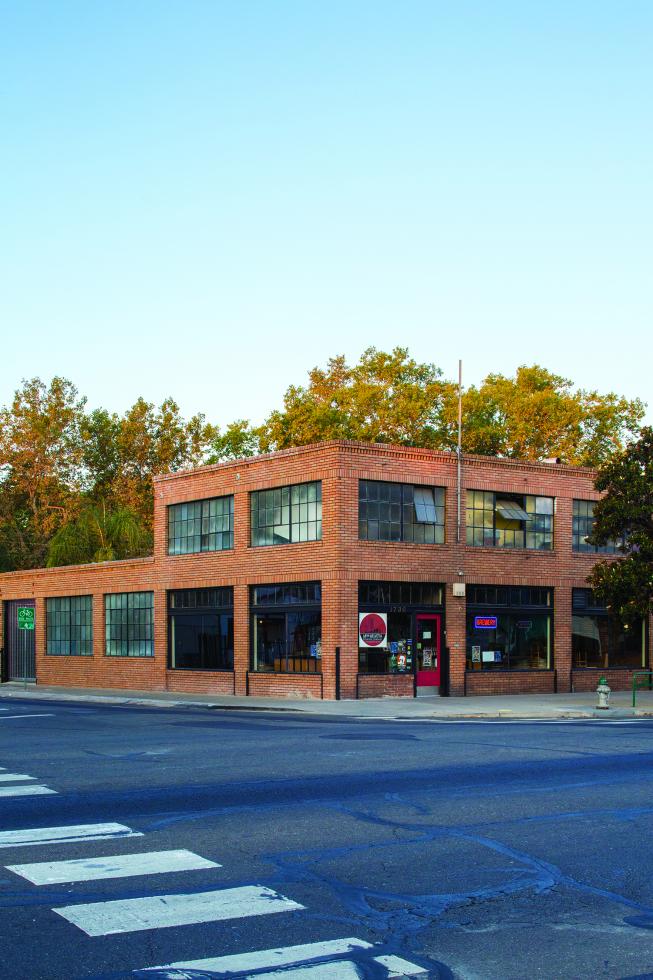 Brewery tasting rooms have become an extension of our living room or front porch: less formal than a restaurant and family-friendly enough for weekday evening get-togethers. They can be destinations outside of traditional neighborhoods, like West Sacramento's industrial sector-based Brewery District, or they can be hyper-local, just a short walk from home. Regardless, Sacramento business owners and architects alike are embracing the kind of social interaction and entrepreneurial success breweries provide.
"Architecture and breweries have a stronger bond than a typical project, as the camaraderie of craft brew fuels the creative and collaborative urges in those drawn into its gravity," says Crilly. "It's up to a good team, which includes a knowledgeable licensed architect, to walk you through the process and timeline. There is a science to brewing beer and that science requires a good amount of creativity and knowledge on the part of the design professional."