An apartment building at the corner of 17th and Q streets wasn't a bad place to live in 2005.
For a mere $550 monthly rent back then, one could land a cozy studio in a 1920 building replete with hardwood floors, built-in cabinets with leaded glass and a clawfoot bathtub. The then-new Safeway at 19th and S streets was a five-minute walk away, as was ground zero of Sacramento's specialty coffee scene, The Naked Lounge. The neighborhood also had easy access to transit with a Sacramento Regional Transit station at 16th and R streets.
But what the neighborhood also had a lot of, just a little more than a decade ago, was raw potential. Vacant lots abounded along Q Street leading up to 21st Street, such as a polluted site at the corner of 19th and Q that had once been an automotive yard. Other parcels sat under-utilized, including the parking garage for The Sacramento Bee which had begun waves of layoffs.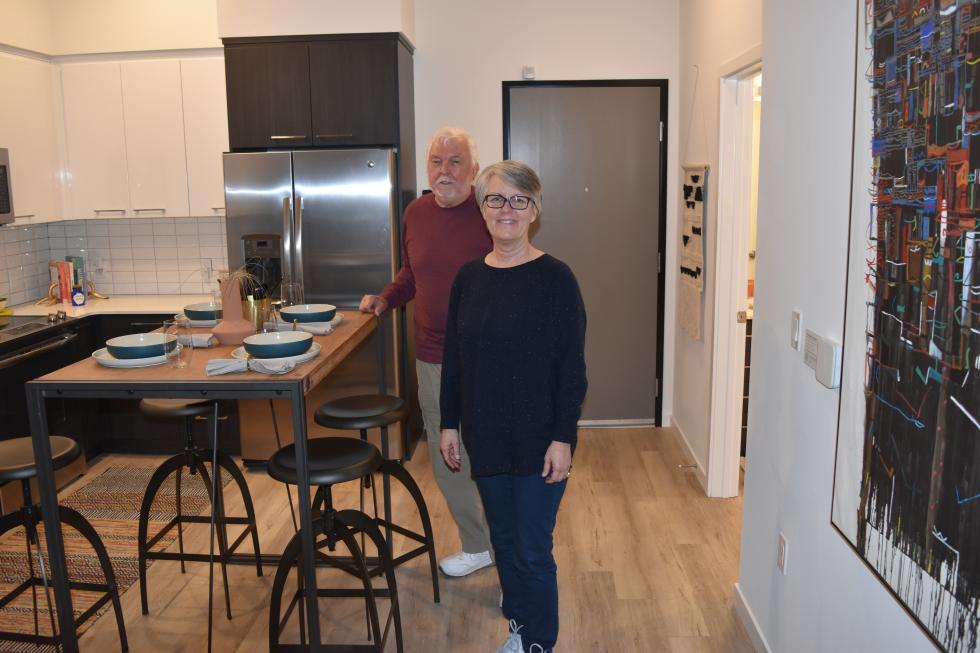 A decade on, a once-sleepy neighborhood is experiencing quite the transformation. The once-polluted land at the corner of 19th and Q has transformed into the Brooks Truitt Bark Park, which opened in summer 2017. This, in turn, has helped usher in a series of high-profile residential projects along Q Street connected to longtime developer Sotiris Kolokotronis that could make this one of the most densely-populated sections of the central city. The latest is Q19, a 68-unit boutique apartment building that welcomed its first tenants in October.
A Tribute to Brooks Truitt
Sacramento City Councilman Steve Hansen has certainly seen change in the neighborhood since moving to the city in 2002. "There's a long history in that neighborhood that kind of sets the scene for what's going on right now," Hansen says.
In his early years in Sacramento, Hansen says, he would grab coffee with Brooks Truitt, a well-known activist who fought for years to preserve historic buildings around the central city. Gruff, idealistic and well past his 70th birthday by the time he started grabbing coffee with the future vice mayor, Truitt fought for his neighborhood. This included helping beat back plans to turn the then-deserted R Street Corridor into a row of office buildings.
After Truitt's death at 89 in 2014, the civic watchdog would become the namesake of Midtown's newest dog park — and help spur development around it. "I think the dog park, because it had so much energy, really catalyzed the development community to look at [how to] build a brand new neighborhood there on all those open parcels," Hansen says.
Hansen recruited two developers — Kolokotronis and John Hodgson — to help design the dog park. This came around the same time that the Ice Blocks project was being developed nearby at 17th and R streets. And Kolokotronis has since developed Q19, a 68-unit apartment building diagonally across from it.
Marisa Kolokotronis, who is Sotiris's daughter, works for The Grupe Company and helps oversee joint-venture developments with her father's company, SKK, says the vacant parcel for Q19 fit ideally with their philosophy. So did The Bee's parking facility, which is being transformed by SKK into a 277-unit apartment building with 10,000 square feet of commercial space. SKK and Grupe also developed 32 townhomes between the two locations, along the Midtown railroad tracks.
"I think at the core of our development team's goals is to convert vacant lots or parking lots into housing, promote increasingly sustainable and sexy lifestyles and that people can live, play, work, eat — everything — right in Midtown," Marisa says.
That was certainly attractive to Renee Scarboro, who moved into a one-bedroom there on Oct. 1 with her long-term romantic partner Ron Albers. The couple splits time in Ohio, where they own a large house on the west side of Cleveland. Scarboro's two adult daughters live in Rocklin, where the couple once lived, though they weren't eager to move back. "Rocklin was a great little town back in the '80s, '90s," she says. "It was a great place to raise the girls. But it just kept on growing and growing and growing."
Albers adds, "I'm not trying to knock Rocklin but there's just nothing there. I would not move back to California if it had to be in Rocklin."
Instead, Scarboro was drawn to Q19 and the surrounding blocks. "When I walked through the neighborhood, I thought, 'This is it, this is it,'" Scarboro says. "This is a great end of the neighborhood, No. 1. The streets are just beautifully tree-lined. And then you have the convenience of having Safeway within a few steps of the door."
The building has other amenities, too, such as a dog wash room, ground-floor retail and smart home technology and, aside from empty nesters like Albers and Scarboro, seems to attract plenty of 20 and 30-something tenants.
At just shy of $2,400 a month for their apartment, Albers and Scarboro's rent seems a far cry from the days of $550 studios in the neighborhood. And the couple isn't sure if they'll live in the building long-term, opting for a six-month stay before they return to Ohio.
But they're happy so far in their new digs. "This isn't the ultimate place probably for living downtown," Albers says. "But it's not bad."
Change Underway
The neighborhood will inevitably change with the new developments, says Kevin Sauser, a principal for C2K Architecture, which designed Q19 and The Press.
"It's already happened or is happening," Sauser says. "It's not potential anymore. It's just a different place than it was a couple years ago. Every time we add a new project, it becomes more vibrant and a great place to live."
The development team even has a new name selected to rebrand the neighborhood: Midtown Quarter. To a certain extent, it seems apt they'd leave a literal stamp on the area. Marisa Kolokotronis says The Press, the new townhomes and Q19 will, together with the Ice Blocks, give the neighborhood Midtown's highest concentration of housing.
Infill development, in general, seems to be happening all over the central city these days, with the economy soaring over the past five years and many dormant projects, such as R Street Corridor redevelopment, finally coming online.
"The city seems to have been building momentum for the past couple of decades and finally, coming out of this last recession, has enough momentum to make all of this happen," Sauser says.
That's welcome news to Hansen. "We're going to look back at this period in the city's really golden age of building the city back up," he says. "We have a lot of work still to do. But I think it's been inspiring to see the way the community responded to the bark park or the new (residences) at Q19 or the Ice Blocks."