Asipeli "Perry" Tatafu, construction supervisor for the Sacramento company PMT Cement, was on a FaceTime call with his wife and a 2-year-old daughter he's never met when a nearby underwater volcano struck their ancestral home on the South Pacific island nation of Tonga.
"I was video-talking to her when the volcano happened," Tatafu says about his wife, Isapeli, whom he has been prohibited from seeing in person for more than two years because of a COVID-19 lockdown. "She was scared and crying. She didn't know what to do. It was the first time she experienced something like this. It was raining rocks on the house! Little tiny rocks. She heard explosions, and ash covered a lot of Tonga."
"I was video-talking to her when the volcano happened. … She was scared and crying. She didn't know what to do. … It was raining rocks on the house! … She heard explosions, and ash covered a lot of Tonga."

Asipeli "Perry" Tatafu, construction supervisor, PMT Cement
The mid-January eruption propelled a tsunami that swamped three of the Polynesian nation's 170 islands with 50-foot waves, killing at least five people, injuring 18 and leaving an unknown number of others missing.
Fortunately, Tatafu's wife and daughter, Sinitalela, stayed dry despite 4-foot waves that swept much of their main island home on Tongatapu, the region's center for tourism and commerce where about 70 percent of the nation's 100,000 residents live.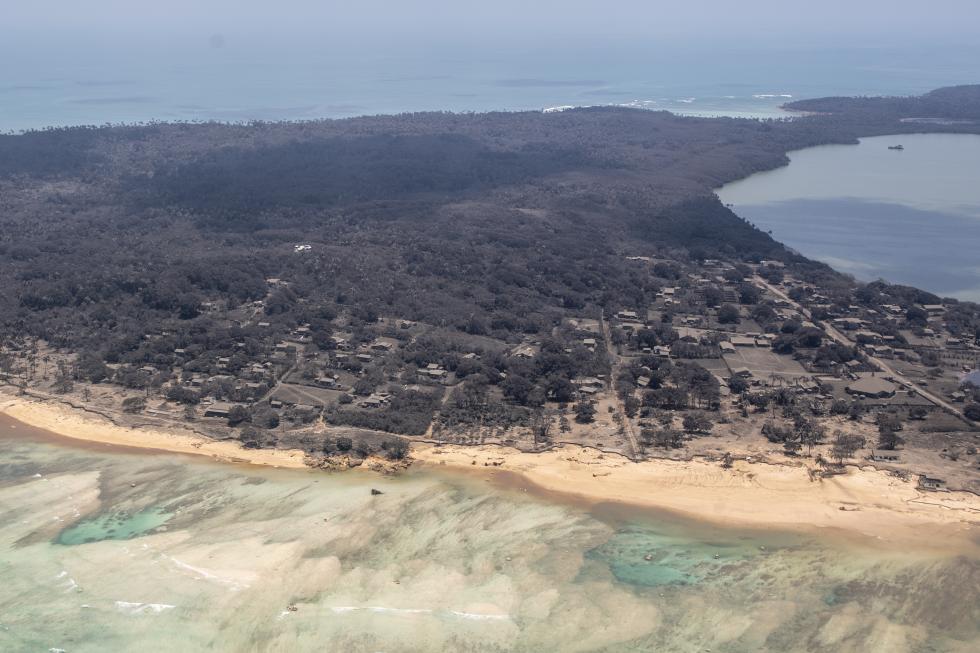 But Tongans throughout the 270,000 square miles of tropical, palm-covered islands about 500 miles east of Fiji found themselves without a way to reach the outside world after the Tonga-Hunga Ha'apai volcano explosion severed an undersea cable, sending towers of toxic ash into the region.
That same day, the lack of communications with loved ones began sinking in among Tatafu's all-Tongan crew while pouring a new residential driveway in east Sacramento County. Cellphone calls went nowhere, text messages went unanswered. The stress was etched on their faces. While they spoke their native Tongan language, their emotions were clear.
"Me not being there physically just worries me a lot," Tatafu said. "My wife and daughter live alone. It's weighing heavy on my mind. I'm having lots of different feelings — nervous, scared — and I'm not there to help them out."
'Another tragedy we didn't need'
That heartache compounded in the first week of February after outside deliveries brought desperately needed food, medicine, water — and the coronavirus — to the once virus-free islands. Despite strict precautions unloading ships and planes from Australia, New Zealand, Japan, Britain and China, two Tongan men who worked at Tongan docks handling shipments tested positive, as did one of their wives and two children.
"It's another tragedy we didn't need," says Tatafu's father, Penitekosi M. Tatafu, who founded PMT Cement in 1991. (Its name comes from his three initials.) "We just shipped home a pallet of food, water, diapers and other goods to family and friends and we were told it would take a month to get there. But COVID gets there right away."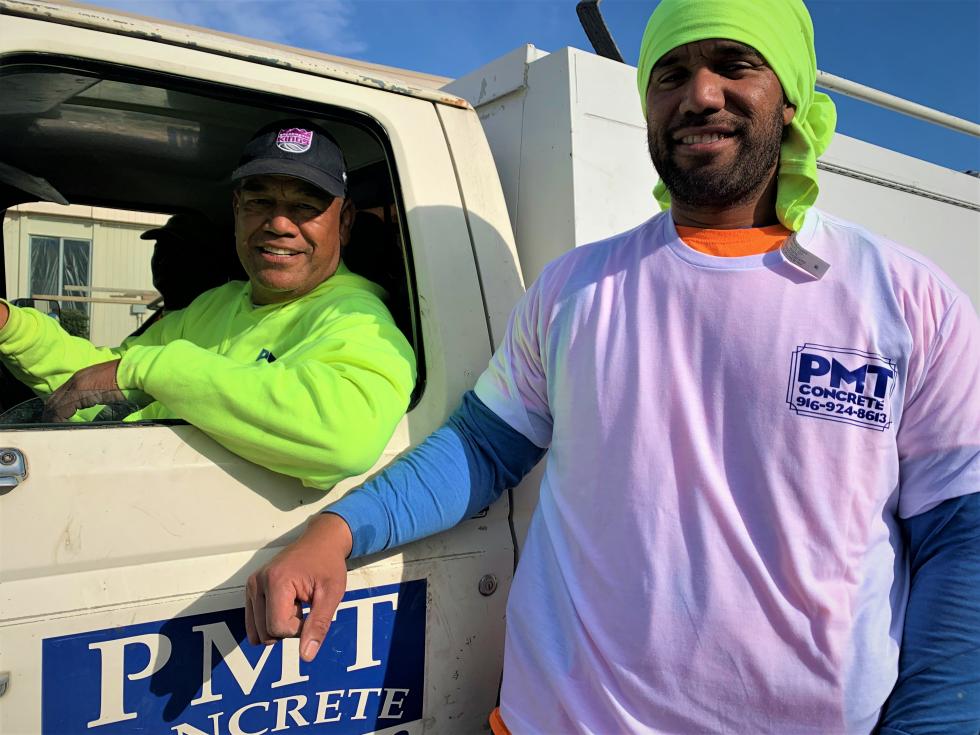 The arrival of COVID means Tonga will continue to be on lockdown and off limits to would-be travelers like the Tatafus and their crew. The restrictions have been in place since the pandemic began spreading worldwide two years ago. Expectations are that they will now last much longer.
For another one of PMT's workers, Tonga Tuipulotu, the ordeal magnified when his grandmother died in Tonga in early February, making it impossible for him to attend her funeral or comfort relatives and friends. Other workers face similar hardships, exacerbated by inconsistent communications. When they did get in touch, they received word of crowded markets, bare shelves and daylong waits just to fill a five-gallon jug with drinking water untainted by volcanic ash. Word of scattered looting has also heightened tensions.
"Everyone all over the world is trying to get to their families," the younger Tatafu says. "You can only talk so long before the network gets overloaded. The border has been closed for two years. (Despite that), COVID has made its way there. Everyone is just scared and nervous. My wife told me when she went to town and tried to buy groceries, everyone on the whole island rushed to town to buy food and water. It was just crazy, crazy packed."
PMT Cement workers are in it together
A family-run business, PMT may be smaller than many construction-related firms. But the company's embrace of family and friends from Tonga is absolute. All of the employees are Tongan, making up part of the roughly 1,000 Tongans who live in the Sacramento region and 16,000 statewide, according to 2019 U.S. Census estimates.
Penitekosi M. Tatafu's route to the U.S. was driven by his desire to achieve the American Dream. In the late 1980s — after a brief stop in Portland, where he met his wife — he moved to Sacramento to be closer to his wife's parents. As a young man in his 20s, he initially toiled as a laborer for low pay at construction sites. Then in 1991, after months of study, he obtained his contractor's license.
"It was rough," his daughter Maryann Tuipulotu, the business's office manager, said about her dad's early days in the business. "His motivation was to provide a better life for his children." The elder Tatafu also wanted to pay forward by providing family and friends back home in Tonga key transitional help with immigration requirements, jobs and housing. None have returned to Tonga — except to visit.
"They see how relaxing it is when they go back home to Tonga. … But then they want to come out here and provide a better life. … Health care is much better here in America. … So are opportunities."

Maryann Tuipulotu, office manager, PMT Cement
"Sacramento is home," Tuipulotu says. Her family has a house in Tonga and visited once or twice per year prior to the pandemic, usually around Christmas. "They see how relaxing it is when they go back home to Tonga. They like their way of living on the island; planting crops, the weather, how everyone knows everyone. But then they want to come out here and provide a better life. Everyone who came here has decided to stay here. No one has actually moved back. Health care is much better here in America. So is education. So are opportunities."
Knowing that resources are far greater in California than Tonga, the Tatafus created a GoFundMe page to help provide direct aid to family and friends.
"We did this to help those back home," Tuipulotu says. "But we also did it to help our psyches. This makes us feel like we are doing more than just sitting here wondering if our loved ones are getting what they need."
–
Stay up to date on business in the Capital Region: Subscribe to the Comstock's newsletter today.
Tribal officials are working with Sacramento city government to secure a formal recognition of tribal land, creating opportunities for education.
Royal Electric has something to celebrate — 50 years of successful business! Over the past five decades, the company has become the leading firm for complex, full-service electric and underground contracting on tight schedules. Public agencies, contractors and developers across the Central and Western U.S. rely on their comprehensive pre-planning process and specialized, experienced team.