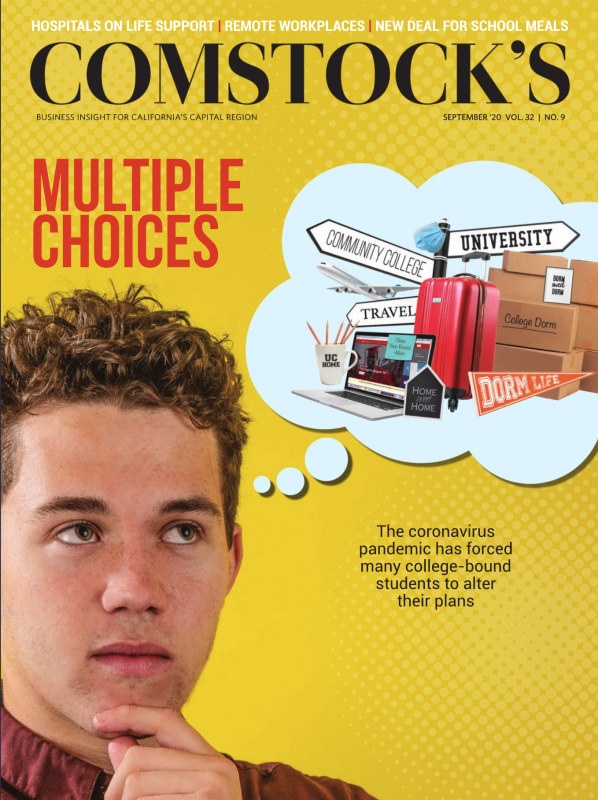 This story is part of our September 2020 issue. To subscribe, click here.
As president of University of the Pacific, Christopher Callahan is overseeing the institution's response to the coronavirus pandemic, which included developing plans for the campuses to go nearly all remote in the fall. UOP has its main campus in Stockton, McGeorge School of Law in Sacramento and the Arthur A. Dugoni School of Dentistry in San Francisco (along with other graduate programs in the latter two cities). Callahan became president July 1. Comstock's spoke with Callahan about leading the private university during an unprecedented time.
You spent 14 years as the founding dean of the Walter Cronkite School of Journalism and Mass Communication at Arizona State University. What did you learn there that you will carry over to this new job?
Innovation is very much needed in higher education — not that we should be changing the principles and the values of what we stand for, but how we operate. That's the biggest takeaway … that spirit of innovation, of entrepreneurship, in helping to lead (Pacific) at a time (when) every business sector is changing, … and higher education is also changing and changing very rapidly. In order to succeed, universities need to adapt and adapt quickly to these changing (times) without changing the values and the principles that we stand for.
What's an example of your work at ASU that demonstrates the importance of innovation?
A lot of what I was able to do at ASU, specifically at the Cronkite School, was very much based around the idea of experiential learning, and experiential learning is really a big part of Pacific. It's been a big part of our DNA for a long time. … At Cronkite, I was able to help design a "news teaching hospital" (drawing an analogy to medical education). … (Our students) were working under the guidance and tutelage of faculty members on creating news. The school also owns and operates the main PBS station in Arizona, Arizona PBS, which is the (seventh-most-watched) PBS station in the country. I served a dual role in overseeing that operation as CEO. So we were able to, in an innovative way, sort of bring those two institutions together. … Our students had these fantastic experiences in creating broadcast and digital content every day. … At the same time, we were providing a real service to viewers and readers across Arizona, covering the kind of news and information that is lacking: policy stories and stories about higher education and the environment, Latino and Native American communities, the borderland, public health issues.
You accepted this job in October 2019. What attracted you to the position?
Pacific is so special because it has a series of attributes that, together, very few universities have. There are a fair amount of small liberal arts colleges in California and around the country that really pride themselves on personalized, individualized learning, very small classes, and the ability of faculty and students to connect. … That's one kind of very powerful educational environment. Then there's the other, more along the lines of (UC) Berkeley or ASU, which are big, comprehensive universities, and they bring distinct advantages. The biggest advantage is of choice. You have all these fantastic choices, all these majors, these interesting activities on campus. … It's this really rich environment. …
It's very rare that you have both of those elements (together), and Pacific has that. We have 11 (schools and) colleges, 100 degree programs and areas of study, we have Division I sports, different clubs and extracurricular activities, and theaters and cultural venues — many of the things you would expect to find at a big, comprehensive university, yet within this personalized, individualized learning environment. That really got me excited.
Sacramento is home to UOP's McGeorge School of Law. How is the legal market changing, and how is McGeorge adapting?
If you go back within the last five years or so, MeGeorge had really struggled, and many law schools across the country were struggling. The market for J.D.s was going down and down. … We hired a great new dean, Michael Hunter Schwartz, in 2017, and McGeorge has been on a remarkable trajectory ever since. In the last three years, the law school … increased student entrance (qualifications) each year, improved bar pass rates and grew its job placement rates to our highest levels in eight years.
Additionally, after multiple years of losing money, the law school balanced its budget. McGeorge achieved these great results under Dean Schwartz's leadership by developing a new, innovative honors version of its J.D. degree. It also increased its focus on practical training, creating an alumni-student mentoring program that is guaranteed to all students and becoming only the sixth law school in the country to require each graduating student to complete two experiential learning courses. Finally, McGeorge has tripled its annual fundraising. Truly remarkable progress in a very short period of time.
Remote Learning Continues
In July, University of the Pacific announced plans to go to nearly all remote teaching and learning for the fall. In his public statement July 17, President Christopher Callahan said, "Our plans to return to our campuses have always been predicated on the state of COVID-19 as we got closer to the start of the academic year. Unfortunately, our regions' flat and comparatively low rates of COVID-19 cases experienced through the spring have rapidly accelerated over the past month. Therefore, we have determined that it would be unwise to reopen our campuses as we had hoped and planned. While disappointing to many of us — and certainly not the semester we anticipated — the health and safety of our students, faculty and staff must and will always take precedence."
The university is waiving all course fees for the fall semester. These fees are for specific courses; for example, fees for labs in science courses. Students must still pay base tuition, which is $50,370. UOP has created a COVID-19 scholarship program for eligible undergraduates to receive $1,450 a year for up to four years. Additionally, according to Callahan's statement, "for students who need assistance in connecting remotely for their Pacific classes, funds will be available to help subsidize personal technology needs."
–Sena Christian
What other big plans are underway for any of the campuses?
Probably the most exciting one is right in Sacramento, where we're (fully) opening up the new School of Health Sciences (in Oak Park near the McGeorge campus). … In spring 2020, the Sacramento campus had 853 students, 130 of which were SHS students. By fall 2024, we project to have approximately 1,200 students; all enrollment growth is projected to be attributed by SHS programs. (The four health science programs on the Sacramento campus are Master of Science in Clinical Nutrition, Master of Social Work, Doctor of Occupational Therapy and Master of Physician Assistant Studies.)
How can the university best prepare students for the modern workforce, given today's challenges?
The most important thing educators can do in 2020 is give young people the tools to succeed. The most important tools are not necessarily tangible things, but they are things like adaptability … (and) creativity. … And then this notion of resilience and perseverance. … Our most successful graduates will be the ones who … want to adapt and who get excited about trying new things and using their creativity to solve new problems and new challenges.
–
Stay up to date on the effects of the coronavirus on people and business in the Capital Region: Subscribe to the Comstock's newsletter today.