Health care is the backbone of Sacramento's economy. A 2012 study from the Center for Strategic Economic Research showed that the health system generated more than $3.4 billion in annual economic output. Of the four largest private employers in the region, three of them are health systems — Kaiser (10,000 employees), Sutter (9,000) and Dignity Health (7,000). This is more than Intel, Hewlett-Packard or Wells Fargo. Kaiser alone uses more than 1 million square feet to provide care. The industry is stable. Hospitals are less impacted by the jerky ups and downs of the economy, as there's no such thing as a "bull market" or "bear market" for diabetes and liver transplants.
And whether it's a new trend, a bit of gender-equity karma or just a wonderful coincidence, in this critical sector of the economy, all four of the region's health centers are led by female executives. At Dignity Health, Laurie Harting is the senior vice president of operations for the Sacramento region. At UC Davis, Ann Madden Rice is the CEO of the medical center. The Kaiser Permanente Sacramento Medical Center is helmed by Sandy Sharon, and its South Sacramento Medical Center is led by Patricia Rodriguez. In January 2016, Sara Krevans was tapped as Sutter Health's first female CEO, while Theresa Frei serves as CEO of Sutter Medical Foundation.
The significance is not lost on these women. We reached out to the industry's senior leadership to get their thoughts on where the hospitals are headed, what they're focused on, how gender opportunity is changing and what Sacramento can expect with the future of health care.
Bucking the Trend
Hospitals have never been a paragon of gender diversity. A 2012 study from Rock Health (a health startup incubator) showed that women made up 73 percent of all managers in health care, but only 4 percent of CEOs. Other studies have pegged it at 24 percent of CEOs; either way, the numbers are low. Why the gap?
"I definitely see that in the past four or five years, there's a trend in people being more open to women succeeding in CEO positions." Laurie Harting, senior vice president of operations, Dignity Health Sacramento
One reason is that the career path of a CEO is not, typically, the career path that most women in health care tend to choose. To oversimplify, CEOs often come from spreadsheets, not stethoscopes. "In acute-care settings, RNs [resident nurses] are a large part of the workforce, which historically have been perceived as roles for women," explains Frei of Sutter. "Historically, succession planning for the CEOs has come from strategy, finance and operations, where a typical RN career path has been to obtain a clinical master's degree and achieve a CNO [chief nursing officer], quality or safety role."
So how do hospitals boost more gender balance at the highest levels of leadership? More spreadsheets. More MBAs. "RNs will close the gap by choosing to advance their careers into the business world through an MBA and seeking opportunities outside the clinical arena," says Frei, who did exactly that in her career. Dignity's Harting did the same thing. "I went back and got my MBA for more of a grounding on the financials; you have to be able to sit across the table from a CFO and speak the lingo," she says.
Sacramento is bucking the trend. "When you look at Sacramento today, all four health systems are led by women. How exciting is that?" Harting says, laughing. "I definitely see that in the past four or five years, there's a trend in people being more open to women succeeding in CEO positions."
This newfound diversity is driven, in part, by a citywide focus on mentorship. "It's very important to find someone that supports you, that mentors you, that provides you with that backup," Harting says. "I've been part of a mentoring program for many years, working with women within our own organization who have goals of becoming CEO. It's very rewarding on both sides. We owe it to the young women coming up." All the hospitals are involved in some way or another. Rodriguez, of Kaiser, participates in Mentoring Mondays with the Sacramento Business Journal. At UC Davis, more formal mentorship occurs through a national fellowship program for hospital leadership training. "I'm seeing more and more young, energetic and highly intelligent women seeking executive-track careers in health care administration," Rice, of UC Davis, says. "So the future does look bright."
As an academic institution, UC Davis has another tool to boost gender opportunity: the curriculum itself. In 2000, the school launched a program for faculty called Women in Medicine and Health Sciences, which Rice says was "specifically created to help ensure full participation and success for women in all roles within academic medicine." The program can help pivot more women toward an executive track.
"Diversity is such an important part of our mission," Rodriquez says. "As an organization that appreciates and respects diversity, we should be role models. We represent the community we take care of. This is who we are."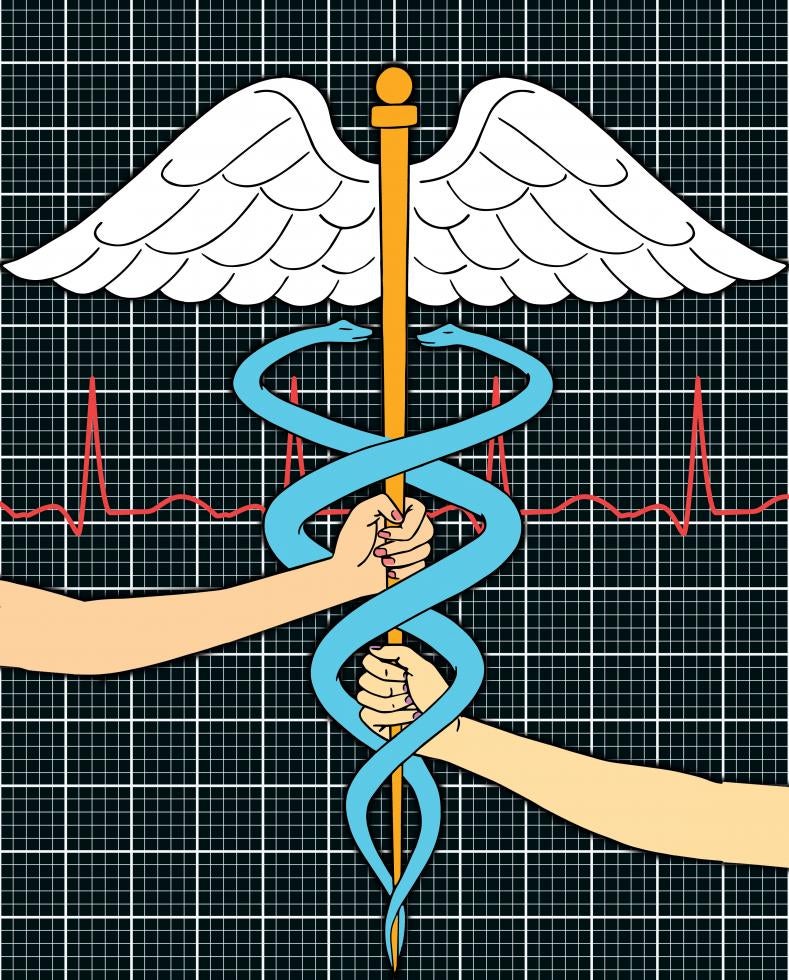 New Changes, New Focus
When it comes to overall changes in the hospitals, the elephant in the room, of course, is the Affordable Care Act. Its impact is hard to overstate; the very nature of how hospitals are compensated is changing. "The ACA has really forced health care systems to stop doing things the way we've always done them," Harting says. "We know the future world is going to be very different with respect to revenue." The ACA nudges hospitals away from a fee for service and toward a value-based service, which, as Harting says, brings extra incentive to "keep people healthy and keep people out of the hospital. It makes us pause to think about how we deliver care." Methods include rewarding doctors who work together and recommend preventative health services, as well as lower hospital reimbursement for preventable readmissions.
Translation: Hospitals will soon be paid based not on how many hours you're in their bed, but on your overall health. This (in theory) is a win for consumers, and it's forcing hospitals to adapt. "We focus on prevention. With our model of an integrated health system, I would say that we're very well-positioned for the ACA," Rodriguez says. She then gives me a more concrete example. "If I say to you, 'Jeff, you've got to focus on your weight to make sure you don't get high blood-pressure and diabetes,' that, in the long run, is going to create affordability. That's what the ACA is all about: prevention. Having discussions about health, as opposed to just the disease."
With the ACA, health insurance is accessible for more people. The share of uninsured Americans has plunged from 17.4 percent in 2011 to 11.4 percent in 2015, according to Gallup. More people are going to the hospital, and that increase in patients can mean hospitals have new headaches. "With the expansion of health care coverage — as well as with an increasing population — capacity constraint is now one of our biggest challenges," Rice says. "We have 619 patient beds in our hospital, and we only have so many outpatient clinics in the community." So they're building. UC Davis is constructing a new 144-acre Sacramento campus, a $1.4 billion investment in the next decade. According to Rice, the medical center has $200 million in construction and demolition plans earmarked for razing old buildings, upgrading current facilities and building new ones over the next few years.
But what the ACA giveth, the ACA taketh away. Much of the gains in enrollment come from an expansion in Medicaid, which presents a challenge for providers as the number of patients is soaring, but revenue isn't keeping pace. This demands a tighter focus on costs. "We need to be more streamlined. If a patient comes into the hospital, maybe instead of staying for three to five days, now many of these procedures are going to be done in an outpatient center," Harting says. This means more digitization of patient records, more sharing across networks, more cross-training of employees.
This same dynamic is seen at Sutter. "More services will continue to shift from hospital-based to home-based," Frei says of Sutter's evolving policies. "Patients and caregivers will need tools they can access at home to ensure that they stay on track. The term 'health care' may eventually be replaced with just 'health,' as we support communities in reducing the burden of illness."
This has a domino effect across the entire industry. As Rodriguez says, it forces the hospitals to be "very consumer-centric, very focused on meeting the needs of our patients where they want to be met." What does that mean, exactly? We all know where millennials want to be met: their smartphones. If you can video-conference someone in Beijing on your iPhone, why not get lab results from across town? Your doctor has a phone. Why can't you just text her with questions? The hospitals know patients want these features, and they're working to provide them. "Our focus is aimed around technology," Harting says. "The younger consumers are on their smartphones, and they expect to get their health care just as they get their banking."
"The term 'health care' may eventually be replaced with just 'health,' as we support communities in reducing the burden of illness." Theresa Frei, CEO, Sutter Medical Foundation.
Sutter has the same mindset. And UC Davis is now testing wearable and implantable devices that Rice says "can help us address the needs of patients more readily and effectively." A bluetooth-enabled glucometer for diabetic patients, for example, can automatically zap the readings into the patient's electronic medical record, providing easier access to data. They're beta-testing these gizmos — along with sleep and fitness trackers — in partnership with their Center for Health and Technology.
Another job that suddenly becomes more necessary: marketing. The business of health care is, after all, still a business. "Since we're accepting less revenue per patient, in order to continue to expand our services, we have to grow," Harting says. "That's why Dignity has done a lot more marketing and branding." Its Hello Humankindness campaign emphasizes warm, feel-good imagery (think parents hugging children, lots of smiling faces) and stories like "7 Profound Ways Love Can Make You Happier." "We did a survey finding that the average consumer really didn't know a lot about Dignity," she says. "Now people recognize the brand and the commercials."
On top of the challenges that all hospitals now face, UC Davis has yet one more ball to juggle: the academic component. "There's a declining reimbursement for teaching hospitals," Rice says, referring to potential cuts in state and federal funding, "which directly impacts the ability to sustain an academic health system mission of delivering great patient care, conducting high level research, educating the next generation of clinicians and engaging with the community."
Rodriguez has a very simple habit that keeps her grounded. "I just walk up to units in the hospitals and talk to people. I go to patients' rooms and ask them, 'Tell me about your care? How are we doing?' Or I'll walk up to staff members and say, 'How are you doing today? Are we giving everything you need to do your job?'"
But the basics still matter. "We have to continue to be focused on the high quality care," Rodriguez says. Harting agrees that when all the dust settles, "It's all about the patients. When I go to sleep at night, I think about all my priorities, and I think about what's going to help the patients."