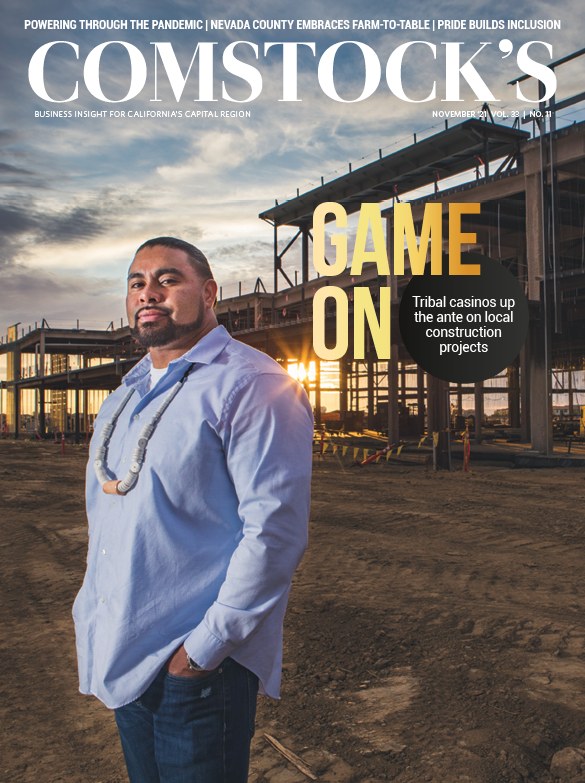 This story is part of our November 2021 issue. To subscribe, click here.
February 2020 may have been the worst time to take a job as city manager, as Harry Black did in Stockton. When California Gov. Gavin Newsom's stay-at-home order came down in March 2020 to try to stem the COVID-19 pandemic, hundreds of businesses across the Capital Region shuttered. Statewide, small-business openings plunged by more than a third between January and November 2020. All that could have pushed one of Black and city leadership's key priorities — revamping city services to promote long-term economic growth — to the end of the to-do list.
Black had been city manager in Cincinnati and chief financial officer in Baltimore and is a proponent of data-driven efforts to improve government performance; Cincinnati's bond ratings improved on his watch. Among his first acts in Stockton was to set up an Office of Performance & Data Analytics and the Innovation Lab — a room called the iLab filled with whiteboards — designed to bring teams together to do data-driven performance reviews and problem-solving.
A key performance metric Black wanted to tackle is the time it takes businesses and developers to get permits. Permitting is a big driver of developers' decisions about where to invest, he says — time being money, that's where they make up or lose ground. He wanted to strip it down, making it leaner while also ensuring legal compliance and protection of city priorities.
His team took the permitting process into the iLab last fall, and 12-15 staff met every day for a week with the help of a facilitator to break it down. What was the purpose of each step in the process? Was it needed? The result was a list of 85 action items, each of which required changes in other systems, including budgeting, human resources and more, Black says.
"The pandemic required pragmatism, speed and courage."

Harry Black, Stockton City Manager
It took until April 2021 to put the new system fully in place, but the city's building permit times were down 25 percent in the latest quarter, Black says. "In COVID, you couldn't be stuck," he says of the city's economic development priorities. "The pandemic required pragmatism, speed and courage."
Across the region, Stockton's was one of several local government initiatives to keep businesses open and economic development and construction projects on track since March 2020. Some solutions they've come up with will stay around post-pandemic, which could further improve the business climate and make economic investment ever easier.
Rancho Cordova and Vacaville Keep Small Businesses Afloat
In the days after California's stay-at-home order, many small service businesses in Rancho Cordova were on the verge of failing. Owners who had shut down were frantically calling the city's Economic Development Department, says Amanda Norton, the department's manager.
Overnight, her team needed a plan to get businesses that could operate outside back up and running safely. But they'd need to be inspected and permitted for outdoor operation, which normally takes two weeks to one month.
Her office formed an outdoor operations team — with representatives of critical city agencies and the fire department — that hit the streets, often issuing same-day permits. They released mini-grants that let businesses buy tents, tables and chairs. By 8-10 weeks in, city officials estimate, they'd issued about 30 permits to restaurants, gyms, breweries, and nail and hair salons.
That led her team to look at other barriers for entrepreneurs. They hired consultants to get on the phone with businesses to help them apply for loans. And they've launched a pilot program to address another problem: the cost and time involved in getting a floor plan designed, which is required to get a certificate of occupancy. They've now created a rotating list of designers under contract with the city, and the city covers up to $5,000 of the cost. "These small businesses are the backbone of our community, and we really want to support them," Norton says.
"These small businesses are the backbone of our community, and we really want to support them."

Amanda Norton, Economic development manager, City of Rancho Cordova
In the City of Vacaville, Don Burrus, the director of Economic Development Services, was honing in on small businesses too. "They were knee-deep in running their operations," he says of his city's small enterprises. "Tracking down information about what they were eligible for was a real stretch for them." So Burrus and his economic development manager went door-to-door to let owners know about help they were eligible for, holding stand-up meetings on sidewalks and in parking lots.
Meanwhile, he was in regular communication with Agenus, a large biomanufacturer being courted by a number of states, to convince the company to locate in the city. He got good news in July 2021, when Agenus announced it was buying 120 acres in the city's California Biomanufacturing Center.
How Woodland Got the Public to Care
The City of Woodland was trying to keep plans for a big development of its own on track: the Woodland Research & Technology Park, envisioned as a new ag-tech center for Northern California. The city's general plan had set aside 350 acres for the project at the city's southern boundary.
Getting public input is a key requirement on all such projects, particularly from those in adjacent neighborhoods. Post-pandemic, that was the part of the project that most worried Erika Bumgardner, the city's business development liaison. Her team had planned to have booths at farmers markets and community events, meetings with stakeholder groups and more. Could they get meaningful community feedback virtually on such a complex project? Would people show up? The project plan alone runs 230 pages, the environmental impact report more than 530.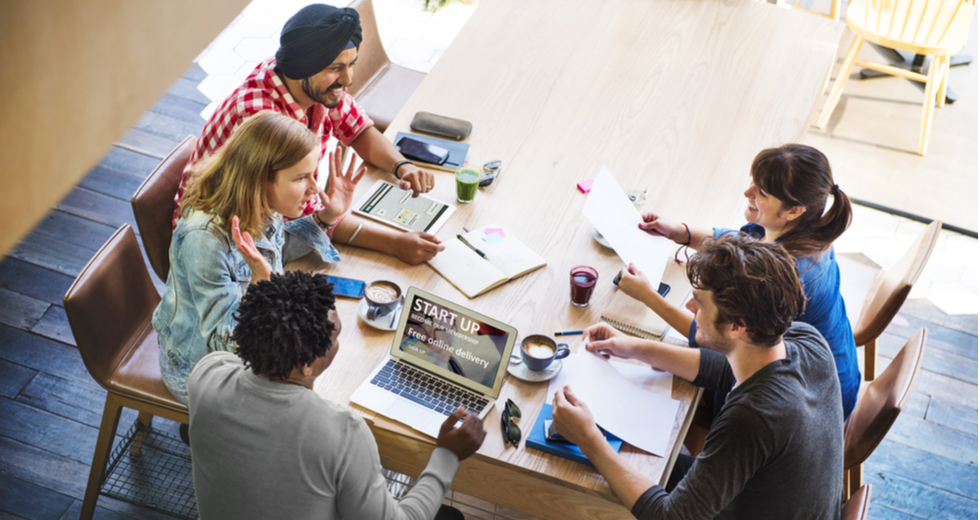 To read about how Elk Grove is growing local startups, click here.
They scheduled two webinars in February 2021 and doubled down on mail and social media, sending postcards with QR codes linking back to the project website, putting out messages on Nextdoor and Facebook, and more. Initial community meetings after the project was launched in 2017 had drawn about 30 people. But in that first webinar, the city hit its attendee cap of 100 and had to turn some people away. The next webinar two days later drew another hundred.
Those ended up being two of the best-attended community planning presentations Bumgardner has seen, and they used the questions that came in to put together project FAQs that have drawn a lot of web traffic. Going forward, she anticipates the city will consider alternative meeting formats to give residents more options.
Streamlined Construction Services
By the third week of March 2020, more than a quarter of contractors nationally were reporting that they'd halted or delayed work on projects because of the pandemic. But several cities in the Capital Region retooled to keep construction going on critical health care facilities and economic revitalization projects.
In September 2020, Dignity Health came to Folsom with a plan to build two medical office buildings south of Highway 50 in the new development of Folsom Ranch, which will eventually have 11,000 new homes. In May 2021, Dignity added a 100-bed hospital to the mix.
Dignity representatives and staff leads from each relevant city department were on Zoom or phone meetings at least every other week to get through the review process and take the plan to Folsom City Council for approval, spotting and addressing thorny issues like traffic and circulation, says Folsom Community Development Director Pam Johns. Nine months in and the plan was ready to take to the city council for approval in June 2021 — about half the time plan review for a project of that size generally takes, she says.
In Vallejo, in 2016 community health center La Clínica Vallejo sought city permission to construct a new building downtown that would let it double the number of patients served and consolidate services scattered over a few locations. Pre-COVID-19, the existing facility was overcrowded, with long lines and delays in service, according to city spokesperson Christina Lee.
When city offices shut down in March 2020, the building division kept project review going by having the contractor submit revisions to the building plans digitally. With more than 300 revisions over the course of the project, that ended up saving the nonprofit on printing and delivery, says Steve Arnold, the city's chief building official. This past August, La Clínica's new building opened for patients. And digital plan review is here to stay in Vallejo, Arnold says.
Rocklin's Community Development Department is working differently to help real estate developers who are planning projects. Previously, key city staff plus representatives of the utility and water agencies held an in-person pre-application meeting with applicants to flag potential issues, set schedules and discuss fees. Now the developers' project descriptions are sent to city staff electronically, and applicants get back consolidated comments from each agency.
"Had we not been ready to go, there would have been significant delays in permits."

Tom Pace, director, Sacramento Community Development Department
That system takes a few weeks longer than before, but the city is getting as many proposals as ever, says Rocklin Senior Planner Dara Dungworth. In December 2020, they had six big projects in the pipeline, and two or three of those are now active applications. "I can tell you unequivocally that our volume did not slow down," she says.
In Sacramento, the city's building and planning departments transitioned their construction services from in-person to online almost overnight in March 2020. Seeking to cut wait times at the public counter and give clients the convenience of submitting building plans outside business hours, the city had plans to go virtual in place for several years and had done a trial run in February 2020, says Tom Pace, director of the city's Community Development Department. "Had we not been ready to go, there would have been significant delays in permits," he says.
Today, the team is meeting or exceeding its plan review deadlines 95 percent of the time, Pace says. The city issued 17,000 permits from April 2020 to March 2021 and building permits for more than 3,700 new houses, the most in 15 years, according to the city.
Virtual building inspections — another new process — kept a critical city priority moving: the conversion of the Marshall Hotel to the Hyatt Centric in downtown Sacramento. Building department staffers and the contractor used apps like FaceTime or Google Duo to go around the site, with staff directing where to point the camera. The city did more than 51,000 such virtual inspections from April 2020 to March 2021. The only project delays were caused by contractor-side supply chain problems and work stoppages because of COVID-19, says Leslie Fritzsche, the city's economic investment manager. The hotel opened in late September.
Across the river in West Sacramento, city officials moved building plan review online just in time. In 2018 the California State Teachers' Retirement System came to the city with a proposal to build a new 10-story tower that would expand its headquarters on Waterfront Place. CalSTRS' project manager told the city that on a project that size, her team would need to load massive rolls of plans into trucks and haul them up the elevators at the Building Division for review. That would cost the contractor and the city lots of time and money, so instead she proposed that the city transition to electronic plan submission.
The division had been discussing just such a move and said yes. The team got the new software and procedures running, and the system went live right before the pandemic hit.
Now about half of applicants submit their plans electronically. With the in-person contact rules during the pandemic, without that system "it would have been awful. It would have slowed things down so much," says Randy Goodwin, West Sacramento's building official. Early in the pandemic some applicants were dropping hard copies of their plans outside and making hand signals through the windows to let staff know what they were leaving, he says.
In 2021, the division is on pace to issue more permits than anytime in at least the last six years, according to city data. CalSTRS' new building will be finished in spring 2022, according to the organization.
Back in Stockton, one of the first projects to benefit from that city's new accelerated permit times is a new 638,000-square-foot Amazon distribution center, which broke ground this September and is projected to open this month or next. It will generate 2,000 jobs and $1 million annually in new property taxes, according to the project's developer. Under the old system, permitting a project that size would have taken 12-18 months, Black says. In Amazon's case, if the project schedule holds it will be 6 months. "COVID created a sense of urgency about everything," he says.
–
Stay up to date on business in the Capital Region: Subscribe to the Comstock's newsletter today.