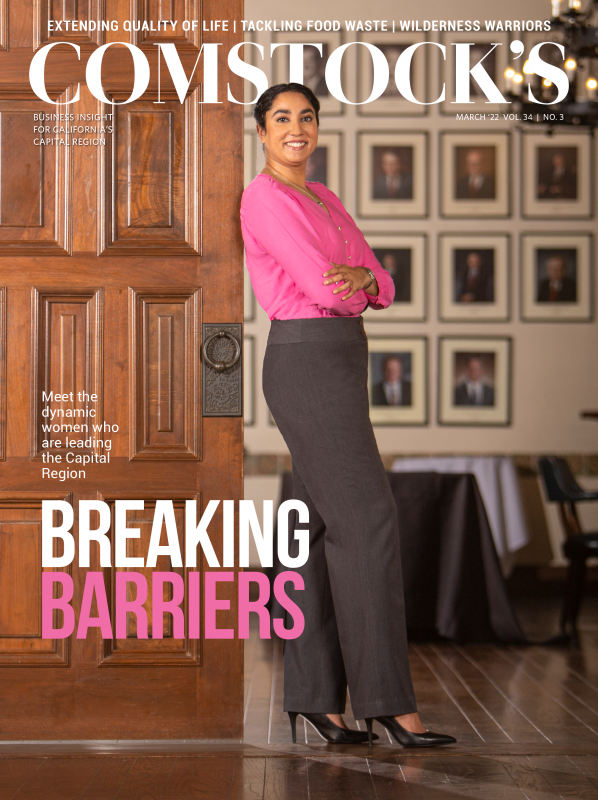 This story is part of our March 2022 Women in Leadership print issue. To subscribe, click here.
What does helplessness feel like?
Dr. Reetu Sharma says it feels like numbness — the pins-and-needles kind you get in your hands while you hold a vibrating massager to your husband's aching back in the dead of the night.
"I must have been holding it for more than an hour," recalls Sharma, a Roseville cardiologist. "My hands were going numb. I was hoping he would say, 'I'm feeling better, you can stop,' but he wasn't saying it. … I felt lost in that moment. He was in a dark place and I didn't know what was going on. I couldn't figure it out."
This happened two years ago, but the agony of watching her husband suffer became a pivotal point. She describes the man she married in 2004 as the type who takes care of everybody else, slow to ask for help. But a car accident changed that. Excruciating lower back pain made it hard for him to sit and sleep. At that time, Sharma, who says she usually has a strategy for everything, had no ideas. All she knew was it hurt too much to watch her husband's quality of life deteriorate by the day. He was only in his mid-40s at the time and still had decades of life ahead of him.
"I couldn't help him because we didn't know what was causing the pain," Sharma says. "Not being able to diagnose or treat something as a physician, it goes to who you are. As a spouse, seeing somebody wither away in front of you and not be able to make things better, that's what drove me to ask, 'What can I do?'"
Two years into a global pandemic, this is a question heard 'round the world. But for many, the feeling of helplessness existed long before COVID-19. The aging process in general can produce such a feeling, stemming from back pain, knee pain, memory loss, diabetes, balance issues, depression and countless other ailments that impact quality of life. Of course, aging is biologically inevitable, the result of cellular damage over time. The World Health Organization states that by 2030, 1 in 6 people worldwide will be 60 years or older. Between 2020 and 2050, WHO expects the number of people 80 or older to triple and reach 426 million.
To keep bodies healthy, simple and free physical activities are classics for a reason. For example, Dr. Thomas Frieden, former director of the Centers for Disease Control and Prevention, called walking the closest thing to a "wonder drug," and studies have touted its ability to strengthen muscles, lubricate joints and boost immune function, among other things.
But there are also new tools and technologies being developed every day to address both physical and mental health as we get older. Sharma is one of many innovators in the Capital Region determined to help the population feel stronger while living longer.
"For me, this is a mission of spreading wellness. Yes, in my 20-plus years in medicine, I have realized that it's not just important to save people's lives. Improving their quality of life is probably even more important. Wellness supersedes everything else."

Dr. Reetu Sharma, Cardiologist, Sutter Roseville Medical Center
"Everybody has a different definition of what being well means," Sharma says. "For me, it's a path to longevity but also feeling like your very best on that path.
Managing pain
"Can you sit through your daughter's recital? Or play softball in the backyard?" These are a couple of the questions Sharma asks the 20 to 30 patients she sees every day, who average 75 years old. For them, she says, wellness means being able to do the things they could do 10, 20 years ago.
After researching pain management devices for her husband, she says she found nothing that was user-friendly. So Sharma decided to create something herself: a hands-free wellness device called Pain Be Gone that delivers heat, vibration, massage and compression to a tense area to help users experience less pain. The wearable device is programmable through an app that can be customized and advises based on a user's experience.
Before she could build a prototype, she needed a minimum viable product. A Bay Area firm gave a quote of $1.7 million, which she didn't have. Sharma decided to pitch the idea to four senior mechanical engineering students at Chico State. They built a basic iteration prototype, which she tested over four weeks, getting feedback from clients at chiropractors' offices, physical therapy offices, sports medicine offices and at CrossFit. The response, she says, was overwhelmingly positive with 89 percent finding relief after two to three minutes of using the prototype.
Her company, JNH Dream Innovations, launched in 2021 and began fundraising in December with a goal of raising about $850,000 to improve the device's design and functionality. Her husband was one of 178 people who tested the device. She says he wore the prototype one afternoon while he had pain and it got him through the workday without incident.
"For me, this is a mission of spreading wellness," Sharma says. "Yes, in my 20-plus years in medicine, I have realized that it's not just important to save people's lives. Improving their quality of life is probably even more important. Wellness supersedes everything else."
Studying the brain
Of course, staying healthy is the best way to avoid pain and promote wellness. And most people know the basic requirements to maintain a healthy body: proper nutrition, exercise, limiting stress and getting enough sleep. But the brain often gets left out of the wellness conversation, despite its crucial role in overall health, according to Kimberley McAllister, director of the UC Davis Center for Neuroscience.
"A lot of people know they're supposed to sleep and eat well and decrease stress, but they just don't prioritize those goals," McAllister says. "Maybe if they knew how important those aspects of life are for brain health and for delaying brain disease, including improving mental health and delaying dementia, then there might be more motivation to get and stay healthy."
When studying the brain, neuroscientists typically have looked at brain development up until the early 20s when neural connections are still forming and changing. But from that point until close to the end of life, there is virtually no research to draw from, McAllister says. To monitor the heart, physicians can check cholesterol levels and blood pressure. But the brain has no such regular screenings. This information gap is in part what the Healthy Brain Aging Initiative at UC Davis aims to fill.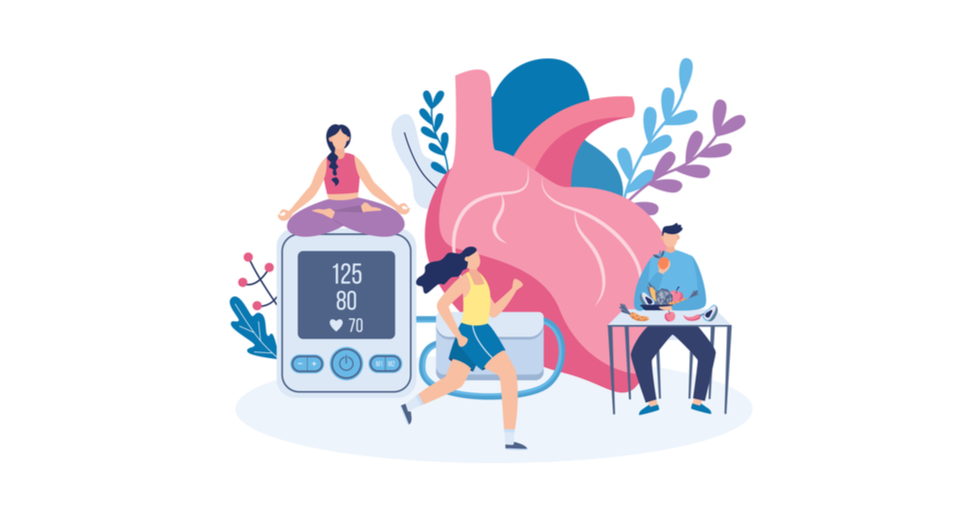 For a cardiologist's guide to good health, click here.
"We know nothing about what happens to typical changes in brain health from 20 to 80," she says. "The reason we want to understand how the brain typically ages is so that we can get a sense of what a healthy trajectory of brain function looks like."
The initiative brings together more than 50 faculty members across schools and colleges to examine the mechanisms of dementia. The big idea is to tackle it from two fronts: How can we improve lives now for people who have aged or are aging? How can we actually change the trajectory to promote health for the next generation?
Right now, the initiative is studying immune molecules in the brain and coming up with what they call rescue plans. These treatments will target people with Alzheimer's and other dementias and those just starting to exhibit symptoms. The teams want to understand what makes some brains resilient and others susceptible to cognitive decline. How can science determine when brain health diverges from a healthy trajectory? Historically, brain health has been studied mostly in white men, but brain aging is different for women and is negatively impacted by stress, malnutrition and exposure to toxins, McAllister says. Given the reality of health disparities, scientists at UC Davis are including many races and ethnicities in their research, "making sure what we discover will help the lives of everyone," she says.
The name of the game
Whether you're trying to feel better or keep your mind in top shape as you age, there is no denying the importance of good, old-fashioned exercise. According to Kaleen Canevari, founder and CEO of Sacramento-based Flexia, certain issues linked to aging have little to do with actually getting older.
"As we get older, we tend to start losing balance, flexibility and feeling pain," she says. "A lot of things we associate with aging aren't due to aging but not moving our bodies enough."
The body adapts to the things you do every day. If you put yourself in the same hunched-over postures for hours on end, for example, the body will adapt. Suddenly, it won't be ready to stand up straight and move the way it used to. Canevari created Flexia to help people build strength, flexibility and mindfulness at home using the Reformer, a smart Pilates machine.
Her understanding of physical fitness comes from personal experience unrelated to aging. She grew up playing competitive soccer and suffered her first ACL tear at 15. "During the soccer game," she says, "I felt something pop and it was the worst pain in my life."
After going through physical therapy, she started playing again. But almost a year later, she suffered another tear in the same ACL. She tried everything to get back on the field: CrossFit, personal training, group fitness, yoga. But after MRI tests, surgeons couldn't tell her why she couldn't move like she used to.
Eight years later, in 2013, she was resigned to living in pain. At that time, she was working as a mechanical engineer for a Pilates equipment manufacturer. She tried Pilates for the first time to learn more about the equipment she was designing. After trying it, she says, she felt so much better in her body. With Flexia, she wanted to bring the Pilates studio experience home and provide more personalized recommendations and an ability to track progress over time.
"We're living longer, but we're aging faster," she says. "Even if you are moving enough, it's unlikely that you're training your body to stay upright and create balanced muscle development so you can do what you want in life."
Flexia's first Reformer machines, designed and built by Canevari, started shipping in October. The pandemic fueled demand as more people wanted to workout at home, she says, but supply chain issues delayed shipments. According to Canevari, the Reformer is designed to help joints move well in the fullest range of motion and improve balance by forcing users to maintain stability on a moving platform. It also aids in mindfulness by helping users reconnect to their bodies with form and breath.
A new terrain
If the past two years taught us anything, they served as reminders not to take loved ones for granted. In Canevari's case, this includes making sure her relatives stay on track. Her mother, Beth, 61, was one of Canevari's first customers and has since become a Pilates instructor herself. Canevari's grandmother, Gail Balch — who turns 85 this month — has spinal stenosis and has difficulty walking. She used to go with her husband Earl to a group YMCA exercise class, but the pandemic put an end to that. With their granddaughter's machine, they found a new way to keep moving and stay healthy.
Research shows healthy relationships and strong family ties play a key role in well-being, especially as individuals age and social networks diminish. A Rush University Medical Center study suggests frequent social activity may help stop or delay cognitive decline in old age.
Of course, in the past two years, the pandemic has made social interaction more challenging with lockdowns leading to more isolation and loneliness. But with new research, McAllister says, scientists will have a greater understanding of how to make fear of aging a thing of the past.
"Everybody's scared of getting old," McAllister says. "We're afraid of losing memories and the impact that will have on our families. But we're really committed to treating people aging now and changing the trajectory of aging so future generations don't have to worry about aging."
–
Stay up to date on business in the Capital Region: Subscribe to the Comstock's newsletter today.