When Jeannine Newcum realized it was no longer safe for her to drive, she knew it was time to move out of the single-family home she owned in Sun City Lincoln Hills, a Del Webb active-adult retirement community where she had lived for eight years. "Age kind of gives you a little nudge every once in awhile," she says.
Phyllis Edmison moved into Prairie City shortly after the facility opened, having decided to relocate from a senior apartment complex in Roseville. She had lived in El Dorado Hills and Cameron Park for 20 years, and wanted to return to the area. Plus, she was attracted to Prairie City's openness and modern interior design. "I like that you walk through the front doors, and it doesn't look like you're walking into an old-folks home," says Edmison, who is 93 years old.
Newcum, Edmison and many of their neighbors at Prairie City Landing are part of the "silent generation," those born between 1925 and 1942 — currently the majority of residents at senior housing facilities. But nipping at their heels are the baby boomers, now between 55 and 72 years old — at 74 million strong, they represent the largest living adult group in the U.S. While many boomers are still about a decade off from relocating to senior housing facilities — and the youngest of the bunch are some 30 years off — developers and municipalities are proactively prepping for that mass relocation now. As people live longer, there's also an increased demand for specialized care and facilities that allow residents to age in place.
Throughout the Capital Region, cities have approved at least 10 new senior housing complexes in response to developers eager to capitalize on the "silver tsunami," which includes projects in Sacramento, Roseville, Elk Grove, Davis, Rocklin, Citrus Heights, El Dorado Hills, Folsom and elsewhere. The overriding trend among these newer complexes is to create an environment that facilitates social interaction, an active lifestyle and a sense of independence — elements that help improve overall quality of life in an individual's golden years and beyond. Developers are also challenged with catering to generational differences as more and more boomers need senior housing, which will span everything from dining options to apartment layouts to programming. Or, as Brigid Flanigan, president of Tenfold, says of their facilities: "We don't play bingo."
Although Tenfold Senior Living had been developing communities throughout Northern California since 2000, it wasn't until 2009 that they considered modernizing their model of senior living. They came up with four guiding principles using the acronym YUSM, which stands for youthful, useful, spontaneous and mobile. Youthful in that residents wake up feeling energized and optimistic for the day ahead, useful in how residents feel they have something of importance to contribute, spontaneous so residents can do what they want when they want (eschewing standard practices of say, the food only served in the dining hall at 8 a.m., noon and 5 p.m. rule), and mobile in that they have the ability to fully engage in the whole community. Tenfold crafted their amenities, activities and services at Prairie City Living toward these goals.
They also crafted their building designs in this way. Previously, their units resembled those of their competitors with limited amenities in the units like kitchenettes and small closets with slider doors, the washer and dryer located down the hall. At Prairie City Landing, each apartment has large windows, walk-in closets, washer and dryer, and a full kitchen. "One of the primary drawing cards is that the washer and dryer is in your own apartment," Edmison says. "It's not so fun carrying your clothes down the hall and waiting until everyone else gets theirs done."
Tenfold had realized that residents don't want to walk down the hallway to do their laundry with neighbors. They don't want to downsize that much, getting rid of most of their belongings to squeeze the rest into tiny closets. They don't want to eat every meal selected off the same menu in the same dining hall — sometimes they want a kitchen suitable for cooking a meal at home. "For our residents, our options are a lifestyle continuum of where they've been in the past — they're coming out of single-family homes," Flanigan says.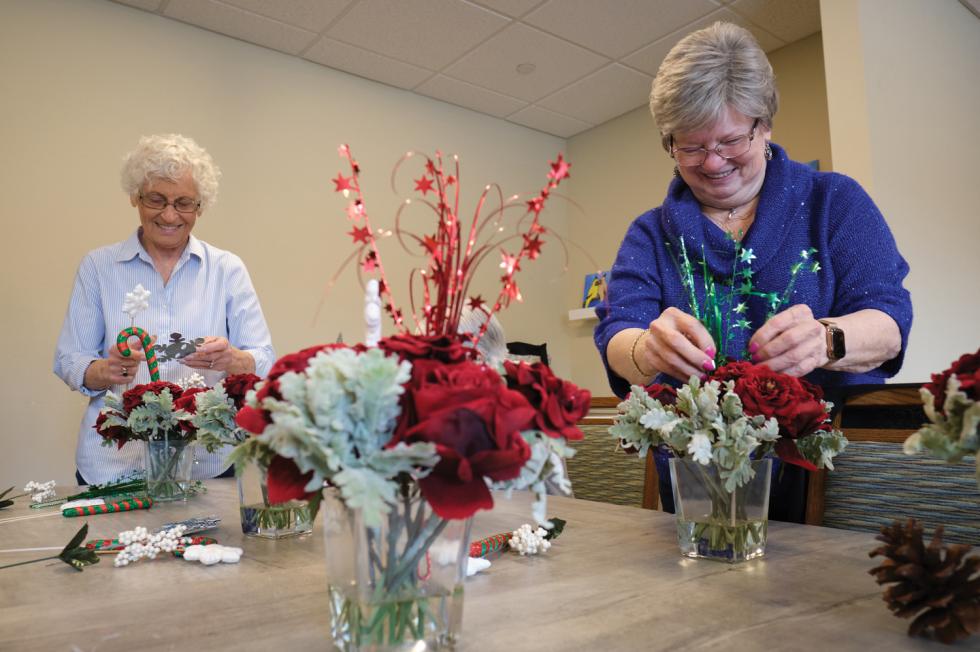 There's also the comfort of stability. Because the entire building is licensed as a Residential Care Facility for the Elderly by the California Department of Social Services, residents at Prairie City Landing don't have to move when they need additional care (memory care services are the only support which requires residents to live in designated units).
The new Maple Tree Village under construction in Sacramento's Pocket neighborhood will also be licensed as RCFE. The 102-unit senior housing facility is being built by ACC Senior Services, a nonprofit organization founded in 1972 (formerly called the Asian Community Center of Sacramento Valley), and will include 72 assisted-living and 30 memory-care units. The $31.9 million project is expected to open by the end of this year. The organization says Maple Tree will be culturally sensitive of its residents, which means "responding to languages, dietary preferences and needs, religious traditions and other aspects that ensure those served feel welcome, at home and valued," says Donna Yee, former CEO and now a consultant for the nonprofit.
For Darrick Lam, CEO of ACC Senior Services, the need for more specialized senior housing hit especially close to home, following his mother's diagnosis with vascular dementia in 2009. "As much as I think she is doing very well, I can't deny the fact that at some point in time she will need more assistance than what my sister, my wife and I can offer her," he says. He has signed his mom onto the prospective applicants list, which has 120 others also hoping for a spot at Maple Tree Village.
ACC Senior Services already operates Greenhaven Terrace, an independent and assisted-living facility located around the block from ACC's main campus, which offers classes like origami, guitar, ballroom dancing, sushi-making, intro to Skype and yoga. The organization, Lam says, is about improving quality of life for older adults: "We are not just providing homes."
This emphasis on overall quality of life can be found in recently-opened or planned senior housing projects across the region that have built amenities that facilitate social interaction and activities into their designs. For example, The Park at Elk Grove will include a three-story, 135-unit independent living facility and eight single-story duplexes, along with a 65-room memory care facility. Shared amenities will include bocce ball courts, courtyards with fountains and fire pits, a beauty salon, theater, billiards room, putting green, walking paths and play structure for family visits. Construction has begun on The Landing at Elk Grove, which will consist of 48 memory care units, 107 assisted-living units and 50 independent-living units — amenities include a fitness center, salon, theater and card rooms, along with a dog park and bocce courts.
In a departure from the past when senior housing complexes were often built in areas out of the way, developers today are building on sites close to services older people may want easy access to. Located close to The Park at Elk Grove, construction is underway on the City of Elk Grove's new Civic Center and Community Park, which will include a senior center, says Antonio Ablog, the city's planning manager. Last fall, Costco opened nearby and another 200,000-square-foot of commercial development is planned in the immediate area, providing services to both The Park and Bruceville Point, another senior housing complex by Tenfold with 117 independent and assisted-living units, and 20 rooms for memory care, with an expected opening of late spring 2020.
Another trend among all these new projects: These are units for rent in apartment-like complexes, not houses for sale in neighborhoods like what Del Webb, for instance, was building a decade or so ago. "The 55-plus demographic is increasingly opting to rent rather than own their homes," reported Senior Housing News in a story on top trends of 2018. The story notes that between 2009 and 2015, the number of renters over the age of 55 increased 28 percent, which was the largest increase of any age group. "[T]hey are not all seeking out the modest ranches of a Del Webb-style retirement community, and filling their days with golf and card games. Many want to live within walking distance of shopping, cultural activities and health care, and in proximity to urban centers."
Just like Sacramento and Elk Grove, Roseville is proactively responding to the need for more senior housing, says Economic Development Director Laura Matteoli. "We can see that from 2007 to 2017, our senior population ages 55 and over has been growing, and we see a correspondence in the development applications that are coming in that are responding to the need," Matteoli says, adding that developers are attracted to Roseville in large part because of the abundance of services for seniors, particularly in terms of health care.
To Build or Not
Last November, Davis voters did something somewhat unexpected: With 56 percent voting yes, this notoriously anti-growth community approved Measure L to accommodate the development of 74 acres of agricultural land for the West Davis Active Adult Community. Continue reading...

Kaiser Permanente is building a new 210,000-square-foot medical office building to replace its current facility on Riverside Boulevard, which will nearly double the number of provider offices, and include a larger pharmacy and laboratory. Sutter Roseville is undertaking a 97,000-square-foot expansion of its hospital's emergency and intensive care units. "All of our hospitals are undergoing significant expansions," Matteoli says, "and I think that's a key component to our quality of life and meeting our residents' needs."

Last year, the Roseville City Council approved deferring the development impact fees for two senior housing projects located near Westfield Galleria mall and The Fountains shopping center by developer, Alliance Residential Company. Broadstone Independent Living will have 201 units and the adjacent Holden Senior Living will have 96 assisted living and 25 memory care units. Construction is expected to start this spring, and similar to other planned projects in the region, these developments will include amenities like bocce courts, an outdoor courtyard, a fitness gym and onsite activities.

At Prairie City Landing in Folsom, much of Newcum's enjoyment comes from the long list of activities she participates in, she says, rattling off things like exercise class, happy hour, line-dancing, $5 movies at the Palladio, trips to a bowling alley, a reader's theater performance of "The Golden Girls" she oversaw. Newcum is also part of a group of ladies who prepare fresh flower arrangements for the dining room once a week.

Prairie City Landing has a gym and full-time fitness instructor, a theater and arts studio, among other amenities. The facility also has a bistro, cafe with comfort foods and a more upscale dining room with a menu that changes weekly. Additionally, the facility organizes trips to places like Apple Hill, San Francisco and Monterey. "We're not just building a building," says Flanigan, of Tenfold. "We're not just delivering services. We are building a community."

About 25 percent of residents there are part of a couple, and the facility does not charge a second-person fee, which Tenfold says represents an annual savings of about $10,000. They also allow pets. These types of welcoming policies, along with the emphasis on social activities, helps ease the transition for new residents who may be moving out of single-family homes they've lived in for the past 40 years — whether that be those of the silent generation who need housing today or the baby boomers who will need housing in the near future.

For Newcum, she couldn't be more pleased with her decision to leave her old home behind. At Prairie City Landing, she says she has found a new family. Plus, she loves the big parties there. "Last year, we had the most amazing New Year's Eve party," she says, of the themed festivities. "We celebrated New Year's Eve in Venice — at 3 o'clock in the afternoon."