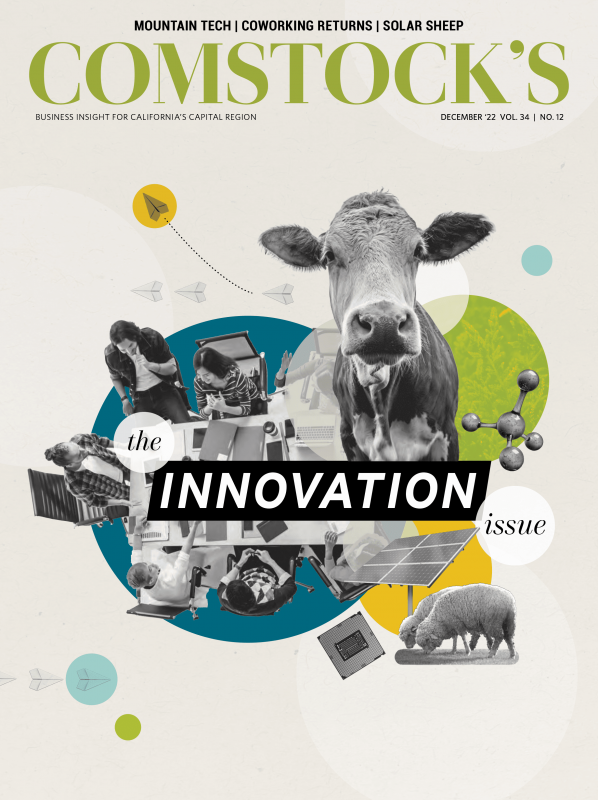 This story is part of our December 2022 Innovation print issue. To subscribe, click here.
Leo Zlimen is helping the area he grew up in, but it's not in a way he could have imagined even five years ago.
The 23-year-old Zlimen grew up in Nevada City, attending Nevada Union High School in nearby Grass Valley before going on to UC Berkeley, where he studied Arabic. While in college, Zlimen and his roommate, a friend from high school named Bowen Kyle, founded an artificial intelligence and data integration startup, Ladris Technologies.
"We help communities model evacuations," Zlimen says. "Our goal is to make it possible for non-traditional users of data science and machine learning to use those algorithms for practical applications." In a forested area in the low foothills where wildfires have become an ever-present and catastrophic threat in recent years, Ladris's applications are potentially very valuable.
And in a geographic area that's long had a bustling technology sector and has also been drawing in remote tech-related workers through the COVID-19 pandemic, people like Zlimen represent the potential next wave of local entrepreneurs.
Building on an existing technology scene
It's just before lunch on a cloudy Monday in early November and Zlimen is one of several technology workers that Robert Trent has invited to his Nevada City coworking space, Sierra Commons, to speak with Comstock's.
There's Quinna Water, a 24-year-old North San Juan resident who teaches Facebook advertising and became acquainted with Trent by taking his business igniter course while she was attempting to start a food business. There's Eli Enigenburg, a 48-year-old animator who relocated with his partner to Nevada City earlier in the pandemic.
And there's Trent, a former Bay Area resident and producer at Compaq Computer Corporation, who founded Sierra Commons in 2009 and helps lead various technology-related efforts in the area.
Some people call the western Nevada County area a mini-Silicon Valley. Trent doesn't go that far, though he sees what he refers to as "amazing talent" in his area. He's been trying to get investors interested and recently had Zlimen present at a "CEOs & Tacos" event he organized.
"You don't need 400 people to start a business anymore," Trent says. "You can, you know, (have) three people and a good internet connection and some brains and remote workers. … You can do a lot more with a lot less."
"You don't need 400 people to start a business anymore. You can, you know, (have) three people and a good internet connection and some brains and remote workers. … You can do a lot more with a lot less."

Robert Trent, founder, Sierra Commons
Technology companies have a long history in the area. Perhaps the most famous of them is a company formerly known as Grass Valley Group, which was founded by Dr. Donald Hare in 1959 and helped pioneer video relay technology.
"That type of hardware that was sold was like a $39 billion industry worldwide," says Ramona Howard, executive director of community media nonprofit Nevada County Media. "Grass Valley Group did a billion dollars of that. It's like, that's a billion dollars in a little mountain town. That's a huge deal."
At its height, Grass Valley Group employed thousands. Howard's nonprofit includes a small museum with a piece of Grass Valley Group equipment that George Lucas used to simulate the destruction of the planet Alderaan in the 1977 classic, "Star Wars." Just down the road from Howard sits the remaining local office for Grass Valley Group, which is now known as Grass Valley.
The company, Howard and other knowledgeable locals say, has become a shell of its former self through a series of purchases and mergers. A local Grass Valley manager didn't respond to a request for comment, and a person leaving the office, who appeared to be carrying a box of his belongings into a mostly deserted parking lot, declined to comment.
But the company has produced numerous others, with Nevada County CIO Steve Monaghan saying that he'd heard there were around 35 local companies spun out of Grass Valley Group. While many of these companies became defunct in the dot-com crash of the early 2000s, the current two biggest technology companies in western Nevada County — broadcast data configurer Telestream and media hardware and software manufacturer AJA Video Systems — can draw a direct line to Grass Valley Group.
Dan Castles became founding CEO of Telestream in 1997 after serving two years as president of Grass Valley Group. Where his former company has struggled to adapt, Castles says his current company has been nimble and has grown by acquiring a dozen other companies. Castles stresses that he isn't the smartest person in the room. He takes a similar approach with his now 600-employee company.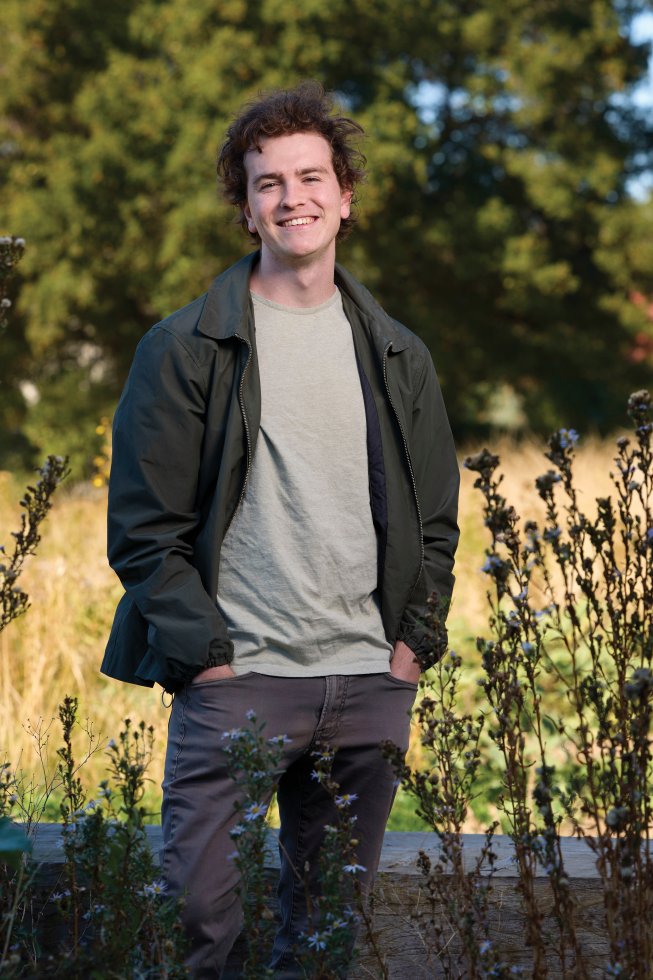 "If it's working for us, it's bringing competition in, because we don't have some key to success that nobody else has," Castles says. "We just do some things really, really well."
AJA Video Systems now has about 200 employees. Company president Nick Rashby says founder John Abt had been a senior engineer at Grass Valley Group before getting the idea to create some products. John and his wife, Darlene Abt, founded AJA in 1993.
"They literally mortgaged their house," Rashby says. "And just the two of them, he's soldering and she's putting stuff in boxes. Then they hired one person, then two, then 10, 20. It just grew and grew and grew."
Telestream and AJA aren't the only notable technology companies in the area. There's BoxPower, a roughly 25-employee Grass Valley company founded by Princeton graduate Angelo Campus which makes portable solar generators. Another Grass Valley company, GSS, or Gyro-Stabilized Systems, spun out of defense contracting giant General Dynamics and now makes stabilizing system scopes for helicopter cameras.
Then there's PresenterTek, whose Nevada City offices display pictures of recent U.S. presidents using a robotic teleprompter created by the company. PresenterTek CEO Thom Tanner and president Steve McNerney hatched the idea for their company while working at the now-closed Grass Valley offices for TriContinent Scientific.
"There's a lot of engineering talent up here that didn't want to leave after the Grass Valley Group, Tektronix (which previously owned TriContinent Scientific), all these companies downsized," says Tanner, who commutes 45 minutes to his office from Loomis in Placer County.
He adds, "There's a big amazing pool of engineers, tech people up here. Also, the cost of leasing and building is a lot less up here, too. And so it just makes sense to have everything up here."
What's changing in tech in Nevada County
Sierra Commons-based animator Enigenburg, who's worked on productions such as a "Justice League" movie coming to HBO Max next year, is part of a trend that's swept Nevada County over the past couple of years. "I think with the advent of COVID, like a lot of people, it meant that my partner's job became remote," says Enigenburg, who was living near San Diego at the beginning of the pandemic. "So she and I were like, 'Hey, let's get out of here.'"
A trail running and camping enthusiast, Enigenburg was drawn to Nevada City by its opportunities for outdoor recreation. Tanner takes advantage of these opportunities, too, often bringing his mountain bike with him to the office. "There's just world-class mountain biking up in the area," Tanner says. "And so you know, being able to do that right out of the office on your lunch break or after work is awesome."
Others might be drawn in by Nevada City, a historic and picturesque Gold Rush town with a walkable small downtown and eclectic charm. On a recent Sunday in late October, a DJ spun classic hip-hop and other music in a public square area outside the local chamber of commerce.
Gil Mathew, executive director of the Nevada County Economic Resource Council and a member of Comstock's editorial advisory board, has seen an influx of residents to the Nevada City and Grass Valley area from the Bay Area due to the COVID-19 pandemic.
"When the state shut down, people who lived in the Bay Area and had to work from home discovered … 'Why are we living here with all this congestion, when we can live in the mountains,'" Mathew says. "So there has been a fair amount of increase in the tech community here."
There's a caveat to this increase, though, with Mathew noting that the influx is people still working for tech concerns based in the Bay Area or elsewhere around the country. Trent laments that these people work from home, rather than Sierra Commons, which rents 15 dedicated desks and has space for another 17 people to cowork.
"What I'm hoping is, so here's someone, let's say they work for Google, they work for whatever," Trent says. "But they haven't to this point been able to attach to a community that is tech oriented and just for peer support. Because you do miss the watercooler conversations and that kind of thing. And people like to talk shop and have colleagues. So that's what Sierra Commons is creating."
Among Trent's efforts have been hosting meetups, though these have their limits, too. "Almost all of them are all like men who are in their 40s," digital advertising teacher Quinna Water says. "And it's just, oh my God, are there any younger women in this industry?"
Aside from finding a more diverse array of people, creating a broader tech scene in western Nevada County also requires tackling another long standing local challenge: getting more homes connected to broadband internet. Monaghan says he and Mathew have been working on rural broadband efforts for 20 years and that the county has received $75 million through SB 156, a $6 billion broadband infrastructure investment passed by the California State Legislature in July 2021.
"The good and the bad of it is, we got that much money because we need that much help," Monaghan says.
Still, the area already has much to offer. Nevada County Economic Development Program Manager Kimberly Parker knows what she would say to anyone thinking of starting a tech company or opening an office in western Nevada County for an existing one.
"I would tell them that the area is rich and diverse, with people in the tech industry that I consider both incredibly knowledgeable and experts, but also new and innovative," she says. "You know, emerging leaders." That includes people like Zlimen of Ladris Technologies, whose company's first client was Nevada County. "That is a great example of a collaborative, technical spirit here," Parker says.
Some are skeptical about the long term potential for the new guard, such as Castles of Telestream, who helped sponsor Trent's "CEO and Tacos" event. "What was interesting to me was there were some young people there, under 30, which I love seeing," Castles says. "But in 100 percent of the cases, their product vision is very altruistic and they may go from two employees to eight."
Zlimen is hopeful, though, saying that he and his co-founder Kyle tried to figure out how to apply their technology after initially creating it.
"It was just one of those things where we said, 'This makes a lot of sense,'" Zlimen says. "We can use it for a lifesaving application. It's very hard not to be excited about that. And we can use it to help the place we grew up in and beyond."
–
Stay up to date on business in the Capital Region: Subscribe to the Comstock's newsletter today.
After the disruption of 2020, the push for more collaborative affiliations has become even more urgent. At the core of this evolving model is technology.
WellSpace has operated since 1953 and provides a range of health care services across nearly three dozen sites in Sacramento, Placer and Amador counties. Comstock's spoke with CEO Jonathan Porteus about how his organization works to achieve regional health.
Here are 10 strategies for protecting the mental health of members of your family business.