On a sunny Thursday in June, leaders in the Capital Region's business and tourism industries gathered in a convention center ballroom for Visit Sacramento's annual State of the Hospitality Industry Luncheon to, as the evite urged, "COME FIND OUT WHAT'S NEXT."
As the sold-out event got underway, Visit Sacramento CEO Mike Testa outlined the agency's vision. The city, he explained, was in the midst of pursuing a "different approach to visitation." One underlying goal: to put Sacramento's "personality at the forefront, by making our arts community a priority."
"We at Visit Sacramento are very deliberately pushing past the status quo," Testa said. "[Our] team is dedicated to ensuring that how we market Sacramento to the rest of the world is progressive, authentic and impactful to the community that we represent and serve."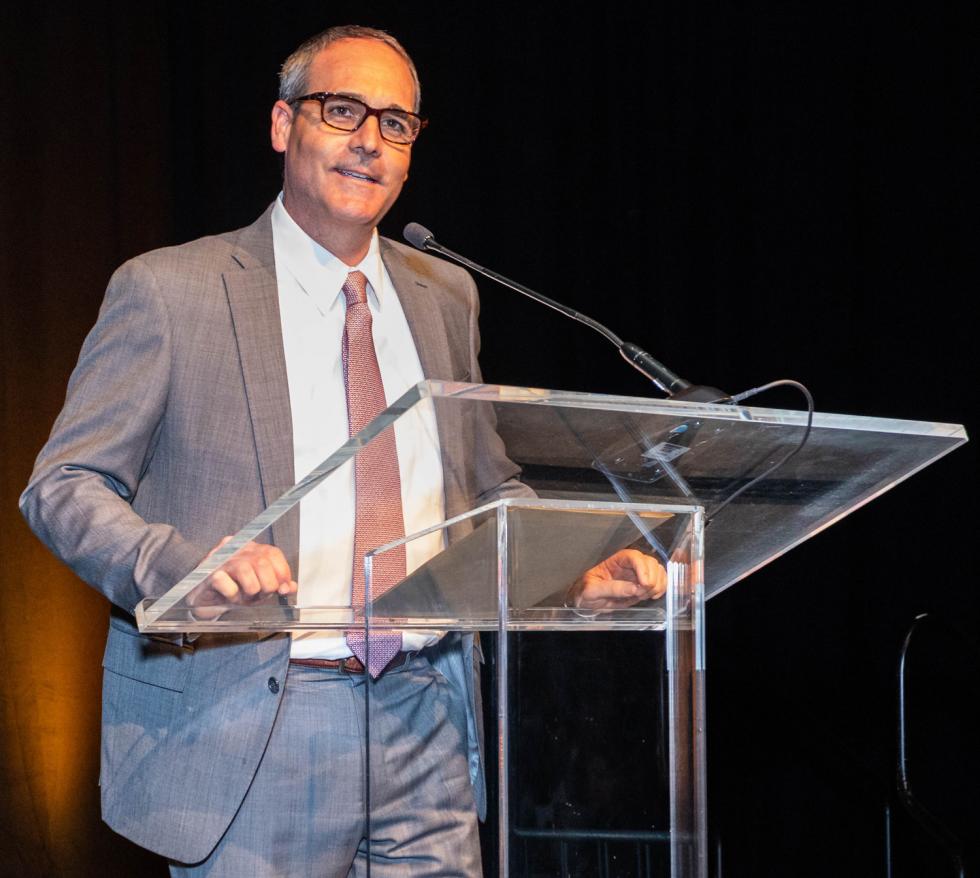 Spotlighting local artists and makers to promote a city's authentic vibe is a playbook that has seen success in Austin, Nashville and Portland. But this rebranding effort comes at an especially opportune time for Sacramento. In the last year, the success of the Oscar-nominated Lady Bird, a coming-of-age story set in the city and directed by Sacramento-native Greta Gerwig, elevated its profile and exposed it to new audiences.
Not wanting to let that moment pass, artists and leaders alike are strategizing ways to take advantage of that Lady Bird bump — doubling down on murals, movies and music festivals — to help boost the already upward trend in tourism numbers in the city and across California.
But artists and marketing executives are notoriously complex bedfellows. Aligning communication and expectations between the two sides can be a challenge. It's not always easy to stay on message — and please a broad audience — without stifling creativity.
Amid the excitement and experimentation, a key question has emerged: How does one balance business needs with artistic freedom?
"The more authentic the voice, the more license you give to the creative to produce the thing you really want to see exist, the better," says Tre Borden, who has overseen a number of public art projects and the corresponding collaborations between artists and the private or public entities funding them. "I think that's where Sacramento has the biggest struggle."
The Lady Bird Bump
You didn't have to watch Lady Bird to understand the impact the film has had on Sacramento. Gerwig's solo directorial debut, a semi-autobiographical tale of a teen coming of age (and coming to appreciate her hometown), struck a chord. It racked up rave reviews, nabbed two Golden Globe awards and five Oscar nominations, scoring big at the box office. The attention put Sacramento on the map in an unprecedented way.
It's difficult to track how many visits or dollars a film like Lady Bird can actually drive. Any uptick in tourism directly inspired by the film is likely to be a drop in the bucket in the context of the Sacramento region's $3 billion tourism industry, especially compared to bigger draws like conventions and festivals. Last year's Farm-to-Fork Festival, for example, attracted crowds of more than 60,000 visitors for a single day.
Yet the consequent think pieces and Sacramento travel guides that appeared in prestigious national publications at a steady clip were a boon in the eyes of officials working to market the city. At its peak, Testa was doing three national or international Lady Bird interviews a week, compared to his typical two a month. The Food Network, The Guardian and The Washington Post all ran pieces on Sacramento travel. In May, the city was featured in The New York Times' 36 hours travel series. "With its thriving cultural scene, striking architecture and lush vegetation, this often overlooked California city — the photogenic backdrop of the movie 'Lady Bird' — has much to offer the weekend visitor," the piece's introduction gushed.
"The publicity we received from that movie isn't something we could have afforded to buy," Testa says. "It has created demand for Sacramento among people who may not have had us on their radar."
Lisa Berg is a 40-year-old designer from Phoenix who, motivated by the film's success, made her first trek to Sacramento with her husband last March. Their itinerary included spots featured in the film, including breakfast and a movie at Tower Cafe and Theatre and a walk through East Sacramento, where Berg snapped a photo in front of the Blue House, which she posted to her 49,000 Instagram followers.
"We thought it was cool how excited everyone was," Berg says of the hometown pride she saw the film engender. "I would definitely go back to Sacramento."
Even if there were 60,000 travelers like Berg, the tourism reach of any movie, especially one with indie roots, has a limited shelf life. Lady Bird's relative success falls far short of say, a mega-hit like the Harry Potter series, which has boosted British tourism for years. For the film to have a lasting impact, according to Bill Baker, chief strategist at Total Destination Marketing and author of the best-seller Destination Branding for Small Cities, the press must be used to generate interest in other aspects of the city's offerings.
"[Films] are opportunities, and there may be a window when you can take advantage of them," Baker says. "You can spread the conversation out into larger issues beyond that, that's the ideal way to use them."
ART AS BRANDING
In Testa's eyes, the buzz created an opportunity to "position Sacramento as not just a boring government town." And central to that is continuing to invest in and elevate the city's arts community.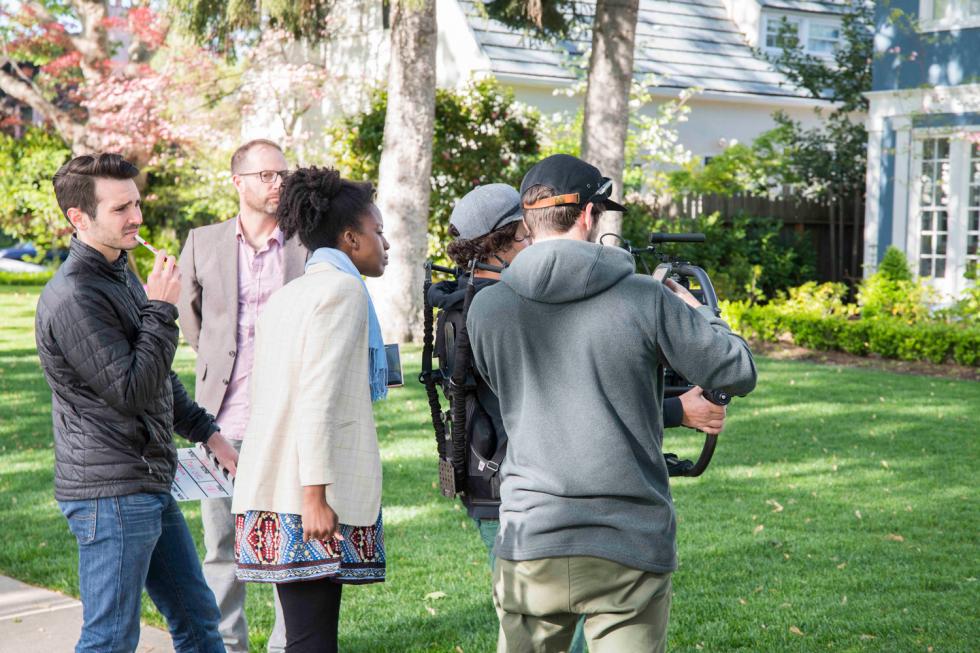 "We're not just about conventions … we're really looking at leisure travelers and the sporting market and music festivals and Farm to Fork, things that really start to define the identity and convey the personality of a city," he says. "Art and artists really convey the personality of the city."
As Lady Bird fever began to peak around the Oscars, Visit Sacramento partnered with Wide Open Walls to commission a mural inspired by the movie poster at the intersection of 16th and I streets. Painted by local artist Maren Conrad, the mural became a hit online after it was shared on Instagram by the film's official account. "Celebrating the city where #LadyBird found her wings. Thank you for all the love, Sacramento!" read a caption carrying the hashtag #SacramentoProud.
And so, when it came to planning its annual tourism luncheon, the agency set out to give the event a Lady Bird tie. Why not see if they could recreate some of the excitement many felt in seeing their city on the big screen with a film of their own? It partnered with a group of local artists to commission a short film on Sacramento. The task was to balance branding the city within a narrative story, including local destinations "as more background characters" that would allow viewers to "get a different idea of Sacramento without it being in your face," Testa says.
The agency signed off on $20,000 in seed funding, with plans to premiere the film at its annual luncheon.
Borden, a producer on the project, says the team intended to present a more authentically diverse picture of Sacramento than the one Lady Bird portrayed. Even with the cinematic halo it cast on Sacramento's beauty, Lady Bird, about a middle-class teen attending Catholic school in 2002, delivered a very narrow — and very white — portrait of the city.
"We sometimes have competing interests as the creative and the business … I think the best outcome is when you're able to use that tension to create something more powerful than its parts." Jessa Ciel, artist and filmmaker
"That's not the story [our team was] able to tell, but what we could tell is the story of a lot of young creative artists and awesome people that are here and have diverse friend groups," Borden says. "It's a very different portrait."
But the project ran into issues. There were creative disagreements about the plot, script and scenes, leading to multiple rewrites and edits in a short time. Visit Sacramento wanted a new kind of branding video that highlighted social-media friendly destinations in the city set against the backdrop of a compelling narrative appealing to a younger generation. The producers, meanwhile, had set out to capture the personalities and relationships that make Sacramento great.
While the artists did technically deliver, the plot's effort to weave in multiple perspectives in the span of 15 minutes muddles its message. Ultimately, the characters' relationships to one another — and the city — aren't entirely clear. The subtlety of the branding means Sacramento is only said once, and immediately recognizable landmarks — the State Capitol, B Street Theatre and LowBrau — are flashes on the screen.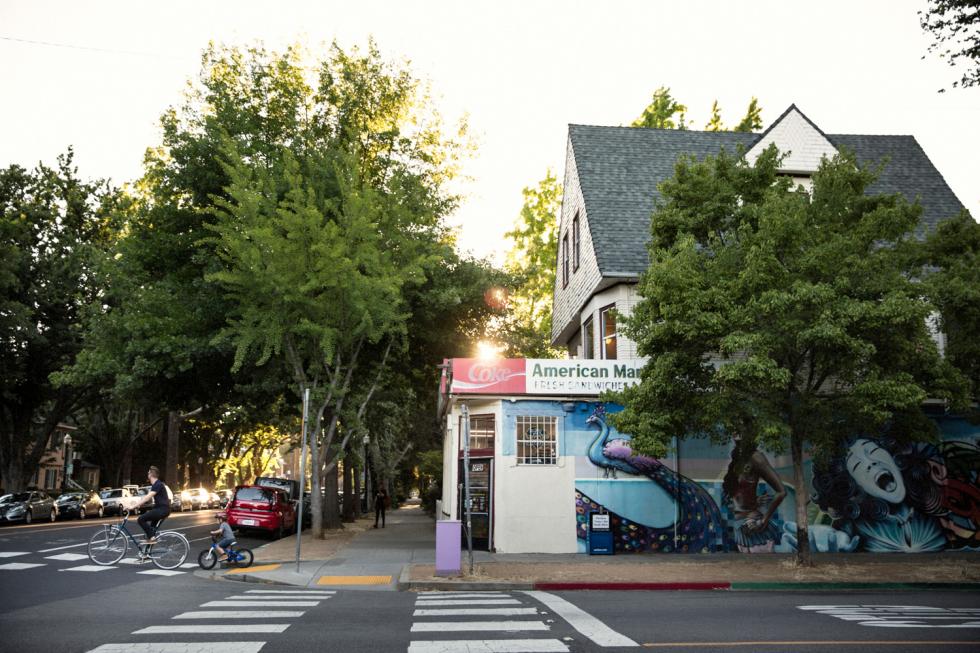 In the end, Visit Sacramento decided not to show the film at the luncheon. The timing didn't line up, and Testa says that while he felt the film captured the community's diversity, the project didn't deliver from a marketing standpoint.
"I don't want to criticize the film because the film was fun, but I think it didn't quite have the splash that we wanted to have," he says. "Maybe we expected Lady Bird in a short, and that's just unrealistic."
Borden and the film's director Jessa Ciel agree that while the final product may have fallen short of its broader mission, they remain proud of the final product and say the experience was nonetheless valuable.
Ciel calls it a lesson in the importance of communicating expectations and navigating the balance of client needs with artistic vision. In setting out to make a film their peers would want to see, the crew failed to fully consider whether the project would resonate with its target audience of business and hospitality leaders looking to market Sacramento outside the region. Visit Sacramento, she says, "didn't necessarily have the language or the experience to say, 'Here's what we do, here's the audience.'"
"We are trying new things here, and that's not a road we've traveled down before." Mike Testa, CEO, Visit Sacramento
"We sometimes have competing interests as the creative and the business," she says. "I think the best outcome is when you're able to use that tension to create something more powerful than its parts. Something that's complex."
A final cut has been submitted, but the fate of the film is to be determined. Still, those involved praised the project as a worthy experiment. "We are trying new things here, and that's not a road we've traveled down before," Testa says. "For us, it was worth the opportunity, if nothing else, to sit down and work together. Not everything ends up the way you want it to, but there's tremendous value in having the opportunity to try." Borden and Ciel echo that outlook, both stressing that they are glad to see major institutions in the city wanting to work with the next generation of creators.
"[Visit Sacramento] definitely took a risk. … It's going to take 10 or 20 Mike Testas until we create an ecosystem where things like this can happen all the time," Borden says.
When Business Meets Street Art
As executive director of the Midtown Association, a property and business-improvement district in the heart of the city, Emily Baime Michaels knows firsthand the benefits a thriving arts community can have on local businesses — and some of the challenges that come with supporting such a culture.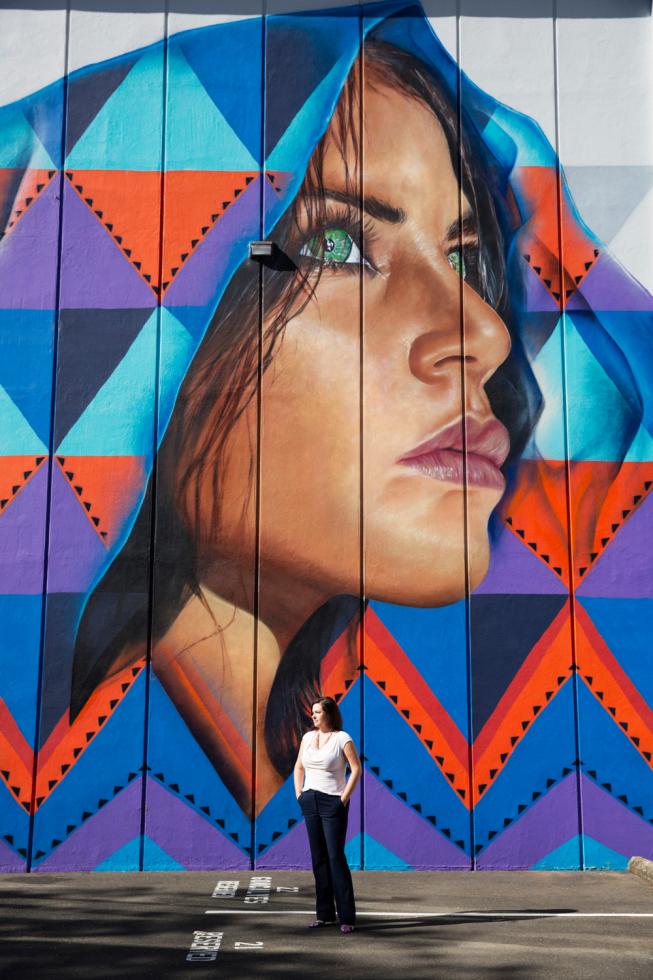 The explosion of street art across Sacramento provides another (very visual) case study for how to approach them. Dozens of bold, powerful pieces have popped up on previously blank buildings across the city, thanks in large part to efforts like Wide Open Walls, an evolution of 2016's Sacramento Mural Festival, now entering its second year. The works can serve dual purposes: They create a sense of community and, when done well, can benefit businesses, too.
"Installing a high-quality mural certainly makes your building a destination," Michaels says. "It's a way to draw visitors and draw attention to the building."
"If you want a beautiful mural, you need to allow the artist to install something that inspires them." Emily Baime Michaels, executive director, Midtown Association
But the popularity has posed some problems, too. There have been tensions between artists and landlords over creative direction, frustrations over unfinished pieces and questions about who is responsible for upkeep once the work is completed. In response, she drafted "best practices" guidance to foster collaboration between artists and building owners. Advice on the one-pager includes requesting a rendering ahead of installation and coming to an agreement about how long a mural is expected to remain on the site to avoid issues down the road.
"Murals are an incredible amenity or asset, but in such a politically active city, people are asking how do you navigate that and also allow for the expression of the art?" Michaels says, noting that a mission-driven nonprofit and a bank likely have differing appetites for politically charged renderings. "One of the most important first steps is making sure you are on the same page with your artist's style. If you want to have a beautiful mural, you need to allow the artist to install something that inspires them."
Wide Open Walls has encountered similar challenges, and with input from Michaels, city officials and the business community, made changes aimed at smoothing out those tensions. Fifty artists flocked to Sacramento for last year's painting spree, which transformed the previously nondescript facades of 44 buildings into canvases for public art. The Travel Channel even praised the festival and the art it left behind as one of the top reasons to visit the city.
Some of those murals created as part of WOW have become hot spots for selfies and tourists, but others haven't fared as well. There were murals hit with graffiti, including tags implying accusations of gentrification. In one case, as The Sacramento Bee reported, a building owner painted over the artist's work days later because they felt the mural was simply "not done as promised."
In response, WOW founder David Sobon says he sought to be more thoughtful and pragmatic about how organizers can ensure they are "putting the right artists in the right neighborhoods with the right art."
"We did fairly well with that last year. This year we've done a much better job, and that came from input from the community," he adds.
Even as interest from artists skyrocketed (Sobon says he received 358 applications versus about 120 last year), WOW is taking a more curated approach to the painting element of the festival, which has also expanded to include music and block-party-style events. They winnowed the number of projects slated for this month's 11-day festival, pledging to support about 30 artists working on 40 separate murals. Organizers worked closely with businesses, elected officials, community leaders and other stakeholders to create "dossiers" on each neighborhood to share with applicants before the renderings were submitted. The hope was that those packets, which contained a description of the community, including socioeconomic background, maps and history, would ensure the artist came up with a design that fit the area. Landlords had the ability to approve the images before the artists were matched.
None of this is to say Sobon is trying to sanitize the art or topics tackled to meet the tastes of corporate partners. On the contrary, he says, these changes will fuel understanding — and discourse — around what art can be in a community.
"I want to push the envelope a little bit every year as far as what we can do," he says. "On a school, we'll be pretty safe. On a bar? Look out, we might have controversy. I'm OK with that. It's art."
The ultimate goal, Sobon says, is that WOW's evolution will inspire the city's commitment to public art over the long term. Beyond the annual festival, Sobon's organization is hosting other events throughout the year and connecting artists with commercial clients who can provide ongoing work and financial support (they also raised their rates by $500 for artists participating this year). He's also working on raising funds to preserve and promote murals with restoration treatments and lighting. Success, he says, will be a boon not only for the city's art and business sectors, but for the community as a whole.
"The long-term goal is to make this city much more aware of the great culture of art, and to really give everybody a free art experience," he says. "We're creating, hopefully, a difference in what art means to communities, to a sense of place and a sense of pride in community"