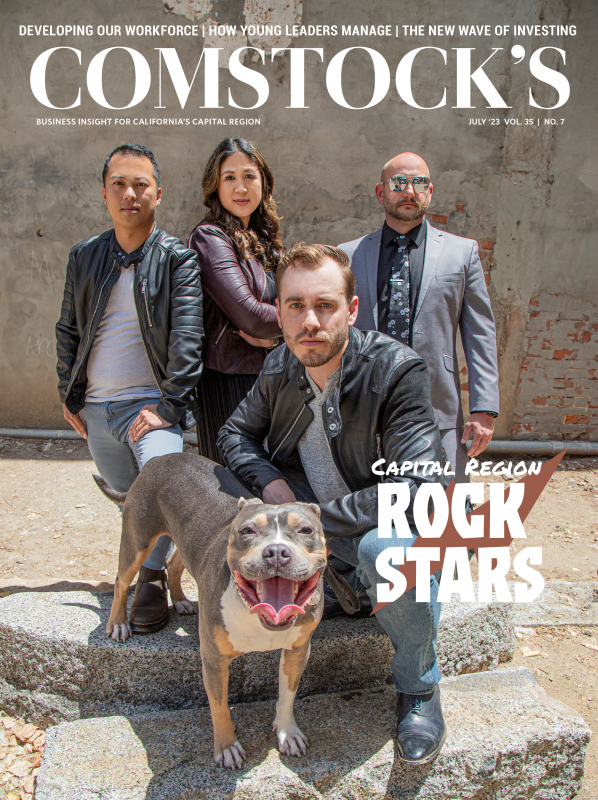 This story is part of our July 2023 Young Professionals print issue. To subscribe, click here.
Carissa Ramirez was less than six months out of college when she realized she would never reach her goals of owning a home, starting a family and attaining financial stability if she continued a career in her chosen field.
She earned her bachelor's degree in early child development from Sacramento State University in 2017 and was working as a preschool teacher when her stepfather suggested a career pivot to the trades. Soon after, she was enrolled full time in the mechanical electrical technology program at Sacramento City College. The program focuses on commercial or industrial HVAC systems, which regulate temperature, ventilation and air quality in large buildings. While working toward her certification, she was hired with an air conditioning company in Sacramento. Her starting salary in the entry-level position was around the maximum she would have earned as a preschool teacher, she says.
"Now I can go into Togo's and order whatever I want, and the chips and the drink," she says, remembering childhood visits to the sandwich shop, when she stood in line separately from her brother so they could each use a one-per-order coupon. "I can go to the gas pump, and I don't have to worry about how much I'm putting in. I can just let it fill."
Ramirez is one of many Capital Region workers taking advantage of training programs designed to bridge employment gaps and help people out of poverty. In 2020, Sacramento used federal funds to launch career training in sectors like cybersecurity to address job losses. Three years in, and the region's training programs — from short-term electric vehicle courses to community college certificate programs — can steer people into stable careers while also providing support systems.
Meeting Job Seekers Where They're At
"We try to be mindful that if someone is facing a barrier to employment, it's usually not one thing," says Jennifer Hernandez, executive director of the Sacramento Employment and Training Agency. She says if they're unhoused, for example, they may also lack transportation or access to food. "It's the aggregate impact of all these different barriers."
Last November, Gov. Gavin Newsom's office announced that California had recovered all 2.7 million jobs lost to the pandemic. And last July, the state's unemployment rate dipped to 3.9 percent, the lowest in nearly 50 years. By these measures, the economy had bounced back. But employment numbers have never shown the full picture.
At the onset of the pandemic, people's livelihoods were more likely to be upended depending on who they were. A June 2020 report from the California Budget & Policy Center showed that Black and Latina women, Asian American and Pacific Islander men, and recent immigrants were among those hardest hit by job losses.
The same month that California announced its successful job recovery, a Public Policy Institute of California survey revealed that 69 percent of Californians were pessimistic about the economy in the year ahead. In March, the nonpartisan think tank reported that the pandemic had worsened income inequality, and that Black and Latino families earn less than their white counterparts by nearly half, citing "disparities in education … to discrimination in the labor market."
The agency Hernandez heads, known as SETA, manages a network of job center sites throughout the county, many in neighborhoods with high concentrations of poverty.
Every Tuesday morning, people navigating their next career steps join a Sacramento Works virtual orientation. SacWorks is the nonprofit organization within SETA that connects clients to job centers and social services.
Over Zoom, participants briefly introduce themselves: two self-described stay-at-home moms ready to rejoin the workforce; a recent immigrant eager for a new career. This information and their location helps determine which of the 13 American Job Center of California sites they should visit, which are typically housed in nonprofits like La Familia Counseling Center in the Franklin-Fruitridge area or Greater Sacramento Urban League in Del Paso Heights.
Federal funds through the Workforce Innovation and Opportunity Act go through the state Employment Development Department and SETA, the local workforce board, for the Job Centers. Various grants help widen their reach, and SETA's Refugee Resettlement Program refers recent refugees to employment programs.
"One of our paramount things is that we want to actually help people get into quality employment," says William Walker, the longtime workforce development manager at Sacramento Works. "Jobs that move the needle for populations." For more than 30 years, he's assisted people with a history in foster care, incarceration, or who are underrepresented in a particular field, such as women in construction.
In Roseville, Pride Industries' services are geared toward people with disabilities, veterans, at-risk and former foster youth, and human trafficking survivors. Matthew Rosario is a workforce inclusion employment specialist with Pride Industries. His clients' needs range from resume building and training to encouragement. He helps them confront barriers, like stigma if they're young parents or lack an address, and boosts their self-confidence.
One of his clients had wanted to go into stocking and sales with a discount store, but thought her limited mobility would prevent her from doing the work. Rosario, in partnership with a youth program and the employer, placed her there for around 300 hours of paid job training.
"For her, it was a learning experience that you're able to do a lot more," he says. "The whole purpose of what we're trying to do is help people become more independent and gain these skills."
Understanding Industry Needs — and Asking Important Questions
Between 2011 to 2021, the number of electric vehicles on United States roads increased nearly 9,000 percent — from 22,000 to more than 2 million, according to the Bureau of Labor Statistics. With states like California requiring a transition to zero-emission vehicles, and wider availability of EV cars, this number is expected to grow.
Early this year, the nonprofit Community Resource Project kicked off an effort to train 100 people for skills in this growing industry, with a goal of placing 75 of them in jobs. The ZEV SEED program, which stands for Zero Vehicle Emission Sustainable Equitable Employment Destination, consists of four weeks of in-person classroom training followed by four weeks of hands-on training. Participants get lessons and experience with 3D printing, computer-assisted design software, voltage safety, EV charger installation, assembly and repair from instructors who work in the field.
"They get a lot of the industry knowledge directly from engineers who are working in this space which is really advantageous," says George Suarez, an engineer and consultant with PEM Motion who helped design the curriculum and teaches.
Luis Sanchez, CEO of Community Resource Project, says the organization was planning to update some of the aging cars used for the nonprofit's free energy-efficiency home updates for low-income residents when a thought struck them.
The organization was "trying to improve people's neighborhood and living environment, but we're polluting on the way," Sanchez says, adding that the low-income communities they traveled to often have poorer air quality. State law will require all new cars sold after 2034 are zero-emission vehicles.
"There's the infrastructure demands that still need to be met," Sanchez says. "There will be future career positions opening up."
With a grant from the California Energy Commission, the program set out to train five cohorts of 20 individuals, with the first two groups focused on introductory training for recent refugees and women. The fifth and final cohort, currently underway, is aimed at young adults up to age 25.
Delgreta Brown enrolled in the women's cohort with a background as a visual artist and community health worker. She earned her Allied Health certificate from Sacramento City College last year and holds a bachelor's in psychology from Xavier University of Louisiana. Drawn in by the virtual reality portion, she enjoyed learning the design software and the far-reaching conversations about affordability and accessibility of electric vehicles, safety concerns for workers, and wage equity.
"This conversation can be had in a lot of different rooms," she says, adding, "you need to have all the figures taking part in that conversation."
Reimagining the Role of Community College
Longtime career technical education leader Rick Hodge envisions a "learn and work ecosystem," one where academics and career preparation aren't mutually exclusive in community colleges.
"Transfer and career really should be connected," says Hodge, associate vice president for instruction and workforce at Sacramento City College. "Because in the end, whatever student is attending college classes, their ultimate goal is to have a great career."
Sacramento City College is one of four Los Rios Community College District campuses which together offer more than 120 CTE programs, from cosmetology to aviation to health care.
"We have an immense amount of offerings," says Paul Estabrook, Sac City's dean of technology and innovation, adding they "try not to replicate these programs in our colleges, unless there's a real demand in the industry."
This fall, the college will relaunch one of its popular training programs in a high-demand industry: Railroad Operations. Through a partnership with San Joaquin Regional Rail Commission, on-site learning will take place in the commission's rail maintenance facility in Stockton, where students will learn how to board and deboard safely, and other aspects of being an engineer or conductor.
Tamika Smith, director of rail services for the commission, says there's a high demand for on-board staff as the rail companies expand.
"At one point, Amtrak needed over 4,000 positions to be filled," says Smith. "These positions are very valuable and very much needed for us to be successful."
Students who complete the program are guaranteed an interview with one of SJRRC's partners — Amtrak, Union Pacific and Herzog — or the commission itself. If hired, they'll get further on-the-job training for their entry-level position, which can start at roughly $70,000 or $80,000 plus benefits, depending on the company. From there, salaries go well over $100,000.
"Upon successful completion of the program … they're going to get that interview," Estabrook says. "I think that's a great carrot."
Breaking New Glass Ceilings
Ramirez, the preschool teacher now working in HVAC, makes roughly $36 hourly as a stationary engineer for the state, responsible for the HVAC systems in two seven-story buildings in downtown Sacramento. She paid off $27,000 in student loans from her bachelor's degree. She owns the car she's always wanted and a comfortable home with her fiance, where they plan to build a family.
But her accomplishments didn't come without challenges. As a half-Hispanic woman in a white, male-dominated field, she was undermined in school and work settings. At one job, the mistreatment escalated to sexual harassment. But for her, it's even more reason to stick it out in the field — now as an adjunct professor in the same HVAC program she completed at Sacramento City College.
In the four semesters she's taught, just one of her female students continued with the program and is on track to complete it.
"I made it through it with those obstacles, and maybe it'll inspire them to stick through it," she says. "I'm hoping it's inspiring to the younger generation."
Stay up to date on business in the Capital Region: Subscribe to the Comstock's newsletter today.