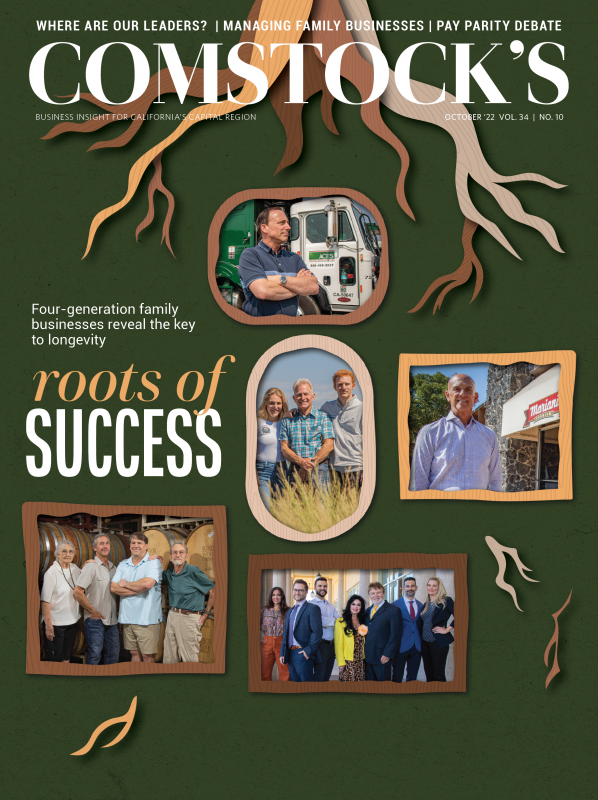 This story is part of our October 2022 Family Business print issue. To subscribe, click here.
Whenever you eat an almond, there's a good chance it came from Blue Diamond, the Sacramento-based co-op of over 3,000 farmers, most of them small and family-owned. "California provides 80 percent of the world's almonds, and we have about half the almond growers in California," says CEO Mark Jansen, who took the reins in 2010.
Blue Diamond has been around since 1910. Yet the business has grown at a compounded annual rate of 9 percent since 2010, says Jansen, "and most importantly, we've increased the returns of growers by roughly 2,000 percent."
This is how he makes it happen.
5:30AM – As he gets out of bed, every morning Jansen performs his "gratitude practice," a form of praying and giving thanks. "I'm thankful for waking up, thankful for all the blessings in my life."
5:55AM – Takes his dog for a 20-minute walk around his acreage in Loomis, or sneaking in a hike in the nearby ravines. "This is some of my best, most important thinking time," says Jansen, who mentally writes speeches, prepares meeting agendas, or thinks about larger goals (such as DEI initiatives). "It may not look like I'm working hard, but this is probably some of my most valuable work time as a CEO."
6:30AM – Eats a protein-rich breakfast (like an egg and spinach omelet) and preps for the day.
7:30AM – Listens to CNBC on his 30-minute commute to the sprawling Blue Diamond headquarters on 16th and C streets in downtown Sacramento. He chooses CNBC because "markets tend to be apolitical" and pays special attention to global news, as 60 percent of Blue Diamond's sales are international. "If the ports in China are shut down for weeks because of COVID, that creates ripples in the international supply chain that we might see six months later."
8AM - As soon as he arrives, his Executive Assistant Laura Elkins (his "great organizer, great enabler") briefs him on any urgent tasks.
9AM – Status update with the senior executive team to discuss operational issues. For example, Blue Diamond had sourced sunflower oil from Ukraine and Russia; as a backup they sourced it from Canada — but a drought in Canada meant a shortage of oil. "So our backup plan was not a backup plan," says Jansen, and the team had to problem-solve.
10AM – More meetings, such as touching base with the CEO of a partner company in Mexico that bottles Almond Breezebrand almond milk, which uses Blue Diamond's almond-base formula.
11AM - Jansen's choice for a mid-morning snack? Yes, you guessed it — a handful of almonds, roughly 20 a day.
11:05AM – Walks around the warehouse and manufacturing facility (across the street from his office) to meet face-to-face with workers and get a sense of the pulse. Eighty percent of the company works in-person, as "that's the nature of manufacturing and warehousing."
12:00PM - Some days he'll grab lunch (usually a salad) while working at his desk; other days he'll walk to J Street and eat with colleagues.
1:30PM - Saves lower-energy tasks, like reviewing documents and contracts for early afternoon, where he works at a stand-up desk, which he considers "a terrific energizer."
3PM - More meetings, such as a discussion of annual goals, which are called "the blueprint." These are reviewed quarterly and could be a high-level target like "growing profit levels that average 15 percent greater than any other almond handler in the industry." Then there are subgoals, such as "growing new product sales by $100 million" or "we want to expand into three more markets globally."
4PM – Some days he'll drive in his white Ford F150 pickup to personally visit almond farmers, as "making sure we're staying aligned on what's happening with our growers is a really critical part of my job."
6PM – Gets home just as his youngest child, a high school senior, finishes football practice, so the Jansens can have dinner as a family. The two older daughters have both "left the nest."
7PM – Two to three evenings a week he'll exercise — either strength training, high intensity interval training, or a spin on the Peloton.
8PM – Unwinds with his wife, often with a bingeable show like "Game of Thrones."
10PM – Heads to bed as early as possible, as "I'm managing energy through the right amount of sleep."
On social media:
"I'm a careful social media user," says Jansen, who is active only on LinkedIn. When he became CEO he realized that "my LinkedIn account is no longer personal" and is part of the external face of the brand.
Item in his office that would surprise you:
A picture of trees. This was given to him by former colleagues from his last role at The Schwan Food Company (they all signed the back), and the picture includes a quote: "Leadership means sometimes planting trees under whose shade you may never sit."
–
Stay up to date on business in the Capital Region: Subscribe to the Comstock's newsletter today.