Placemaking. You might have heard the word — maybe at a redevelopment conference or tossed around at a marketing mixer. You might have seen it in a neighborhood newsletter about new housing downtown, or read about it in an article shared by that cool architect friend who was just inspired with a vision for how to make Sacramento "the place to be." But no matter what you've heard or how you feel about placemaking, the concept likely won't be disappearing in the near future.
What is the concept? Ask 10 different people and you'll probably get 10 different definitions. Basically, it's urban intervention — the idea of pumping life into neglected city pockets through collaborative projects that spark life in and speak to the community. If that sounds abstract, it's because every project is different.
"Placemaking can be as complex as building a sports arena or as simple as organizing street performances," says Wendy Saunders, executive director of the Capitol Area Development Authority. "It's all about creating a space where people want to go and congregate and smile."
But think about it: Placemaking (as a concept) and Sacramento (as a culture) have a lot in common: Both are works-in-progress, diverse in scope and difficult for outsiders to define. It's no wonder this latest craze has swept the Capital Region in the post-recession era, usually popping up with the ubiquitous "live, work and play" trio with architectural ideas that blend the old and new.
"It's easy for designers and city-makers to replicate successes that have been done before, but then everything becomes too uniform," says Tristan J. Osborn, principal of Cobblestone Placemaking, a planning and design firm based in Sacramento. "With older architecture, you have quirky design elements that give the buildings a unique feel. But you can still blend in modern design with older architecture through carefully thought-out design, even if the materials or styles are different. It is important to preserve the elements that make our neighborhoods' authentic."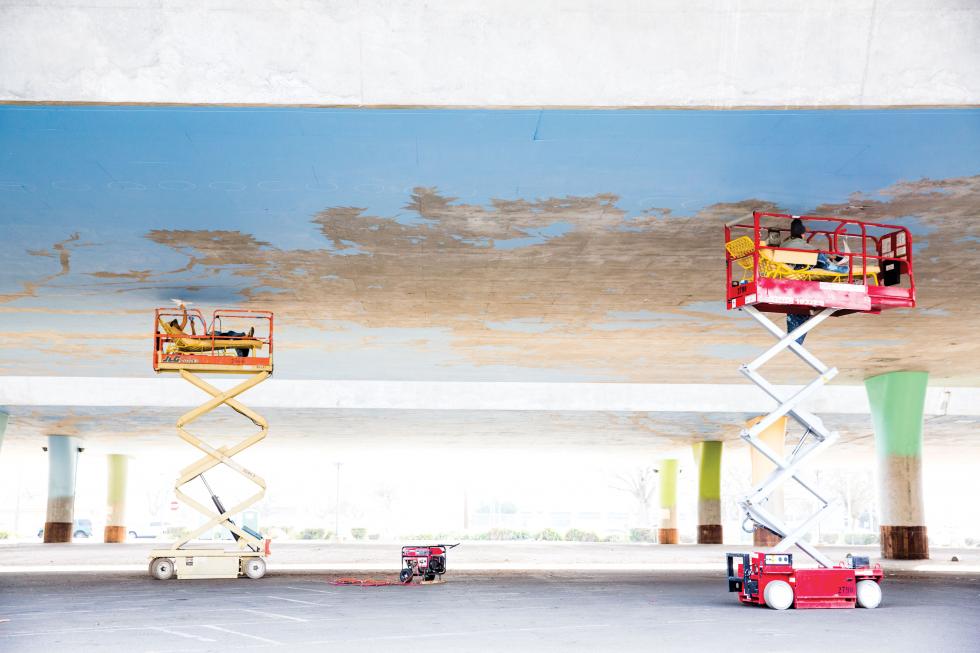 Of course, urban renewal ideas — as transformative as they may sound — need support. Companies and local businesses could choose to sponsor a project by contributing funds or in-kind donations. But how many business owners have a "placemaking" line item in the budget? How would they benefit? For example: Why would a design firm donate staff time, office resources and personal contributions to support a temporary art installation? All good questions, but to answer them requires a better handle on what, exactly, placemaking means.
IS IT A PERSON?
Tre Borden calls himself a placemaking consultant. If you Google that specific title, less than 800 results pop up. But in a way, this is form following function, since Borden's job entails creating new projects by putting a twist on old spaces. He's had a hand in all kinds of revitalization efforts across the city. He was the curator for the Warehouse Artist Lofts on R Street and served as co-producer for Portal, a temporary interactive art structure.
"Those who spend their careers in urban spaces define placemaking as a people-centered approach to urban development," Borden says. "A lot of people in Sacramento have never heard of it or think it sounds like one of those made-up professions. But I think Sacramento has struggled with its distinct identity because of people who want to brand first and hope people follow, rather than having the brand come organically from projects."
But placemaking isn't about one person. To the contrary, this is a movement spearheaded by the creative class, who see collaboration as the path to the cutting edge. Projects benefit from public-private partnerships: an assorted team of supporters that includes city planners, architects, designers and local artists passionate about the region's untapped potential. But the community at large may play the most critical role as placemakers often start with this question:
"How do you get people to come and spend hours in a place because they want to enjoy that place?" says Hans Baldauf, principal of BCV Architects, whose portfolio includes the Ferry Building in San Francisco, the Oxbow Market in Napa and Sacramento's Railyards project. "For a retail place to be the heart of a community, it has to deliver experiences that are fundamentally physical. It's about how we are together as human beings, having a shared experience."
"How do you get people to come and spend hours in a place because they want to enjoy that place?" Hans Baldauf, principal, BCV Architects
Sacramento artists Sofia Lacin and Hennessy Christophel started LC Studio Tutto 10 years ago, creating collaborative interior and exterior paintings. They're the artists behind Bright Underbelly, a new 70,000-square-foot mural at the site of the Sunday Farmers Market under the Interstate 80 overpass at W and X streets. Borden helped raise more than $140,000 for the project with support from the city, Caltrans, The California Endowment and Kaiser Permanente, among others. Each project creates a feedback loop, Christophel says: Creative people create cool things, which makes others want to stick around and create cool things, and so on.
So is placemaking just about people?
"I don't know if it can be defined in one way," Lacin says. "It's about taking ownership of spaces we use as a community. People are connecting to places that reflect at least a part of who they are. You have to feel connected to your surroundings or else you'll be miserable. I don't think a place is ever completely defined. It's an evolution. People are defining it right now."
IS IT A PLACE?
Obviously, you can't placemake without a location. But in this context, the place ideally works on two levels: micro (the project site) and macro (the spirit of the region). Bright Underbelly is a good example. With this massive abstracted canopy mural, the team aims to brighten up that farmers market area as a year-round southside hub, while also highlighting Sacramento's farm-to-fork image.
To transform the Sacramento Railyards, Baldauf set out to link the character of the historic site with the city at large by creating open space at the heart of the project, where the public could stand and see the Sacramento skyline to the south.
"We're not trying to turn everything into a museum," he says. "We're trying to make people realize they're living in a layered history. You emphasize that by contrasting. We have wonderful brick buildings, but they're made more interesting by having modern buildings next door. The new buildings have to feel like they're honoring the old buildings."
Another key location is the R Street corridor. CADA, which oversees this strip, has been developing infrastructure and affordable housing to attract diverse people for a decade. But since you can't just plop houses down and expect a vibrant community to emerge, placemaking is an essential factor, Saunders says.
Recently, CADA started improvements to Roosevelt Park on 9th Street between P and Q streets. This one-block park needs some love. It has insufficient lighting, bad landscaping and a crumbling bathroom, but people still come to play sports. With a blessing from the city, input from the neighborhood and a $38,000 contribution from the Sacramento Kings, CADA spent $60,000 to refurbish the park's basketball court with purple pavement, the Kings logo, artist-created benches and new hoops. CADA is spearheading the effort for additional improvements that would enhance the park, including the baseball diamond, soccer field and better bathrooms.
"When you create an environment where people congregate, make friends and share interests, you also enhance the safety," Saunders says.
Responding to neighborhood demand, CADA is developing plans for a new dog park on 19th and Q streets. The group is also supporting Regional Transit's efforts to improve the lightrail station behind R Street that sits in a forlorn alley. Saunders has been in talks to placemake the station by scheduling street performances, but they're still in the brainstorming phase. Even though CADA typically doesn't support temporary art installations, the group last year contributed $7,000 to one of Sacramento's most notable placemaking projects: Portal.
IS IT A THING?
Last August, Portal made its flashy debut, standing 12 feet high and 8 feet wide in front of Sacramento's Crystal Ice and Cold Storage plant on R Street. The interactive tunnel with its LED lights brought people from all over to take selfies and participate in events such as a silent disco, open mic nights and yoga sessions.
Fabricated at the Hacker Lab, this art/tech installation was designed by Kimberly Garza of Quadriga Landscape Architecture & Planning, which dedicated staff time and office resources to the project. Portal was not a money-maker and the benefits are hard to quantify. But it was a marketing opportunity, a "presence-builder for the firm," says Marq Truscott, former president of Quadriga, adding that he and his wife also donated personal money to the effort because they "believed in the project and wanted to continue the excitement within the R Street/midtown district."
Developer Mike Heller, the managing partner for the Ice Blocks project, saw value in Portal, even though its direct impact might not be visible in a spreadsheet.
"The benefits are somewhat difficult to quantify, but what I know for sure is that Portal showed the power of creativity and how talented our local designers are," he says. "And it helped people imagine the potential of the Ice Blocks as an amazing future public space. I thought it was brilliant."
Overall, he says, Portal is a prime example of the power of placemaking, which he defines as "people enjoying each other, creating an identity, civic pride, quality of life, having fun and mixing in a bit of intrigue. These are the ingredients that all great cities possess."
IS IT A PHASE?
Not everyone is a fan of placemaking. For example, Nick Miller, co-editor of the Sacramento News & Review, blames the buzzword on just-got-here locals who don't know what's best for the city.
"Modern urban revival shouldn't only matter when it's embraced by politicians, developers and Chamber of Commerce types," he wrote in an opinion piece last October. "Placemaking shouldn't only be when the business community figures out how to commodify youth culture. And Sacramento doesn't need a rebirth or 'renaissance.' We're fine."
After reading Miller's piece, one resident (with the username Frank Bruno) felt burned enough to respond: "Why denigrate people who want to improve Sacramento just because they 'just arrived in town'?" he wrote. "I've been here eight years. Is that long enough to be entitled to an opinion? This smacks of a provincial attitude that remains all too common here."
Ali Youssefi, vice president of CFY Development, did something uncommon when he designed and built Warehouse Artist Lofts on R and 12th streets. The mixed-use, mixed-income development — which includes reuse of the century-old Lawrence Warehouse — was made specially for local artists. He believes the creative class is the key for cultural transformation downtown, with WAL anchoring the fast-growing micro-market on R Street.
In the 12 months since WAL opened, the block has been buzzing: Mike Heller, in partnership with Ridge Capital, started construction on a project at the former Capital Wholesale Electric warehouse; architecture firm HGA and construction firm MarketOne Builders both relocated to the area (from Roseville and Natomas, respectively); world-renowned artist David Garibaldi moved into a new studio; and Casa de Español, the Spanish language school, relocated to a new building across the street.
"Placemaking is very relevant to what's happening," Youssefi says. "From the Golden 1 Center to the Rail-yards and other projects in the pipeline, we're literally transforming the look of our city and expanding on the destination it has been."