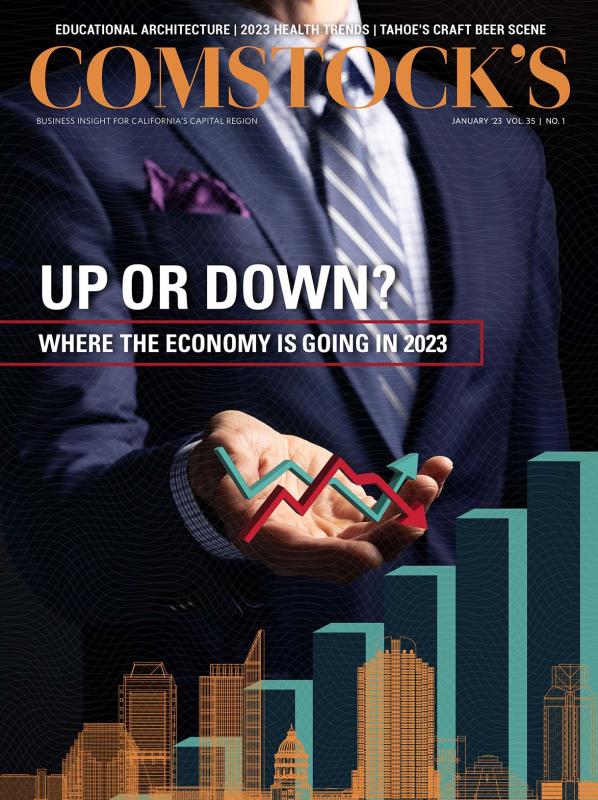 This story is part of our January 2023 print issue. To subscribe, click here.
The Benicia Historical Museum sits majestically among rolling hills just two miles from the city's downtown core, occupying four sandstone, 1850s-era former arsenal buildings that make up the Camel Barns Complex.
Though the museum has been operating continuously at the complex site since May 1985 — called "small but mighty" by museum executive director Jen Roger — it may be out of the way enough that visitors still struggle to recognize its wealth of historical assets.
"So how did you find us?" Roger, who's been in her position for just over a year, asks at the beginning of an interview in her office. The museum, housed in some of the oldest standing military structures in California, may be one of Solano County's best-kept secrets. The museum currently attracts an average of 17 visitors a day, which includes the people who rent the facility for weddings, fundraisers and other events. Roger says this number is "abysmal," and she's working to increase it.
"I'd like to see 10,000 people per year without the rental numbers," she says, adding that they're working to build up the museum's dedicated core of volunteers and rework its educational programs. "That's not even a lofty goal, realistically. We need to build connectivity to our community and make it where people can go to learn something new, learn and appreciate the story of California through the story of Benicia."
The museum has a unique story to tell of the Benicia arsenal's century-long role helping defend the U.S. through multiple wars before it was decommissioned in 1963. Camel Barns got its name after the arsenal stabled and auctioned off the Army's Camel Corps, a short-lived, Benicia-only experiment that used 34 camels obtained from Middle Eastern countries as pack animals, conceived by Secretary of War Jefferson Davis (later Confederate president) in 1855. The Camel Corps idea was abandoned in 1863, but its legacy is visible throughout the four buildings.
Artifacts and storyboards dotting the museum tell its story in numerous ways. There's an exhibit honoring the indigenous Patwin tribe of Solano County, a subtribe of the Wintun/Wintu family. There's also information on Benicia's brief stint as California's state capital, its role in the Gold Rush era, and how the Benicia Arsenal served as a staging area during the Civil War for Union troops.
"Our collection is over 33,000 artifacts that range from natural history to historic collections to anthropological and archaeological collections," Roger says, noting that the Civil War and the years around the 1849 discovery of gold in California comprise two of the museum's main educational programs. "We have a diverse group of things that we caretake."
After Pearl Harbor hurtled the U.S. into World War II, more than 100 truck convoys with ammunition, small arms and explosives were loaded and dispatched from the museum site during the war. The arsenal also reportedly supplied munitions for the first bombing raid on Tokyo in 1942, launched from the USS Hornet.
Prior to 1940 and World War II, the arsenal employed 85 civilian employees. By October 1942, as the war escalated, 4,545 were employed there, with women comprising nearly half the civilian employee force. During the Korean War, the number of civilian workers reached a high of 6,700.
Before the museum took over the site in 1985, it had various public uses, including as a law enforcement agency shooting range and as office buildings occupied by Bradbury & Bradbury Wallpapers, Roger says.
The museum is open for self-guided tours during its regular hours of Wednesday through Sunday, 1-4 p.m. and sponsors several school education programs. The museum also holds regularly scheduled events, Roger says, including every first Friday of the month, when a food truck is brought in, coupled with live music and a no-host bar.
"It's a way to get people out here for a fun experience," she says.
This August, the museum will expand into Benicia's downtown when it officially takes over the former Benicia Fire Museum building from Benicia Volunteer Firemen Inc., at 900 East 2nd Street. The building will house the Benicia Fire Museum collection and other artifacts, including the Phoenix, Benicia's first fire truck obtained in 1847.
"That (building) won't exclusively be a fire museum anymore; it will be our downtown extension," says Roger, noting the unique collaborative effort of one museum absorbing another. "It will have fire artifacts in it just like our buildings here (at Camel Barns), as we integrate that into the greater story by the narrative of the gallery."
–
Stay up to date on business in the Capital Region: Subscribe to the Comstock's newsletter today.