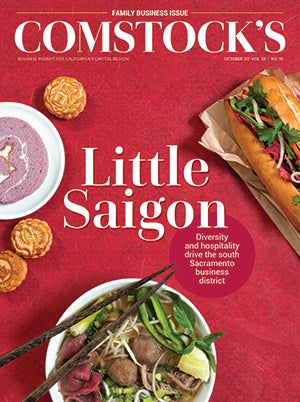 This story is part of our October 2020 issue. To subscribe, click here.
Why a restaurant?
Brothers Geno and Franco Cassella were born and raised in Stockton and grew up around the restaurant business because their father owned two establishments in Lodi, II Studs nightclub and Geno's. Though their father sold the businesses more than 30 years ago, the brothers remember working at Geno's, which Franco describes as a bar and grill. "We were working, cleaning out floor drains, scrubbing toilets … doing all the fun stuff that 10-year-olds should be doing at the family business. There were times when Geno was flipping burgers, and I was running the register." Geno, 43, and Franco, 41, both graduated from Bear Creek High School in Stockton and earned bachelor's degrees in managerial economics from UC Davis before leaving the area to pursue business opportunities, Geno in Las Vegas and Franco in Seattle.
But, in 2005, "knowing we wanted our families to grow up together, we decided to go into business for ourselves," Franco says. "Searching for opportunity between Stockton and Sacramento led us to Elk Grove," which had fewer restaurants per capita than nearby cities. Franco says they decided on a full-service restaurant because "the character of the building we are in (in Old Town Elk Grove) deserved nothing less." They prefer old brick buildings — "We call it Brick House for a reason," Franco says — with character because "half of what you're coming in for is the experience, not just the food."
How are duties divvied up?
Geno and Franco are equal partners. Franco is mostly responsible for inventory and maintenance, and Geno handles the menu and public relations. Since opening a second location in downtown Lodi in 2019, however, Geno spends most of his time in Lodi, and Franco is primarily in Elk Grove. "The intention was never to do that, but it worked out best," Franco says. "Most small decisions are left up to the individual, but any larger decision is discussed and agreed upon between the two of us." The deal for the Lodi location on West Elm Street came together in 2018. Just like in Elk Grove, the brothers were attracted to the building's use of brick and Lodi's demographics.
"Though we strive to attract everyone, our product and services relate to a more financially secure customer looking for a personalized experience they cannot find at today's large chain establishments," Franco says. "It isn't that different with the exception of Lodi's wine community. They keep us on our toes with our wine list selections." Geno and his wife, Jennifer, have two children, Gianna, 16, and Anthony, 14, and Franco and his wife, Amy, have a son, Jake, 13. Though the brothers are unsure if any of their children will eventually take over the business, Gianna has taken the most interest. "She's learning it all," Geno says. "But she's mostly learning the back-of-the-house (kitchen) operations."
Brick House Restaurant & Lounge
Owners:
Geno and Franco Cassella
Where:
9027 Elk Grove Blvd., Elk Grove, Sacramento County
(916) 714-0840
Website:
brickhousedining.com
Purchased:
2007
Business:
Restaurant
Brick House Restaurant & Lounge
Owners:
Geno and Franco Cassella
Where:
9027 Elk Grove Blvd., Elk Grove, Sacramento County
(916) 714-0840
Website:
brickhousedining.com
Purchased:
2007
Business:
Restaurant
What about the coronavirus?
Like most restaurants forced to close indoor dining due to the coronavirus pandemic, Geno and Franco adjusted to stay in business. "During the first month of the shutdown, we thought creatively," Franco says. "We quickly adapted with special family meals (for pickup) and backed them with media, social media and advertising campaigns. On Sundays, we organized parking lot carhops to give customers a fun, safe option to get out of the house." When it became obvious that indoor seating wouldn't soon return, they developed outdoor dining for their customers. In Elk Grove, they received city permission to convert their parking lot, though it seats just 70 compared to the indoor capacity of 209. Franco added sunshade sails, a large-screen TV, a firepit and cornhole. For the Lodi restaurant, which doesn't have a parking lot, they were allowed to use the sidewalks and some parking stalls, creating dining for 60 (compared to 215 indoors). "We're keeping busy," Geno says.
How to fill the financial gap?
The brothers give even more credit for the restaurants' success during the past several months to their participation in the Great Plates Delivered program in Elk Grove. "We were about to expand into Brick House Pizza, which is more delivery friendly, when Gov. (Gavin) Newsom announced the Great Plates program (in response to the COVID-19 pandemic)," Franco says. The program, backed by the Federal Emergency Management Agency, the state of California and the City of Elk Grove, contracts with restaurants to cook and deliver three meals daily to older adults in the community. "No. 1 is to get seniors fed, to make sure they are staying home and kept safe … so there's no COVID exposure," Geno says. "It also supports restaurants. It was built that way, to be a mutual senior- and restaurant-support program." The Brick House in Lodi has a similar program to provide meals to people experiencing homelessness. With the two programs, the restaurants prepare and deliver more than 600 meals daily. "They also allowed us to bring our staff back to full employment," Franco says.
—
Main Street profiles businesses in our 10-county Capital Region. If you know of an interesting one, please email tcouzens@comstocksmag.com.