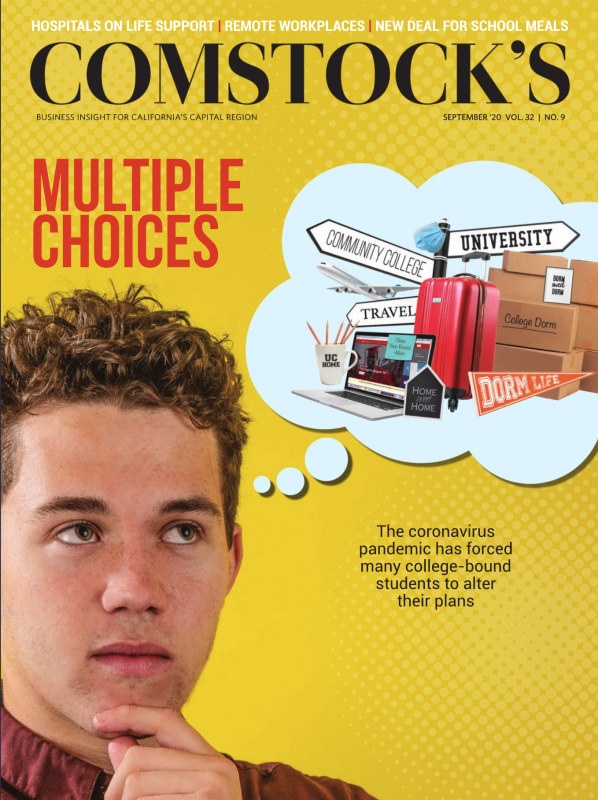 This story is part of our September 2020 issue. To subscribe, click here.
Why a feed and supply store?
In 2007, Craig and DeeDee Lyman decided to leave their financial- and lending-industry positions after more than 25 years, sell their home in Portland, Oregon, and move to California. "We made the decision to find something back in California that would suit our family," says Craig, the CEO of Douglas Feed & Pet Supply. Craig grew up in Napa and spent many summers on his grandfather's ranch raising chickens and other farm animals. DeeDee, the company's vice president, owned horses into her mid-20s and welcomed the opportunity to own a feed store in a community of equestrians and animal lovers. "(The store) provided us what we were looking for. It was a lifestyle fit, it was priced right and it was an amazing location serving a wonderful community," Craig says. "At the time, it seemed that if I could run a lending center with 200 employees,
I could run a feed store with 12 employees." Craig runs the day-to-day operations of the business, and DeeDee does most of the buying of the tack, apparel and gift merchandise; handles community fundraising; and hires staff.
Why more than feed?
The feed store is the mainstay of the business, selling food primarily for pets and livestock. A big growth area, Craig says, has been chickens. "Raising backyard chickens has become very popular in our area," he says. "Not only do we sell chicken feed and all the needed supplies, we sell approximately 15,000-20,000 chicks a year." The business, about 10,000 square feet on 3 acres, expanded into selling tack and equestrian apparel after Christensen's Saddle & Supply in nearby Loomis closed in 2018 after 30 years in business. The store also has a self-serve dog wash that customers "love, especially after taking their dogs to Folsom Lake for the day," Craig says, and Granite Bay Paw Spa, which offers full-service grooming for dogs and cats, "and I think we even had a bunny or two from time to time." Craig says Douglas Feed & Pet Supply does $5 million-$6 million in sales annually, split fairly evenly among feed, hay, tack, apparel and gifts.
Douglas Feed & Pet Supply
Owners:
Craig and DeeDee Lyman
Where:
5460 Douglas Blvd., Granite Bay, Placer County
(916) 791-3202
Website:
douglasfeedandpetsupply.com
Purchased:
2007 (founded in 1980 as Douglas Ranch Supply)
Business:
Pet and farm-animal feed and supply store
Douglas Feed & Pet Supply
Owners:
Craig and DeeDee Lyman
Where:
5460 Douglas Blvd., Granite Bay, Placer County
(916) 791-3202
Website:
douglasfeedandpetsupply.com
Purchased:
2007 (founded in 1980 as Douglas Ranch Supply)
Business:
Pet and farm-animal feed and supply store
What about the coronavirus?
When the coronavirus pandemic hit and many businesses were shut down, Craig says there was some initial panic buying, then sales slowed for a brief period. He credits the store's success in recent months to a surge in chick sales and related services. Though the store is open for inside sales because it is a designated essential business, it added curbside pickup and plans to add online purchasing and expand home delivery. "We currently see about 16,000 hits per month on our website," he says, "so we are anticipating a fairly robust home-delivery business." On the other hand, the store's rental business for parties — it offers straw, feeders, waterers and other supplies for equine and livestock events — has gone away, but Craig says that part of the business was mainly used to market the company in the community.
How's Granite Bay?
For the first 30 years in business, the company primarily was known as a feed store in Granite Bay, a community with a rich history of cattle ranching and farming. Though the store still serves a few cattle ranchers, Craig says the community now has a growing equestrian presence with several large training facilities. "We have worked hard to rebrand our store through diverse offerings, our community service involvement and our marketing efforts," Craig says. Now, he says, Douglas Feed is known more as a pet-supply store. "Many of our clients just bring their kids by to see the baby chicks or to get a gift on the way to a party," he says. The Lymans are committed to the community, especially through local 4-H and National FFA Organization programs. "To me, the community is the backbone of any small business," Craig says. "If I, as an owner, do not put the community first, how can I hope that they will put me first as opposed to … the convenience of online (shopping) or the big-box stores?" The Lymans also purchased a food truck to sell kettle corn, lemonade and roasted nuts that they take to community events and fundraisers. Craig says they were receiving so many requests for donations, they decided to purchase the food truck to fundraise in partnership with nonprofit organizations. "We bring out our food truck, make some fun food and drinks, and split the profit with the local charity or school."
What about the future?
Craig and DeeDee expect to continue growing the business, and Craig is optimistic, despite the pandemic. "Our online sales and home delivery should add $500,000 to sales annually," he says. Craig says they might consider adding dog boarding too. Their children — Trenton, 19; Victoria, 15; and Alexis, 14 — have helped in various capacities at the store, but Craig says he's unsure if they will one day take over the business. "For now, school is their priority."
—
Main Street profiles businesses in our 10-county Capital Region. If you know of an interesting one, please email tcouzens@comstocksmag.com.