Why this type of business?
Sparrow 5
Owner:
Marsha Taylor
Where:
213 Vernon St.
Roseville, Placer County
(209) 245-3463
Website:
wixsite.com/sparrow5
Founded:
2006
Business:
Art gallery, art classes, gifts
Sparrow 5
Owner:
Marsha Taylor
Where:
213 Vernon St.
Roseville, Placer County
(209) 245-3463
Website:
wixsite.com/sparrow5
Founded:
2006
Business:
Art gallery, art classes, gifts
Sparrow 5 owner Marsha Taylor, who has a background in interior design and art, has operated her 2,100-square-foot shop in Roseville for seven years. Besides selling furniture and home accessories, Sparrow 5 carries the work of more than 70 local artists. "Our inventory consists of repurposed items, fine art, ceramics and the work of five different metal artists," plus vintage wares, Taylor says. One of her favorite items in the store is an old toaster that has been transformed into a replica of an Airstream travel trailer. The shop includes a studio in the back where Taylor teaches nine different art classes. "Our most popular (are) Paint Your Pet and art journaling," a visual diary to record thoughts, memories and emotions through images, art and words. Sparrow 5 recently joined Sierra College's Kaleidoscope, a community education program of short-term, not-for-credit, fee-based classes and workshops. Sparrow 5's two spring classes are Stamping Art and The Tricks of Drawing; both are held at Taylor's shop.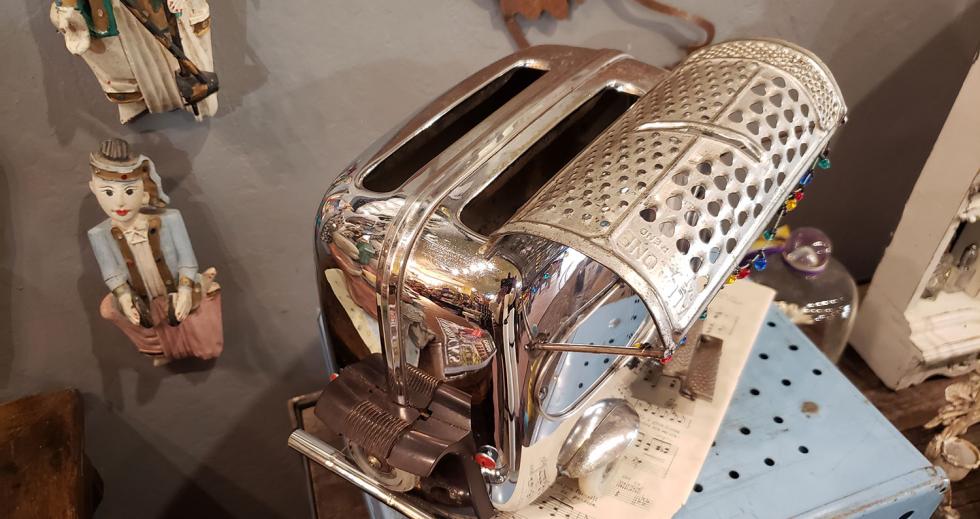 Why Roseville?
Taylor says she selected Roseville's Vernon Street because when she and her husband, Don, travel, they love to find mom-and-pop businesses that are hidden treasures. "Not the tourist places," she says. "Sparrow 5 is that kind of shop, an experience that adds to your life." The shop is full of unique art pieces, some crafted with chains, bolts, screws, gears, wrenches, silverware, even spark plugs. "People often ask why we don't open in SoHo New York or San Francisco," Taylor says. "Many times, customers have told us they travel all over the world and have never experienced anything like our store." She says someone once wrote to her that Sparrow 5 is "Andy Warhol meets Dr. Seuss."
What's up on Vernon Street?
Roseville's downtown was once its civic core, and city leaders have worked for years to revitalize Vernon Street, but the Westfield Galleria at Roseville and The Fountains outdoor shopping center have drawn shoppers to the newer part of town. Most notably, in 2013, Sammy's Rockin' Island Bar & Grill opened on Vernon Street to great fanfare, with rock musician Sammy Hagar, who licenses his name to restaurants, attending the grand opening. But 13 months later, after the local owner's disappearance, the business closed. Hagar's sons soon reopened it, but that attempt failed in 2015, and many wondered if downtown would ever be vibrant again. But Taylor, who opened Sparrow 5 one week before the first iteration of Sammy's closed, says she and other business owners are bullish on Vernon Street. "(It) has evolved 100 percent since we opened in 2013," says Taylor, whose shop is not far from Ninja Sushi, which took over the Sammy's location in 2016. "Amazing food … and more and more family shops, along with all the family-friendly events," including Downtown Tuesday Nights (concerts, food and wine), Wine Down Wednesdays (wine tasting and live music) and Friday Flicks (movies at the Vernon Street Town Square). "(On) Halloween family night, we handed out 1,200 pieces of candy," Taylor says. Other popular nearby businesses include The Monk's Cellar brewery and restaurant, A Dash of Panache tea parlor and lunch cafe, and Vernon Street Grill & Deli.
What's behind the name?
Taylor says the inspiration for the name Sparrow 5 came from her mother's favorite hymn, "His Eye is on the Sparrow," and "His eye is on the sparrow and I know he is watching over me" is painted on the front of the sales counter. "It is a reminder that no matter what you may be going through, God is aware of you," Taylor says. "We also have a make-a-wish, send-a-prayer tree when you enter the shop. Sometimes people come just to place a prayer tag." Taylor points out the shop is closed on Sundays. "It's a day for church and family."
What about the future?
Taylor, who says she and her husband work "12 hours a day, six days a week," have no plans to slow down. "(Our) future is unlimited," she says. "We just signed another five-year lease, and the goal this year is to get our website up-to-date and interactive."
Main Street profiles businesses in our 10-county Capital Region. If you know of an interesting one, please email tcouzens@comstocksmag.com.