An idyllic, family-farm community in south Placer County, Loomis is proud of its small-town heritage and quaint downtown dotted with unique shops and cafés. This rural village of about 7,000 residents caters to outdoor enthusiasts looking for a slower pace. Loomis has managed to keep its hometown feel for decades, jealously guarding its open space and passing on chain stores and malls.
Loomis Eateries

High Hand Cafe:

3750 Taylor Roadhighhand.com

Flower Farm Cafe

4150 Auburn Folsom Road flowerfarminn.com

Taylor's

3636 Taylor RoadTaylorsloomis.net

Ugly Mug Cafe

3589 Taylor Roaduglymugloomis.com

Loomis Basin Brewing Company

3277 Swetzer Road loomisbasinbrewing.com

LBB Gastropub and Smokehouse

3640 Taylor Roadloomisbasinbrewing.com
Surrounded by fertile farmland, the city's local fare and homegrown spirit have cultivated a niche food scene. Quiet little establishments serving locally-sourced dishes and traditional meals endure, while full-service establishments have struggled to gain a foothold. Hidden gems like High Hand Café and Flower Farm Café, along with mainstays Taylor's and Ugly Mug Café, are frequented by locals. Each is considered a best-kept secret, mostly known by residents and fortunate out-of-towners that happen across them. They don't advertise, only serve breakfast and lunch (except for Taylor's), and rely on satisfied customers and word of mouth to drive traffic. But some are wondering if it's time for Loomis to embrace a little growth.
Kenny Gowan, co-owner of Loomis Basin Brewing Company and the new LBB GastroPub and Smokehouse, is an advocate for the growth of small businesses. "Right now, after a certain hour, downtown Loomis looks dark and deserted," Gowan says. "You could roll a bowling ball down the street. It's time for a little renewal and revitalization." Gowan wants to maintain the small-town charm, but believes an anti-growth mindset went too far and small businesses suffered. "People were bypassing Loomis and going to Rocklin and Roseville instead," he says. But he's seen a recent shift. "The Town Council is becoming more business-friendly and recognizing the value and the tax dollars that our businesses bring."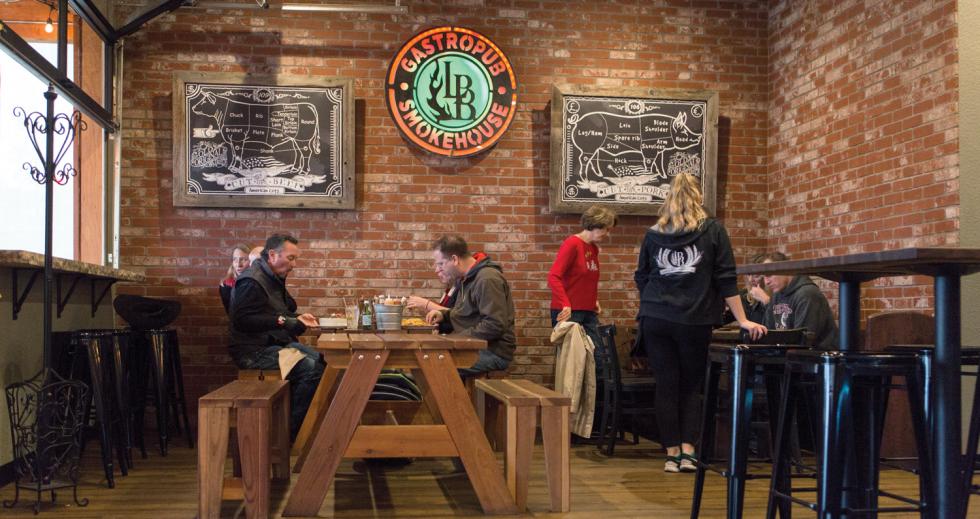 Loomis' main downtown drag on Taylor Road stretches from Horseshoe Bar Road to King Road, where most of the town's long-standing restaurants occupy space. The Loomis Basin Chamber of Commerce and the Town of Loomis have teamed up to launch Discover Loomis, a branding campaign to promote the community as a small-town, destination experience for shopping, dining and events. The town will also add sidewalks, lighting and landscaping to spruce up downtown, and a walking historical loop to highlight the town's agricultural heritage.
Town officials are mapping out the loop using five existing vintage fruit packing murals currently on the exterior of downtown businesses. They expect to add 10 more label replica murals in the coming years. They are commissioning local artists, students and businesses to recreate the historic fruit labels, some of which will be embedded in the new walkways. Construction is slated to begin in summer 2017.
This is good news for Gowan and other restaurant owners who want to entice more guests to visit their establishments. "We need to give people a reason to come downtown and hang out here, and this beautification project will go a long way in creating that atmosphere," Gowan says.
High Hand Café owner Scott Paris agrees. He also owns and runs High Hand Nursery, which sells plants, and the High Hand Fruit Shed, 110-year-old fruit packing sheds that have been repurposed as a gift shop, tasting room and art gallery.
The café serves about 450 people a day and slightly more on weekends. Wait time for a table can be up to 45 minutes, so guests are encouraged to visit the nursery and the fruit packing sheds to pass the time. "We want the experience for our guests to be very interactive, very experiential," Paris says. "When they are here, we want them to stay awhile and see first-hand how everything is connected."
Paris opened the nursery in 2003 and added the open-air café three years later. He and his staff grow ingredients for the café on the greenhouse property, and on a year-round farm known as Maple Rock, about 10 minutes away from the downtown restaurant.
The cafe's menu is farm-centric, with fresh, made-from-scratch dishes that change with the seasons. High Hand favorites include the salmon sandwich, wood-fired pizzas, tuna melt and homemade apple pie. Controlling the quality of the food and its source are extremely important to Paris. "I want food to be available on my terms, not a supplier's," he says. "If I want a certain type of vegetable or heirloom tomato or melon, I can control the quality if I grow it, or if I'm in direct contact with the source."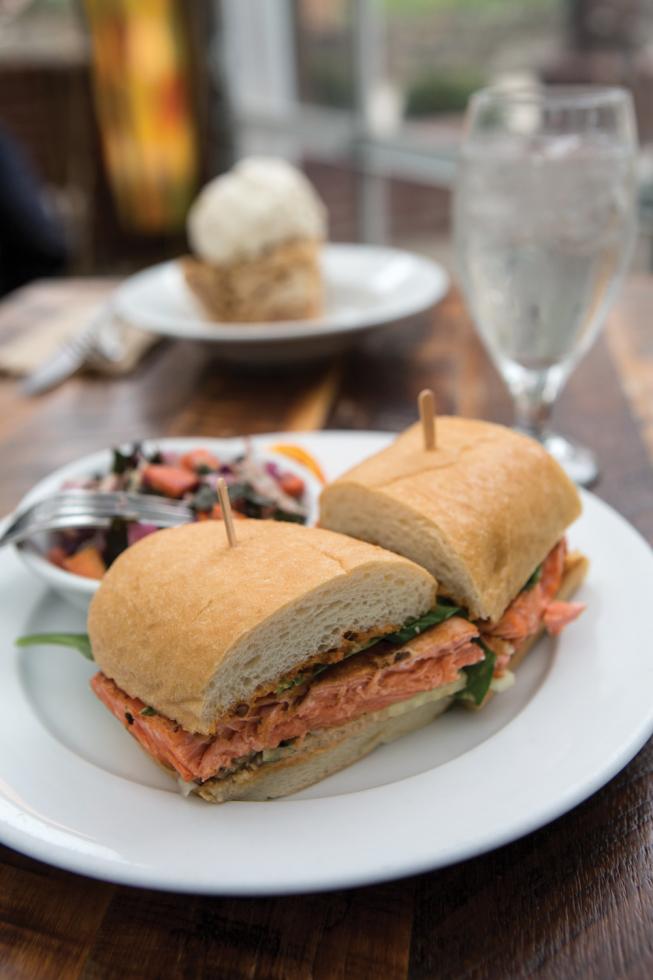 The café serves lunch and brunch, and Paris has no desire to permanently accommodate the dinner crowd. "We are good at what we do and successful at it," he says. "We want to stay focused on that."
Flower Farm Café also caters to a breakfast and lunch crowd, serving hearty, robust meals using fresh ingredients from its own hand-tilled farm. Located in the middle of a working citrus orchard, the café is part of a 10-acre farm purchased by John and Annie Bowler in 2004, and has been continuously farmed since 1905 (there's also a farmhouse, guest cottages and a barn for weddings).
"Our menu is largely driven by what's ripe in the garden and orchard," Bowler says. "We serve fresh-squeezed orange juice about six months of the year and have access to a variety of seasonal fruits and vegetables." Bowler was raised on a farm and learned her culinary craft from her grandmother. "Our goal is to make fine, simple food that tastes good and is good for you," she says.
What the Bowlers don't harvest themselves, they purchase from other nearby farms. "We don't advertise," Bowler says. "We don't need to. Part of our success is making sure the atmosphere is relaxed and not too stressful, both for us and for our customers."
The Bowlers offer other events to draw visitors to their farm. "We often coordinate what we are doing with what's going on in the town," Bowler says. For example, in the spring, during the Mother's Day Loomis Art Loop, the Flower Farm hosts many of the local artists and offers a preview show.
Gowan opened Loomis Basin Brewing Company in 2010, and the 21-and-over establishment has become a place for community members to share a pint of craft beer. As self-distributors, Gowan and his father take care of everything from the grain to the glass. They have distribution agreements with a number of grocery and restaurant outlets. When a vacant building recently popped up for lease in the center of downtown, Gowan did a double-take and began thinking about opening a restaurant.
In August 2016, Gowan opened LBB GastroPub and Smokehouse, which has given the area a much-needed family-friendly restaurant open for dinner. Using an old-fashioned hickory smoker, the GastroPub's menu includes pulled pork, brisket, ribs and hot wings. Absent from the offerings is a traditional burger. "Our restaurant is here to complement the other establishments in town," he says. "Taylor's (an old fashioned burger and milkshake joint) does that. We do something else. Our goal is to create a synergy where people are coming to downtown to frequent everyone's places."
Full-service restaurants that serve dinner have not always fared well in downtown Loomis, but Gowan hopes to change that. "We keep our prices affordable so people can come frequently. That has been a key ingredient to our success with the brewery, and we hope it will be the same with the restaurant."
Motivated restaurant owners, coupled with a revitalized downtown, could be the winning combination that attracts more visitors to frequent the town's center. "Loomis is a great town to spend time in," Gowan says. "Locals already know it and we want others to experience it too."
For additional content and behind-the-scenes photos from this shoot, visit photographer Kelly Barr's blog.