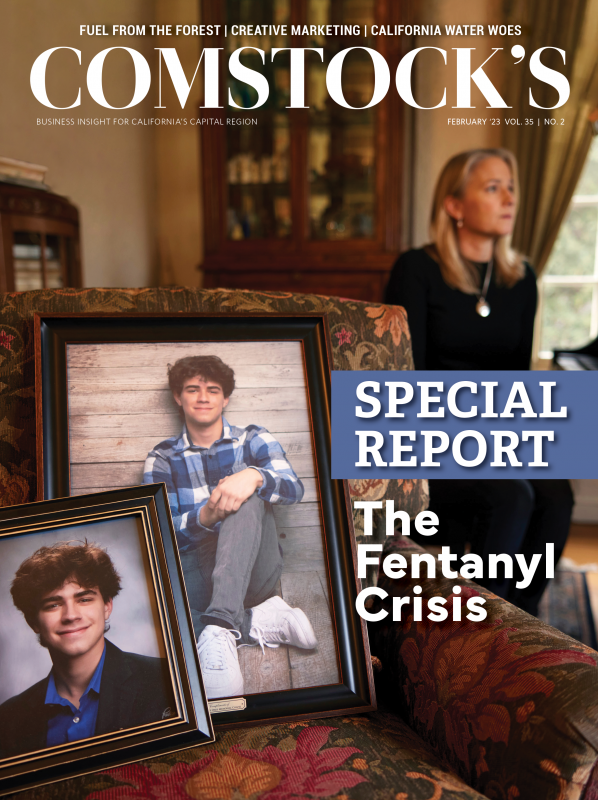 This story is part of our February 2023 print issue. To subscribe, click here.
With four friends and two canines in tow, Phil Novak bursts into the Nevada County Mead Company's tasting room on a rainy late December afternoon.
"We're thirsty," announces Novak, who is from Danville. He is accompanied by girlfriend Cindy Maroske and three Nevada County locals: brothers Jared and Taylor Pena and Taylor's girlfriend Jenna Roberts. Novak says he makes the trip to the new meadery every time he's in the area visiting his accompanying friends.
"I think it's different than regular beers," Novak says about the various flavors of mead and cider the business sells. "These are some really refreshing flavors." Some of those flavors, all gluten-free, include blackberry, cherry, pomegranate, lavender and star thistle mead.
His friend Roberts agrees. "I come in once a week from Grass Valley," Roberts says, noting she never had mead before seeing the business when it first opened. "It's so delicious. Every flavor is amazing, very unique."
The 3,300-square-foot space is one of the few places in the Capital Region that produces and serves mead, which the ancient Greeks called "nectar of the gods." Mead is a fermented beverage made of water and honey, malt and yeast. It's thought to be one of the world's oldest alcoholic beverages, dating back thousands of years to Europe, Africa and Asia.
The business, which also makes hard cider, normally serves drop-in customers Thursday through Sunday, but was officially closed on the day of Comstock's visit. Owners Michael DeSena and married couple Joy and Aaron Davis weren't inclined to turn anyone away.
"We have the absolute best customer base you can hope for as a business person," says Aaron Davis, marveling at how far the business has progressed since opening to customers in spring of 2021. "They're always here, they're friends, and their friends become part of the community here."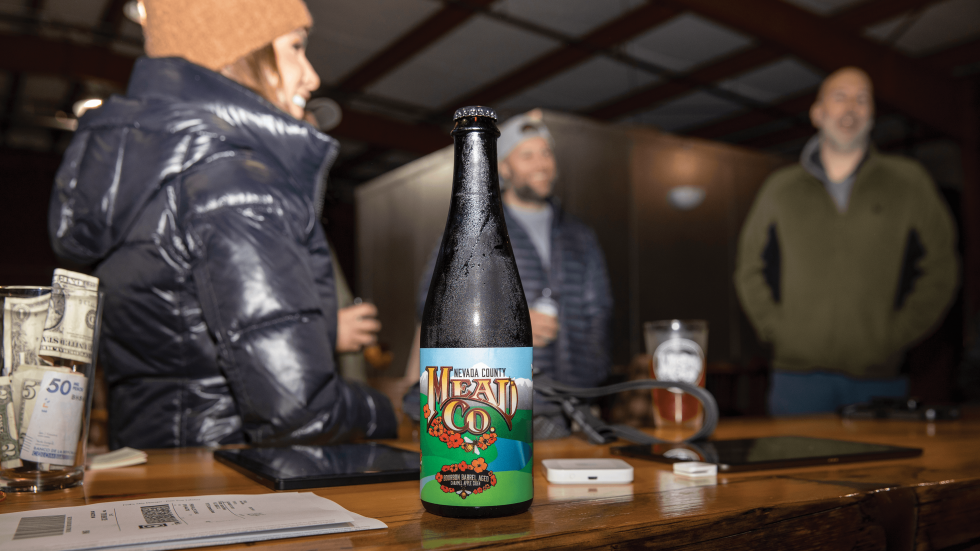 The Penn Valley meadery near Lake Wildwood was developed in spring 2020 but wasn't able to open until about a year later because of COVID-19 restrictions. The modest but comfortable tasting room at the Commercial Road shopping mall was the culmination of an idea between three longtime friends. They met 27 years ago, Davis says, when they worked together in the mental health field at a residential treatment facility in Nevada City. Joy and Aaron Davis married, and they have remained close friends with DeSena, who runs a construction firm in the area and has built several restaurants and breweries, including Bullmastiff Brewing, which is next door.
Aaron Davis brewed beer and mead as a hobby with Joy for about 10 years, he says, after first tasting mead at a Celtic fair. The couple took courses at the UC Davis Honey and Pollination Center before starting the meadery. "I was able to do it with my wife; it was the thing we did together," he says. "Mead was my specialty. I felt like mead was coming along enough that it might be time to try to introduce people to it. It's still really popular on the East Coast."
"Mead was my specialty. I felt like mead was coming along enough that it might be time to try to introduce people to it."

Aaron Davis, co-owner, Nevada County Mead Company
DeSena's involvement building Bullmastiff Brewing led to finding the space next door, and the trio (Aaron Davis is the only one of the three who's retired while Joy works as a special education director at Twin Rivers School District in Sacramento) set it up as a Penn Valley must-stop destination. They redid the bathroom, installed 16 taps, added picnic and bar tables and set up a dart board. Kids and canines are welcome in the space that can accommodate around 35 people, he says. In addition to being available via pours at the bar, customers can fill up reusable growlers of 32- or 64-ounce jars to take home.
"It's pretty casual here, very simple, which is what our customers seem to like about it," Davis says.
Once inside, visitors can choose from a wide variety of flavored meads and ciders, including orange blossom honey and butterbrew, Davis says, from the popular lower-alcohol sparkling session meads (about 7 percent alcohol). Other non-carbonated, still meads with an alcohol content in the 12 percent range are delivered on tap and in bottles. Ciders are all right around 7 percent alcohol, and come in flavors such as dry apple, pineapple lemongrass and watermelon lime.
Another beverage being featured into the new year is called a"cyser." "It's apple juice and caramelized honey fermented together so it has a caramel apple flavor, and then we barrel age that in bourbon barrels for about 14 months," Davis says. "It's been very popular."
"I'm very picky about what gets released," he adds. "If I don't love it, I don't release it."
–
Stay up to date on business in the Capital Region: Subscribe to the Comstock's newsletter today.