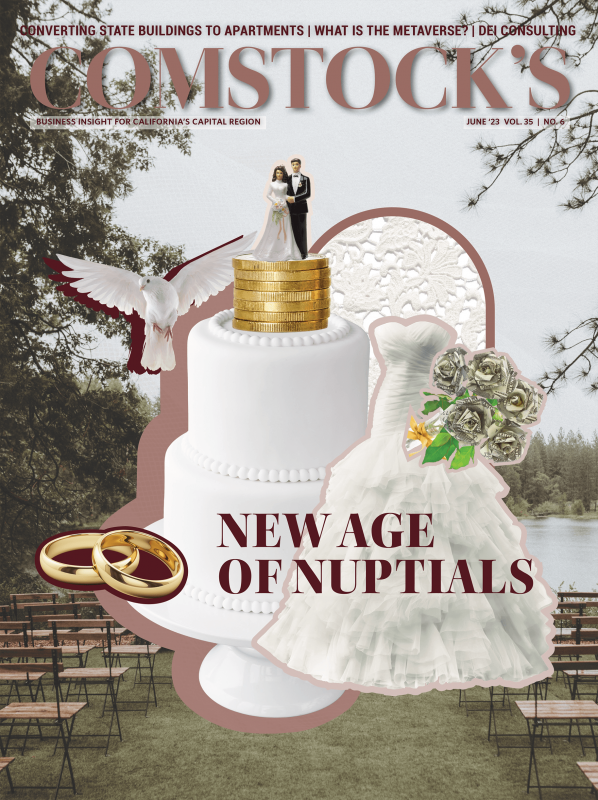 This story is part of our June 2023 print issue. To subscribe, click here.
Imagine going to a casino for the food — and not just a buffet with slabs of meat in pools of gravy or eggs and bacon at the 24-hour greasy spoon. Imagine steaming dim sum, convivial hot pot, a sushi roll brought to you by Chef Billy Ngo of Kru, or a hand-carved al pastor taco hot off the trompo.
Chris Gibase, president and chief operating officer of Sky River Casino in Elk Grove, goes so far as to assert that Sky River "is a place for foodies." And the new casino, which opened in August 2022 and is owned by the Wilton Rancheria tribe, isn't the only local gambling spot that's placing its bets on food service.
Fare Reflects the Demographic
Sky River leans heavily into Asian cuisine offerings, including the luxe, flashy Dragon Beaux restaurant, which is prominently advertised on the 100-foot video screen flashing in the parking lot. This makes sense for the demographics of the area, which is about 30 percent Asian (double the average in the state). Asians also make up a large proportion of casinos' customer base, in part because gambling is a more widely accepted social activity in the Sinosphere than it is in the West.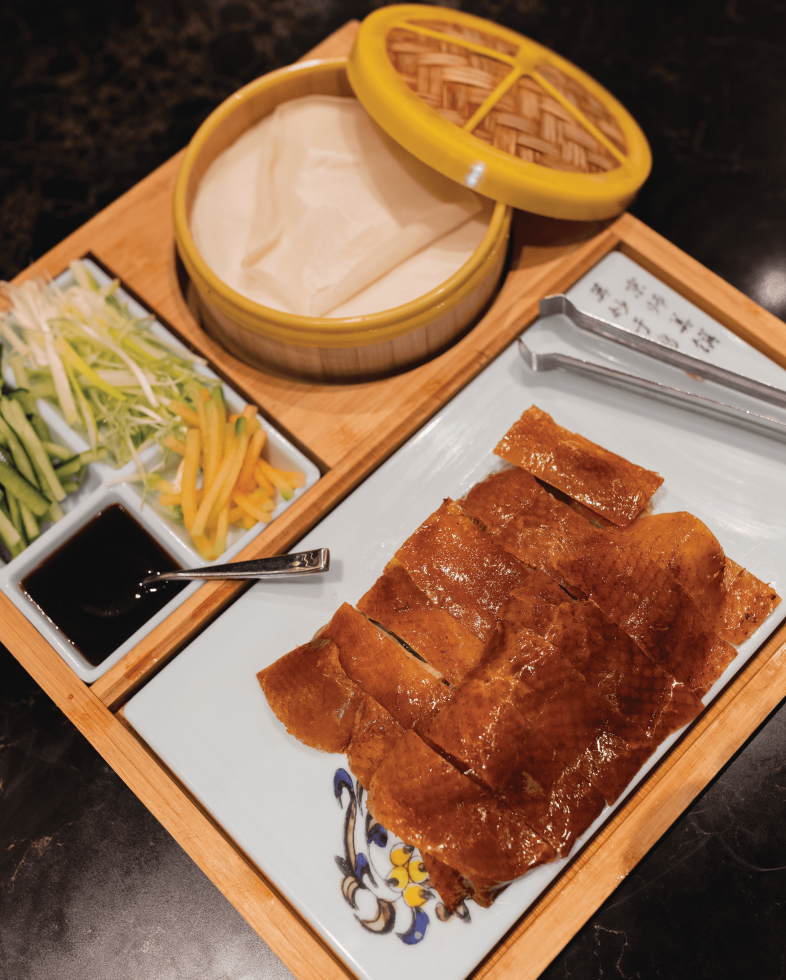 Gibase says the diverse food offerings help the casino draw from a larger area. "We knew our market area was from downtown (Sacramento) south to San Jose. We knew we were the first stop for people in that area. So we did spend a lot of time studying who was there and what they would traditionally like in food offerings," he says. "It's not just Chinese, it's Taiwanese and Filipino … and you can't serve hamburgers to everyone."
Of course, Sky River does offer hamburgers. They're on the menu at both the stand-alone SR Prime Steakhouse and at Butcher's Burger in The Market at Sky River, which has 12 other spots for food and drink, including Fukuru by Kru. Chef Ngo of Kru says about Fukuru: "The menu is very simple, mainly rolls, all your standard fish. They are sourcing all the fish where we (at Kru) are getting it from; it's our recipes." This variety may make The Market resemble a certain pretzel-scented area in a shopping mall, but don't call it the "F" word.
Carrie Gordon, vice president of marketing, jokes that "the 'F' word around here is food court." She instead invokes the Italian food hall Eataly, which has branches around the world, as an inspiration. Gordon also notes that the casino management has been pleasantly surprised at the number of patrons that they are drawing from the East Bay.
A Dim Sum Dynasty
Another transplant from the Bay is Dragon Beaux and its fast-casual sister restaurant in The Market, Koi Palace Express. Dragon Beaux is a branch of the San Francisco-based dim sum and hot pot restaurant that was created by Willy Ng and Jenny Huang.
Ng, along with his brother Ronny, opened the legendary Cantonese dim sum spot Koi Palace in 1996 and has opened many other restaurants and tea houses since. He was also a semi-finalist for outstanding restaurateur in the 2020 and 2022 James Beard Awards.
Koi Palace's signature (and most Instagrammable) dim sum is the rainbow soup dumplings, and Dragon Beaux has them on offer, branded as Five Guys Xiao Long Bao. The order consists of five brightly colored steamed buns filled with soup and ground pork; the skins are tinted with natural ingredients such as beet and squid ink.
Chef Tony Ly says that the shu mai topped with crunchy crab roe are the most popular dim sum item, and he drops some knowledge about how to steam the perfect dumpling. "The texture is the most important thing. … It's not too mushy, not too hard, very smooth," he says. "When you are experienced, you can tell."
A trip through the bustling yet orderly kitchen with Ly reveals a cornucopia of ingredients: a cabinet of hanging ducks (air-drying for 24 hours to maximize crispy skin), a huge metal bowl of hydrating sea cucumbers, stacks of bamboo baskets being steamed.
Vying for Gaming Dollars
Sky River is one of 76 Indian gaming casinos in California and the only one in Sacramento County. The others in the area include Red Hawk, Hard Rock Casino, Cache Creek and Thunder Valley, all vying for gambling dollars. Food is one lure to get customers in the door.
In spite of the growing prominence of Indigenous cuisine, highlighted at restaurants like Cafe Ohlone in Berkeley, Sky River does not have any plans to offer dishes that stem from Wilton Rancheria foodways. Gibase says that references to the tribe are embedded within the decor. "When you walk through the property, it's kind of like a hide-and-seek. The chandeliers are acorns. The floor has oak leaves in it," he says. "We wanted to honor the tribe and the tribal elders."
Some chefs and tribal leaders are calling for Indian casinos to serve as platforms for Indigenous cuisine. Sean Sherman, a South Dakotan and Oglala Lakota known as "The Sioux Chef," partners with casinos around the country to bring single-night events showcasing dishes like bison with conifer leaves and foraged rose hip tea.
Loretta Barrett Oden, a chef and food historian of Potawatomi descent based in Oklahoma City, has worked with the Yocha Dehe Wintun Nation at their Cache Creek Casino and Resort, but there's currently no visible presence of Wintun cuisine on the casino's menu.
Most of these local casinos instead follow a familiar template: a steakhouse, Asian fare and casual cafes. Hard Rock has YouYu noodles, which offers noodle soups in Cantonese, Taiwanese, Malaysian and Vietnamese styles, as well as a small selection of dim sum.
Red Hawk has a similar global style. Its pan-Asian restaurant Pearl Asian Cuisine favors Chinese American dishes such as fried cream-cheese wontons and kung pao chicken, as well as some high roller dishes like lobster in XO sauce (a complex condiment named after XO, or extra-old, cognac because of its expensive ingredients). Both Red Hawk and Hard Rock also have those cliched casino mainstays: all-you-can-eat buffets.
Buffets: Dead or Alive?
Doug Elmets, president of Elmets Communications, who does PR for Thunder Valley (owned by the United Auburn Indian Community), echoed Gibase's assertion that "buffets are dead." Elmets attributed this development to food waste, labor demands and pandemic-related hygiene concerns.
Thunder Valley and Sky River have similar rosters of offerings, and Elmets uses similar descriptors: an emphasis on local offerings, a high-quality steak house ("I'm an Iowan, so I know good beef," he enthuses) and a Chinese restaurant: Red Lantern. The latter restaurant has a shorter menu than Dragon Beaux and more pan-Asian fare such as pad Thai and Filipino pancit.
Elmets has no qualms with "the 'F' word." "It's important to talk about the food court," he says. "That's for people that want something that's relatively quick. … For a gambler, they don't really want to spend time in a restaurant. They want to spend time out on the gambling floor." Thunder Valley's food court contains chain offerings such as Panda Express and Subway.
He also noted that Thunder Valley "has been acknowledged for years by analysts who look at casinos as one of the most profitable and successful casinos in the nation."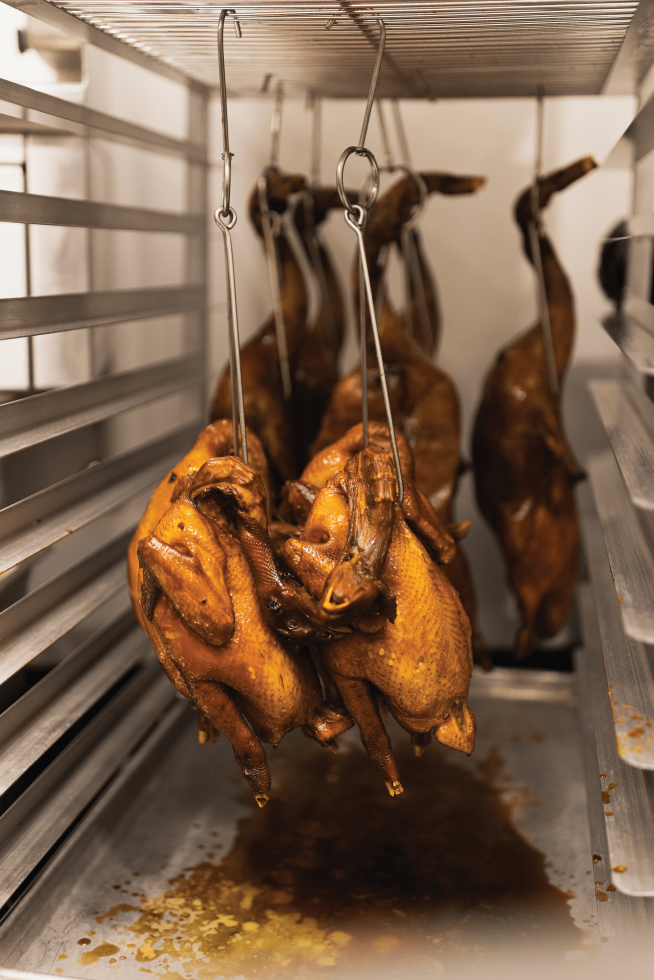 After all, while casinos such as Sky River may be looking to be foodie meccas as a way to stand out in the increasingly crowded field of Indian gaming in California, it really is all about the gambling. The industry is loath to share specific figures, but some researchers theorize that restaurants may operate at a loss to drive gaming and that a variety of offerings is necessary to drive repeat visits from regular gamblers. Maybe not so much farm-to-fork as farm-to-flush.
It's easy to forget about the gambling when you are inside Dragon Beaux, taking in the colorful murals, dramatically lit golden Buddhas and the booths capped with wooden slats evoking birdcages. The powerful ventilation system even filters out the cigarette smoke — smoking is allowed on the casino floor. Only the chimes and bleeps coming from the slot machines remind you where you are.
–
Stay up to date on business in the Capital Region: Subscribe to the Comstock's newsletter today.