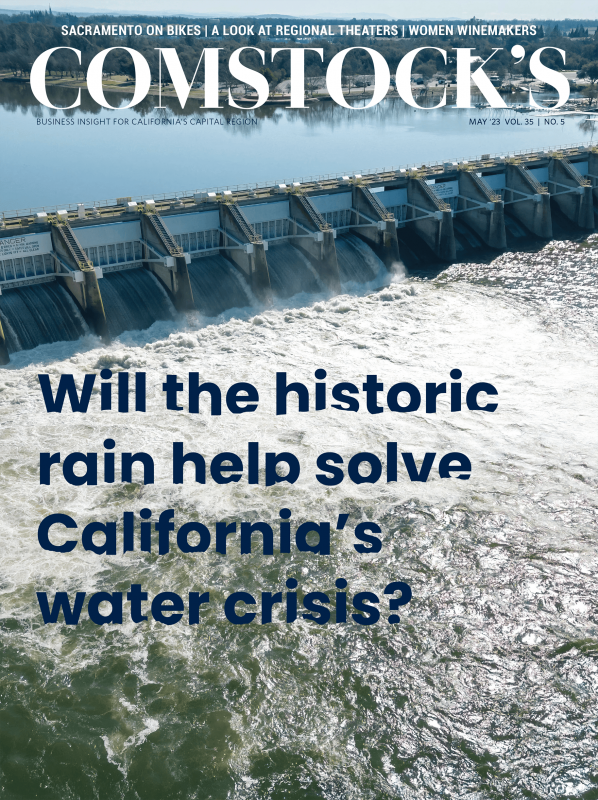 This story is part of our May 2023 print issue. To subscribe, click here.
When the restaurant opens in late spring, you will still be able to get a chili dog or a hamburger griddled to a dark sear on the flat top grill, as promised by the neon sign outside the red-and-white concrete building (listed on the Sacramento Register of Historic and Cultural Resources). But you can also order a hot dog called a "Catalina wine mixer": chicken based and topped with kale, avocado and pungent garlic-anchovy mayonnaise. There will be salads on the menu, as well as fried cauliflower with sunset-red Romesco sauce. And yes, there will be wine. The restaurant has an alcohol license for the first time in recent memory, and its drink list includes local beers and natural wines from around the region.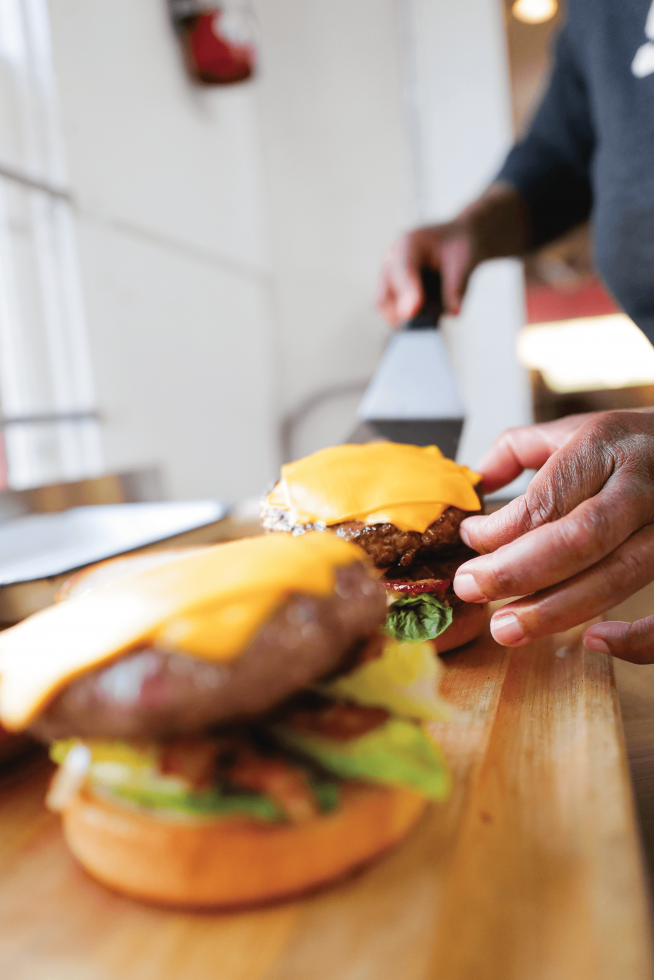 "The things I'm looking to do there are what would Jim do if he were reincarnated today as a chef that had been able to have the experiences and the access that chefs and restaurateurs have now," says Guyton, referring to original co-owner Jim Van Nort, who opened the first Jim-Denny's with partner Dennis McFall on 16th Street in 1934 and the current 12th Street location in 1940. She says Van Nort's living relatives support where she's taking their family brand.
"Growth is just part of the natural way of things. Change is part of the natural way of things," she says. This has become a mantra for Guyton, best known for the restaurant South, which she opened with her then-husband Ian Kavookjian in 2014 and closed in 2022. With Jim-Denny's and her forthcoming eponymous restaurant, Miss N'Gina, Guyton is carving out a new space for herself in the modern Sacramento restaurant scene she helped define.
Before it shuttered last summer, South was located on a quiet, tree-shaded stretch of Sacramento's Southside Park neighborhood and drew long lines for its brined fried chicken and other Southern standards, influenced by Guyton's roots in Louisiana and Mississippi. Guyton and Kavookjian designed the space to be their second home, down to the playlist curated around their personal tastes, and wanted customers to feel like invited guests. When the couple separated in 2019, that atmosphere became difficult to maintain.
Last June, Guyton announced that she would be closing South and opening a new restaurant, Miss N'Gina, that would explore the diversity of Southern food beyond the fried chicken, hush puppies and biscuits that South was known for. An Indiegogo campaign to support the concept raised over $20,000.
Anticipation is high for Miss N'Gina among Sacramento's food crowd. One vocal supporter is Ryan Royster, co-founder of the Last Supper Society, which organizes pop-up dinners and other food events. Royster has known Guyton since 2018 and calls her a talented chef with a repertoire that expands well beyond Southern cuisine. "South was more than a restaurant, it was a community space," he says. "But the magic wasn't South, the magic is her. And I'm just excited for her to keep casting those spells in whatever space she's in."
Guyton says she had a space "in the heart of Midtown" lined up for Miss N'Gina. But before she could start moving in, she received an ex parte order to stop the opening of the restaurant. According to the Sacramento Bee, Kavookjian applied for the order from the court presiding over the divorce because he wanted a non-competition agreement that would prohibit Guyton from serving Southern food at any new business she opens. (The case has been settled with the stipulation that Guyton can no longer speak to the press about Kavookjian.)
Though non-competition contracts between employers and employees are not generally enforceable in California, non-competition orders in divorce cases may be. In the 2014 case In re Marriage of Greaux and Mermin, the California Court of Appeal approved a non-competition order, issued in connection with a divorce proceeding, against a woman who had started a rum business with her ex-husband during their marriage. The order stated that she could not work in the rum industry for five years, though the couple's business and branding hinged around her Caribbean roots and knowledge of the industry.
Guyton says she lost two potential locations for Miss N'Gina due to delays related to the lawsuit. "It just put me in a really dark place where I just felt I was disappointing so many people that had so much faith in this restaurant," she says.
As it turned out, Guyton's faithful include Tom Naygrow, property owner of Jim-Denny's. He says he read about the demise of South in an article and figured Guyton would be the right person to take over the storied diner, which had been vacant since its most recent owner, Joe Pearcy, jumped ship less than a year into his two-year lease in 2021.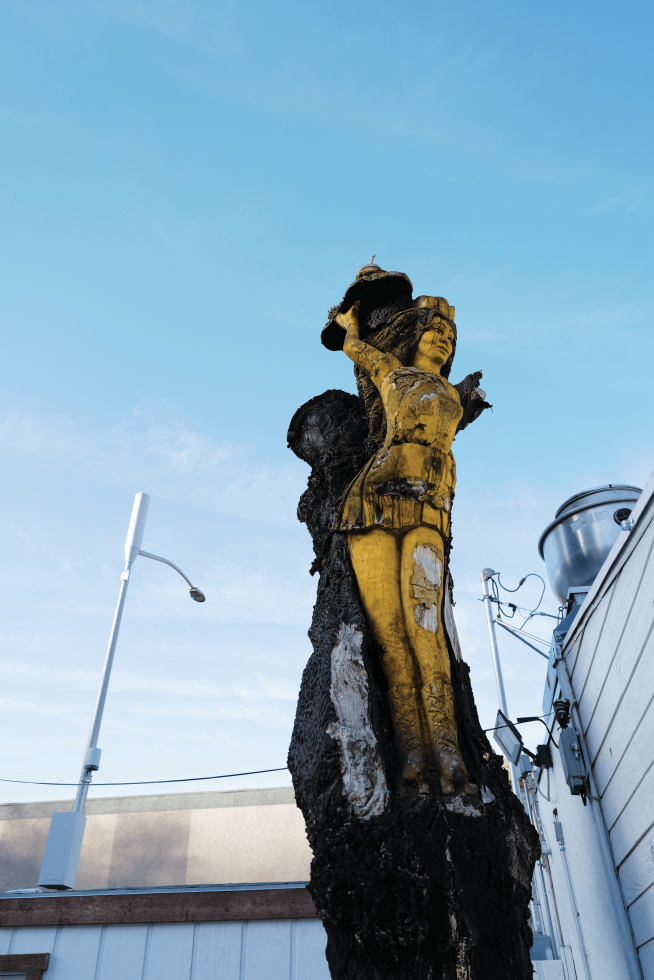 "I met her down there, showed her the space, and she said she kind of always wanted to do a diner," says Naygrow, who has owned the building since 2009. If things work out at Jim-Denny's, he's considering working with Guyton to open a second location and possibly a chain. "We're going to be mom and dad to some baby restaurants. Just let her roll them out," he says.
Meanwhile, labor pains continue with Miss N'Gina, but Guyton is determined to fulfill her vision. She imagines a "sultry, sexy" space that is "cerebral and complete," where "all five and maybe even your sixth sense is ignited," she says. Stylish people nestle in richly textured nooks, absorbed in conversation instead of their phones. In the corner, a live jazz band spins interpretations of Thelonious Monk. She envisions precisely plated dishes with West African, northern Mexican, French and Native American influences — while remaining unequivocally Southern.
"I want to create a space for people like myself that have gone through those really tough times and hurts and losses but that have come out on the other side and are now celebrating their life for what it is," she says. "You're not angry anymore and you're not sad anymore. We're just here to celebrate life and the opportunity that we have."
For now, she's sampling that scene at Jim-Denny's, especially at the 10-seat bar, which she says offers a more "elevated" and intimate experience than the outdoor tables. "You're still getting burgers and hot dogs, but we are making that a more personalized experience for people when they come in and they sit down," she says. The restaurant also has outdoor seating to attract families during the day and effervescent pre-party crowds in the evenings — it will close at 11 p.m. instead of 5, hearkening back to its early days as a 24-hour diner.
One thing she won't be bringing back is breakfast, especially not the "hubcap pancake" with bacon strips arranged in spokes, a specialty of previous owner Jimmy McCune. "I will never, as a chef, steal somebody else's signature dish and try to put it on my menu for the sake of people coming in for just that," she says, adding that her menu expresses her personal vision and skills while paying homage to the restaurant's history. "Anybody that wants to hate on me because I'm not making a 20-inch pancake, you can kick rocks with flip-flops."
–
Stay up to date on business in the Capital Region: Subscribe to the Comstock's newsletter today.