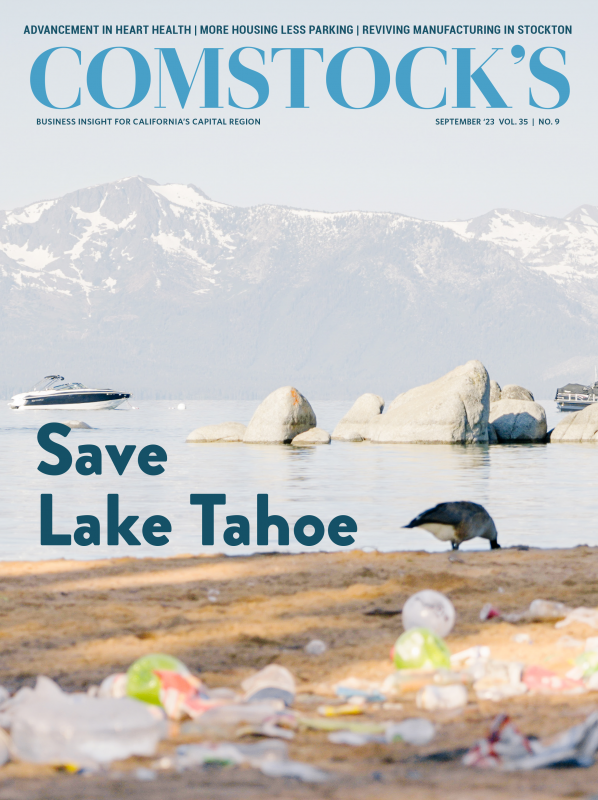 This story is part of our September 2023 print issue. To subscribe, click here.
It's a scorching summer morning at UC Davis, but inside a laboratory at Everson Hall, about 20 students are busy brewing hot cups of joe. Dozens of coffee makers are lined up close to each other on the counters, along with bags of whole coffee beans. The students carefully measure the ratio of roasted grounds to water, then start to brew, the tantalizing aroma of coffee filling the air. They sniff and sip their creations in tiny clear glass cups, some wincing if the taste is bitter while others nodding their approval. They've just completed a competition to brew the perfect cup of coffee — and earned college credits at the same time.
Coffee is a $225 billion industry in the U.S., providing 1.6 million jobs. According to the National Coffee Association, 64 percent of Americans drink coffee every day and average three cups a day. But are we growing, roasting and making the best cup possible for the estimated 1 billion coffee drinkers worldwide? That's what an innovative program at the UC Davis School of Chemical Engineering has been working on for the past 10 years.
When UC Davis started "The Design of Coffee" course in 2013, it was the first university in the U.S. offering such an elective. Now others are offering it, seeing and sharing the success of UCD.
"The Coffee Center is poised to do for coffee what UC Davis did for wine and beer; to become the leading source of scientific expertise in the study of coffee," says Professor William Ristenpart, director of the coffee center.
A complex cup
Coffee is not just a beverage; it's part of our lifestyle. It's how we jumpstart our day. We sip it at our desk wherever we're working — at home, in an office or a neighborhood cafe. It's a unifier we share as we chat with friends and family, or an indulgence to end our day after a satisfying meal.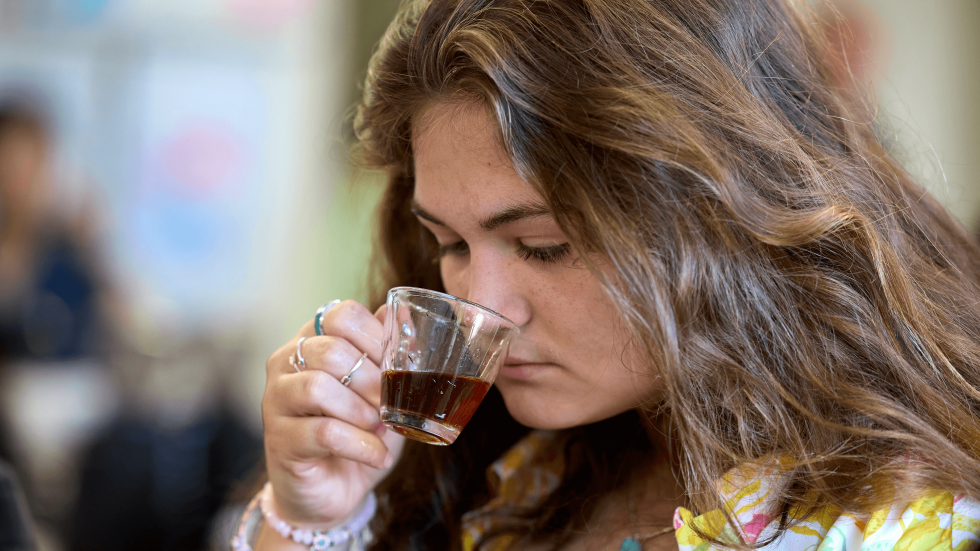 So it's no wonder the coffee course at UC Davis has been the most popular among students year after year, according to college spokesman Andy Fell. It began on a whim, but also out of necessity. The university kept seeing its student population rise, with the engineering school nearly doubling in size, and professors had to think of ways not only to keep them engaged but also make room for them. Professors know that students don't just want their heads in books while studying engineering; they like to conduct experiments either by themselves or with fellow students. But there are only so many labs to go around.
"Almost every student learns better with a hands-on component regardless of their learning styles," says Tonya Kuhl, professor of engineering and co-director of the UC Davis Coffee Center. She adds students don't tend to stay in programs such as chemistry, math and physics if it's all just fundamental coursework.
In an effort to increase retention rates, Kuhl and co-director Ristenpart, also a professor of chemical engineering, came across a laboratory exercise for automatic drip coffee makers. A light bulb in their brains went off. It was research students could do on their own in their dorms or apartments. The coffee course was born and rolled out in spring 2013 with 18 students.
"It was super awesome. We did it, and it was really successful and easy and fun for us because it was inherently interesting," Kuhl says.
Around 2,000 students now take the course each year, doing experiments to determine the perfect coffee temperature, whether a cone filter is better than a flat filter and what kind of water to use. But the lab work is much more complex than that. There are equations to write, molecules to trace and measure, and exercises to determine how antioxidants are broken down the more you roast the coffee. They study fresh coffee beans, bean extraction and roasting methods. And it's not just the engineering school that is involved. The school of agriculture teaches about proper soil for growing coffee plants, while the business school explores how to market coffee.
"I'd say a third of the students take the course because they are passionate about coffee, and they want to learn how to make the most of their coffee. And then we have a third of students who are like, 'Oh, this sounds interesting, and a more fun way to do my science.' And then we have a third of students who are like, 'Oh, I heard this is easy' and don't care about coffee at all. I think all of those students from all of those perspectives enjoy the course. Because it is very direct," Kuhl says.
Laudia Anokye-Bempah is a second-year Ph.D. student in biological systems engineering and has been a teacher's assistant for the Design of Coffee class for over a year. She says her favorite part about being a TA is that she gets to meet and engage with a diverse population of students, from first-year to graduate students who study coffee from an engineering point of view. "Students find a new appreciation for the complexity and precision involved in making a great cup of coffee," she says.
Americans like their coffee
150 million Americans drink coffee every day, averaging three cups a day.
79 percent make coffee at home, with nine out of 10 drinking it at breakfast.
35 percent drink black coffee.
40 percent add milk or sweeteners to their coffee, while 4 percent add alternative dairy products.
The use of drip coffee makers decreased 24 percent the past five years while single cup brewers (hello, Keurig) have increased 50 percent since 2015.
The average American worker drinks 20 cups of coffee per week.
–Judy Farah
Pursuit of the perfect brew
The UC Davis Coffee Center, which resembles a coffee shop, is located in the center of campus near Shields Library. Coffee-related companies help support it because the research the students are doing also interests them as they constantly pursue the optimal cup of coffee for their customers. Peet's Coffee was the first to invest, followed by Folgers Coffee, which financially assists with the analytical lab. Probat Roasters donated roasting machines. La Marzocco, an Italian company that makes espresso machines, funded an espresso lab. Toddy, which makes coffee equipment and cold brew coffee, funds the innovation lab. Chevron, the oil company, is also a major supporter.
Why Chevron? Kuhl explains the company needs engineers and supports schools with engineering programs. You can see Chevron signs sprinkled around Bainer Hall, where the chemical engineering program is taught. Alumni have also contributed to the program, such as John Watson, who donated a classroom at the coffee center.
"I think we're going to help the coffee industry improve in that they can dial in better based on what your personal preferences are," Kuhl says. "We want to improve coffee sustainability and quality. It's under a lot of stress with climate change."
Some of the things the student researchers have discovered about coffee are that water does, indeed, affect the taste. Using tap water from Davis instead of Sacramento or bottled water will influence the taste. The longer you roast, the more health benefits you lose. Coffee, which is filled with antioxidants and anti-inflammatory agents, is healthier as a light roast than a dark roast. Flavored coffee begins losing its taste as soon as you open the vacuum-sealed bag.
In its basic form, coffee comes from a plant that is a cross between a tree and a shrub. Coffee berries resemble little red cherries and are green when raw. Each one is handpicked in Brazil, Vietnam and Colombia, which are the biggest producers of coffee, among other countries. (Despite California being a large agricultural state, coffee growing has not been attempted here at scale because the ideal coffee-growing climate is at higher elevations and below 80 degrees Fahrenheit, but never freezing.)
On that hot summer day of the coffee lab competition, the students and their parents taste a variety of brews, curious to see how they turned out.
"You might not like a natural roast because of the fruitiness. You might not like a geisha because it is more delicate and floral and usually a little bit more citrus," Kuhl says. "But I can find you a nutty, baker's chocolate coffee that will taste amazing — a medium roast — and you won't need to add anything to it. You'll be like, yum yum yum."
So is there such a thing as a perfect cup of coffee? Kuhl says we'll never agree on that because we all have our personal preferences. "Your taste in coffee depends on what you're in the mood for that day."
Stay up to date on business in the Capital Region: Subscribe to the Comstock's newsletter today.