"There you go," Mister Harriel tells a young basketball player after she nails a midrange jumper. The youth grins. The game continues. So does Harriel's encouragement. On a shoestring, he helms Just Us United, a nonprofit he started this year with his wife, Melissa. They strive to increase opportunities for Sacramento's underserved youth to succeed.
Just ask Eleshia Hall of Sacramento. "From a single mother's perspective," she says, "Mister provides a grounded role model for my 12-year-old son. The positive environment that Mister has created built my son's confidence."
The Harriels, married a quarter century, have reared eight children. From athletics to dramatics, the Harriel kids excel. One, Mister II, is a former Sacramento State football player who now plays with the Vegas Night Hawks of the Indoor Football League. Another, Jzaniya, is a guard on the Stanford University women's basketball team and is eyeing a career in law. A younger son, SirMister, plays varsity basketball as a freshman at Antelope High School. Jade, the third oldest, is an actor, model and YouTube star with over 520,000 followers. "She has done real well for herself," Harriel says.
Against this familial backdrop of achievement, the Harriels devote themselves to local youth born into low-income households where resources for extracurricular activities are slim to none. To this end, the couple operates JUU on a budget made up of donations from businesses such as the Fahn and Co. and Golden Bay Mortgage Group. Currently, the Harriels are seeking further financial support to grow the impact of JUU.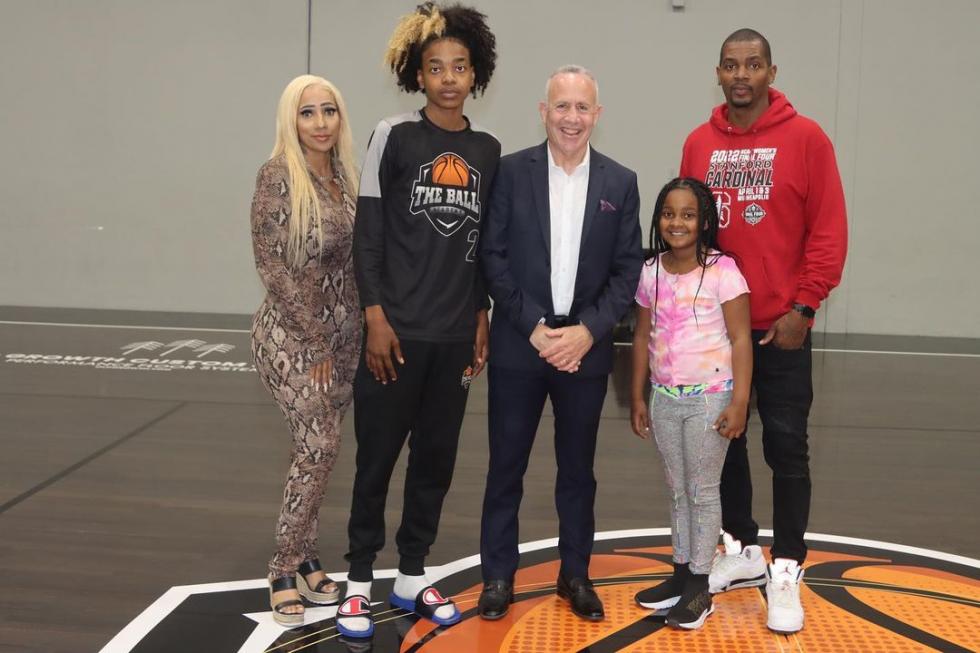 They want to buy passenger vans for cultural and educational activities like day trips for JUU kids to visit Stanford University; some of the youth have never set foot on an elite campus. Harriel is also a presence at schools to ensure that JUU youth are on track to succeed.
Meanwhile, JUU raises funds the old-fashioned way. They hold car washes and bake sales. The week before the July Fourth holiday, Mister and Melissa ran a fireworks stand at a local shopping center. Adults and youth involved with JUU volunteered there. The Harriels also participate in mixers to network with potential donors and supporters. The couple communicate with local churches and nonprofits to combine resources to help JUU youth.
Often, the couple pays for JUU programs such as AAU basketball tournaments. They know that going the extra mile is a key to success. A core of volunteers helps the Harriels. "One day soon," Harriel says, "JUU is going to be able to do so much more for the youth than we are now."
He wants JUU youth to avoid the harsh realities that he faced growing up in a low-income south Sacramento neighborhood. "It was like a constant fight," he says, describing a surplus of street gangs and illegal drugs. In that environment, he knew little about how others lived and had a limited view of society.
After graduating from Valley High School, where he played basketball, Harriel enrolled at College of the Siskiyous. He played point guard and shooting guard for the college's basketball team, scoring 50 points in one game in the latter position. Division I four-year colleges such as Oregon State University recruited him. Later, Harriel played professional basketball in France.
His personal history provides a wealth of material in his motivational talks to JUU youth. "I don't know where the words come from," he says of his off-the-cuff speeches. As he speaks, there is nary a word from JUU youth. They listen in rapt attention.
–
Get all our web exclusives in your mailbox every week: Sign up for the Comstock's newsletter today!