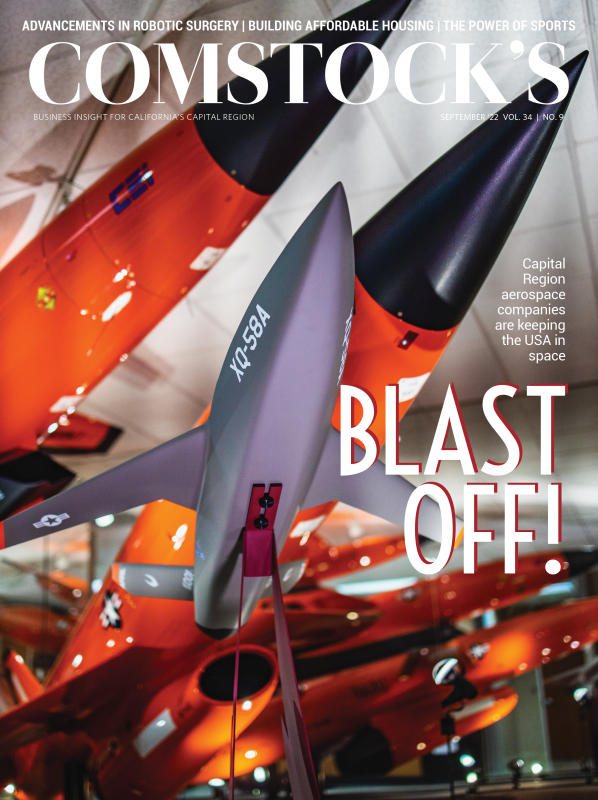 This story is part of our September 2022 print issue. To subscribe, click here.
When Fruitridge Manor resident Katie Silva casually mentioned to a coworker that her son Erik liked to play basketball, her colleague passed on information about a community basketball program called the Kings and Queens Rise Co-Ed Youth Sports and Mentoring League. Led by the Sacramento Kings, Build.Black. and the Black Child Legacy Campaign, the summer basketball league has dual goals of preventing youth violence and creating positive connections and experiences for local youth. Katie quickly signed up her 14-year-old son. Oak Park resident Andrea Jorden did the same for her fifth grade daughter Meiah Tyes. Both mothers like how the program boosts confidence in their kids, teaches them team-building skills and good sportsmanship, and gives them something positive to do during the summer.
The Sacramento Kings is one of several area sports organizations that have launched community programs that are harnessing the power of sports to impact local youth for good. Programs that promote literacy, STEM education and art are offered alongside those that teach positive life skills through the games of basketball, baseball, golf and soccer.
Following an increase in the number of gun violence incidents involving Sacramento youth in 2018, Sierra Health Foundation launched a series of interventions to address the issue, including partnering with the Sacramento Kings to create the Kings and Queen Rise program, a public, community basketball league for fourth through 10th graders from eight predominantly underserved communities. The program just wrapped up its fifth season and averages 300 players each year, with nearly 100 percent full-season participation.
"This is more than just sports. The young men and women who participate also get trained and learn how to deescalate situations that could lead to violence, how to show up as a peer mentor and support for their friends and how to win and lose graciously."

Chet Hewitt, president and CEO of Sierra Health Foundation.
"This is more than just sports," says Chet Hewitt, president and CEO of Sierra Health Foundation and The Center, which manages Kings and Queens Rise, Build.Black and the Black Child Legacy Campaign. "The young men and women who participate also get trained and learn how to deescalate situations that could lead to violence, how to show up as a peer mentor and support for their friends and how to win and lose graciously."
Erik Silva, a Hiram W. Johnson High School freshman, likes how the league involves the community. "Other teams like AAU (Amateur Athletic Union) are private and expensive. This is more of a public and community-type of basketball league. And I'm meeting people from all over Sacramento," he says.
Each of the eight communities has the opportunity to host a weekend of basketball. "The players get to see both the vitality and the wonder of these environments and also begin to learn that there are common challenges that they all share as young people. We know that crossing boundaries and building healthy relationships with kids of other communities makes it less likely for those kids to be engaged in violence that sometimes has community orientations to it," says Hewitt.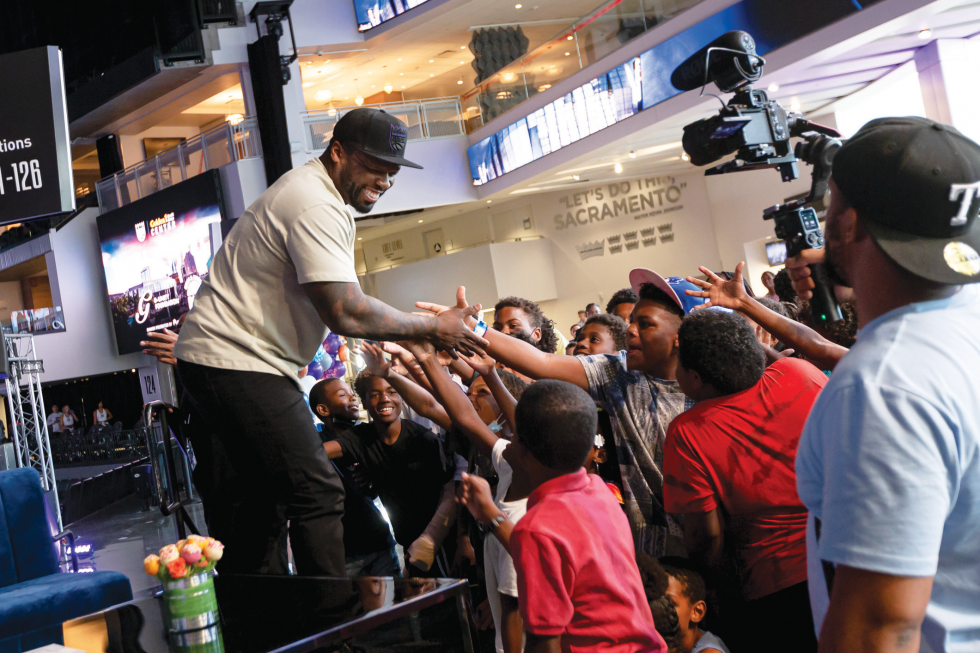 PS7 Elementary School student Meiah Tyes says she really connected with her coaches Isaac and Daisy. "They bring confidence and teach us how to play basketball." She was also excited to meet rapper 50 Cent at the Golden 1 Center, which opened the world's first full-service music recording studio in a professional sports arena in 2018. Since then, the Kings have used the studio to make top entertainment talent accessible as mentors for youth throughout Sacramento. "When we have top entertainers come in, we schedule studio sessions where they speak to youth groups and offer a fun and supportive environment for them to be mentored," says Matina Kolokotronis, Sacramento Kings chief operating officer. Recent performers include Coolio, Saweetie and Montell Jordan.
The Sacramento Kings also offer youth healing forums, which promote physical and mental wellness, STEM education workshops and a math skills basketball board game called NBA Math Hoops that allows students to learn fundamental math skills through the sport. In 2021, Sacramento's Team Unstoppable won the NBA Math Hoops national championship.
STEM success
Sacramento Republic FC has launched a similar educational board game called STEM Goals. STEM Goals powered by SMUD was created by Learn Fresh, the same educational game company that was behind the NBA Math Hoops game. The aim of STEM Goals is to score points through goals by correctly answering STEM-based questions about clean and renewable energy. A pilot program of the game was launched in fall 2021 to 10 Title 1 schools in the seven SMUD service wards.
"In addition to playing the game, we are also hoping to introduce the kids to potential careers in STEM," says Kevin Burdick, director of community investment for Sacramento Republic FC. Sac Republic has a goal to increase the number of participating schools to 15-20. Once a school signs up, a Republic FC player is brought into the classroom to help introduce the game.
At Taylor Street Elementary School in Sacramento, a few Sacramento Republic FC players were on hand to unveil STEM Goals to the class. When the students found out they were playing with a professional soccer player from the game, they got very excited. "We've had to replace a couple of the player cards in the games because the kids wanted to get them autographed," Burdick laughs. The organization also offers complimentary tickets for the fifth and sixth grade students who play the game at their participating schools.
Another big effort by the organization is to create more publicly accessible places to play soccer. It focused on futsal, a soccer-based game played on a hard court, usually indoors. In 2019, there was only one public futsal court in Sacramento County. "We saw this as an opportunity to reinvest in underserved communities," says Burdick. "We come in and take over an unused or vacant space and do some construction and resurfacing and open up a brand-new, state-of-the-art futsal court for anyone to play on for free."
Since 2019, Sac Republic has opened up 10 futsal courts. The City of Sacramento followed suit and opened up two of its own. Mayor Steinberg's recent commitment to build a new $50 million youth sports complex in the underserved Meadowview neighborhood of South Sacramento was also a welcome announcement for communities who have been demanding a project like this for some time.
Making golf accessible
When the pandemic shut down basketball play, the Kings and Queens Rise organizers added golf. Since golf can be played outdoors, it offered a perfect alternative. The organizers partnered with First Tee – Greater Sacramento, the Cameron Champ Foundation and OneSwing Golf Academy to make golf accessible to local youth. Cameron Champ, a player on the PGA Tour, got his start with First Tee, a Sacramento nonprofit that works to bring the game of golf to inner cities and underrepresented youth.
"We want all youth to know that the game of golf is available to them, that it's accessible," says First Tee Executive Director Angie Dixon. To do that, First Tee partners with Youth on Course, which is a national organization that gives green fee discounts to kids. With the discount, youth can golf for $5. Based on their participation, students can also earn a set of free clubs. "It's really important to us that we don't just dangle a carrot in front of them and show them this really fun thing that they got to try once," says Dixon. "We want to make sure that it's something they can do in the future."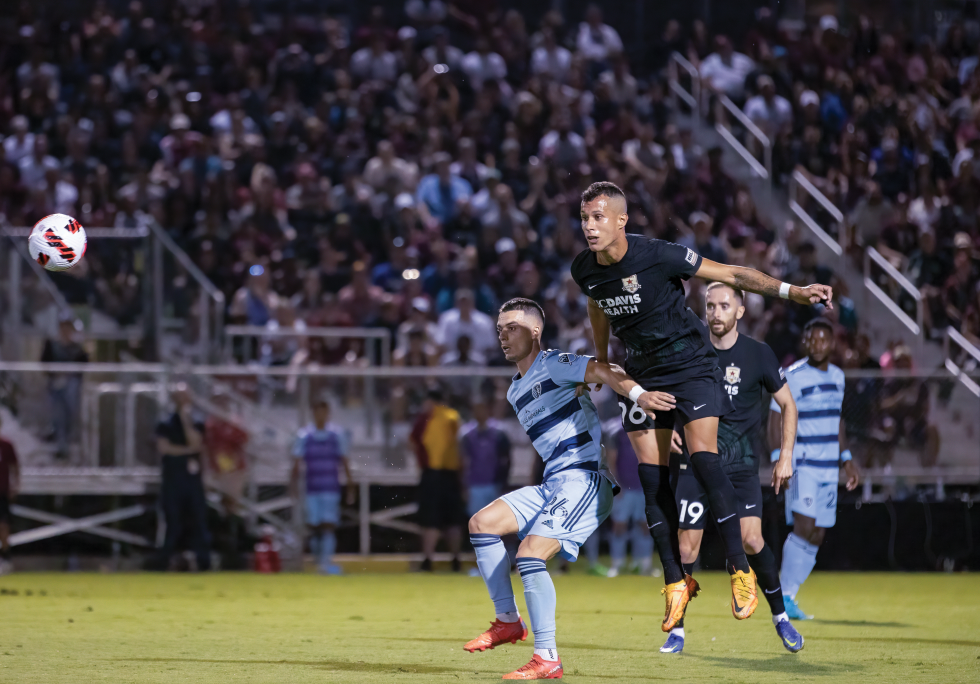 Kings and Queens Rise sign up about 10 youth golfers at each of the nine golf sites. First Tee's outreach offers various programming options, summer camps, after-school programs and Saturday programs, all at affordable prices. It offers a school program as well. Each of the programs are wrapped around nine core values such as honesty, sportsmanship, responsibility and perseverance. "Our program is very much a character-based program where we are teaching life skills and character education. We would call ourselves a preventative program, working with young people and keeping them engaged and offering them all of these different opportunities," says Dixon.
The First Tee school program is offered in 88 local elementary schools; 59 are Title 1 schools in underserved communities. In the school program, physical education teachers receive equipment and training on curriculum that meets national standards. They teach the golf program just like any other sport or activity, along with the nine core values. The school program reaches approximately 54,000 students.
Three young people have made it from First Tee to the PGA Tour, and two of them are from the Greater Sacramento chapter: Cameron Champ and Austin Smotherman.
First Tee also has a program for individuals with disabilities called Anyone Can Play and hosts a competitive tour program.
Baseball scores with youth
Minor league organizations are also doing their part to impact local youth. The Sacramento River Cats, a Triple-A affiliate of the San Francisco Giants, host a school outreach program each year called the Art of Baseball, where students submit any art related to the River Cats, the ballpark, baseball or Sacramento, for the opportunity to have their artwork printed in the annual calendar. In 2022, the River Cats received 70 art submissions from 11 different schools.
The minor league organization also puts on 45-minute school assemblies with its mascot Dinger to motivate and inspire students to do well in school and make good choices. The Triple-A assemblies promote the importance of attitude, attendance and academics. "We talk about how kids can use these values to excel in school and in life," says mascot coordinator Matthew Francis.
To help improve the low literacy rates in San Joaquin County, the Stockton Ports, a Single-A affiliate of the Oakland Athletics, developed a literacy campaign called Baseball by the Books. The free, incentive-based program is offered to all schools in the region to show students the value of reading. The team's mascot Splash introduces the program to the students, followed by story reading time. In 2019, more than 37,000 students registered and more than 5,000 books were read. The program was on hold during 2020 and 2021 due to the pandemic, but came back in 2022. More than 51 schools signed up. The students who participate in the program are also invited to a Ports game.
"We are particularly interested in targeting students who might not have accessibility to books, or are not motivated to read," says Jordan Feneck, director of business development for the Stockton Ports. "We have over 80 percent of our schools returning each year, which is a testament to the program."
Students who are interested can also submit artwork for a bookmark competition. The winner gets to throw out the first pitch at one of the Baseball by the Books games, and the bookmark is reprinted with the winning design and distributed to all participating schools and students. The 2022 winner was Pulliam Elementary School student Ixtzel Solano. "According to her teacher, she was normally a little on the shy side," says Feneck. "But I would have never guessed that. She was so excited about her accomplishment, and once she realized that all her classmates and the other students got a copy of her bookmark, she just lit up."
The combined efforts of area sports teams to engage local youth and prevent youth violence likely had a positive impact on the community. In 2018 and 2019, the City of Sacramento had no youth homicides under the age of 18. The pandemic-impacted numbers tell a different story. According to the Sacramento County Sheriff's Office, there were three youth homicides in 2020 and six in 2021.
Organizers note their programs were not designed to address the many factors that impacted youth during the pandemic, such as the inability to go to school and to socialize in normal settings. But each is optimistic about the goal of improved numbers going forward.
"One of the things we think is really important is that we take a collective approach to this," says Hewitt. "We say all these programs and activities contribute to a positive impact. Public safety has a role. Youth development activities have a role. Education and deploying the whole social emotional development of young people has a role. We would argue that a great city is always taking into account the things that its young people need."
Burdick with Republic FC agrees. "All of us collectively using our platforms to make an impact is huge."
–
Stay up to date on business in the Capital Region: Subscribe to the Comstock's newsletter today.