Do you live in Stockton? Well then you can take your business across the street.
That's because the popular and ever-growing Stockmarket has officially moved its location from downtown to the Miracle Mile, as of this Saturday. The move was precipitated by a desire to increase attendance, have greater visibility and better accessibility for the pop-up market, according to a press release from Goodstock Productions, which organizes the monthly event. The Miracle Mile is an up-and-coming stretch of Pacific Avenue in Stockton, near the University of the Pacific and dozens of shops, restaurants and bars.
Stockmarket

What: Pop-up market

Where: Pacific Avenue between West Castle and Pine streets

When: 10 a.m. to 4 p.m. on Saturday, Oct. 15, Nov. 19 and Dec. 10
Additionally, as organizers Amy Sieffert and Anne Wilcox note, the old location was simply too small for the growing event. "We love downtown and are still committed to its revitalization," Sieffert writes in an email. "While we look forward to hosting other great events [in the downtown area] as Goodstock Productions — we feel this is the best move for our the market at this time."
The market — patterned after colorful and varied street markets from around the world — showcases a selection of Northern California's best makers, designers and vintage sellers, hawking handmade jewelry, clothing, organic products, original artwork, vintage goods and more.
The new location for Stockmarket is on Pacific Avenue, between West Castle and Pine streets. Admission to the event is $1, and it is both kid and pet friendly. Organizers emphasize the walkability and bikeability of the new location, which fits with Goodstock's mission of creating "community-centric, collaborative events with a focus on inspiring, supporting and growing the local creative class through dynamic and interactive experiences." Moving to the Miracle Mile will bring an influx of patrons, according to Sieffert. "There are well-established neighborhoods nearby, and there are already a good amount of local small businesses and restaurants who call the Mile home. We encourage those merchants to open their doors and participate with sidewalk sales or special menu items."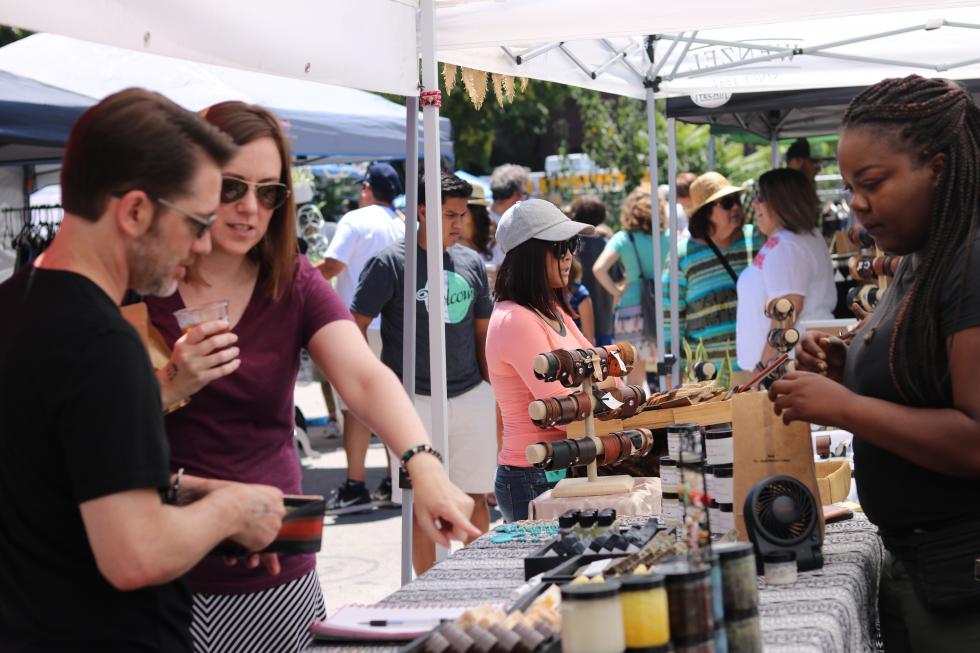 Sieffert says that more than 60 vendors participate every month, and the ones who come from neighboring cities are always "pleasantly surprised" when they see the event's size. Goodstock was hoping to draw about 2,500 people to the first event on Saturday, Sept. 17, and they did, blowing past former totals at their old location, which regularly attracted fewer than 2,000.
On Saturday, Sieffert says even though the heat was sweltering, many of their regular vendors reported having some of the largest sales days they'd ever had at Stockmarket. The vendor of the 676 Candles booth — a soy candle company based out of the East Bay — told Sieffert that it was her best sales day ever. "What we hoped would happen, happened," she says. "Everyone said it was way better sales than at the last location."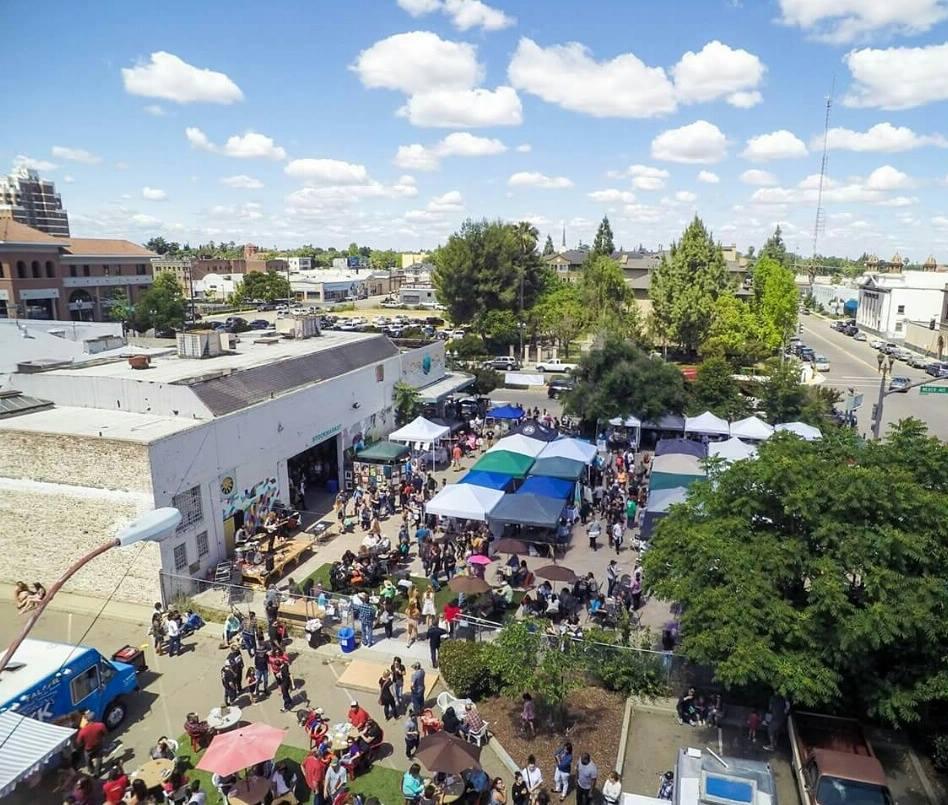 When Sieffert and former co-owner Katie Macrae created the event in May 2015, they intended it "to be a platform for local, creative, small businesses," Sieffert says, and to change the perception of Stockton not just downtown but across the city. Macrae was married to local developer Tim Egkan, whose company, TenSpace, had rented Stockmarket its former site in a TenSpace building for free. Egkan died in September 2015, and afterward the remaining team at TenSpace began charging Goodstock Productions rent for the space. David Garcia, chief operating officer of TenSpace, did not return requests for comment. Macrae stepped down from the position in March and moved to Sacramento, but still returns to help out occasionally.
Sieffert adamantly states that Stockmarket's move did not come because of the rent, and she says the former arrangement benefited both parties — Stockmarket got a location for free and TenSpace got exposure and help rehabilitating the old building.
"All of Stockton needs help," Sieffert says, when asked about the move. "Not just downtown." And it's all of Stockton that Stockmarket is hoping will continue to come out to the new location to help them celebrate a new chapter.
Editor's note: This article has been updated to clarify that Goodstocks Productions will continue to hold future events in downtown Stockton, but not at the old Stockmarket location.
Tim Egkan was a man more fixated on the potential of things than their immediate utility. He had a bright vision for Stockton's beleaguered central core. Now, the community he left behind has a mission to see it brought to life.
This year's list features innovators, disruptors and creators who are invigorating our cities and challenging the status quo. The impact they'll make in our local communities and beyond will help define our future.