In the first few days after a baby is born, the mother produces colostrum — a yellowish, thick and sticky substance packed with fat, micronutrients and antibodies. In breastfeeding circles, this special milk is called "liquid gold," which is essentially a supercharged immunity boost to equip newborns for their new world.
Similarly, Anna Sadovnikova set out to equip mothers and medical and nursing students new to the world of breastfeeding. Thus, LiquidGoldConcept was born. The health tech startup is based in Ann Arbor, Mich., but 90 percent of all business direction and strategy has been executed from Sacramento (with an office coming in the future) as Sadovnikova pursues an eight-year-long M.D./Ph.D. degree at UC Davis. The scope of the vision, however, is global.
"Eighty percent of mothers start breastfeeding in the hospital, but only 20 percent make it to the recommended six months," says Sadovnikova, CEO and co-founder. "That's true around the world."
Over the past year, Sadovnikova has been developing her dual-pronged approach that focuses on both sides of the spectrum: health providers and parents. Doctors and nurses are not adequately trained in breastfeeding and usually rely on sparse lactation consultants. To rectify this, LiquidGoldConcept plans to manufacture lactation simulation models (like a CPR dummy that looks and feels like a real breastfeeding woman) for medical and nursing students so they can know how to support parents. That's the hardware component.
The other component is software, a mobile health and breastfeeding education application called MomKit. In her research, Sadovnikova found that many women had issues with the current crop of online tutorials. Some, for example, struggled to find breasts that looked like their own.
"If a woman in the video has small breasts and you have pendulous breasts, it doesn't quite translate the same," says Janel Silva, a doula with Capital City Doulas. "The app will allow you to have different opportunities to say I have small, wide breasts or my breasts are larger and pendulous."
Sadovnikova wanted women around the world to have a product tailored to their own experience and their own bodies. She works with computer graphic animators to create bio-realistic breasts, and the app allows mothers to customize the avatar's breast size, shape and color.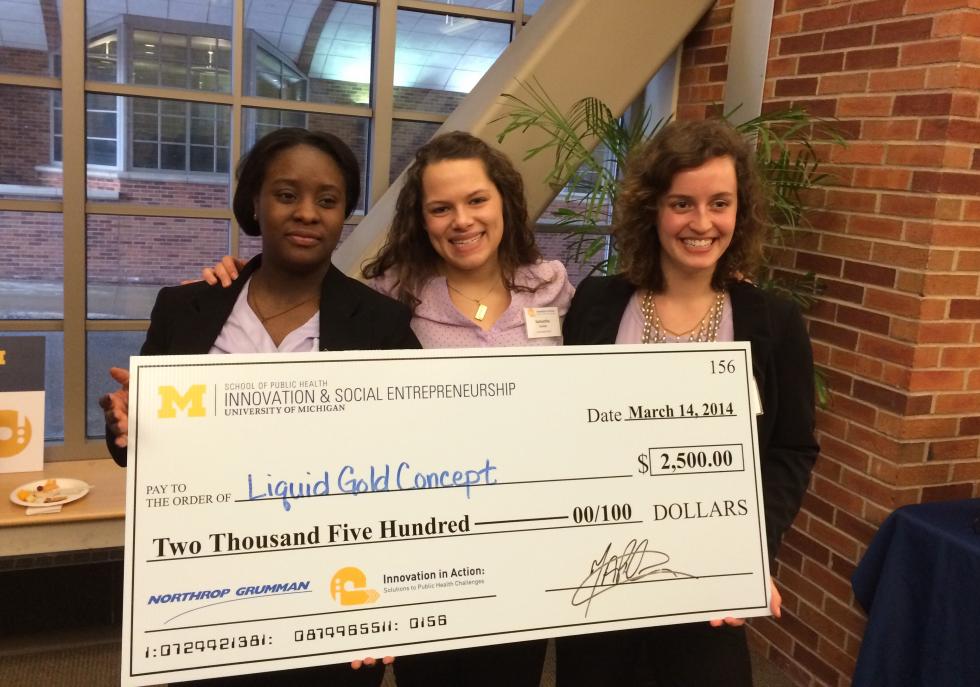 After using a beta version of the app, Silva says MomKit is a valuable way to teach mothers different hand massage techniques that create the most milk transfer. "That's helpful for a woman when she's sitting there and doesn't have anybody at her leisure to help her," Silva says.
The LiquidGoldConcept team has identified more than 20 unique breast massage techniques in academic literature and on YouTube. In MomKit, mothers learn these techniques to alleviate, improve or prevent common breastfeeding problems, such as low milk production.
"Right now mothers rely on blog posts, forums and YouTube to learn about breastfeeding techniques if they want immediate relief from breast pain or if they want to learn how to improve their pumping experience," Sadovnikova says. "It's a time-intensive process, not medically verified or validated. Images online are 2D line drawings or YouTube videos out of focus."
Timing is essential for companies developing both software and hardware, says Jeanne Tayler, a management consultant and one of Sadovnikova's early advisers. From a business rollout perspective, the challenge is keeping software product development in sync with manufacturing supply chain and cash flow.
Since LiquidGoldConcept's products focus on health providers and parents independently, the rollout doesn't need to happen at once. Sadovnikova plans to have about 300 lactation simulation models ready for sale in the winter of 2017. She's preparing to launch the MomKit app in early 2018. The app will be free.
Sadovnikova says her startup will make money through a mixed model of annual licensing with large hospitals, working with the Women, Infants, and Children (WIC) program, and the California Department of Public Health. She is also looking into partnering with breast pump and multinational maternal/child product companies.
With 2018 as the target for all LiquidGoldConcept products to be released, Sadovnikova is raising $2 million to cover manufacturing, development and pilot programs for the simulation models and MomKit. The startup has raised $35,000 so far, mostly through grants and by winning or placing high in local startup competitions, such as Big Bang! Business Competition at UC Davis. Affiliated with the university's Venture Catalyst program, Sadovnikova says she has made key connections with community organizations in the region and across the nation.
A member of MedStart, a regional not-for-profit medical technology advocacy program, LiquidGoldConcept earns praise from Director Matt Phillips, who says the startup effectively combines health technology and education for women, especially in underserved communities. Tayler puts LiquidGoldConcept in the category of a social impact company, a growing trend that takes the larger community into account.
"There are a lot of companies now focusing on whether they're giving anything back. What's the social mission? What's the alternative value?" she says. "[LiquidGoldConcept] is not just selling a consumer product, but they also have as a part of their core value a very conscious social impact focus."
Do you know an entrepreneur who has what it takes? Recommend their company for our "Startup of the Month" here.