Try this experiment: When you get home, look inside your refrigerator and calculate how much of your groceries have gone bad. Expired yogurt? Soggy spinach? Slimy, grayish chicken that reeks of rotten eggs? This is all bad. Bad food goes in the garbage. Garbage ends up in landfills, where food waste generates methane, a potent greenhouse gas.
Between 30 and 40 percent of food produced in the U.S. goes to waste, according to the U.S. Department of Agriculture. That amounts to more than 20 pounds of food per person, per month.
Brianna McGuire hates waste. While working on her master's degree in plant pathology at UC Davis, McGuire tried to figure out how to use weather models to apply fungicides more sparingly on grapes while better controlling fungal disease. She decided she could broaden her scope and look at eliminating household food waste. By 2014, she had developed this germ of an idea into a full-grown app called Foodfully.
By linking with loyalty cards and tracking purchases (by scanning receipts), Foodfully knows what food you buy and gives an estimate about how long it may last, then sends notifications before that estimated date. These alerts help consumers avoid wasting forgotten food. The app also provides users with inspiration through customized recipes and cooking tips. After launching officially in November, McGuire hopes Foodfully, within its first year, will redirect 1 million pounds of household food that would've been thrown away.
Foodfully found its footing at Davis Roots, a nonprofit business incubator that supports fledgling entrepreneurs. McGuire had never developed software before. She recruited two engineering graduate students at UC Davis to help co-found the company. Andrew Hargadon, a professor of technology management at UC Davis' Graduate School of Management, helped McGuire develop her concept early on.
"What the app does is it gets people more aware of not just the imminent spoilage of their food or best-buy dates," he says, "but it gets people thinking about the possibilities of their food."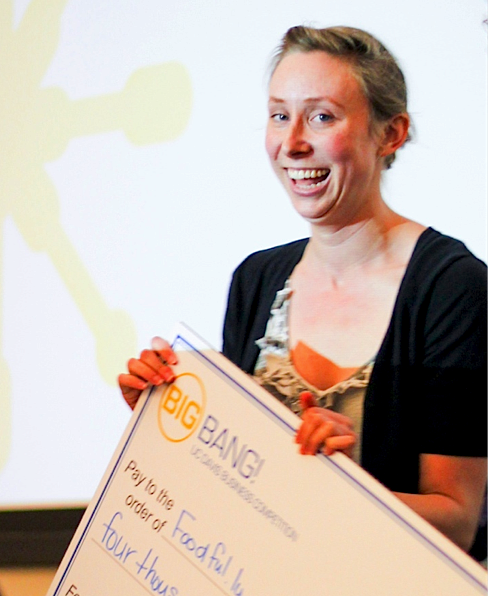 For funding, McGuire entered a prototype of the app in as many small-to-medium sized business competitions as possible. From five of her six competition wins, she earned between $1,000 and $25,000 each. In total, the competitions and other small grants netted her about $55,000. Another $30,000 came from bootstrapping. She started beta testing the app in 2016.
"People talk a lot about persistence and grit in entrepreneurs, but it's really easy to be persistently wrong," Hargadon says. "You need to continually learn and move your ideas forward. That's where she really stood out."
McGuire incorporated the feedback from her beta testers into the final product. Users could now find recipes based on the food items they had. Also, the cooking tips section was a suggestion. She received some criticism from outside of the U.S. because the app doesn't recognize non-English receipts. She's working on that now, but the feature is about a year out. Also in the future, McGuire hopes to calculate the water and carbon footprints of as many foods as possible and have these metrics available to premium users.
The app is free for users. McGuire makes money by charging companies that want to advertise, namely grocery stores and food brands. At this point, Foodfully hasn't linked up with a big supermarket to get a percentage of sign-up fees. But McGuire says partnering with specialty markets or meal subscription kits to get a portion of their sign-up fee is a monetization strategy. After food distributors contacted her about managing inventory, she also now plans to offer the enterprise platform for warehouses for a monthly fee.
"It's funny how you discover your market and it comes and talks to you," McGuire says.
Scott Ragsdale was at the helm of Davis Roots when McGuire was there. He left the position, but has been using the app for the last few months. He's a fan of the new recipes option.
"When you get beets, you want something new to do with beets," he says. "It's hard to find new ways to make that work. Baking gets to be old, so it's nice to have different flavors."
Even if you don't use the recipes, he says, the app "gets you off your butt and cooking." Ragsdale is a farmer's market regular and calls himself a "convenient vegetarian." But he's also been guilty of forgetting about certain foods, so the app has come in handy.
"Green onions are my nemesis in the fridge," he says. "They're easy to lose track of. I want to chop them up and put them in a salad or soup. But when they get mushy, they're done."
Do you know an entrepreneur who has what it takes? Recommend their company for our "Startup of the Month" here.