There are several reasons why Sac City Brews Neighborhood Tap House at the Tallac Village Shopping Center in Tahoe Park has quickly become one of the most laid-back beer bars in the Sacramento area.
Just opened in January, the establishment is nestled far enough back from 14th Avenue to feel like you're at a friend's house. Plus, the front patio never gets any direct sunlight, the beer menu is accomplished yet unpretentious and the seasonal, farm-to-fork-focused food menu tastes like elegantly elevated home cooking.
Sac City Brews Neighborhood Tap House

Where:

3940 60th St., Sacramento

Info:

saccitybrews.com
Sac City Brews is also breathing new life into a 70-year-old shopping center that has struggled to keep up with the changing neighborhood. Constructed in 1948 and expanded over the next several years, the once-bustling Tallac Village Shopping Center housed the original Raley's, but the site had been largely neglected in recent decades. And while craft breweries and beer bars proliferated throughout the Sacramento area, Tahoe Park largely remained a dry spot.
"There are people who have lived here forever, they can tell you an oral history of the shopping center," says Sac City Brews co-owner Rebecca Campbell. "This was a total gathering spot, it was the center for the neighborhood, and I think it's starting to be that again."
Perhaps the simplest explanation for the family-friendly coolness of Sac City Brews, though, is that co-owners and longtime friends Todd Trauman and Campbell both hail from Cool. That tiny farm town 40 miles northeast of Sacramento is where Trauman and Campbell started drinking beer together, well before he entered the industry. It's also where former home chef Campbell, who grew up on a working farm, developed her love of local agriculture. "I've been eating seasonally since way before it was cool," she says.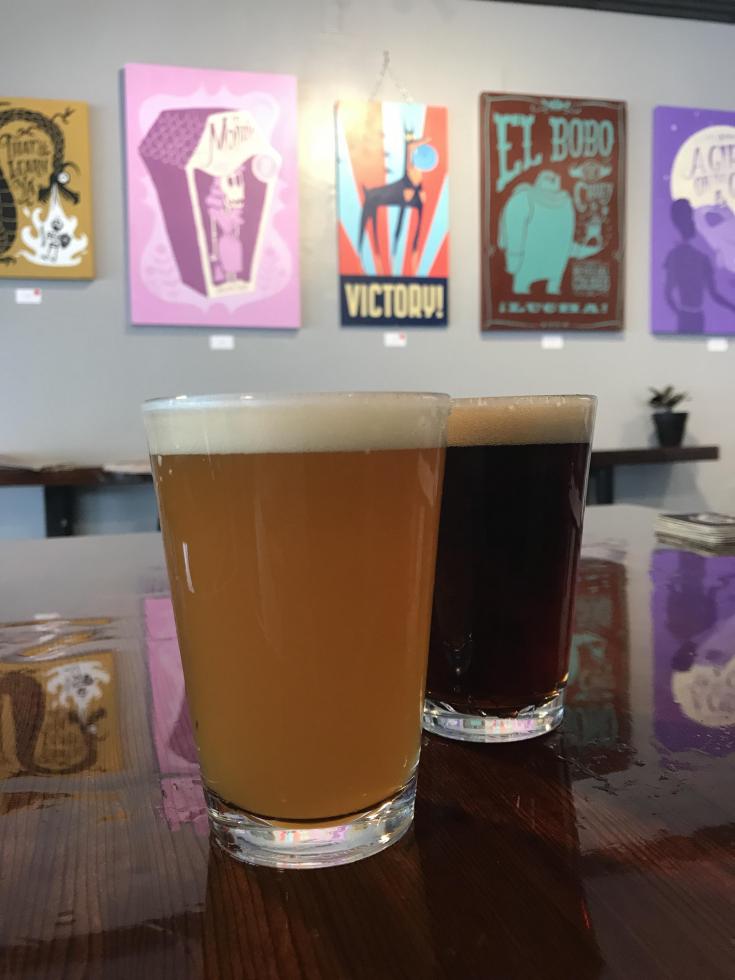 Along with Todd's wife, Katie, and Rebecca's husband, James, the pair had tried to launch beer businesses before, including a proposed shipping container-style beer garden in Rocklin that fizzled out in 2012. There was also a previous iteration of Sac City Brews that hand-delivered wooden totes containing bombers from local breweries, which is how Campbell made key connections with local brewers. "I've been trying to start my own businesses for forever," he says. Meanwhile, Katie's work in agriculture was in the advocacy world instead of the kitchen.
When both families relocated to Sacramento, Trauman discovered the Tallac Village location, which was about to be vacated by the previous tenants. "We were both at a point in our lives where if we don't do it right now, it's not going to happen," Campbell says. Bolstered by investors, the Trauman and Campbell families and their friends rolled up their sleeves and did the renovation work on their own. "We literally did all of this by ourselves, every part of construction," Campbell says.
The Raley's at Tallac Village is long gone, with that space currently occupied by the run-down Your Family Groceries, but it doesn't look much different structurally than it did 70 years ago. "I've been hanging out in this neighborhood for 15 years, and there's been a lot of changes, but this shopping center hasn't totally caught up with all of the care that's happening," Campbell says.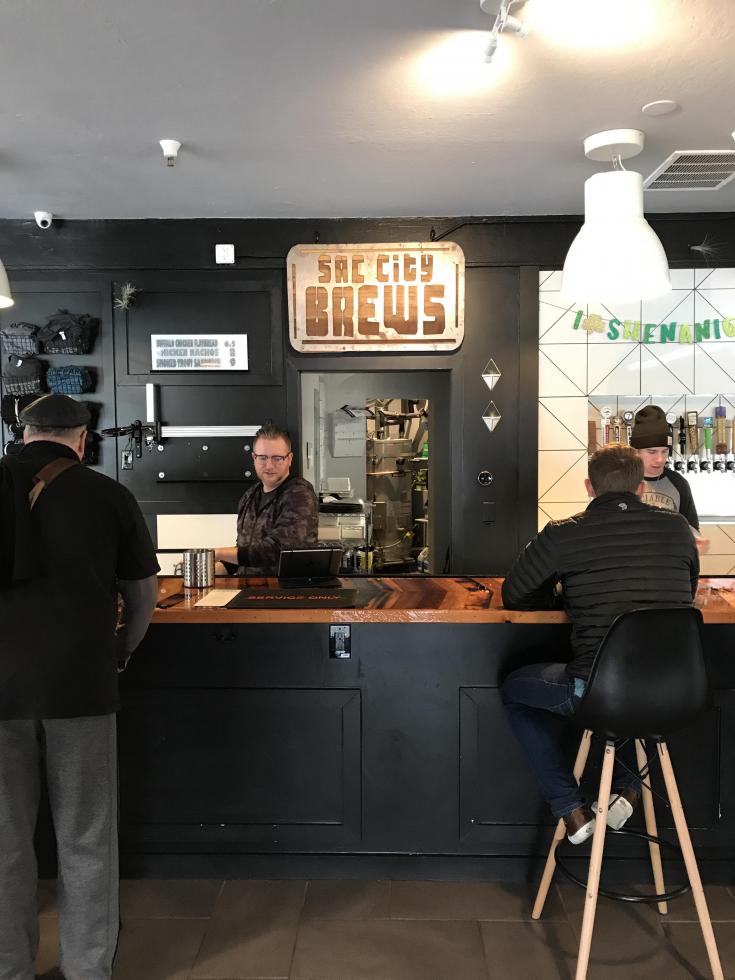 The shopping center still houses a donut shop, a liquor store, a nail salon, a pizza joint and more, but Sac City Brews provides a place for neighbors, friends and families to converge.
While Campbell focuses on the food, Trauman takes care of the beer, not much different than when they got together for dinner parties. The beer list favors newer, lower-volume, independently distributed local breweries like King Cong alongside established classics from The Bruery and Stone.
A penchant for locally-grown fare doesn't stop at the tap list, as the Sac City Brews kitchen staff sources most of their herbs and vegetables from local urban farms like the newly-opened Root 64, which sits less than a mile away.
"I appreciate that Rebecca is taking the time and the energy to work with small farms," says Root 64 co-owner Randy Stannard. "They could get everything from Produce Express and have it all on one invoice, and it would be easier for them, but she's committed to supporting farmers."
Gourmet sausages and seasonal salads make up the bulk of Campbell's small-scale menu, but the kitchen also puts out daily specials centered around a fresh seasonal vegetable. "I have beet sliders with arugula now, and cucumbers just came in at Root 64, so I did a ground beef kabob focusing on Persian flavors," she says. Sac City Brews also works with Green Soul Farm on Hurley Way. "We did curry cauliflower poppers, and we sold their entire crop of cauliflower out of here, which was awesome."
"Sacramento is the easiest place in the world to be farm-to-fork," she says.
Campbell keeps the menu small to ensure a wallet-friendly price point while spotlighting fresh and local produce (she just rotated the seasonal menu for the third time in six months), but also to work around the limitations of an all-electric setup. Making the leap from the home kitchen to a commercial kitchen has been exhilarating for Campbell, but not without major challenges. "The back of the house is a whole different world," she says. "But we have so many regulars now, it just feels like a big family dinner."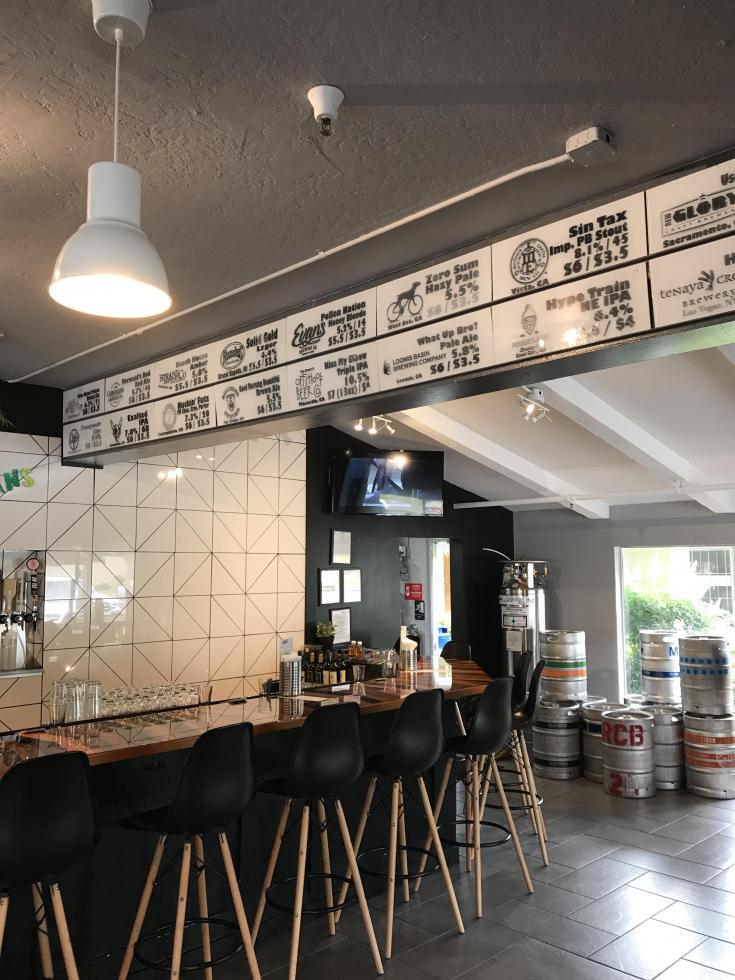 Trauman believes that Campbell's extensive experience as a home chef even gives her an edge over her careerist competition. "As opposed to having a chef who spent their entire life in the industry, it doesn't feel manufactured," he says of her cuisine. "It feels like good, quality, home-cooked food."
Those hosting abilities were severely tested last May when Sac City Brews put on their first beer dinner during Sacramento Beer Week. The dinner marked a true collaboration between Trauman and Campbell, as she created a gourmet five-course meal for 30 ticketed guests, while he picked out beers to complement each course.
"She came up with a rough idea of the types of things she wanted to serve on the menu, and then from there I was able to pick out a handful of beer styles," he says. The most popular course was a pistachio-crusted "beet tartare" paired with a North Coast Cherry Berliner Weisse.
There are more plans for beer dinners, probably at least one per season, but for now Trauman and Campbell are content to soak up the appreciation from their Tahoe Park neighbors, who tend to fill the Sac City Brews patio with their dogs and kids during the afternoons.
"The Tahoe Park area was just dying for something accessible and something new," Trauman says. "The turnout has been reflective of that so far."