Earlier this year, The New York Times published an interesting story about podcasts: Thanks in large part to the proliferation of smartphones and the low financial barrier to entry, the Times reported there are around 700,000 podcasts, according to data obtained from podcasting service Blubrry, "with between 2,000 to 3,000 new shows launching every month."
In August, Visit Sacramento became the latest entrant in the podcasting craze with a six-episode series dedicated to the farm-to-fork movement that has ingrained itself into the identity of California's capital city.
The podcast is hosted by Visit Sacramento's marketing manager Brandon Darnell. He says the point of the podcast is not to put Sacramento on the map but to give travelers who might be visiting from outside the region information about what makes Sacramento unique.
"We've never done a podcast before," Darnell says. "We wanted to keep it very focused. With Sacramento being announced as the Farm-to-Fork Capital, it was a way to show the authenticity of what we're doing, not just with travelers but also with a local audience."
Darnell interviewed a handful of local food experts, including Amber Stott of the nonprofit Food Literacy Center who offered insight into the challenges of connecting children with access to fruits and vegetables, and how her group is promoting nutrition and healthy food access in local schools. Other guests included Josh Nelson of Selland Family Restaurants, chef Santana Diaz of UC Davis Health and Michael Passmore of Passmore Ranch.
The timing of the podcast coincided with the annual Tower Bridge Dinner, a Visit Sacramento event that brings the region's top chefs together with locals willing to pay a premium price to experience an upscale dining event on the iconic infrastructure connecting Sacramento and Yolo counties.
Five Star Bank, one of the sponsors of the dinner, also provided financial sponsorship for the first season of the podcast series. Kari Miskit, Visit Sacramento's vice president of communications, says Five Star — like most sponsors of the Tower Bridge Dinner — didn't just want "to put their name on the banner."
"They are engaged in terms of a conversation about local food, they know it's topical in their community, and they're looking for something tangible that they can be a part of and that they can use to tell their own farm-to-fork story," Miskit says. "What I think was cool to find is that they also had a farm-to-fork story to tell and were excited that we were introducing this new concept to give them an opportunity to provide support and utilize it to tell their story."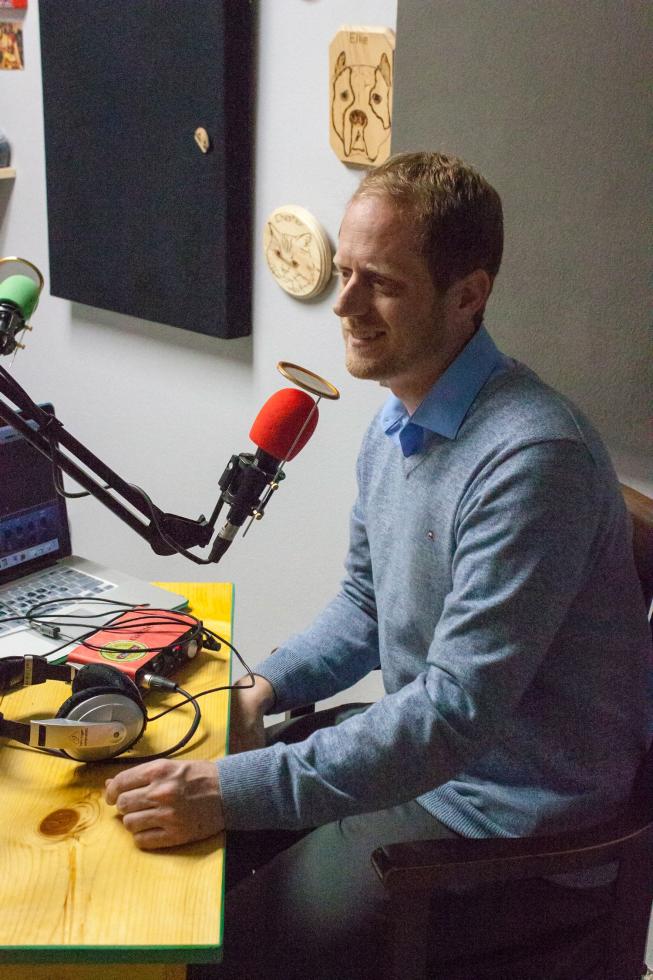 The decision to launch a podcast has turned some heads — Miskit says she's heard from other local agencies who are interested in what Visit Sacramento is doing. With hundreds of podcasts launching each month vying for the limited attention of streaming audio listeners, some might question Visit Sacramento's approach. And then there's that New York Times story, which attempted to make the case that maybe the podcast market is saturated and cast doubt over fresh attempts to break into the space.
But Visit Sacramento's podcast is working: Darnell says the organization's analytics puts listenership well above industry averages for an emerging show, and the data shows people continue to listen to the podcast beyond the first episode. He says people as far away as Japan and Ukraine are downloading the shows on a regular basis, and he's received inquiries from people in similar positions to his from Texas and Florida asking for advice on how to start their own podcast.
That's encouraging, Miskit says, because it's very easy to feel like "you're playing a bit of inside baseball" when a bureau like Visit Sacramento launches an initiative like a hyper focused podcast.
"Does this really resonate outside of the market? The answer is a resounding yes," Miskit says. "So many of these people Brandon had conversations with are really shaping things and having conversations on things outside of Sacramento. We were really jazzed to be sharing those stories."
Those stories, Miskit says, helps connect those who live, work and play in Sacramento, as well as those who might be visiting, with insight into unique experiences: Rather than encouraging people to simply visit local landmarks, Miskit says Visit Sacramento wants to encourage people to find the hidden gems within — like the cafe at the Crocker Art Museum that offers a farm-to-fork menu.
"More and more, we're hearing from especially younger visitors that when they come here, they're not looking for a quintessential tourist experience," Miskit says. "They're really more interested in a destination they can sink their teeth into and get a true sense of the community and get a sense of the neighborhood feel, not just what the tourism bureau told them to go visit."
Podcasts are the talk radio format of choice for millennials; they lend an air of authenticity thanks in large part to their approach of being unregulated and unfiltered.
"Having people on in an unfiltered aspect really shows the visitor who we really are, it shows people there are more things to do than the Railroad Museum, the Capitol, the Crocker," Darnell says. "Those are great things … but those aren't all we have here. And showcasing the breadth of what we have here is kind of the point of the podcast."
In 2020, Visit Sacramento plans to produce 16 more episodes spread across two series (each series will have eight episodes) and erect a multimedia studio that will help broaden its reach with audio, video and other media formats.
"Sometimes things aren't going to work," Darnell says. "Frankly, we weren't sure what to expect with the podcast. But it did work, we're really happy, and we're moving forward with it."
—
Media File is a monthly series examining media in the Capital Region. If you have a story worth sharing, email tips to mkeys@comstocksmag.com with the subject line "Media File tip."
Despite competition from neighboring big-market stations, satellite radio and streaming, thousands are tuning in to Vacaville's KUIC-FM each week. Those who work for the station say a local identity is key to their success.
Sacramento has struggled with its branding for more than a century. Recently, the farm-to-fork movement has raised awareness of the local food scene, but as the region also tries to highlight its growth in business, tech, art and culture, a new brand is in the pipeline.