Picture this: You're reading this article on the virtual reality media startup called Haptic.al. But you're not reading it in the traditional sense.
With your VR headset on, you've been transported to the Haptic.al office in Nevada City. You can interact with the team (one graphic designer and two software engineers) and meet founder and CEO Deniz Ergurel, who relocated from Istanbul to take part in the first accelerator program last year at the Green Screen Institute.
Technically, this VR platform is still in the developmental stages. But Ergurel hopes to complete prototyping in the upcoming months to have it ready for consumers by the second half of 2017. His goal: to enhance the way we receive news by creating a virtual experience. Readers would be able to see and hear events live, interact with sources and inhabit the world of the story. Instead of relying solely on a reporter's perspective, they would be in the action.
"I don't see the VR publication as an article-reading experience in the virtual space, simply because we can already do that on our laptops, smartphones or PCs," he says. "VR is a whole new universe where you can place the reader inside the news content, either through 3D computer-generated interactivity or 360-degree imagery."
Related: Virtual Investment, Real Growth
The push to integrate VR into the media has surged in recent years. The Guardian last summer unveiled its first VR project, 6×9, putting viewers into a solitary confinement prison cell. Last fall, The New York Times introduced The Daily 360. These immersive videos, made with Samsung technology, give readers rare glimpses into scenes worldwide. Other outlets, from the Financial Times to The Economist to The Huffington Post, have all harnessed these tools to create 360-degree experiences.
Imagine all the possibilities. In a story about a nightclub, imagine being able to walk into that nightclub. You could tour a new kitchen in the Lifestyle section of a virtual newspaper or watching Sacramento Kings basketball highlights from a seat in the Golden 1 Center. Imagine a story about refugees from Aleppo that would allow you to see the destruction on the streets and hear the voices of the people. Such a platform would help readers build more empathy through immersive storytelling and live feeds, Ergurel says, which could also help stave off the recent epidemic of fake news.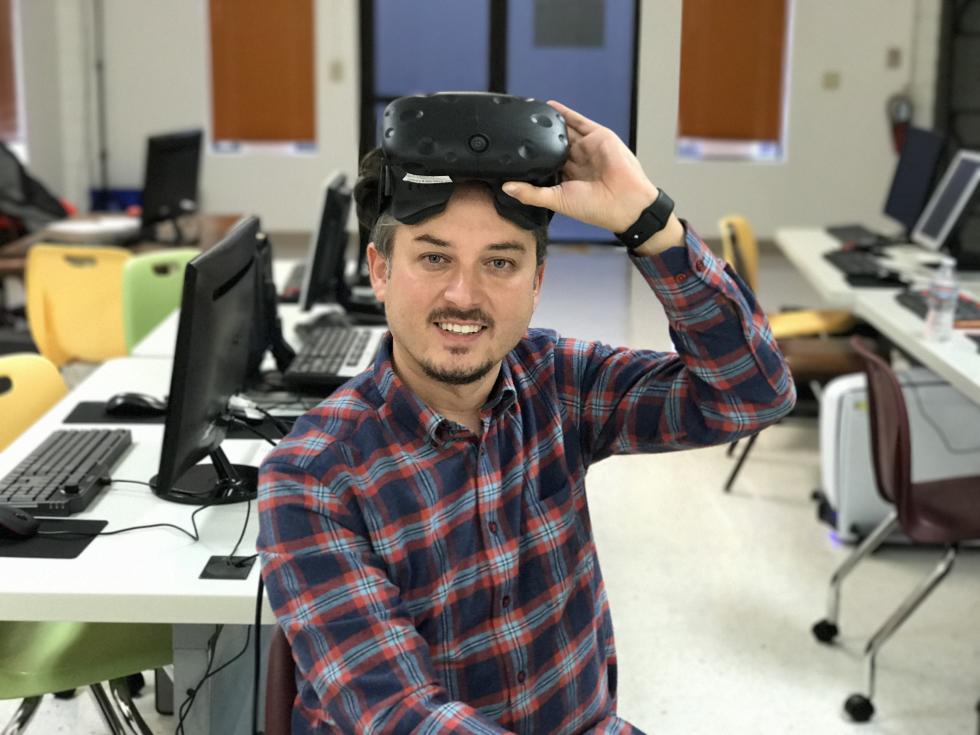 "In 360-degree images, there is no behind-the-camera," he says. "Everything is inside the view, which brings a total immersion for viewers and a much better understanding of what has really happened in the scene."
It was Ergurel's experience as a technology journalist and unique insights on the global VR industry that helped Haptic.al land one of four slots in the accelerator program at the Green Screen Institute. He knows how to accomplish a lot with little resources as "a tenacious entrepreneur who wants — and expects — to have a major impact on the industry as it matures," says Jon Gregory, founder of the institute.
Haptic.al started out as a weekly newsletter that Ergurel published to keep track of all things VR. Due to high traction, he grew the publication into a daily news source. With his wife and son, Ergurel moved to Grass Valley, which he calls an ideal location that puts him in the thick of the tech world without having to burn his investments on Bay Area housing. His time in the accelerator program allowed him to develop the idea of a VR news platform that he could sell to other media companies and advertisers. The possibility of virtual ad spaces would allow users to browse products in 3D and actually shop instead of just seeing a printed ad.
"I am sure the advertising industry will be very excited about this," Ergurel says.
To help build this VR platform, Ergurel partnered up Mario García, founder and CEO of Garcia Media and senior adviser on News Design at Columbia University's School of Journalism, where he teaches. Garcia is a design veteran who's been in the game for more than 40 years. He has seen so many evolutions of the media in his career, from the transition of hot type to cold type, to the introduction of computers, to the rise of the Internet and now mobile devices.
The challenge of designing a VR platform for publications appealed to him. However, the VR experience wouldn't be available for every story, Garcia says, but more like a weekend supplement that allows readers to go deeper into selected stories. There could be a console at the beginning like a directory and each section would have its own environment for readers to access, he says. Possibly, he adds, readers could go into a newsroom and meet the editor or maybe virtually go to the White House during a press briefing.
"It sounds like fiction but it isn't," Garcia says. "It's all about enhancing storytelling."