Gabino Cordova's keen eye for detail is a skill fine-tuned when designing custom frames for clients. Cordova, the owner of the Galeria Custom Framing on Stockton's Miracle Mile, learned the presentation and preservation of fine art through custom framing on the job, working for a small business.
Opened by Tino Tafoya in 1982, the custom frame shop serves clients across San Joaquin County. Cordova worked alongside Tafoya starting in 2003, learning the trade of custom framing as a part-time employee. He became a full-time framer 10 years ago and took over the business in 2018 when Tafoya retired. "I loved framing, but never thought I would own a business," he says. Galeria Custom Framing is one of the last professional custom frame shops in the Stockton area.
Cordova's entry into a career in custom framing started in 1995 with a job at Michaels, where he learned basic framing. He eventually received a management position before going back to college. During that time, Cordova's supervisor would contact Tafoya to custom cut specific frames they could not initially handle in store. "One thing that set Galeria apart from other shops is custom cutting," Cordova says. "There aren't many frame shops around that can do cutting in the shop."
After meeting Cordova, Tafoya recognized Cordova's skill as a framer and suggested he learn the trade at his business. Cordova passed on the job offer, but eight years later the two met again by chance in 2003. Tafoya made another job offer. "I missed the craft," Cordova says. "It was in my blood. I took the opportunity to learn the final secrets of custom framing. I went back and forth from Frugal Frames in Manteca to work with Tino's son in his shop and then back to Stockton. Framing eventually became full-time work."
For 10 years, Cordova applied what he learned and then integrated his own style of custom framing, slowly moving away from a traditional approach to the craft. He offers several creative ideas to clients when they bring in their art. A simple mirror frame replacement for a client turned into a unique, double frame around the mirror, for example. "I decided to do a double frame on the mirror. I find two frames that compliment each other, frame the mirror, then stack another frame around it," he says.
But full-service framing was a dying art with the rise of major competitors offering services and additional products at lower prices. With smaller frame shops closing their doors, Tafoya refused to close the business. The storefront struggled each year and relocated several times throughout Stockton before moving the Miracle Mile Improvement District in 2009.
Although major clients such as St. Joseph's Medical Center and Goodwill Industries remained customers, sales continued to decline. Tafoya stepped away from the business due to health issues, and Cordova had to temporarily oversee the shop. "When I managed the business in May (2017), sales were at an all-time low," Cordova says.
Tafoya's health recovered, but he decided to sell the business and offered it to Cordova. "I've only ever worked two jobs in my life, and now I have to find a way to operate the business on my own," Cordova says. "I was broke. I had no money in the bank. I struggled the first two months last year when I started running the shop on my own. People had their doubts if I could turn the business around."
As a new entrepreneur, Cordova created a plan to improve the image of the business. His approach was simple: offer good price points with his personal customer service skills and redesign the store's interior. "My plan was to change from the inside first — a more modern and inviting look for clients," Cordova says. "Presentation is everything in this business."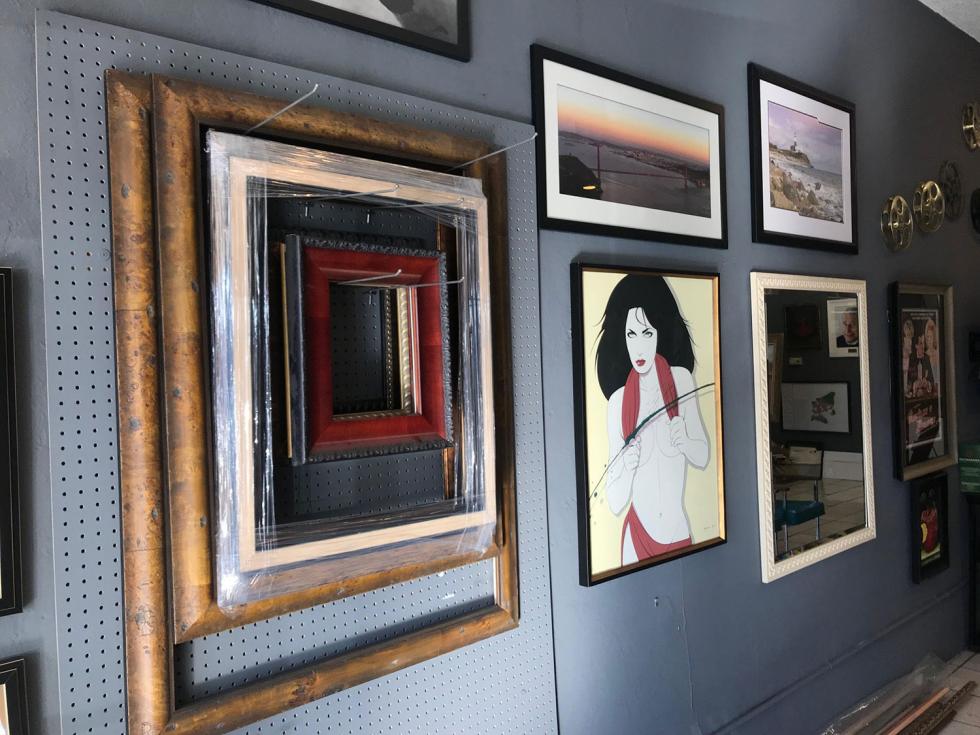 Cordova also made an effort to attract a younger clientele through social media. "When Aaron Brothers and other smaller stores closed, I was getting more exposure in the area with my craftsmanship," he says. "I adjusted my pricing with local artists and clients. I created an Instagram to post the work. They spend their money here because it looks good and is done right."
Other business owners on the Miracle Mile refer business to Cordova, and Richard Massa, past president and director of the Stockton Art League, frequently visits. Messa met Cordova when Galeria relocated near the nonprofit that provides youth art programs, workshops and artist demonstrations for the Stockton and San Joaquin County communities. "I like the work he does, and he's very personable," Massa says. "He uses quality materials, like museum glass and helps mount every art piece. I send a lot of people looking to get art framed to his shop."
Charles G. Patmon, president of Patmon Company, a property management and development firm, recently discovered Cordova's shop through another local business owner, Tim Ulmer, the owner of Ulmer Photo on the Miracle Mile. "I asked Tim … to take photos of my properties for a wall in our new office," Patmon says. Ulmer recommended his client visit Cordova for professional framing for the photos. "This was the first time I used (Cordova). His work is outstanding," Patmon says.
Cordova says 2019 was the most successful year for the business. "I'm still learning the business side of things," he says, "but I am one of the last small custom frame shops left in the Central Valley still operating in Stockton to date."